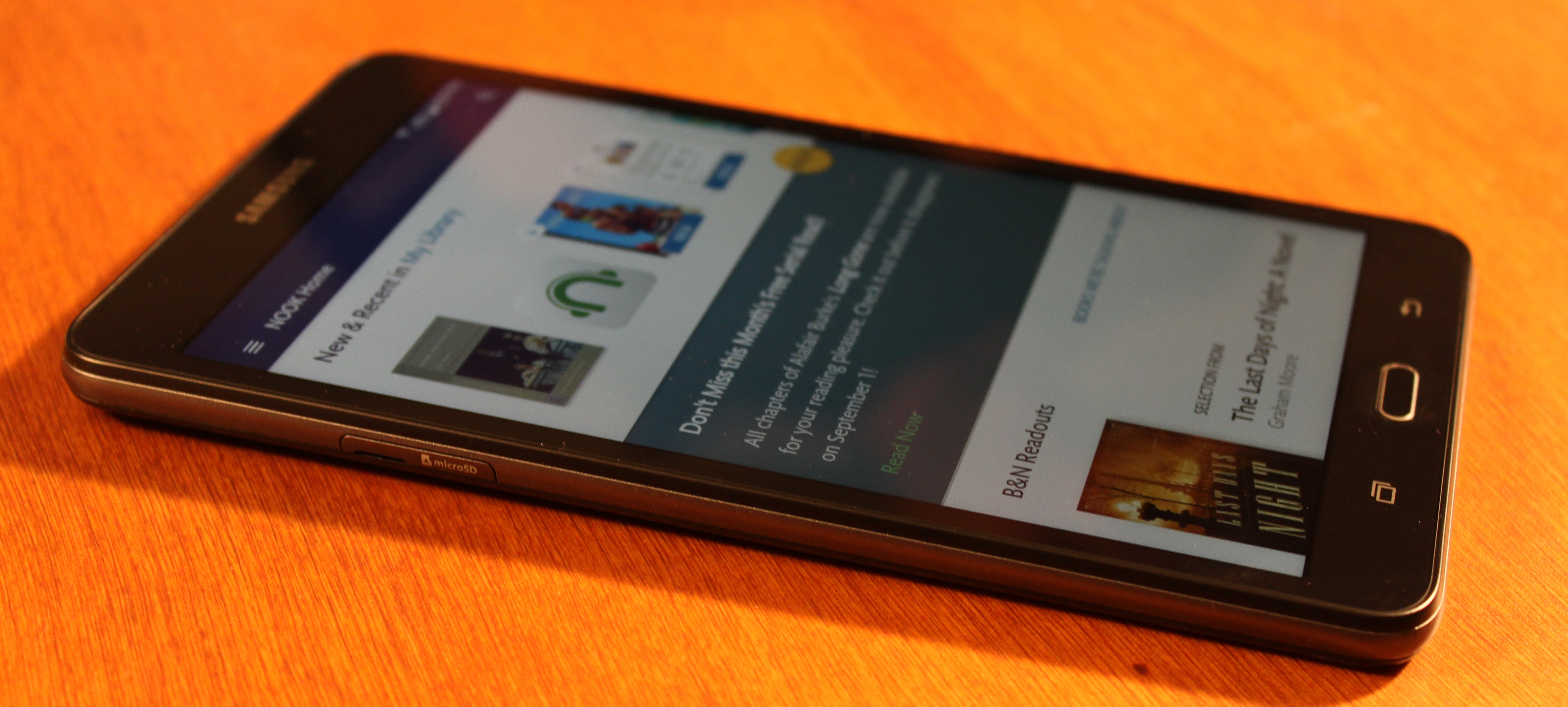 Barnes and Noble has just released their first tablet of 2016 and it is called the Samsung Galaxy Tab A Nook. It retails for $139, but you can get it for $99 if you show proof of purchase or simply bring in your old device into the store and show them you own it. If you are a Barnes and Noble member, you can purchase it for $99 and also get a free sleep cover.
The big advantage of buying a Samsung Galaxy Tab from Barnes and Noble is that you can play with it, before you buy it. If there is any issues with the device you can simply bring it back to one of the booksellers 600 retail locations and they can troubleshoot it for you. B&N also frequently discounts their own hardware for major holidays, while Samsung does not.
Hardware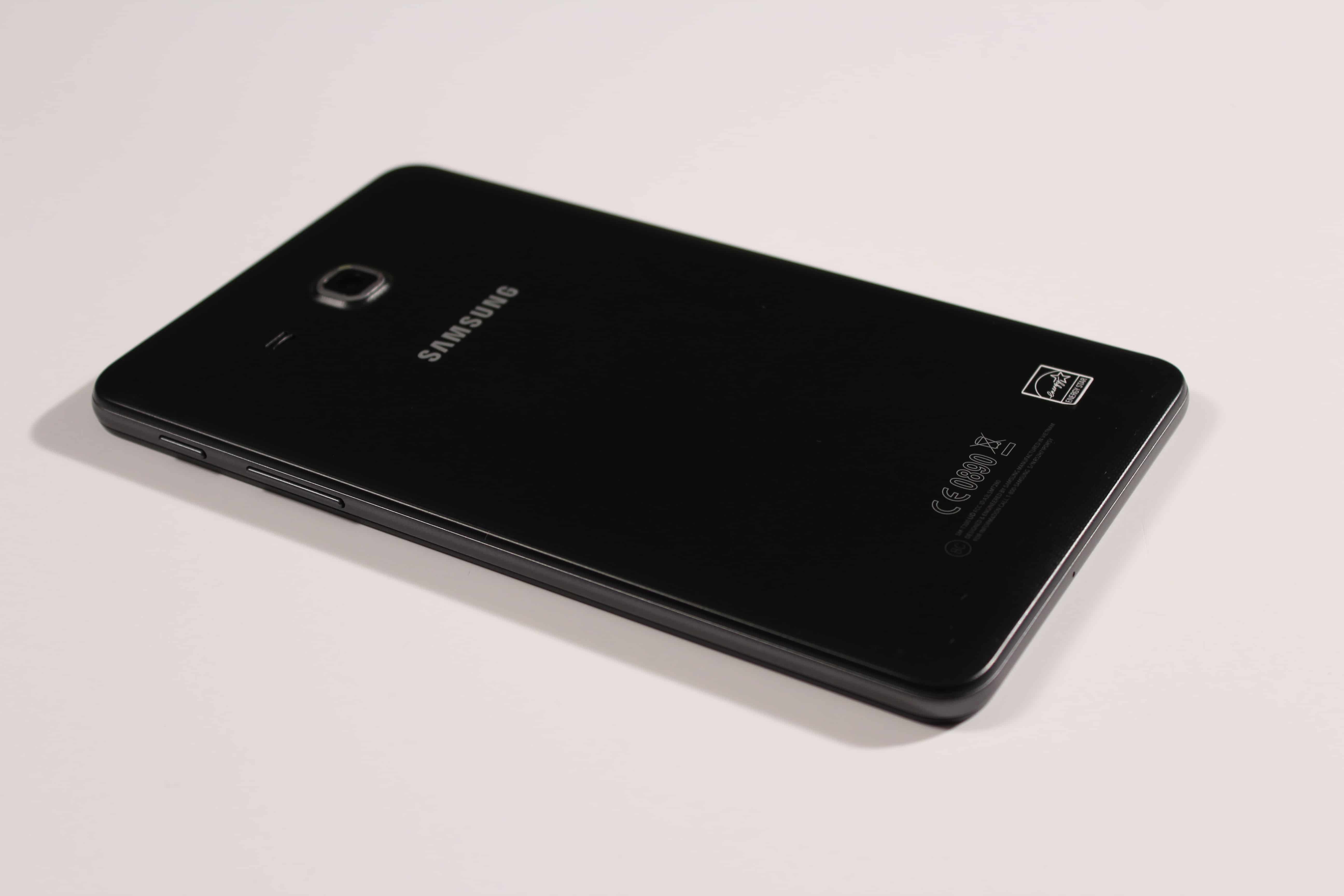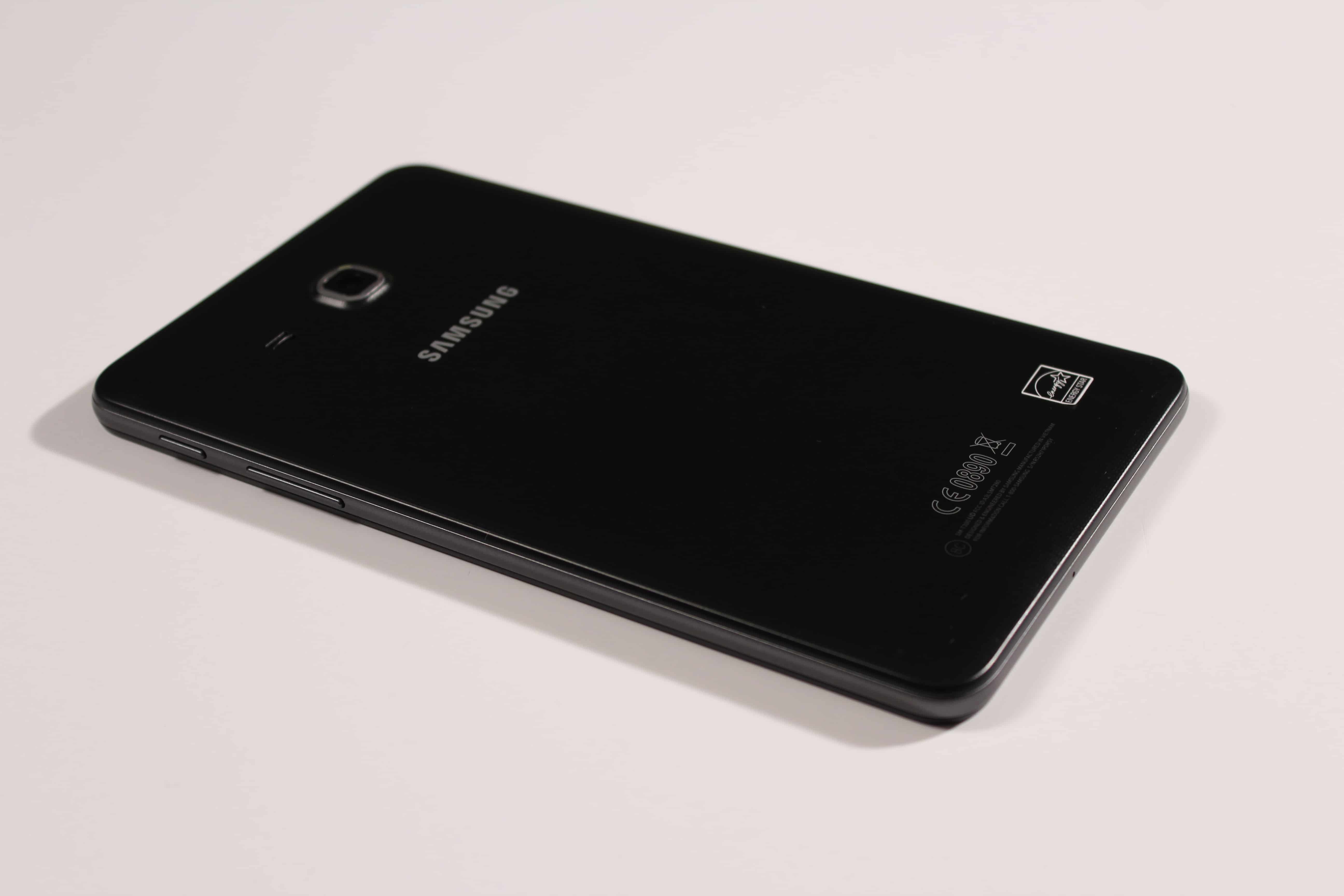 The Samsung Galaxy Tab 4 Nook features a 7 inch IPS LCD capacitive touchscreen display with a resolution of 1280 x 800 and 216 PPI. This is an entry level tablet, certainly not meant to compete with flagship devices on the market.
Underneath the hood is a Qualcomm MSM8916 Snapdragon 410 1.3 GHZ quad core processor and 1.5 GB of RAM. There is 8 GB of internal storage and there is SD Card support for up to 256 GB.
There is a rear camera that allows you to snap pictures or shoot video and it is a semi-respectable 5 MP. The front facing camera is a paltry 2 MP, but should be enough to use Skype or other video conferencing software.
On the back of the device is a single speaker and it is not really that good. Most people have the tablet resting on a desk or table and the sound gets muffled. This is why most companies are now positioning the tablet speakers on the front or on the sides. If the single speaker is not your thing, there is a 3.5 mm headphone jack to plug in a set of headphones.
The overall design is fairly inspiring, the bezel and back of the tablet is jet black. There are a few buttons on the front of the unit, such as apps, home and back button. It basically looks like every other Samsung tablet on the market and there is no Nook branding anywhere on the device, except for the bootloader image.
There is a Micro USB connector that you can use to charge your device with the accompanied wall charger or you can plug it into your PC.
Software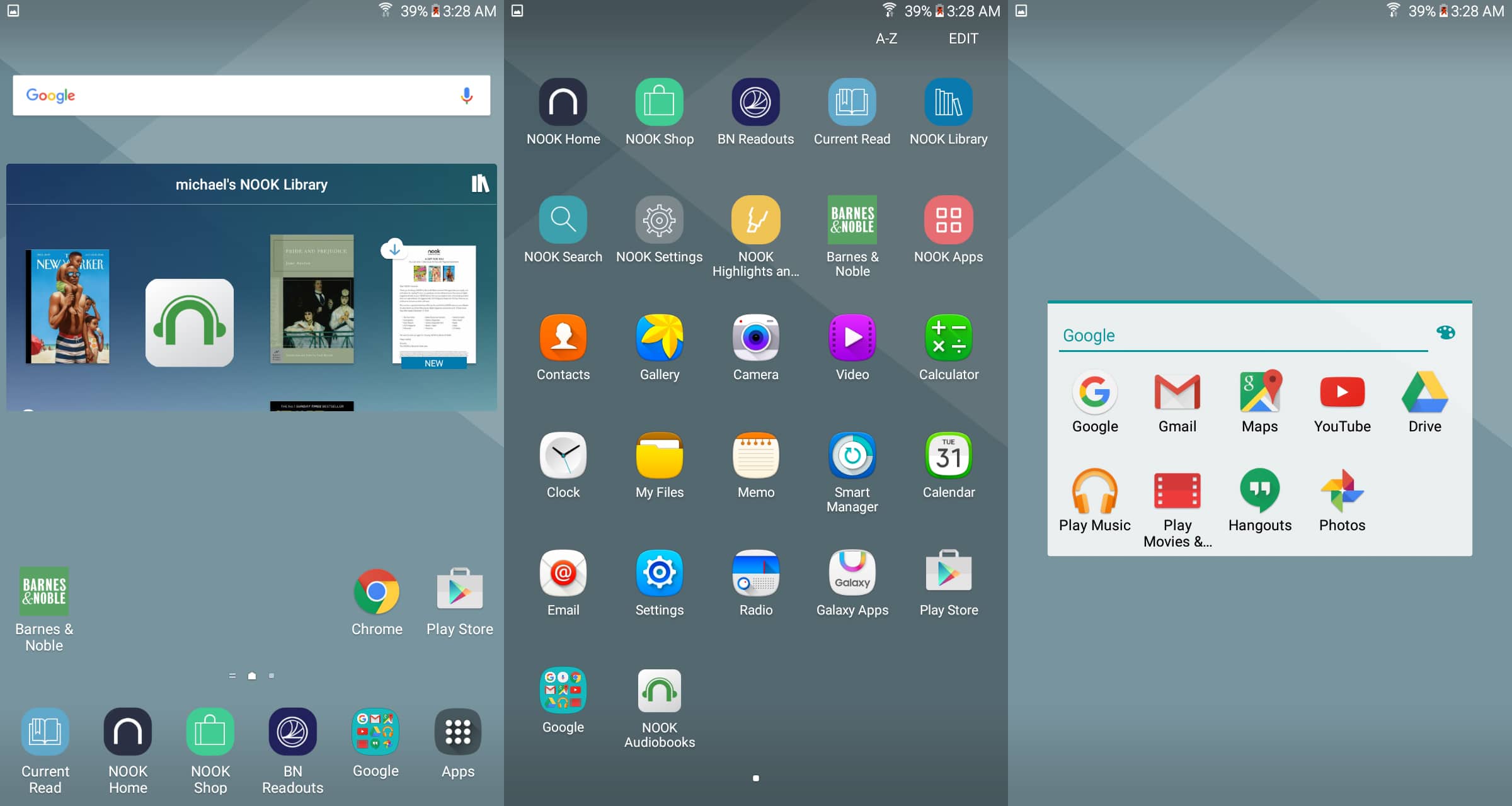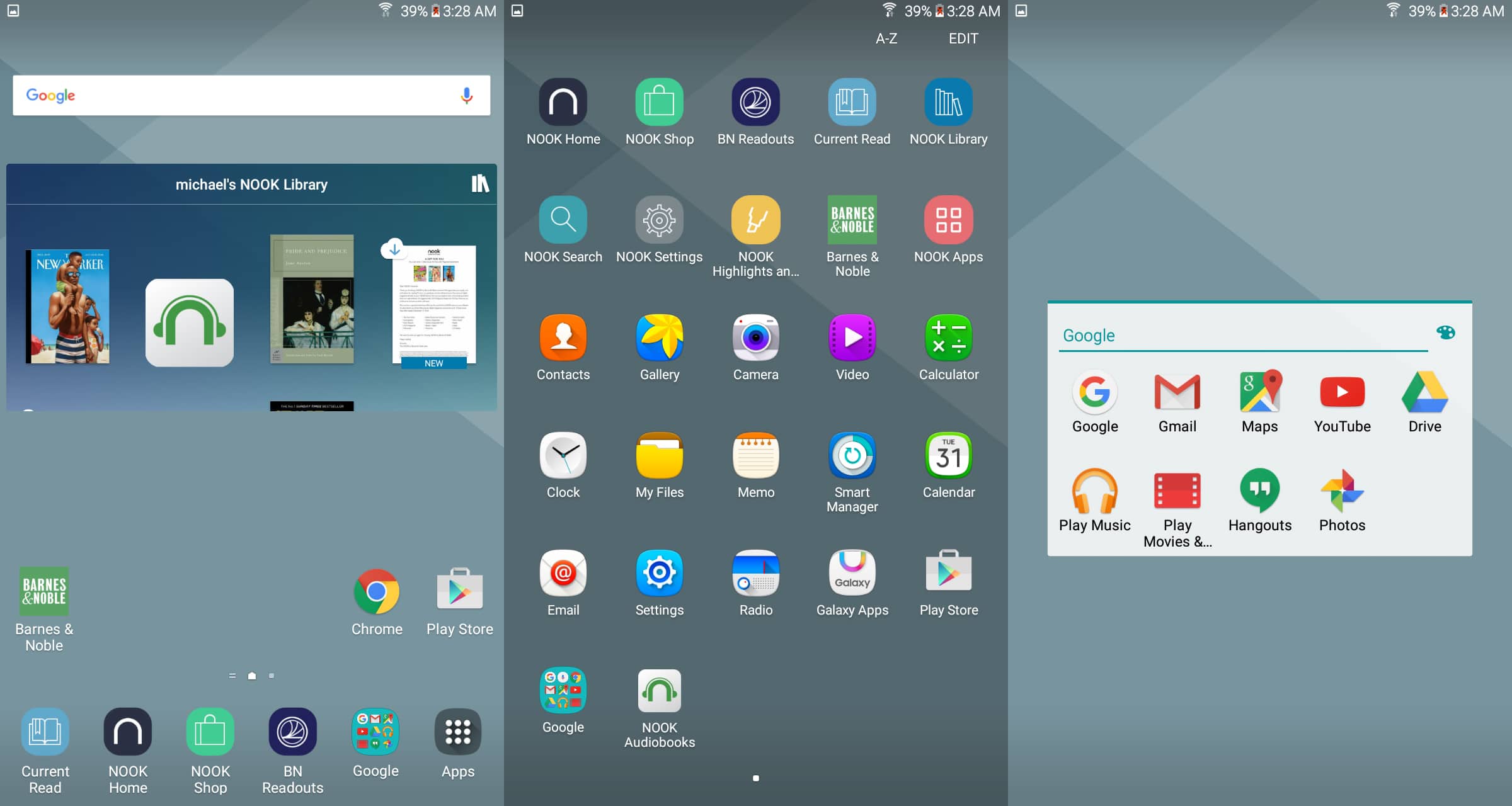 The Samsung Galaxy Tab A Nook is running Google Android 5.1.1 and you can download apps directly from Google Play or the Samsung App Store.
I am impressed on how little bloatware is on this device when you take it out of the box for the first time. There is no Samsung branded apps and none of the 3rd party stuff you would normally find on one of their smartphones or tablets.
When Barnes and Noble started to do business with Samsung for all of their tablet needs the bookseller designed a bunch of Android apps that ship on all of their devices and are not available to download on the Play Store. Let's take a look at all of the customized apps that are available on this device.
Nook Library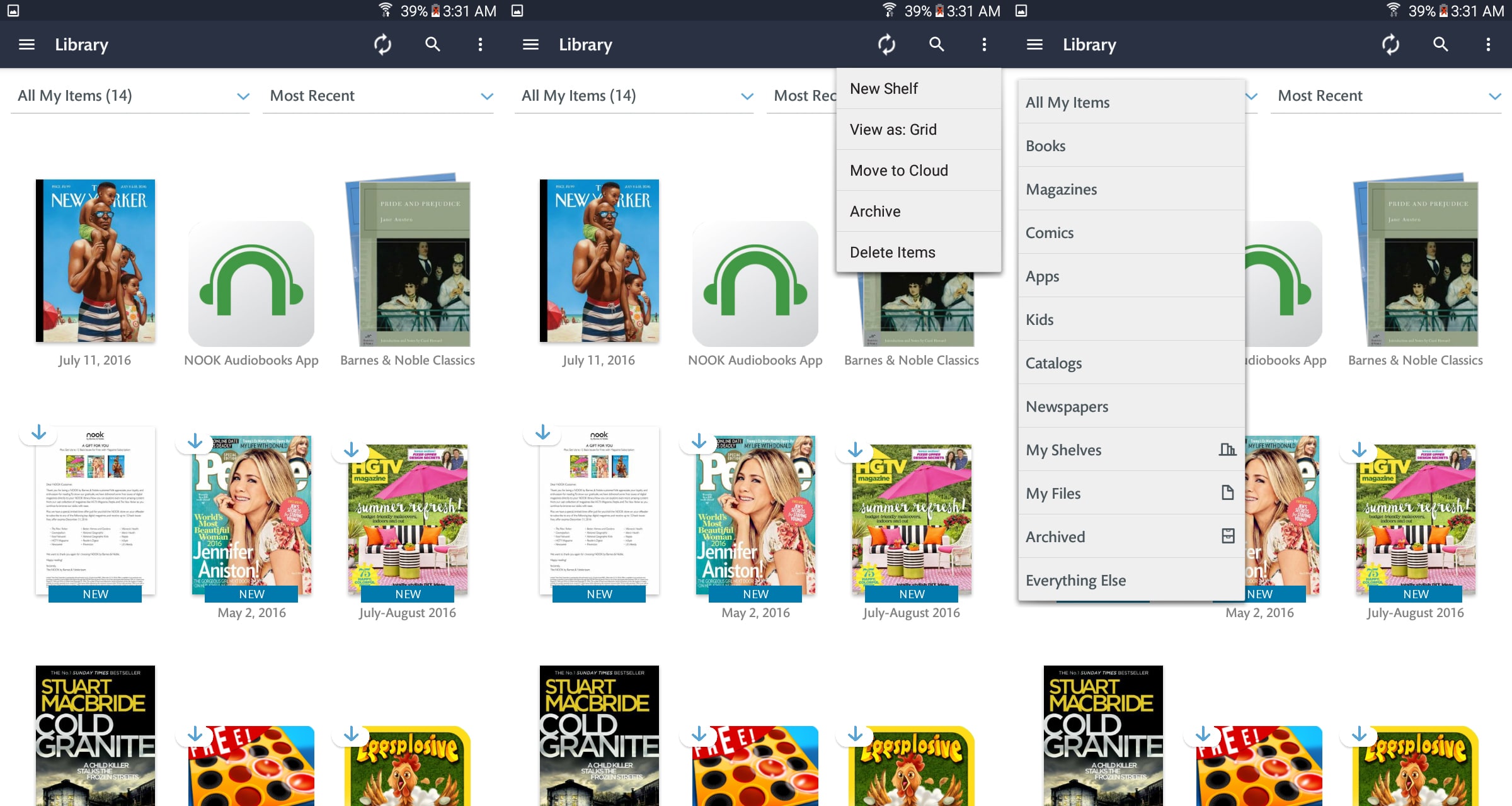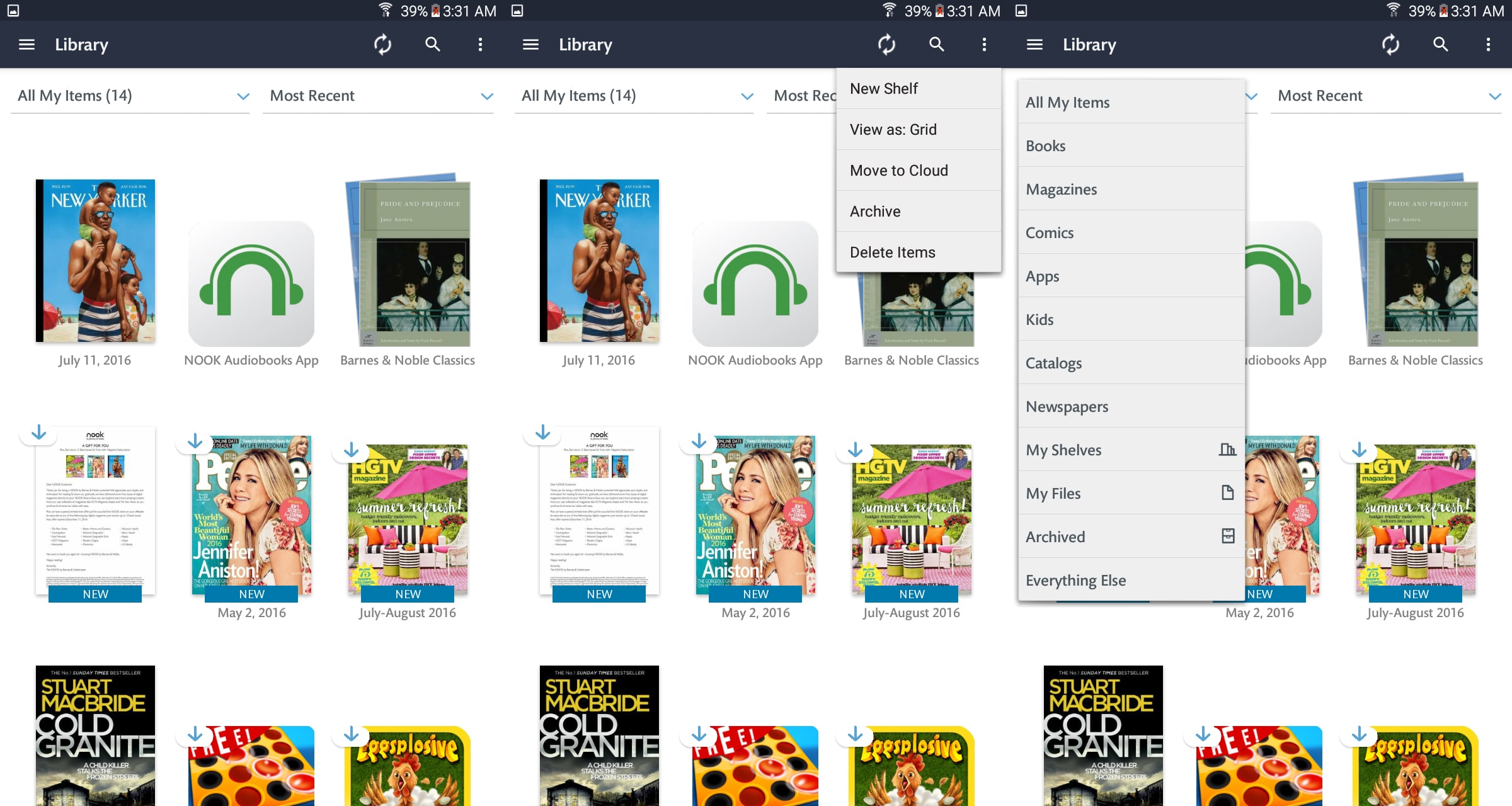 The Nook Library houses all of the purchases you have made from Barnes and Noble. This includes apps that you downloaded before Barnes and Noble shut down their app store, eBooks, comics, magazines, newspapers, and television shows. There is a settings menu on the top right hand corner that allows you to access all of the individual Nook apps.
eBooks are opened by the quintessential Nook app for Android, which has been available on Google Play for years. One of the things I always liked about reading on the Nook is the different backgrounds. Kobo and Kindle have always just had three different background colors, but Nook has six. You can easily change the bright white background to Sepia or different shades of off-white. This makes it easier to read in the dark, without having to strain your eyes. I also dig the way Nook handles animated page turns, wikipedia lookups and built in dictionary.
Magazines and Newspapers are opened via a special Nook for Magazine app that is hidden on the device. You cannot open the dedicate app unless you actually open up something you purchased in your library menu. The one thing I really like, aside from the animated page turns is a feature called "article view." This strips away all of the images and CSS and turns a magazine into an eBook.
Nook Shop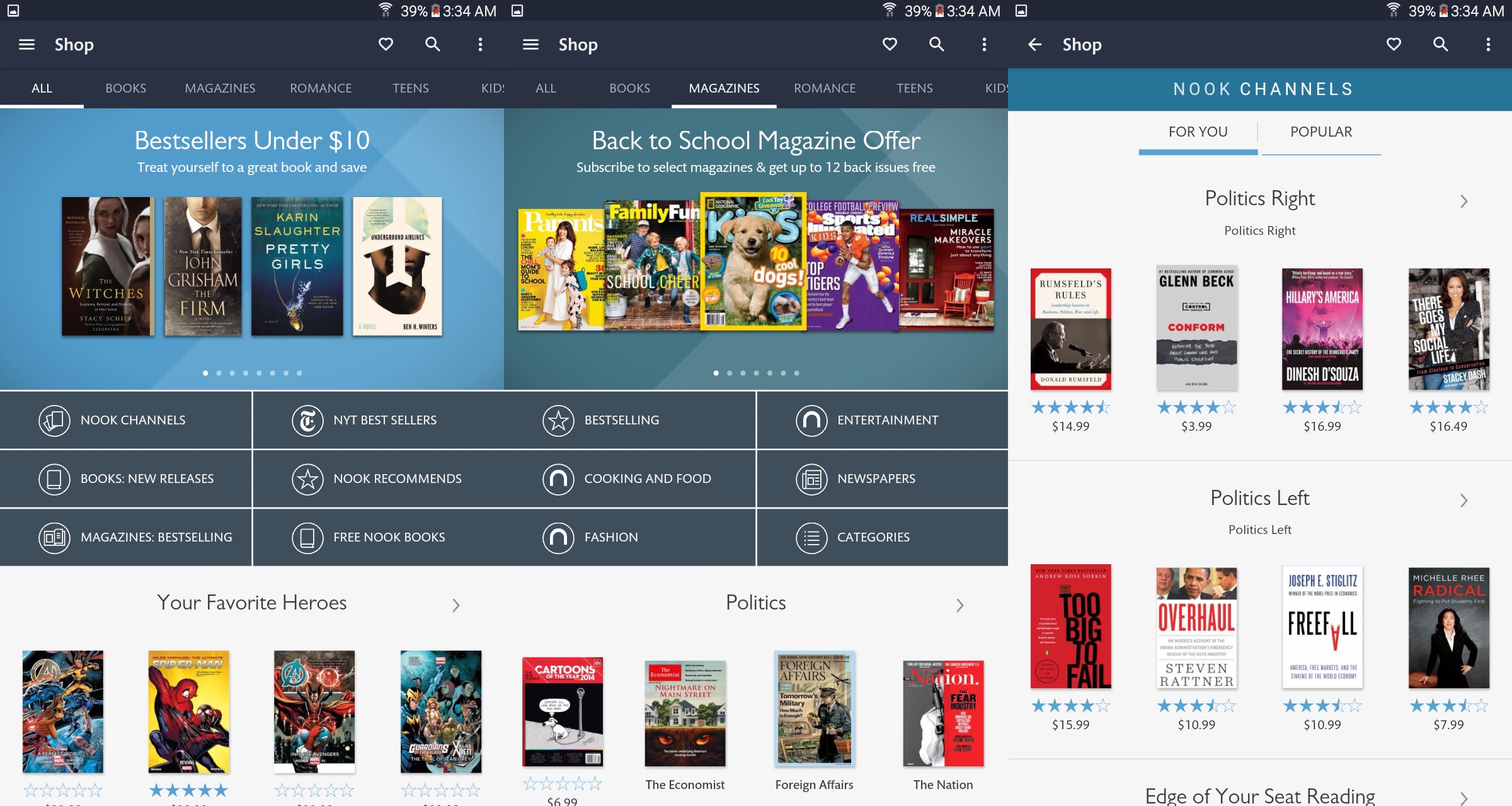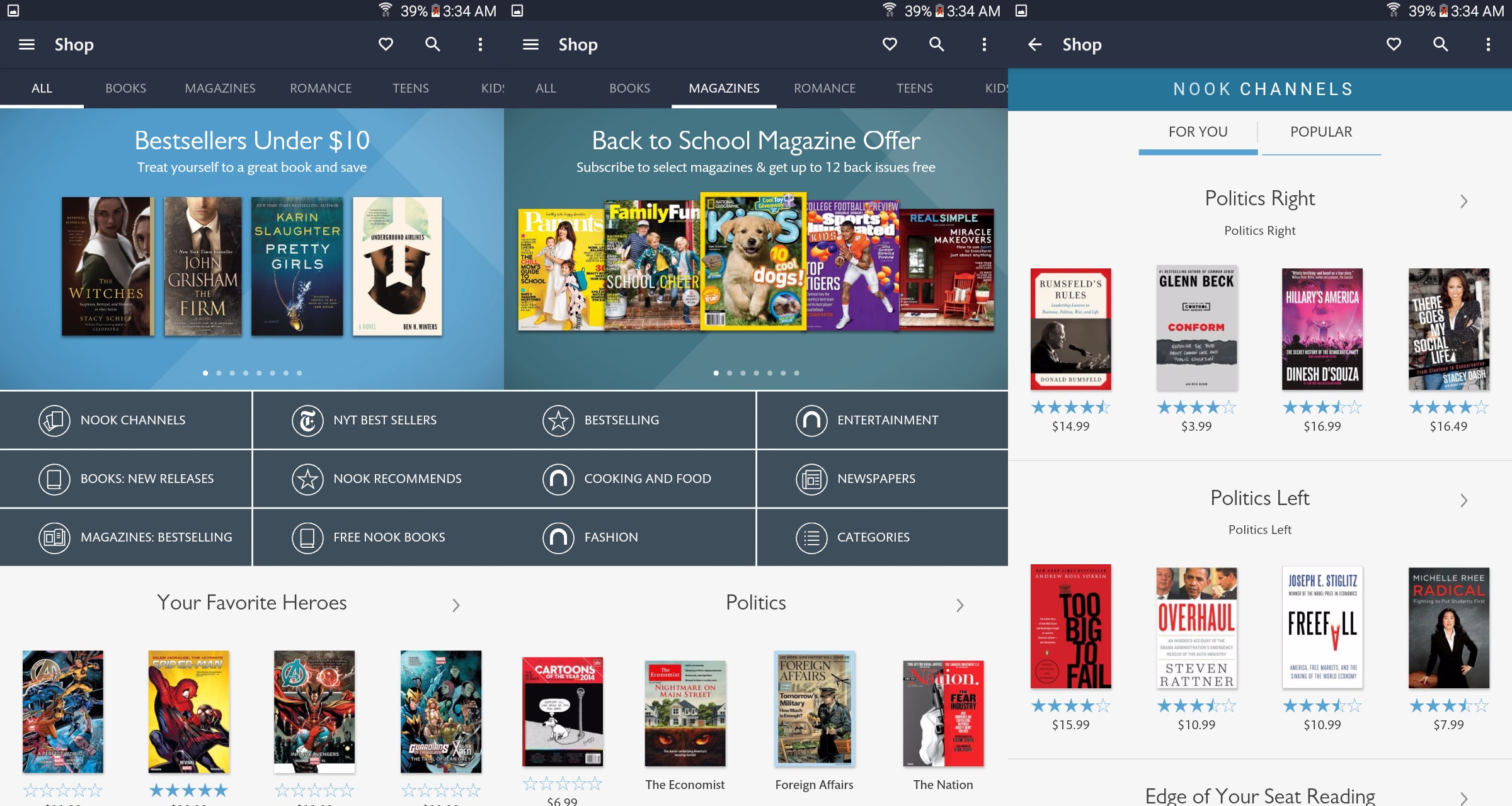 The Nook Shop was designed as a standalone app that lets you browse books, magazines, comics and manga. Barnes and Noble has really refined this app and it is heavily curated. You can check out Nook Channels which are unofficial genres and categories to checkout topical content. For example, due to the election in the United States you can read "left" and "right" e-books. There is also a "Friends of Harry Potter" which promotes books that are similar to this franchise, by authors such as Rick Rioran and Ridley Pearson.
There is also a curated section from the Nook editors, New York Times Bestsellers, Free e-books and a few others. I suppose what I like the most about the store is that there are not many sections on the main home screen to be overwhelming.
Additionally, there is a B&N standalone app that simply gives you a mobile experience for the main BN.com website.
Nook Search
Nook Search is a standalone app that allows you to type in key terms that you want to look for in the shop. You can look at specific keywords, such as "post apocalyptic" or "Potter." It will then give you a huge list of titles matching your search results in everything B&N offers in their store.
Nook Readouts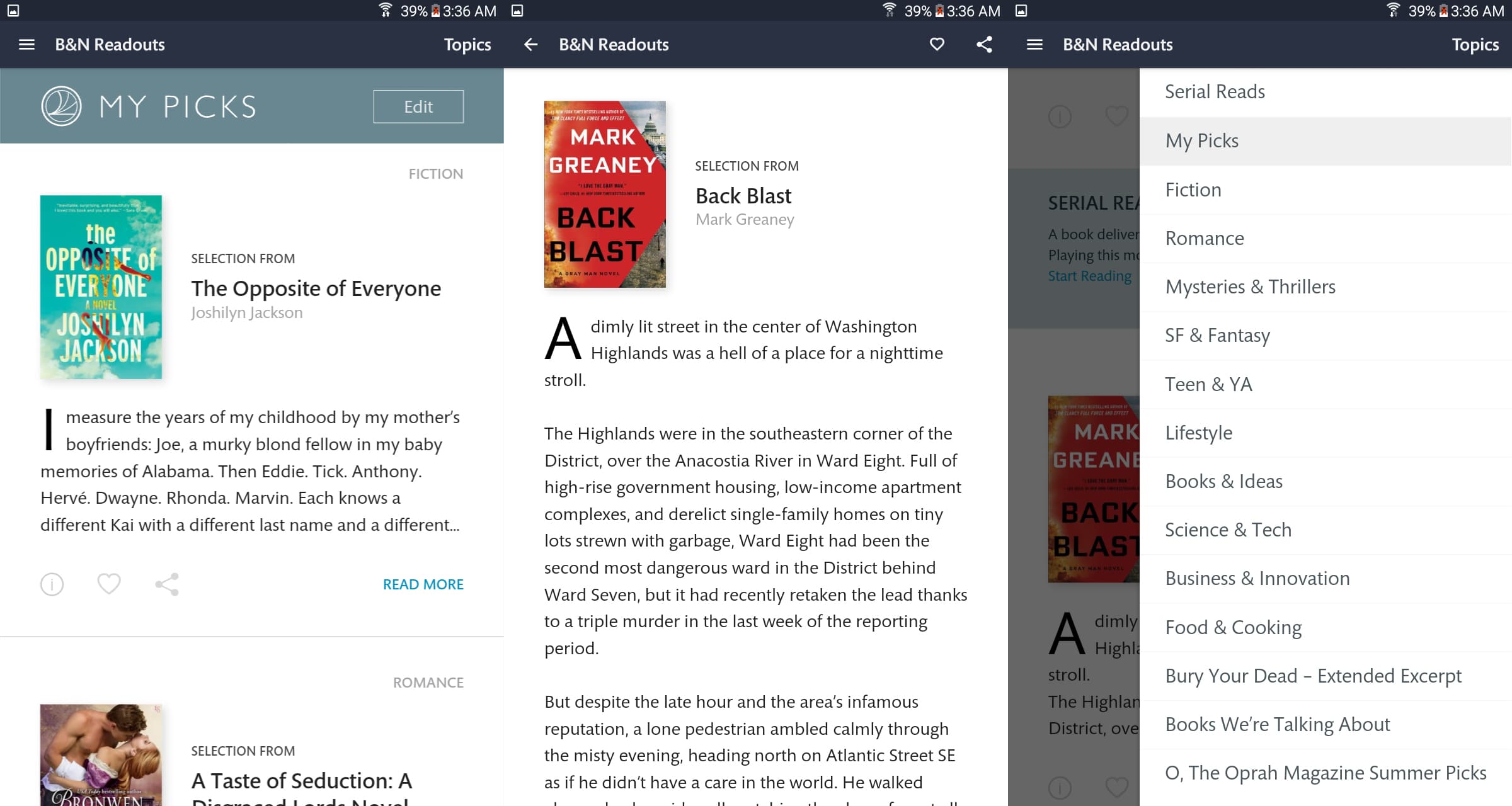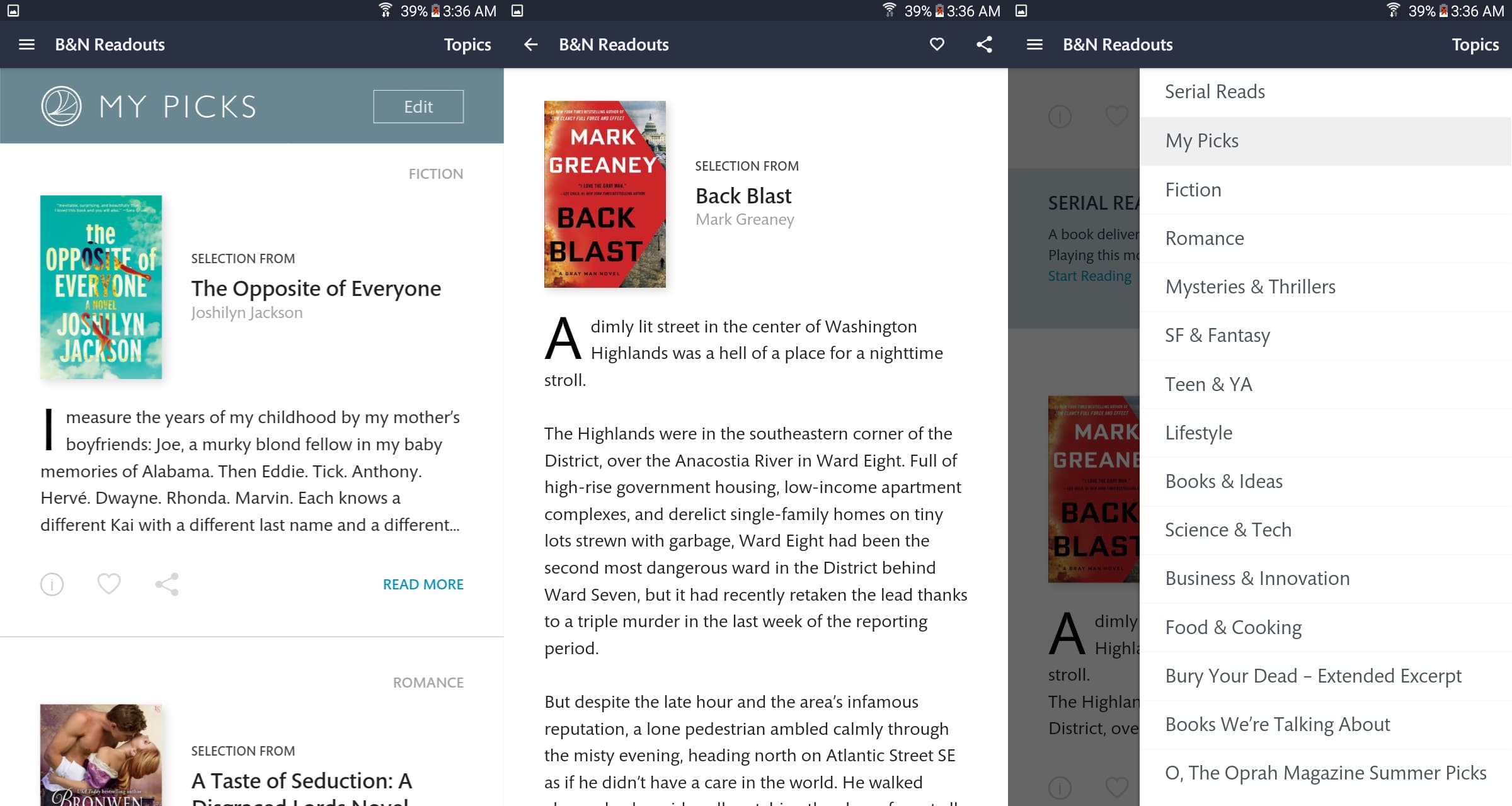 Nook Readouts leverages Barnes & Noble's vast content catalog and deep book selling knowledge to deliver a daily selection of addictive and compelling quick reads.
Basically what Barnes and Noble is doing with this program is providing magazine excerpts that give you feature stories and other journalistic content. B&N Readouts is refreshed daily with book excerpts in popular genres and topics, including Fiction, Romance, Mysteries & Thrillers, Science Fiction & Fantasy, Teen & Young Adult, Lifestyle, Books & Ideas, Science & Tech and Business & Innovation. B&N Readouts also offers customers sneak peeks of upcoming books and special bonus content from authors and publishers. My Picks allows users to customize selections to reflect their person.
Nook Settings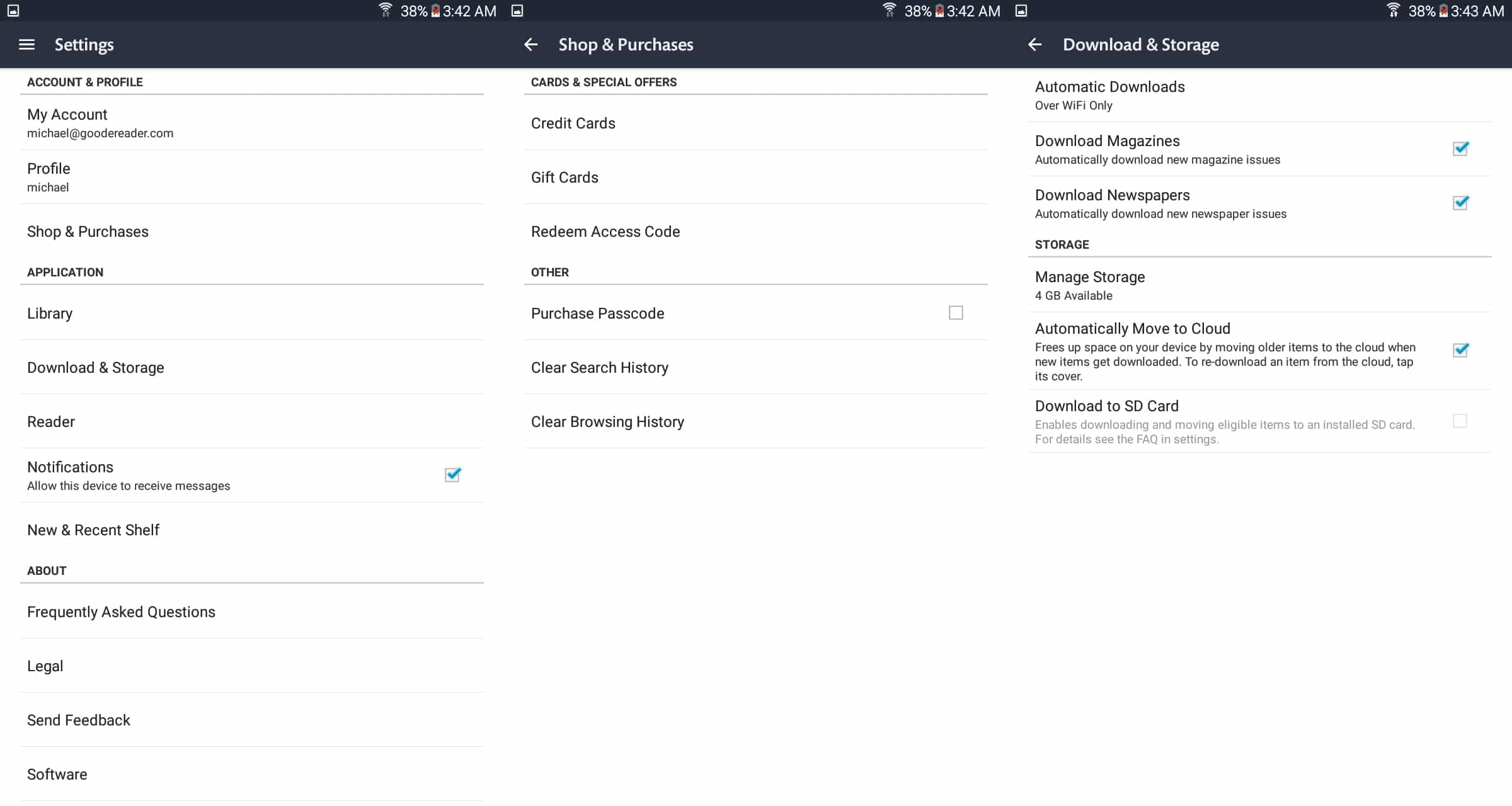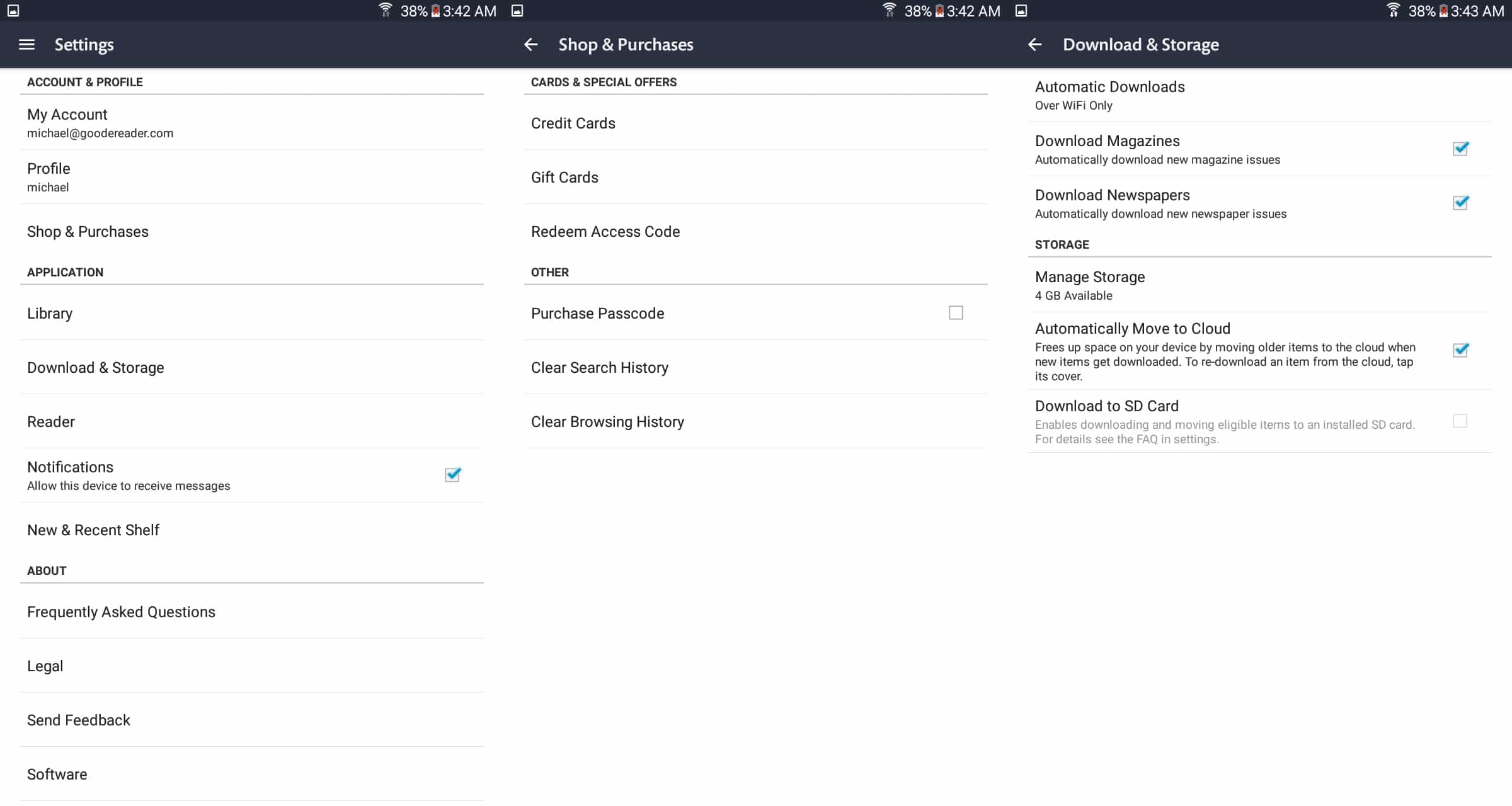 This screen is fairly basic, but allows you to control the way your tablet works. You can attach credit cards, gift cards or redeem access codes to get free digital content. If you have kids or are worried about other people purchasing stuff, you can setup a passcode.
There is not much storage available for user content. Barnes and Noble allows for 4 GB of Nook purchases and 4 GB for sideloaded content. There are options to move everything to an SD card if you find yourself running out of room.
It is important to note that this settings menu is quite different than the stock Android menu.
Reading Experience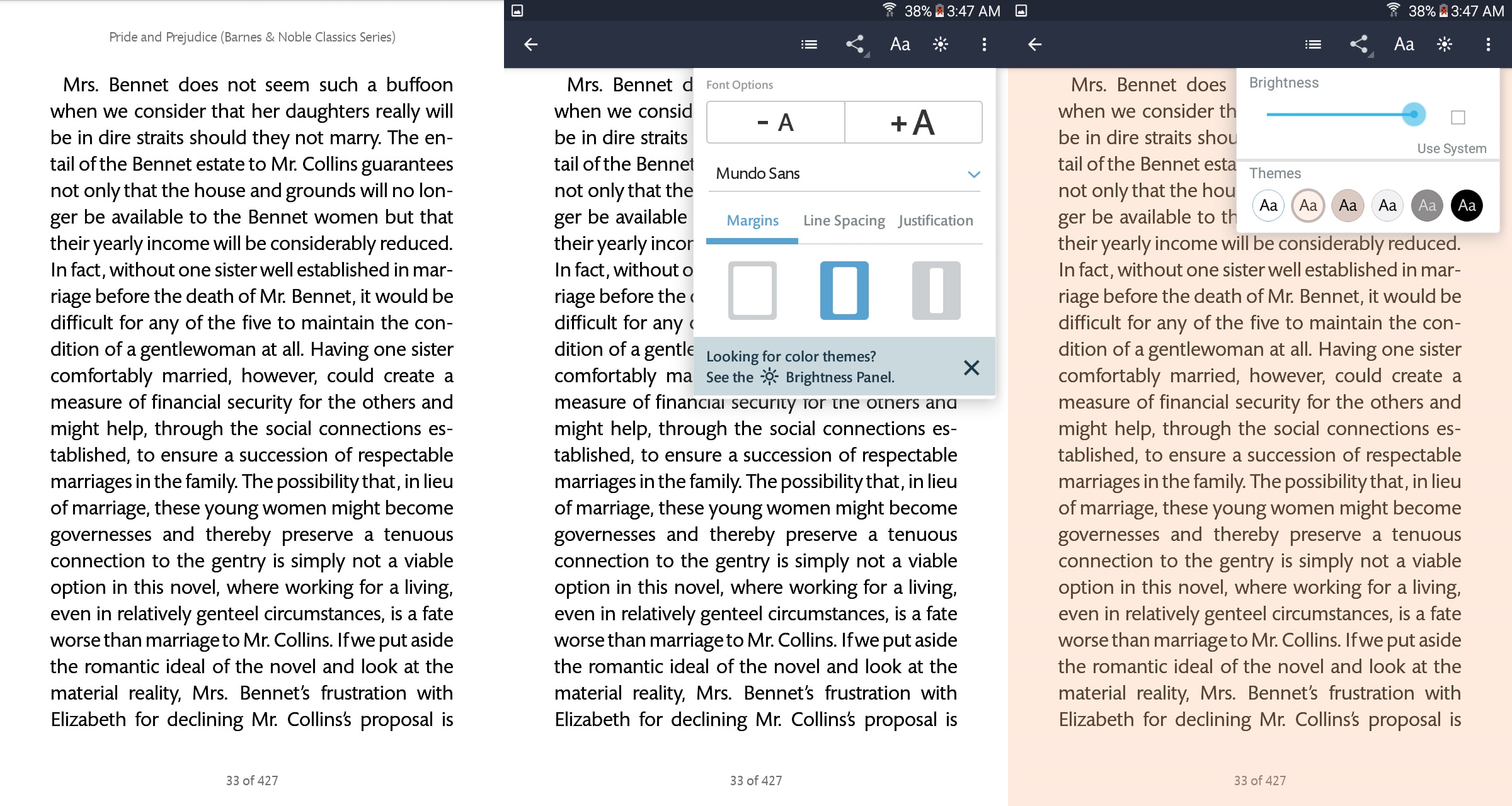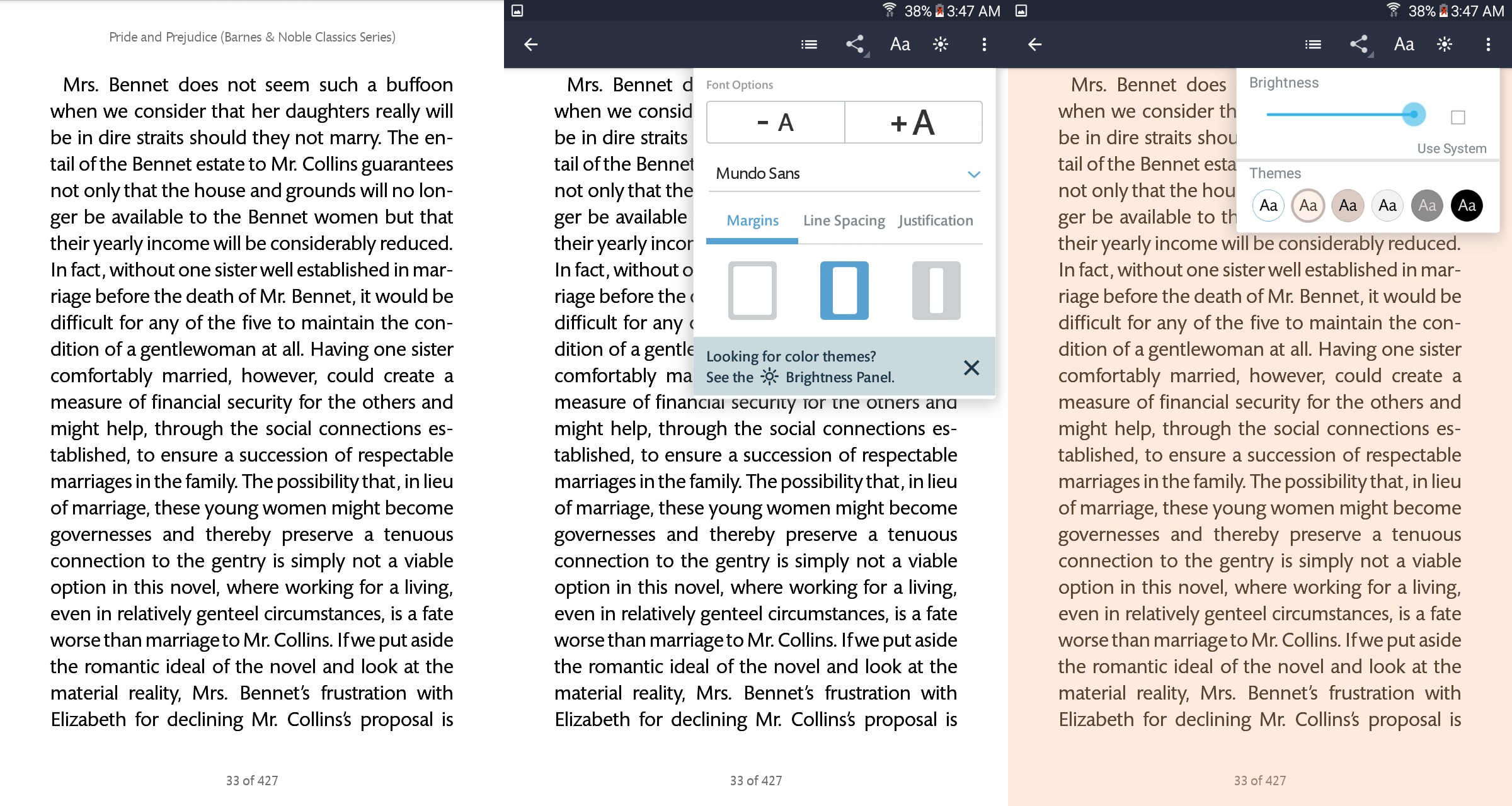 Barnes and Noble provides the general e-reading experience from their stock Android app. The only way to launch it is to find a book you want to read that is in your library or via the "currently reading" app. There is no dedicated app shortcut.
The Nook reading app is fairly basic and does not give translation options, text to speech or inhibit blue light. Instead, you can simply adjust the size of the font, change the font completely or change the background to one of six different colors.
When you are reading an e-book you can long press a specific word and make a highlight using 5 different colors. You can also translate words automatically with the build in dictionary. If you are the type of person to take notes, you can simply write a note using the keyboard and access them with a dedicated "note" app that is buried in the settings menu. What is interesting about this notes app is that it shows the e-book cover art, how many notes you took and then you can click on it to see all of the individual notes you have made. This sort of thing is not very compelling for me, but I am sure some people will find it useful.
Wrap Up
This is a really basic tablet that does not have the type of resolution that will allow you to watch HD video or play AAA games. Instead, you will likely use this device to read e-books, magazines, manga, newspapers or comics. It is a cheap device, which is the main draw.
Prior Samsung branded Nook tablets have been ridiculously expensive and have not sold very well. Nobody wants to spend over $200 for a B&N device that rarely receives firmware updates and the build quality is normally quite inspiring.
I think it is important to note that this is an entry level tablet. I am certainly not going to completely blast it for fundamentally not being a good piece of hardware. The singular purpose is to read digital content from Barnes and Noble, and that's it. If you intend on doing anything else, like playing games, watching videos, I would look at something else.
PROS
Affordable
SD supports 256 GB of storage
Dedicated Nook Apps are well designed
Google Play
Hardly any bloatware
CONS
Low resolution
Woeful camera
1.5 GB of RAM is not enough for a tablet
Redundant Nook Apps
The single speaker is poor
Nook Audiobooks is not pre-loaded
Horrible retail packaging
Rating: 3.5/10
Michael Kozlowski is the Editor in Chief of Good e-Reader. He has been writing about audiobooks and e-readers for the past ten years. His articles have been picked up by major and local news sources and websites such as the CBC, CNET, Engadget, Huffington Post and the New York Times.