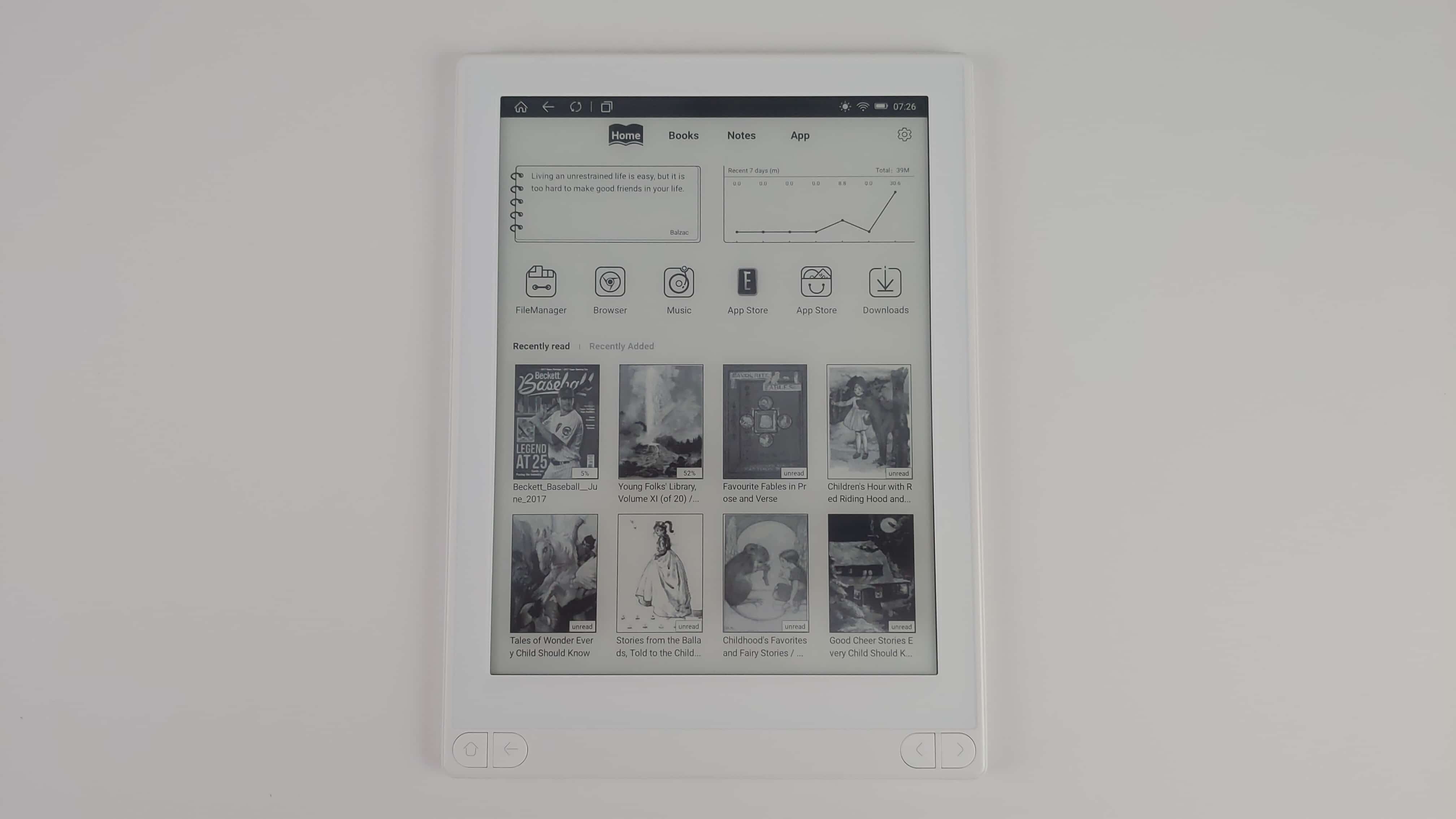 The Boyue Mimas 10.3 inch e-reader is a digital note taking device and an ebook reader that runs Google Android. The big selling points is that it has a front-lit display and glowlight, making it the first 10.3 inch e-reader that you can use in the dark. This immediately makes it a viable alternative to the Sony Digital Paper DPT-CP1 and the Onyx Boox Note.
Hardware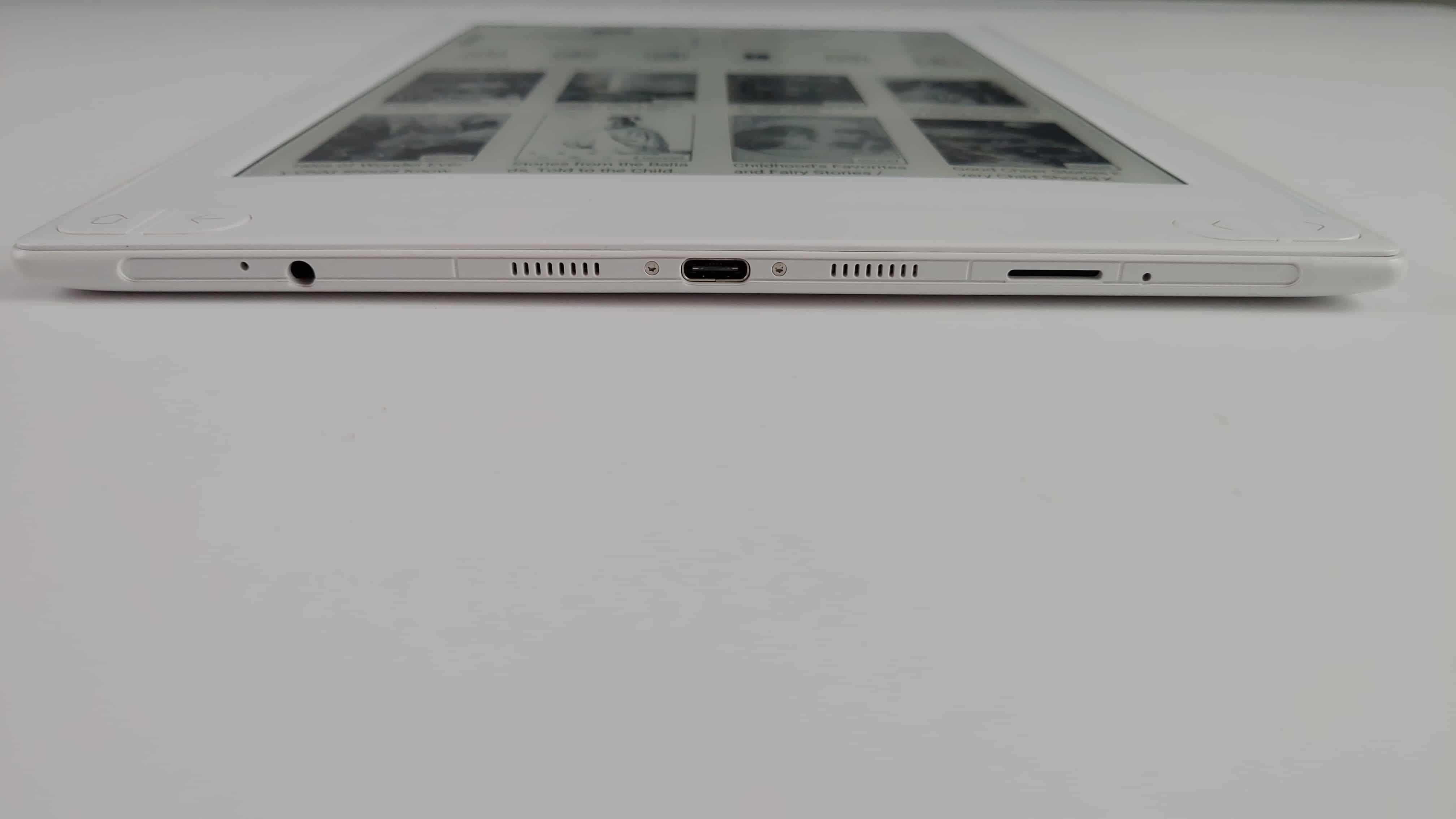 The Boyue Likebook Mimas features a 10.3 inch capacitive touchscreen display with a resolution of 1872×1404 and 227 ppi. It comes with a WACOM enabled screen for stylus interactions, but it also has a capacitive touchscreen for interactions and gestures. This is useful for swiping pages of an ebook or playing casual games.
Underneath the hood is a 1.5GHZ Rockchip RK3368 Octa-core , 2GB of RAM and 16GB of internal storage. It has an SD support, which is capable of reading cards up to 128GB. It will be powered by a giant 4700 mAh battery and have USB-C for charging and transferring of data.
The Mimas also has audio functionality via the two speakers on the bottom of the device, next to the status indicator light and the MicroSD port. The positioning of the speakers on the Mimas is actually very interesting, because all other e-readers who have speakers, put them on the bottom, so the sound is muffled. I feel that the speaker positioning is very much akin to the way Apple does it with the iPad or iPhone.
If you do not want to listen to all of your audio with the speaker, there is a 3.5mm headphone jack to plugin a pair of headphones, but there is also Bluetooth for wireless accessories.
The vast majority of e-readers on the market feature a black chassis, which really make the greyscale E Ink screen and text really pop. The body of the Mimas is white, which gets some getting used to. There are a series of physical buttons; home, back and two page turn buttons.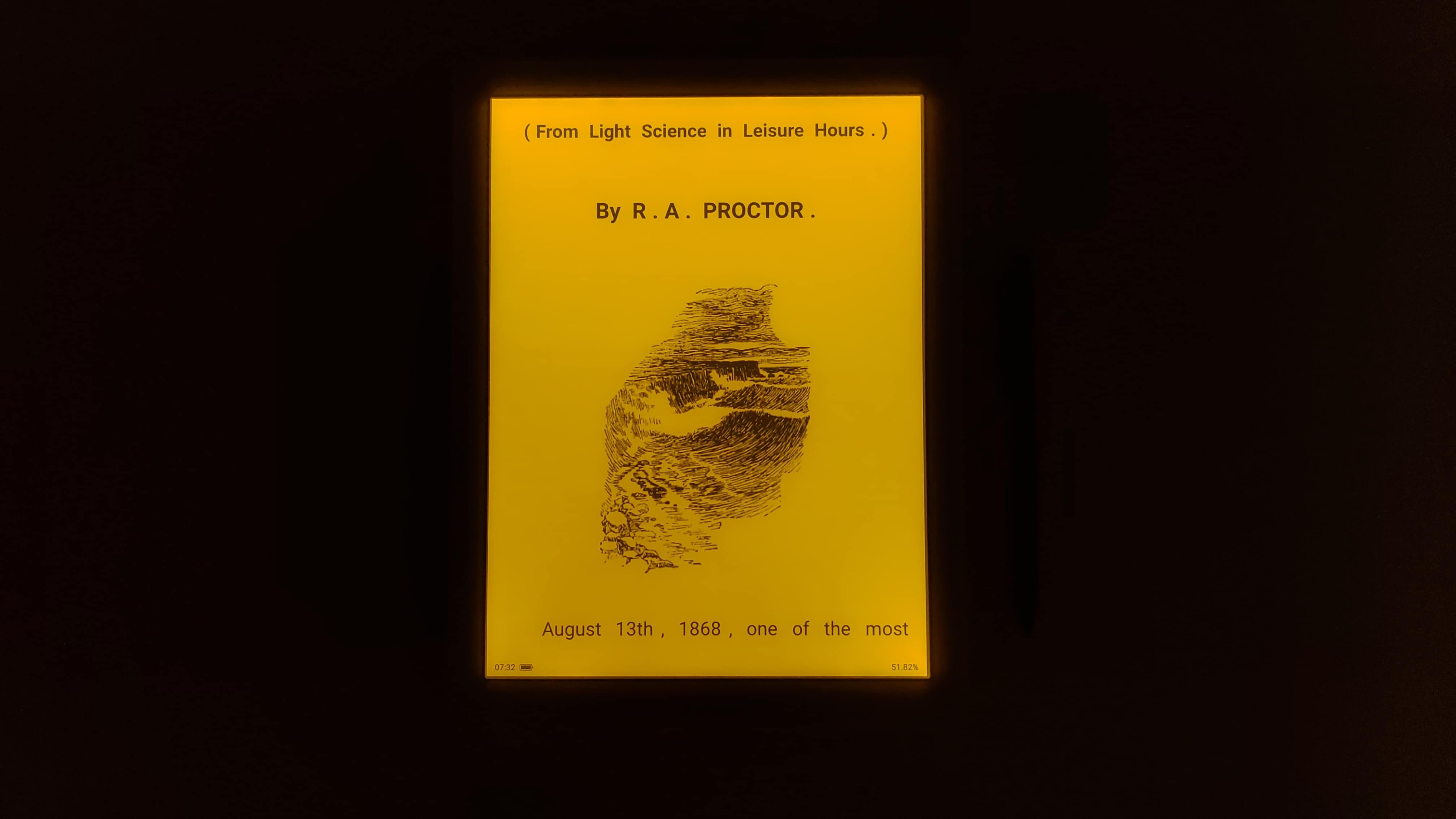 The Mimas is the first large screen e-reader that has a front-lit display and a color temperature system.  When you are reading in lower light conditions the screen with just white LEDS work very well, and there is little light bleeding from around the edges. The candlelight effect looks better on the Mimas than what Kobo is doing with their Comfortlight system, somehow the Boyue screen is a little more refined with the various degrees of orange.
You can control the lighting system of the front-lit display with a slider bar, if you click on the moon icon, you can adjust the luminosity of the color temperature system.
The dimensions are 262 x 191 x 7.8 mm and it weighs 430g.
I find the overall design to be very interesting. It appeals to people who like physical buttons to turn the pages of an ebook, but they only work with the default e-reading app and incompatible with Kindle or Kobo. It also appeals to people who like to take digital notes with a stylus, for drawing, annotations or PDF editing.
Software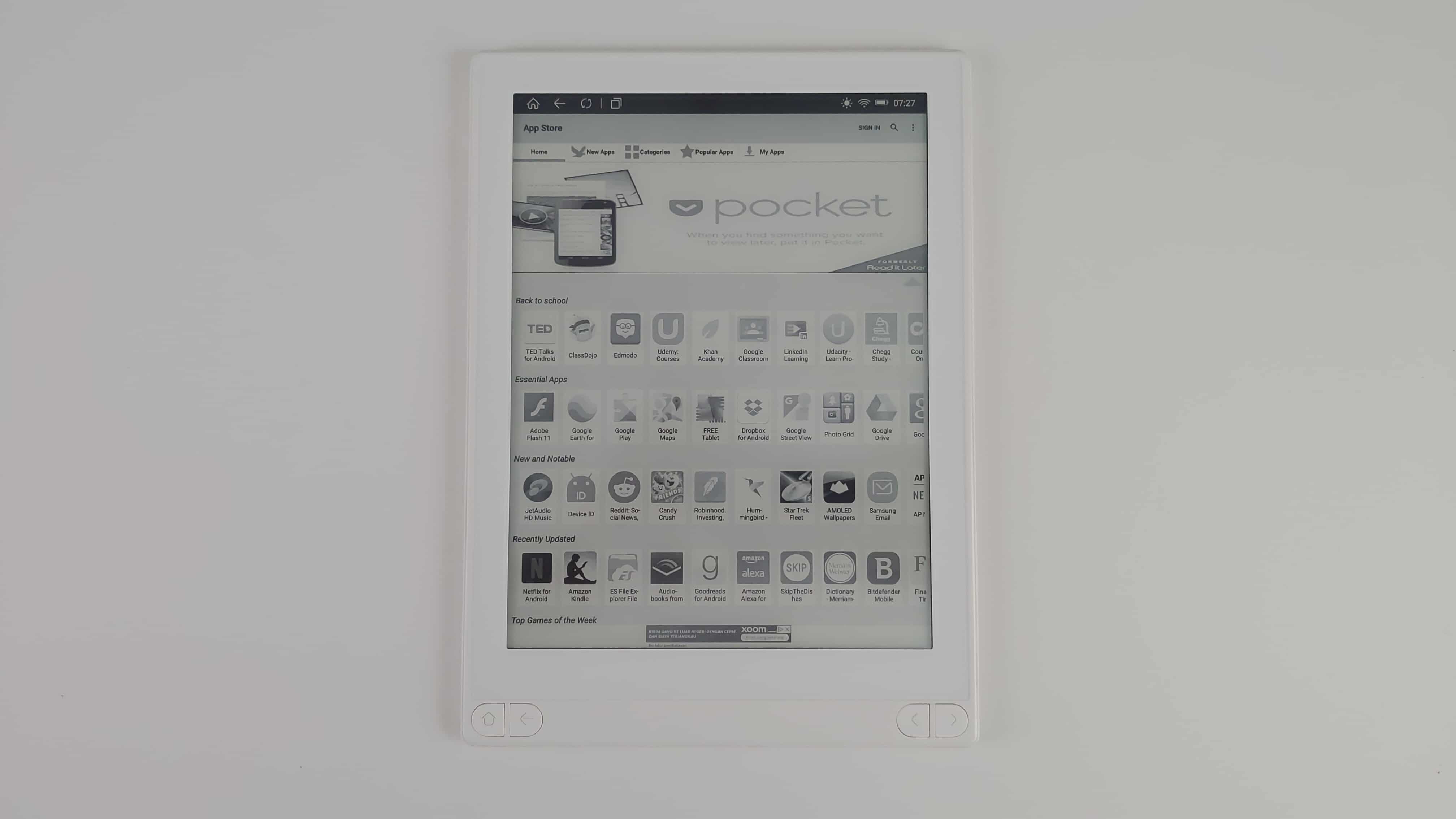 Google Android 6.0 is a big draw and this device and it allows you to have an unbridled flexibility in crafting your own experience. There are hundreds of ebook reading apps, PDF editors and other apps that will make the Mimas really shine.
The home screen comprises of a few different UI elements. There is a software driven home button, A2 mode, app minimization and selectively closing them. There is also a battery life indicator that presents the data in a numerical figure and also a WIFI symbol to turn on/off internet connectivity. There is also an illumination icon that adjusts the brightness of the screen via a slider bar and underneath that is a volume button for audiobooks, music or podcasts.
Right under the top of the main UI are a series of shortcuts that take you to various main menus. This includes home, books, notes and apps. Underneath this is an icon driven toolbar that lists the six most recently accessed apps. This is useful if commonly just use a few apps on a daily basis, so you don't need to keep jumping over to the apps menu. On our review unit we had the Good e-Reader App Store for E-Ink, Kindle, internet browser and an audiobook player.
At the bottom of the screen is ebook cover art that represents eight ebooks that you have recently opened or sideloaded on your Mimas. This system basically takes up 50% of the home screen, because the covers are really big. Boyue is hoping that users dig the ability to jump right into the books that are in the midst of of reading.
Boyue told me that Google Play will be available in a future firmware update and it was important to the company that they launched an English version of the Mimas, since the model with Chinese has been available for the past six weeks. In the meantime, Boyue has their own app store, but it has a very paltry selection of apps. There are a few notable e-reading apps such as Kindle, Scribd, Comixology, Audible etc. There are only a dozen or so apps currently available. If you purchase a Mimas, I would recommend to download the Good e-Reader App Store for E Ink, which has over 32,000 apps that work on an Android e-reader and are kept up to date.
There are a bunch of stock apps installed, such as music player, web browser, file manager, etc. None of them are really inspiring, likely users will install their own.
E-reading Experience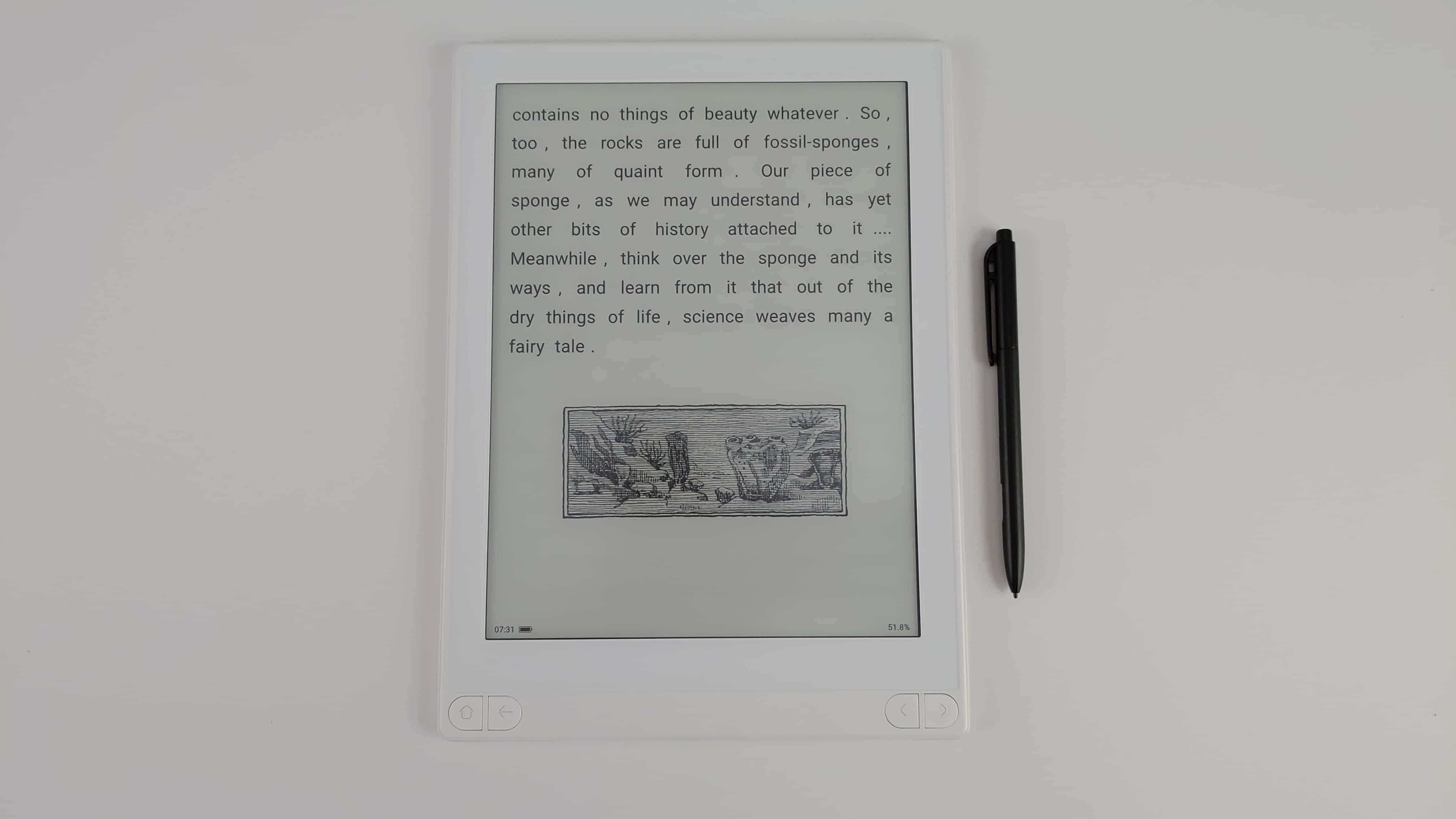 There are thousands of ebook reading apps out there that let you buy digital content within the app or do a really good job at reading sideloaded content. Whether you like comics, manga, magazines, newspapers, gaming PDF's or whatever else, the Mimas can handle them all.
The default e-reading app on the Mimas is likely the first thing that users will fire up when they unbox it and power it on for the first time, to see what it is capable of.  When you have the native ebook reader app fired up and click on the center of the screen there are a few settings. You can change the size of the font from five preset options and there are three little dots that allow you totally customize the size via a slider. There is also two other slider bars that control the weight of the font, which many e-readers have.
The stock app reads anything you sideload into your e-reader via the USB cable. It supports TXT, CHM,FB2, MOBI, HTML, RTF, HTXT, EPUB, PDB, DOC, PRC, PDF, DJVU.
If you are reading a PDF or EPUB with lots of images, comic, manga or something else, there are brightness options that take dark and grainy imagery and there are a few options to lighten them up. You can also change the line spacing, have the pages turn automatically if you are reading on a kickstand or switch the orientation from portrait mode to landscape.
For the users that love tinkering around with an e-reader app, there are a few advanced options that are worth checking out.  You can adjust the full page refresh rate or where you want to touch the screen to turn a page.  Generally you touch the right hand side of the screen to skip ahead one page and the left side of the screen to go backwards. Let's say that you are left handed, and want to set the e-reader how to read, the Mimas can do it. This setting will also appeal to manga readers who turn pages forward and backward using different touchscreen interactions.
Drawing and Stylus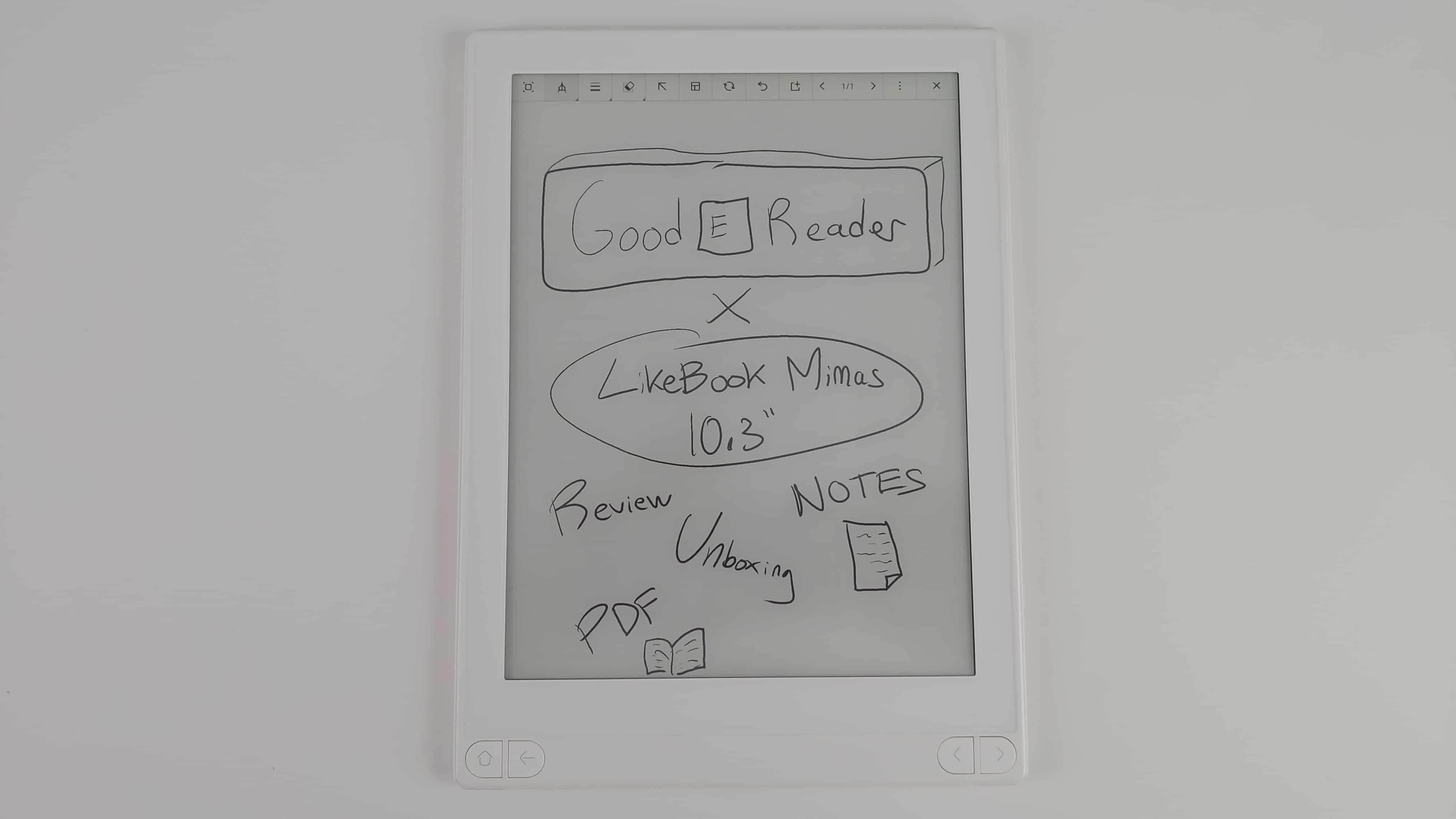 The Mimas has a stylus with an eraser at the top and over 4096 degrees of pressure sensitivity. There is a clip on the Mimas, so you can attach it to a carrying case or your lapel.  There are a few preset options for different types of pen and pencil types and each of them get really fine or dark, depending on how hard you are pressing on the screen. If you draw while having your hand resting on the screen, no worries, the Mimas has palm rejection technology.
The Mimas note taking experience is fairly basic. You can use different shapes, like squares or circles and resize them on the fly. There are options to delete the last thing you drew, circle an area and delete everything that is inside or just kill the entire page. I feel that the Remarkable and Onyx Note do a better job at providing more advanced options for drawing, but the latency on the Mimas stylus is next to nothing, anytime you draw, there is no playing catch-up with the E-Ink screen, everything is done on the fly, just like an Apple Pencil on an iPad.
There are 24 different preset backgrounds that ship on the Mimas. You have everything from College Rules to Sheet Music. Peter really dug the time schedule background that let him plan his day and write down times he had meetings or doctors appointments.
The Mimas has a default PDF reader and can you draw on pages, make notes and annotations on anything that you sideload on it. You can save anything you edit as an entirely new independant file, so you can have the virgin file with no edits and your copy with all of the things you have done.  The stylus has pressure sensitivity within a PDF file, but there are not very many advanced options.
Wrap up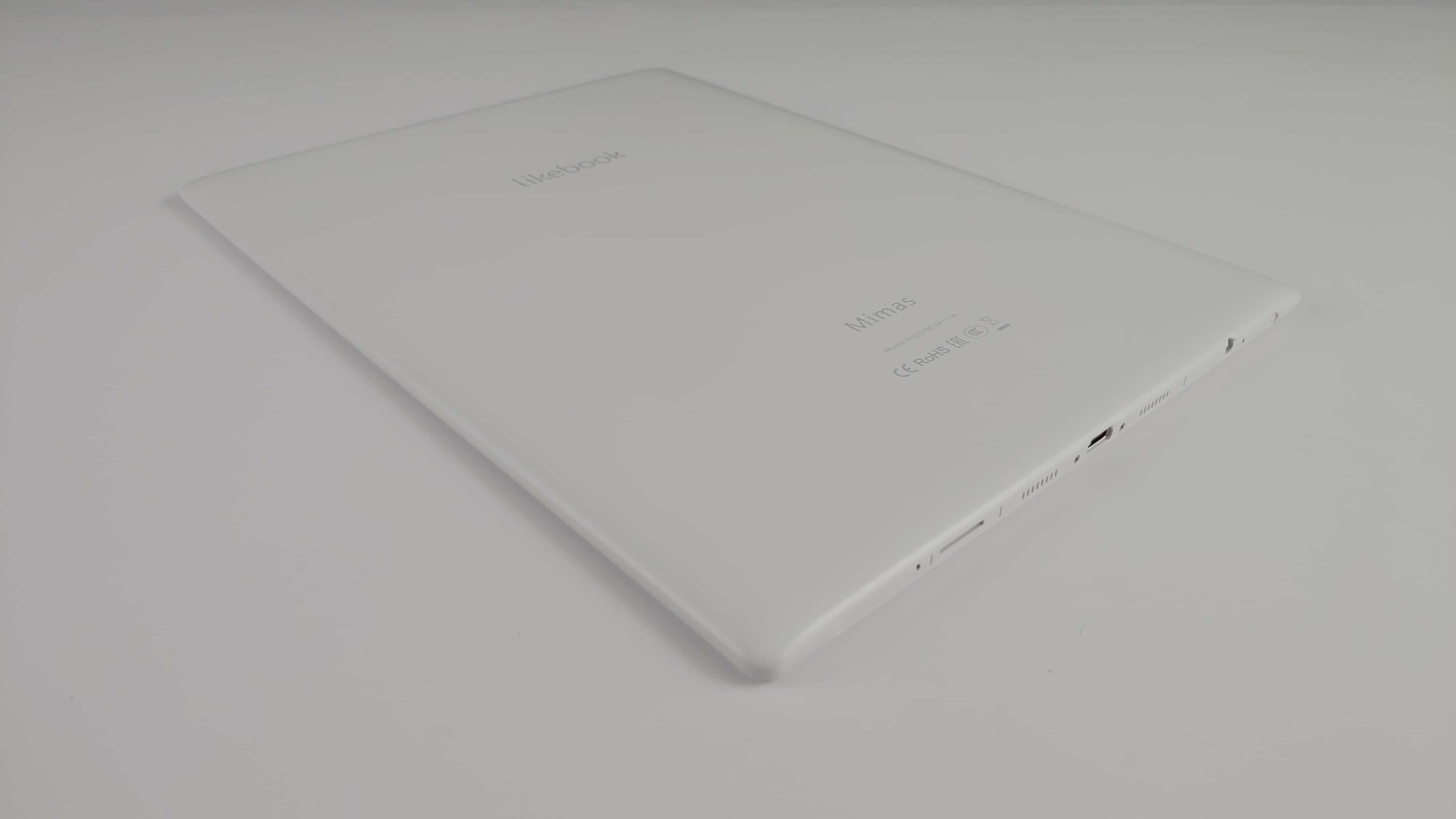 It will not be very long until Onyx or Sony put a front-lit display on their larger e-readers. Boyue was simply first to the market with a 10.3 with a full and comprehensive lighting system.
The Mimas is the best e-reader that Boyue has ever released. It has a large screen that can read ebooks or take notes on with the accompanied stylus. You can listen to audiobooks or music with the speakers or wireless headphones. There are millions of apps you can install on it, since it is running Android 6.0, which is modern by e-reader standards. This device can basically do it all, and it also has bleeding edge hardware, making everything feel tremendously robust.
In the large screen e-reader segment, the Boyue Likebook Mimas is the one to beat.  This device retails for $449 from the Good e-Reader Store.
Boyue Likebook Mimas
$449.00
Pros
Large screen
Front-light and Color Temperature System
Stylus and Note taking
Modern Version of Android
SD support
Cons
Default App Store
Running Android Apps non-stop will kill your battery in a week
Too many preloaded books
Quote of the day Widget cannot be disabled
More homescreen customization would be welcome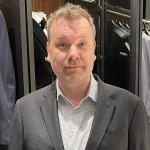 Michael Kozlowski has written about audiobooks and e-readers for the past twelve years. Newspapers and websites such as the CBC, CNET, Engadget, Huffington Post and the New York Times have picked up his articles. He Lives in Vancouver, British Columbia, Canada.