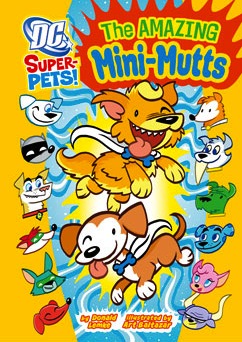 Capstone has added an array of colorful characters based on DC superheroes (and their pets) to its digital service for school libraries.
Capstone is a children's book publisher that has a robust line of graphic novels, both originals and reprints of DC's all-ages properties. They also have two lines of chapter books based on DC characters, DC Super Heroes and DC Super-Pets, and they announced this week that they are making these books available as interactive e-books as part of the Capstone Interactive Library.
These interactive e-books are designed strictly for school libraries: A one-time fee of $31.99 for the Super-Pets books and $33.99 for Super Heroes grants the school a license to allow every student to read it, in a variety of formats, on computers or mobile devices at school or at home. Unlike many digital library products, Capstone is not pretending that a digital book is the same as a print book—the license allows multiple readers to check out the book at the same time. And the book doesn't expire, either—the license allows for unlimited checkouts. The books include audio tracks recorded by professional actors in addition to the text and full-color illustrations.
"Our DC Comics brand of full-color chapter books offers readers the perfect introduction to DC Comics characters and are among Capstone's most successful and best-selling series. Librarians can expand their digital collection with the titles kids love without having to worry about hidden fees or circulation limits," said Matt Keller, Capstone's Chief Marketing Officer.

A former book editor and newspaper reporter, Brigid Alverson started MangaBlog to keep track of her daughters¹ reading habits and now covers comics and graphic novels for Comic Book Resources , School Library Journal, Publishers Weekly Comics World, Robot 6, and MTV Geek. She also edits the Good Comics for Kids blog at School Library Journal. Brigid was a judge for the 2012 Eisner Awards. Send her an email to wordballoons@gmail.com