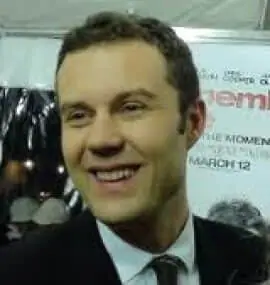 While much of the stigma and attitudes towards self-publishing have been stripped away in just the last few years, consumers often still wonder about authors' motivations for going independent with their books. This especially true for authors whom many readers might feel would have been "snapped up" by agents and publishers due to their status in other fields, such as being a celebrity or a noted expert.
When Nick Osborne, film producer of such movies as Summit Entertainment's hit Remember Me which starred Robert Pattinson, investigated the traditional route to publication for his title Refuge, he found that the options before him weren't taking his book where he wanted it to go and decided to put the skills that helped him become a successful film producer to use.
"The book is self-published," Osborne explained to GoodeReader. "I had an agent at AP Watt who procured a couple of lowball offers from some small publishers but in the end I decided to do it myself given my background. A major publishing house was also on the verge of buying the book when their marketing department informed the senior editor that the market was 'Afghaned out.' What they don't get is this is a universal story – one of love and the desire to live a life of one's own choosing."
Osborne's novel was born out of his own experience working in the Middle East as a volunteer aid worker; while completely fictionalized, the setting that was so "tired" according to the industry is one that had a profound impact on the author's life.
"In 1991 at the age of eighteen, I joined a volunteer organization called Project Trust – it was in many ways a British version of The Peace Corps. I had originally joined because my dream had been to work in Africa – I suppose I had this idealized image of myself teaching under a jambu tree in a Kenyan village or in some corrugated shack in Soweto – and everything seemed to be going to plan. I passed their grueling assessment course, got my ESP credentials and then was shocked to find a letter in the mail that said I was going to Peshawar, Pakistan. I doubt they could have chosen a place I would have least liked to have gone. For an eighteen year old the idea of an alcohol- and women-free year sounded like hell. I complained, I threatened to quit, but it was all to no avail, and having invested so much in this image of myself as someone who'd save the world I ended up going. I felt I'd look like a fool if I didn't."
Osborne's book follows a young teacher who goes into hiding at the home of an ex-pat former US soldier rather than succumb to a marriage that she desperately needs to escape. Unlike other similar tales of women who are simply trying to avoid this fate, her family is just as much the victims of the arrangement and they must also hide in fear for their lives.
Osborne will make Refuge available for free on Amazon tomorrow and Monday by clicking here.
Mercy Pilkington is a Senior Editor for Good e-Reader. She is also the CEO and founder of a hybrid publishing and consulting company.