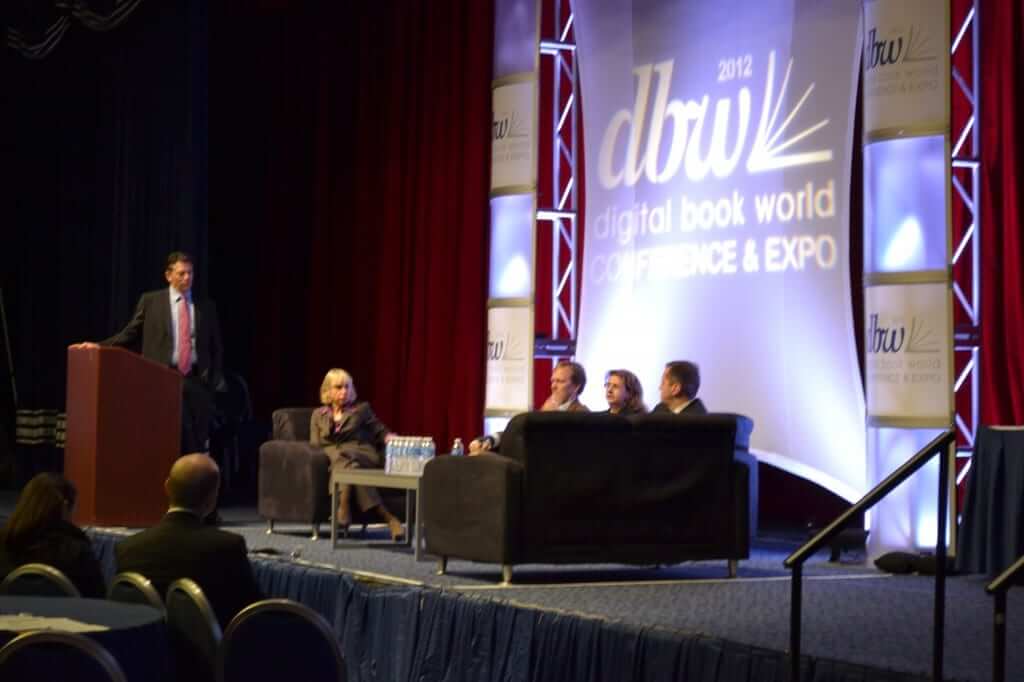 GoodEReader is on location in New York for this year's massive publishing conference, Digital Book World. Aside from coverage of the panel discussions and keynotes, as well as the live Twitter coverage of vital presentations, staffers will be conducting interviews with executives from both the traditional and digital publishing industries.
The kick-off to the event this morning included opening remarks from the CEO of F+W Media, David Nussbaum, who transitioned into the first large-group discussion of the day. The discussion panel included CEOs of several publishing companies who expounded on the lessons learned in 2011, as well as the directions the industry will be taking in the near future.
Some of the most striking remarks included the candid comments about changes the industry has undergone in the last year and the changes it will have to undergo in order to survive. The demise of Borders was listed by one panelist as perhaps the most telling event of 2011 in terms of understanding where the industry will have to go in the future. Still other remarks focused on the need to adapt to the technology that is already available.
Sourcebooks' CEO Dominique Raccah also announced a new initiative from the publisher that will allow ebooks to reach market faster than ever while still maintaining the notability and quality of the work. The agile publishing model, developed with author and futurist David Houle, will release titles in pre-determined blocks of material in order to release the work to readers in a timely manner to correspond to the poignancy of the material; the work will later be developed into a print edition once all of the electronic chunks have been released digitally.
Ellen Archer of Hyperion provided insight into one of the most interesting options for publishing by releasing books simultaneously with the counterparts from other forms of media.
Print on demand has been a running theme throughout today's conference, with some experts going so far as to say that POD is actually a form of digital publishing, although the end result is a tangible book rather than a file. One panelist enhanced that opinion by saying that POD can quite easily overtake the brick and mortar bookstores, although on executive argued that he does not see POD as a real profit center.
All in all, the tone of today's event focused in on the excitement of this time in the industry.
With so much controversy taking place in publishing right now—such as battles with Amazon and online retailers, accusations of price fixing, and publishers pulling their titles from lending libraries—it was refreshing to see the various arms of the entire book creation realm coming together for open discussions and predictions for the greatness of books.
[cincopa AkMATzKr7XNe]

Mercy Pilkington is a Senior Editor for Good e-Reader. She is also the CEO and founder of a hybrid publishing and consulting company.