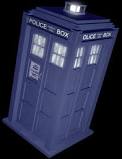 Being a rabid Doctor Who fan, I just had to cover this story from The Guardian. Doctor Who is up for its 50th anniversary! To celebrate, Puffin and BBC Worldwide will be publishing a series of original Doctor Who stories by famous children's authors, who are described by the publishers as ranging from commercial blockbusters to literary-award winners. A new story will be released as an ebook on the 23rd of each month and will cost £1.99. The article does not say whether the stories will be available outside of the UK.
The first author will be Eoin Colfer, who is the creater of Artemis Fowl and who "finished" the Hitchhikers Guide
series. The story will feature William Hartnell's portrayal of the Doctor and future ebooks will each re-imagine a different one of the eleven Doctors.
Paul Biba is a retired corporate international lawyer who has worked in 53 countries. Since he is a very fast reader he came to ebooks out of self-defense in order to avoid carrying a suitcase of books on his travels around the world. An early ebook adopter, he has read on Palms, Pocket PCs and practically every device that has been out there. After being a frequent contributor to TeleRead.com, the oldest ebook/epublishing blog on the net, Paul became TeleRead's Editor-in-Chief, a position he recently resigned. Send Paul an email to paulkbiba@gmail.com