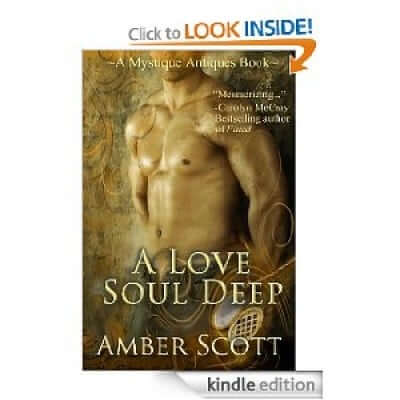 Indie author Amber Scott, one of the co-founders of the Indie Book Collective, returns to GoodEReader.com's Ebook of the Week feature with another one of her titles, A Love Soul Deep. This title is available for Kindle by clicking HERE, or by leaving a valid email address in the comments section below to receive it in a different format.
About the book: "On a weekender with friends, an antique gold locket catches her eye and her heart. Inside the tiny gold frame is a picture of the one man she compares all others to. The one that got away…Can this enchanted locket, and one fierce wish, bring back the love she lost?"
Scott and the entire staff of the IBC have worked tirelessly to further indie publishing and to help indie authors establish the writing careers they seek. The author spoke to GoodEReader about why this issue is so important to them.
"I can't tell you how liberating it is to know that I will never have to grin and bear a cover I hate, or fret over what number in a very long line my email to my editor or publicist is waiting in. I've been there, done that and going indie means I'm the only person in charge of my success. This empowered me to a level I never could have guessed or imagined.
"Being indie means surviving a few peer smirks, but in turn, earning an audience on the merits of my books, my characters, my writing. I have learned so much about the business side of this amazing industry thanks to Carolyn McCray and all the members of IBC. It's like being in a publishing house where I get say over all aspects of my career, but with help from others with the same individual interest, willing to share their knowledge."
One event that IBC stages several times a year is an indie book blowout, often revolving around a central theme like the Blog Tour de Troops held for Veteran's Day earlier this year. Currently, IBC is hosting the Twelve Days of Christmas book tour in which indie authors' works are featured in groups by genre. The entire line-up of authors in this current promotion can be viewed HERE.
"Over 200 authors and over 200 titles across the genres are on sale and each day a new group will be featured. We have award-winners, bestsellers, and up-and-comers priced exactly right for all those Santas out there ready to fill up that new Fire or Kindle Touch. Plus, we'll be giving away two gift cards per day, drawn from our newsletter subscriber list. AND, we'll be giving a Kindle away, too, at the end of the event.
"The really cool thing about this sale is that readers can browse by price. A lot of ebook sales events out there are a bit of a hodge-podge hunt for readers to shop in. Not fun. This site is different. It's built with the reader in mind.
"Thanks to the Kindle Select program, we also have secret freebies throughout the event. How cool is that? The 99 cent price makes it easy for readers to 'try on' new authors without the pinch of a high price tag. This gives authors a shot at earning a new audience so it is a win-win sale all around. It's our most popular Indie Book Collective program to date."
Mercy Pilkington is a Senior Editor for Good e-Reader. She is also the CEO and founder of a hybrid publishing and consulting company.