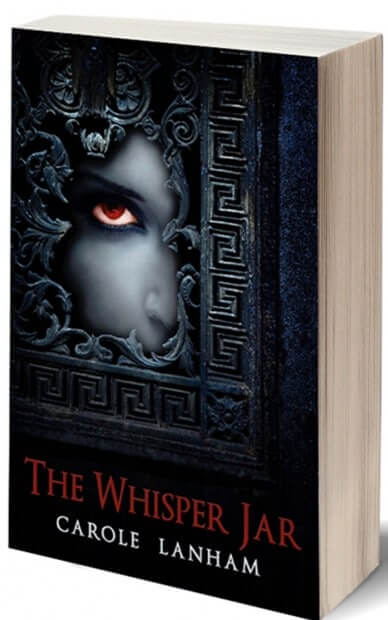 The first GoodEReader Ebook of the Week of the new year comes from author Carole Lanham, whose title is available across a variety of platforms. Her collection of dark horror short stories, The Whisper Jar, is a timely post-holiday read to brighten—or darken, perhaps—the coming weeks.
"It is worrisome to some of the people who love me that I write dark stories about people who don't always choose to do the right thing, enjoy making soup or baking a cake as much as I enjoy spooky attics and girls who play with knives, and collect aprons, doll heads, and various serving dishes for pickles and dip. Then again, they don't call me the Horror Homemaker for nothing," says Lanham of her eclectic writing style.
"In 2004, when I published my first short story at Eclectica Magazine, I had no idea I was beginning a long-term love affair with dark fiction. I read a lot of women's lit, actually, but whenever I sit down to write something new, monsters have a tendency to push their way into what might otherwise have been a perfectly sweet little story. Guilt is a real buttinski, I've found, and Regret is another monster that often comes a-creeping. Zombies have been known to wiggle their way in there too. My favorite sort of scary story, though, involves the monsters that live within more than the monsters that live without. Twilight Zone is my Twilight of choice, and a bad decision scares me more than blood."
As to her publishing experience, Lanham found a traditional publishing house that was looking to enter the rising digital publishing market.
"After spending a number of years learning all I can and winning some awards for my work, I decided to try and get a collection of my short stories published last year. I got very lucky. E-books were taking off and I submitted to and received a contract from Morrigan Books within a week. Turns out, they were looking to start an e-book line at the same time I was wanting to get The Whisper Jar out there, so it all worked out rather swimmingly. Timing is everything in this business. I know to thank my lucky stars that things matched up so well."
For the coming year, we at GoodEReader would like to encourage readers to support authors of all genres and publishing models by remembering to leave reviews on sites that offer their titles. To receive a copy of Lanham's work, The Whisper Jar, email her at thewife@horrorhomemaker.com and be sure to specify what file type is compatible with your e-reading device.
Mercy Pilkington is a Senior Editor for Good e-Reader. She is also the CEO and founder of a hybrid publishing and consulting company.