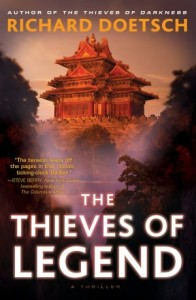 Verdict: 4 Stars
With so many high-volume and well-known thriller writers on the market, it's important to make everything stand out, not just the high action plot. It is far too easy to fall into the trap of my spy thrillers, which is to try to emulate the greats to the point of mimicry.
Doetsch's third book in the Michael St. Pierre series, The Thieves of Legend (Atria Books), probably brings one of the most refreshing voices to the genre than anyone else. While all of the essential elements are there, such as a loved one held hostage to force the main character's hand, a high-ranking government official with a lot to lose, plus a tribe of varied bad guys, it would be easy to think you've read this story somewhere before, except for the fact that the author does a great job of drawing the reader in through a very readable voice.
When St. Pierre is first approached by Colonel Issac Lucas about a sensitive recovery operation on an ancient object, Michael turns it down. Lucas forces his hand by not only framing Michael for murder, but simultaneously dragging his very-recently-ex girlfriend KC into the line of fire. Both Michael and KC now must each complete the two halves of a dangerous mission into parts of China where they are decidedly not welcome to retrieve the keys to untold power.
One of the brightest aspects of the book is the constant incorporation of far off locales, as well as the highly educated approach to both the history and the characters of those locations. Thankfully, the days of the stereotypes and campy descriptions of foreign enemies are in the past, but as Doetsch proves, sometimes the bad guy looks far too much like the good guy.
The Thieves of Legend will be available Tuesday from Amazon, Barnes and Noble, iBookstore, IndieBound, and more.
Mercy Pilkington is a Senior Editor for Good e-Reader. She is also the CEO and founder of a hybrid publishing and consulting company.