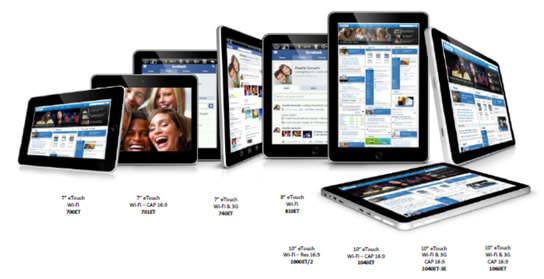 United Kingdom based Elonex has been a mainstay in the e-reader  industry for quite some time and have been in business since the 1980's. They have quite a number of new e-readers featuring e-ink and tablet computers lined up for their 2011 product line.
Elonex 622 EB and Elonex 651 TEB e-Reader
Both of these new entry level e-readers are the exact same in terms of specs and price and the main difference is availability internationally. The Elonex 622 EB and 651TEB features a 6 inch e-ink based touchscreen display with a resolution of 800×480 pixels. The screen is being billed as anti-glare and anti-flicker, so it should be even better outside in the sun. It also has a built in accelerometer to flip between landscape and portrait mode. The e-Reader has 2 GB of internal memory and can be further enhanced to 32 GB via an SD card. The battery life should be good for around 70,000 page turns or about 2 months of continuous reading.
There are a number of ebook formats this device supports, so you will be able to read books from most stores. It will easily read ePub, PDF, HTML and TXT and will even read ebooks that have Digital Rights Management. If you want to increase the fonts of the books there are five different levels. It will also play music and audio books, provided they are in MP3, AAC or WAV and also supports pictures in JPG, BMP and GIF.
This model is due out this Spring and will have a price tag of around $120.00 and the Elonex 651 TEB will run you about $160.00
Elonex eTouch 702 ET Android Tablet
Expanding on their first tablet computer offering last  year Elonex is going full steam ahead with its entries into 2011. The first one is a 7 inch tablet featuring capacitive color touchscreen technology and have a resolution of 1024×600 pixels. It is running on a 600 MHZ ARM processor and has 4 GB of internal memory. It is running on Google Android 2.1 and has a front facing camera to take pictures or video. It also has WIFI internet, so you can surf the web, check email and install e-reading applications. Battery life is clocking  in at around 8 hours. If watching videos is your thing it will read AVI, FLV and WMV in 1080p and if you like to rock out listening to tunes you can use MP3, AAC  and WAV formats. It is priced at around $210.00 and is due out in a few months.
Elonex eTouch 740ET
This is the first tablet Elonex has made that will employ 3G technology, as well as WIFI. When you purchase this device in the UK you will get 12 months free 3G internet access, so its a solid deal. This little dandy has a 7 inch resistive touchscreen interface  and has a resolution of 800×480 pixels. Although the resolution is not that good, instead of using LCD, it is powered by LED. The processor powering this edition is an 800 MHZ ARM and will have 4 GB of internal memory. If this amount of storage space is not enough you can increase it up to 32 GB using a MicroSD card.This model is also running Google Android 2.1 and will have access to the Google Market to download applications. So you can download any Android eBook reading application you want. It will have around 8 hours of battery life.
You will not get 1080p with this model but it will comfortably read FLV, AVI and WMV. If you want to rock the town all night long, you can, provided you have your music in Mp3, AAC or WAV formats.  The 740 ET is due out in April and you can get yours now for around $240.00.
Elonex eTouch 1000 ET

This is the new 10 inch offering from Elonex that is rounding off its product list for 2011 entry launches. It has resistive color touch screen technology with a resolution of 1024×600 pixels. It is powered by a 1 GHZ ARM CPU,  has 256 MB of RAM and 2 GB of internal memory. You can enhance the memory up to 32 GB via a MicroSD card. This model is fueled by Google Android 2.1  and will have access to the Google Android Market to download applications. You can connect up to the internet via WIFI  and battery life is a paltry 4 hours. It is being released this April for around $200.00, our recommendation is to maybe pass on this one.
Elonex eTouch 1040 ET and 1040 ET-3E
The Elonex eTouch 1040 ET and 3E models are quite simalar in specs, the main difference is the inclusion of 3G with the 3E model.
Both of these latest 10 inch entries into the market have a 10 inch capacitive color touchscreen with a resolution of 1024×600 pixels. They also both run a 800 MHZ ARM processor and have 4 GB of internal memory,  you can further enhance this via a MicroSD card up to 32 GB.  They both run Android 2.1 and will grant you access to the Android Market so you can download applications to your hearts content.
You will eek out around 8 hours of battery life with these two models vs the 4 hours of the other 10 inch editions Elonex is putting out this year. Both screens at LED backlite and will both have WIFI to connect to the internet.  The 1040 ET is due out this April with a sticker price of $230.00 while the 1040 3E will run you $340.00 and is out around the end of April.
Elonex eTouch 1060 ET
This is by far the most expensive tablet computer Elonex is putting out early this year and is brimming with excellent specs. It features a 10 inch capactive color LED touchscreen with a resolution of 1024×600 pixels. It is running a 1.2 GHZ ARM CPU and will include 4 GB of internal memory, of course you can enhance this up to 32 GB via a MicroSD card.
This one is running Google Android 2.2 and will have full access to the Google Android Market to download apps, ebook reading applications and anything else you may want.  You will get full 1080p resolution on this device and it is even compatible with Google TV! This new tablet also has 2 cameras which is most excellent! It will have a low MP front facing camera and a 1080p rear facing one. It will have a mini-HDMI output along with microUSB one.
There are two different editions of this tablet, one will have 3G and the other will just have WI FI internet. The WIFI model will run you around $340.00, while the 3G edition with 12 months of free 3G access will cost $400.00.
If you live outside of the UK and want to get your hands on any of these tablet computers of e-readers, make sure to check out our retail partner Shop e-Readers for the latest products.

Michael Kozlowski is the Editor in Chief of Good e-Reader. He has been writing about audiobooks and e-readers for the past ten years. His articles have been picked up by major and local news sources and websites such as the CNET, Engadget, Huffington Post and Verge.