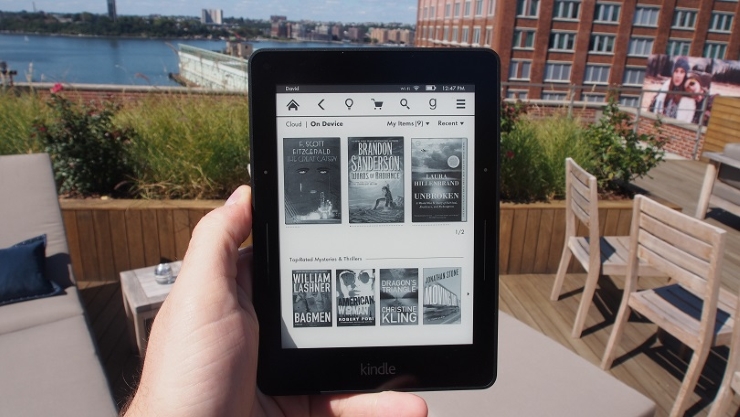 Many companies involved in the e-reader sector are paying attention to what Amazon has created with the new Kindle Voyage. This new device has a number of innovative hardware features such as Page Press and the front-lite controlled by an ambient light sensor. Amazon has also developed exciting new software that even allows you share content with family members. Has Amazon set the bar so high now that no one else can compete?
The Kindle Voyage features a six inch e-ink carta display with a resolution of 1430 x 1080. It has 300 PPI, which is the highest we have ever seen for an e-reader. The upcoming Kobo H20 has a 6.8 inch screen with the same resolution but a lower 265ppi. The Barnes and Noble Nook Glowlight is the most affordable one, but only has a resolution of 1024 x 758 and 212 PPI.
Lets face it, people are used to interacting with touhscreen smartphones and tablets on a daily basis. All prior Kindle models had a sunken screen and employed infrared touch. The Voyage has the screen completely flush with the bezel, which is the same sort of tech that the Kobo Aura and Tolino Shine used. A capacitive touchscreen allows for better interaction and better pinch and zoom capabilities.
Instead of physical page turn buttons, the new Kindle Voyage has a feature called PagePress. This is a custom-designed force sensor made of carbon and silver, which reacts to a subtle increase of pressure, triggers a page-turn, and provides a haptic response only your thumb can perceive. Because PagePress has no moving parts, the haptics provide you with the most minimal indication that you have pressed the button, to reduce distraction from reading.
The Kindle Paperwhite 2 had one of the best illuminated screens in the world. Unlike tablets and smartphones that have light emitting from behind the screen, most e-readers have five small LED lights on the bottom of the bezel that project light evenly access the screen. Many companies got this technology wrong, by having splotches all over the screen, or by a pale blue hue, as seen on the Nook Simple Touch with Glowlight. The new adaptive front light automatically adjusts the brightness of the display based on your environment, and can even be fine-tuned further to your personal preferences. When reading in the dark, the adaptive front light slowly lowers the display's brightness over time to match the way the eye responds to darkness."
According to The Verge "The ambient setting is actually smarter than you'd expect. If it detects you're reading in the dark — say, in bed — it will slowly lower the brightness. The idea is that your eyes naturally adjust to darkness over time, so what seems bright enough at first will be too bright once your pupils dilate. It's a thoughtful, clever feature, and Amazon also says that you can fine tune the behavior if you don't like the default."
Sure, the hardware is really good on the new Voyage, but what improvements has Amazon made on software front? Likely the most important one is the Kindle Family Library, which allows users connect their Amazon accounts to share content with family members. The new feature "links your Amazon account to that of your spouse or partner so you can easily share apps, games, audiobooks, books, and Prime Instant Video content," according to the company. What is even better about the sharing program is that Amazon says it will work across Amazon devices and Amazon's third-party apps for platforms including iOS and Android. It can link the accounts of two adults, who can, in turn, manage up to four child accounts.
Amazon has also improved their internal searching feature to work smoother when browsing the Kindle Store to discover new books. It previews results based on your past purchases and GoodReads. In addition Amazon has added a small timer on the books you are reading. Based on your reading habits it will let you know how long it will take you to complete the chapter or the book itself. Take THAT traditional page numbers! I really like the About the Book function, which tells you all about the author and if the eBook apart of an established series.
Amazon has many advantages over their competitors. Apple sees the iBooks business as an afterthought. During their entire iPhone event they never mentioned their bookstore once. Barnes and Noble is floundering, continuing to lose money and is still piggy backing technology from late last year. Kobo is going to release their H20 e-reader very soon and is likely going to generate strong revenue. Many of the smaller companies such as Onyx, Ectaco, Tolino, Bookeen and Pocketbook are very hard to come by. They are mainly sold by small websites in Poland, France or Russia. Shipping alone to the US or UK is enough to frighten off any prospective buyers.
When you buy the Voyage e-reader you are going to have access to over 600,000 titles, by legitimate bestselling authors and indie ones. It has arguably the best eBook social networking site, in the form of GoodReads firmly integrated into the entire eBook discovery experience. I think one of the big strengths of Amazon, that no one really talks about is their user review system. Whenever someone leaves a written review, its automatically populated in their e-readers, tablets, apps or websites. Companies like Kobo fetch their reviews from 3rd parties, and even their Android app is comprised of reviews left just on that specific platform.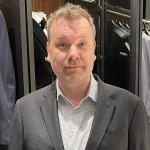 Michael Kozlowski has written about audiobooks and e-readers for the past twelve years. Newspapers and websites such as the CBC, CNET, Engadget, Huffington Post and the New York Times have picked up his articles. He Lives in Vancouver, British Columbia, Canada.