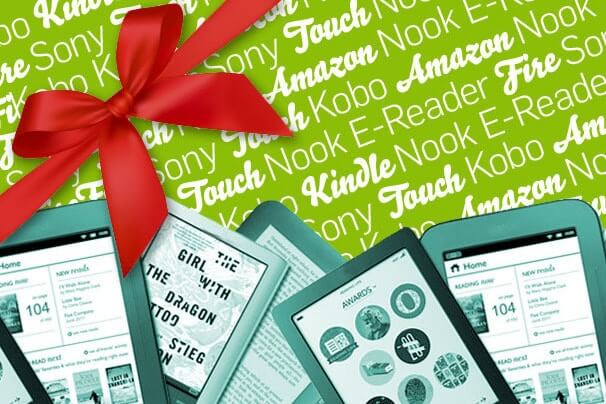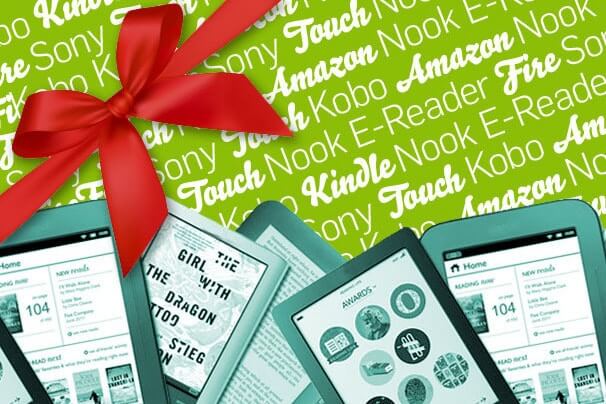 Digital Books and e-Readers have gained a massive amount of traction in 2012. Major publishers have reported 20% of all book sales stem from digital and many are seeing 300% increases from 2011. e-Reader technology has really been refined this year and they units themselves are very affordable.
During the holiday season many people are thinking about purchasing a dedicated e-ink device from themselves or a loved one. In other cases you may be attracted to a tablet being billed as an eBook reader, and want more multimedia functionality.
Many people send us emails, Tweet, or comment on our Youtube channel on our advice of the best devices currently on the market that they can purchase for a gift. Today we will give you our best choices for dedicated e-readers and tablets
Amazon has introduced touchscreen technology into its extensive Kindle portfolio in 2011, with the Touch. This year the company expanded upon their offerings and debuted a new e-reader that lets you read in the dark. The Kindle Paperwhite only came out a month ago and already is seeing unparelled success. It is in such high demand that Amazon has completely sold out and there won't be any available until the end of December.
The Amazon Kindle Paperwhite features a six inch e-ink Pearl display with tremendous resolution. You are looking at a very solid 1024×768, which is on par with the Kobo Glo, in terms of text looking very crisp. It runs on a 800 MHZ CPU processor and has 512 MB of RAM. The Kindle is currently the e-reader to beat in terms of ecosystem and price. If you can get your hands on one, this is the best e-reader of 2012.

Kobo Glo
Kobo really grew up in 2012 and has spread their eBook store through Europe, South America and Japan. Quite recently the company debuted their Kobo Mini, Kobo Glo and Kobo Arc. These devices reflect a paradigm shift in their prior offerings, which were often woefully slow and prone to problems.
With the advent of the Kobo Glo, the company has introduced one of the best dedicated readers on the market. It has much wider visibility then many of its competitors, due to a wider distribution pipeline. Digital Books can be purchased from anywhere in the world and they currently offer 3.6 million of them.
The Kobo Glo employs a new type of e-Ink Pearl XGA technology to give you a superior resolution. The exact pixel count is 1024 x 758 and pictures look simply amazing when viewing complex PDF documents. Underneath the hood is a 1 GHZ Freescale processor, which amps things up from the 800 MHZ processor found in the Kobo Touch. Menu navigation and accessing settings is fairly quick. Firmware updates are automatically fetched from the servers, ensuring you always are running the most recent version.
Sony has severely cut back on its e-reader lineup and only released one new device in 2012. The company was once a mighty juggernaut in the industry and has since lost market share to its competitors.
Sony scored a big win with the Sony PRS-T2, that allows customers to purchase books right from the Sony Store. One of the most exciting elements of this device is the dedicated Overdrive App. This allows customers to access their libraries digital catelog of books and borrow them right to your Sony. The T2 also comes with a Stylus, which is handy for note taking, drawing and editing eTextbooks.
The Sony PRS-T2 features a six inch e-Ink Pearl display with a resolution of 800×600 pixels. You get the standard 16 levels of greyscale and everything from books to photos look clean and crisp. If you have ever used the Kindle Touch, Kobo Touch or Nook Simple Touch, the Sony model has the same IR display. This allows for pin-point-procession when you are interacting with the display screen with the accompanied stylus or with your fingers. There is 2 GB of internal memory and you can easily expand it up to 32 GB via the MicroSD.
Sony currently leads the pack with the ability to render complex PDF documents. The support the company provides in being able to find that sweet spot with newspapers, textbooks, manuals and gaming content is unparalleled. Recently the company started a new Book Club, which features a mainstream author every month and engages the community on Facebook. There is also Evernote integration for those who like that sort of thing.
Wexler is a new company from Russia that introduced the world's first e-reader to use LG's new flexible e-paper. The big selling point is that the screen bends! You can pull and tug it and it does not break! Obviously, you can't roll it up and carry it around, but it does have a enough degrees of torque, that you can have some fun twisting it around. The one huge benefit of this is being able to put it in your jeans back pocket and it conforms to you while you are walking or even sitting down.
The Wexler Flex One is a six inch e-reader and uses LG's Electronic Paper Display (EPD) technology. The resolution on this device is currently the best in the world on a monochrome e-reader with 1024 x 768 pixels. There are 8 GB of internal storage, which beats the Kindle and Nook in the sheer amount of memory you have to store your books, comics, and PDF files.
When we first reviewed this, I thought this would totally be a gimmick and that it wouldn't serve a practical purpose. This e-reader really surprised me with the lack of weight and extreme portability factor. There is a wide array of supported book formats including: It reads a wide array of formats such as PDF/DOC/CHM/HTM/HTML/EPUB/FB2/DJVU. Currently you can only buy this in Europe and North America via Shop e-Readers.
The Icarus Excel is one of the best 9.7 e-readers we have ever reviewed. Many companies such as Pocketbook, Sony and Amazon have abandoned the large screen market, in favor of smaller devices. There is still a loyal and dedicated niche market that is always willing to take a gamble on a Jetbook Color or other large screen device. Out of the current generation of large screen displays, this one is simply the best.
The Icarus Excel features a 9.7 e-ink Pearl display with a resolution of 1280×825 pixels and 167 DPI. It has a full touchscreen display, but only responds to the accompanied stylus. Underneath the hood lurks a solid 800 MHZ Freescale CPU processor and it has 256 MB of Ram. Storage gives you 4 GB to play around with and can be expanded up to 32 GB via the SD Card.
Bar none, this e-reader is the best we have ever reviewed for PDF functionality and should be the one you select if you are a student or someone who has very image-heavy books. The best feature is the ability to highlight passages of text and export them to physical TXT files. You can then access them via Windows Explorer and copy them right to your PC. When you highlight text, you can save the text to an independent file, so you can compile a ton of study notes and have them handy for easy reference.
Some people want to forgo a dedicated e-ink device and go with a tablet that is optimized for reading. This insures that when you grow tired of your literary adventures you can play a quick game of Angry Birds Star Wars or watch a video. The Kindle Fire HD 7 is the first tablet in the world to feature 4 speakers and Dolby Surround Sound. It is the best sounding tablet for music, videos and audiobooks in the world.
The Amazon Kindle Fire HD 7 features a seven inch IPS display with 1,280 x 800 pixels. It offers an amazing viewing experience and the ability to watch 720p movies right on the unit. Underneath the hood is a 1.2GHz dual-core TI OMAP4460 processor and 1 GB of RAM, which makes accessing media, books, and other content very fast and easy. It also has a Micro HDMI to stream content directly to your television.
The Kobo Vox was nothing to write home about, but was a prelude of things to come in the companies apps and followup device. The ARC is currently one of best tablets on the market and still allows you to load in your own apps and get new ones, thanks to Google Play. The Arc is the only dedicated e-reader that is software agnostic and encourages users to download new content and not exclusively do business with them. Barnes and Noble and Amazon do a solid job at locking you into their ecosystems.
The Kobo Arc features a seven inch HD display with a resolution of 1280×800 pixels and 215 PPI. The screen features IPS screen technology, which is an industry-leading display optimized for 178 degree viewing angles and ultra-durable glass, resistant to damage, scratches, bumps, and drops. This is the same type of screen technology that airline pilots have in their flight instruments. Underneath the hood is a Texas Instruments OMAP 4470 1.5 GHZ dual core processor and 1 GB of RAM. There are three different storage options depending on the type of user you are—16, 32, and 64 GB. This is the first device the company has offered that actually does not have expandable memory. There is no support for MicroSD or SD cards, so you want to make sure you buy the best model to suit your needs.
The Nook HD has only recently launched and outperforms the Nook Tablet and Nook Color in every single way. Not only does the screen have higher resolution but also gives you access to Television and Movies, by major studios. It also gives you the ability to assemble a scrapbook of magazine articles and converts it all to a singular magazine. You can then export it and show it off to your friends. Articleview makes newspapers, magazines and the internet convert complex style sheets to easy to read virtual eBooks.
The Barnes and Noble HD lives up to its name with a seven inch IPS capactive touchscreen display and a resolution of 1440 x 900 pixels. This is the highest resolution tablet the company has ever released. Underneath the hood sits a TI OMAP 4470 1.3GHz dual-core CPU processor and 1GB of RAM. Memory wise, there is a 8 GB and 16 GB models, depending on your needs. Barnes and Noble is fairly consistent with giving customers expandable memory via the Micro SD. You can get it going to almost 64 GB of added storage, which would be perfect for your media.
The sound quality in the Nook HD is the best it has ever been! You have stereo speakers on the back of the unit, which certainly gives you a tremendous boost in audio. We have heard rumors that SRS True Media will be introduced in a future firmware update, which should enhance the sound even further.

Michael Kozlowski has been writing about audiobooks and e-readers for the past twelve years. His articles have been picked up by major and local news sources and websites such as the CBC, CNET, Engadget, Huffington Post and the New York Times. He Lives in Vancouver, British Columbia, Canada.