Every day thousands of people are in need of a large screen e-reader to consume e-books, manga, technical documents, PDF files and sheet music.  The standard six inch e-reader simply does not provide enough screen real estate do this and there are few alternatives that are available.
Good e-Reader is proud to launch our new crowd funding campaign for a
13.3 inch e-reader
. This product will be utterly perfect to read any type of e-book you own, from EPUB to PDF.  You can make notes, highlights and annotations the an accompanied Stylus. The WACOM supported screen will ensure pin-point precision. The most compelling aspect of our 13.3 inch e-reader is you can install your own apps via Google Play.
Specs
The Perfect Size Screen for e-books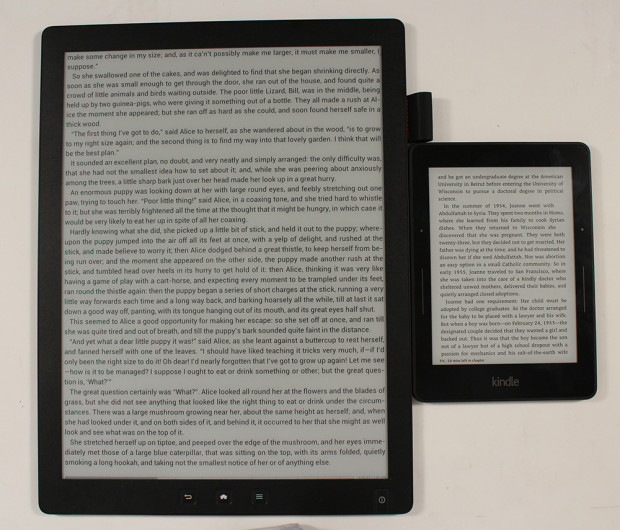 The vast majority of e-readers on the market provide six inches to read your favorite e-books. The Amazon Kindle Paperwhite 3, Kobo Touch 2.0 and Barnes and Noble Nook Glowlight do not give you a great reading experience. As you can see from the picture above, our 13.3 inch e-reader completely dwarfs the Kindle Voyage.
If you are a consumer this 13.3 inch e-reader will give you a tremendous e-reading experience. The extra large screen will let you read comics, e-books, manga, magazines, newspapers and technical documents.  If you have an existing collection you can easily copy them right to the e-reader or put them on an SD card.
Our e-reader is running Google Android, which will let you install apps like Moon + Reader, Aldiko, Marvel Comics, Comixology, Manga Box and thousands of others.
A truly large screen e-reader will be perfect for people who want to use this in the classroom or their business.  People who work in the arts, legal, medical or transportation industry will find the ability to take notes via the Stylus very compelling. Once all of your notes are saved you can email them to a business college or just upload them to the cloud.
Download Over a Million Apps
There have been only a few companies that offer Android e-readers, but never a 13.3 inch Android e-Reader.  The Good e-Reader 13.3 Inch has full support for Google Play, which has over a million apps.
Android on our 13.3 inch e-reader allows you to craft your own experience. Want to download both Kindle and Kobo to read past purchases? You can do that.  Want to take a break from reading and play Words with Friends? You can do that too.  Do you want to install Moon+ Reader, Aldiko, Manga Box, or Comixology? Google Play will be loaded on our 13.3 inch e-reader as your online destination to download and install paid and free apps.
Open Source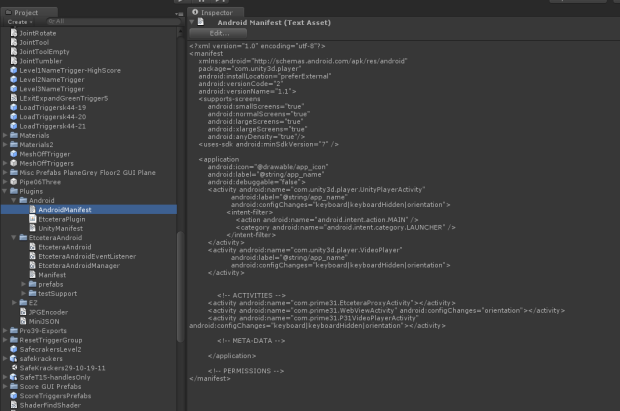 We intend on making the firmware for the 13.3 inch e-reader available to the entire community. This is important because people want creative control in order to make software enhancements or even upgrade to Android M.
Each unit will ship completely unlocked, which means you can install your own apps via ADB and Fastboot. We will also be making the full factory image available, so you can see what we did to make this device work. If you are an Android developer, with extensive experience in OEM  software for a commercial product, we would love to hear from you!
Risks & Challenges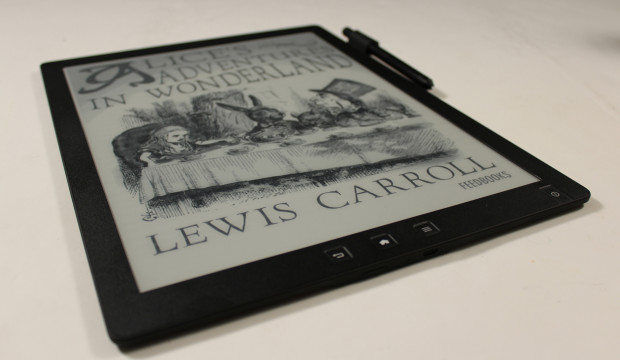 We have an engineering sample currently in our possession and we need to sell 60 of these in order to place the order with our manufacturing partner.  This is a very realistic goal considering how many people want an e-reader that is both open source and provides you with a dedicated note taking device.
The Flexible Funding Campaign for the 13.3 inch e-reader allows us to keep on taking orders, once the 60 days ends.
Ultimate e-reader
A few months ago we ran an Indiegogo campaign for the Ultimate e-reader. During this time we only sold 60+ units, well below our expectations. We learned that hundreds of people wanted to donate or to place an order, but they were looking for something bigger, much bigger. The world is swamped with six inch e-readers and the last thing they wanted, was another.
We listed to what the community wanted and our 13.3 inch device fits the bill.  If you ever saw the Sony DPT-S1, our e-reader functions exactly the same, expect you can read EPUB e-books and install your own Android apps. Oh, its also way cheaper in price and availability than the Sony.
Anyone who donated to our Ultimate e-reader campaign will receive a special link where they can upgrade to this model. The savings will be huge, because we want to reward everyone who supported us.
Support the 13.3 inch e-reader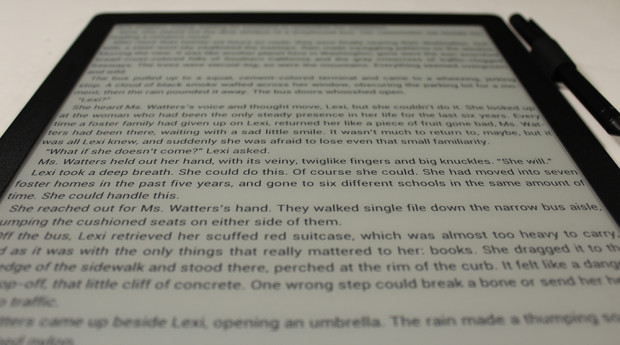 You can think of our device as a Sony DPT-S1 on steroids, but it is cheaper, can run apps and read your favorite e-books. The DPT-S1 currently costs $799 and ours is only $699
If you are a hardcore e-reader user you might have heard about the Onyx Boox Max, this device has been teased for the last calendar year and the full specs are unknown. This model also has a 13.3 inch screen, but you can only interact with the Onyx with the stylus, it does not support your finger or gestures. The big drawback is that you will not be able to pinch and zoom a comic book,  PDF document, magazines or newspapers. The Good e-Reader 13.3 allows you to use the stylus OR gestures. The only way you can get your hands on the MAX  is if you order it from China or Europe and it will cost a minimum of 696,15 €.
As soon as we hit 60 units we are going to place the order with the manufacturer and all of the orders will be shipped out by the end of the summer. All of our units will ship from Vancouver, BC Canada, so once we send them out, you will get them quickly. If you live in Canada or the US you will pay less for shipping. This e-reader is available internationally, so you can order it from any country in the world. .
If you can pre-order a unit, that would be great. If you can only afford to donate a few dollars, every bit helps. Please share our campaign via Twitter or Facebook.
Visit our official campaign page today by clicking HERE.
Here is what the media is saying about the Good e-Reader 13.3

   Quite useful and versatile.

   Nice for reading PDFs and technical documentation.

  Suitable for sketching and drawing.

  If you're a teacher, lawyer, legislator, researcher, etc, you would probably want a 13.3 screen that's less strenuous on the eyes.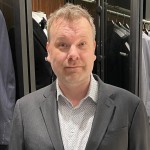 Michael Kozlowski has written about audiobooks and e-readers for the past twelve years. Newspapers and websites such as the CBC, CNET, Engadget, Huffington Post and the New York Times have picked up his articles. He Lives in Vancouver, British Columbia, Canada.