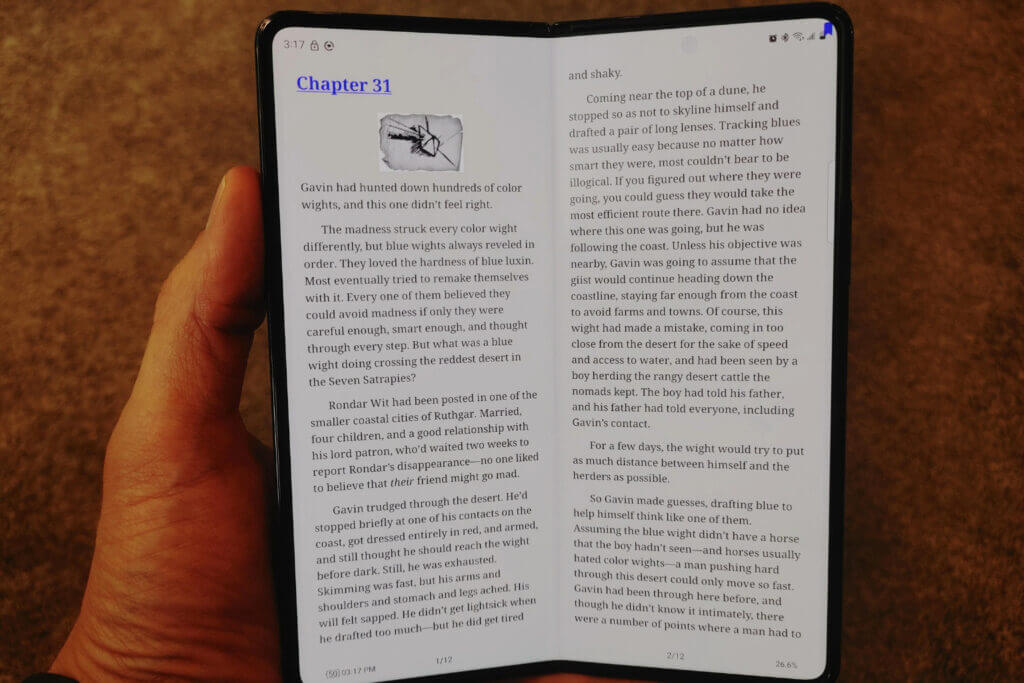 Reading books on a mobile device is convenient, but e-reading has become more enjoyable with foldable phones. Around four years have passed since Samsung introduced the first Galaxy Fold phone, and it's fantastic to see how much this device category has evolved since then. With collaborative efforts of Google and Samsung, the latest edition, the Z Fold 4, features refined hardware and improved software. Despite significant advancements in foldable technology, one pain point persists for users: eBook apps.
With a large foldable display, it seems intuitive that we should be able to read eBooks in a dual-column view, similar to how we read physical books. Whether you use the Kindle app or Google Play Books, reading layouts have been inconsistent on foldable devices since the beginning. Kindle only allows you a single column, while Play Books only offers a dual-column mode when you use the device in the landscape. However, this has not been the case anymore; we're finally seeing the changes in the reading experience with the latest Play Books update released earlier this month.
The Play Books update includes many new features designed explicitly for foldable smartphones. The most significant of these features is the new "Dual Page" mode, which allows you to read e-books just like you would with a physical book. In addition, Google Play Books has added a new "Bookmarks" feature to mark your place in an eBook and quickly return to it later.
Moreover, the update includes a new "Chapter Thumbnails" feature that allows you to see a preview of each chapter in a book. This feature makes it easier to navigate through long books and find the chapter you're looking for quickly. The new update is available for all foldable devices running Android 11 or later.
To use the latest version of Play Books on your Galaxy Fold, you need to close the hinge just enough that the hardware can detect it. With this, eReader or eNotes will be over the two sides of the screen, and you will love to read your favourite books online on your phone. We also suggest using your foldable phone in portrait rather than landscape to double the reading experience through Play Books.
This update is good for Samsung foldable phones with fantastic hinges that can hold the device at any angle, but it might not be compatible with other foldable phones.
If you're using a foldable with no Flex Mode, keeping the hinge in place for a long time won't be comfortable, and you would like to use it in landscape mode as before. But it's good to see what new updates Google Books bring to make e-reading comfortable on all types of foldable devices from different manufacturers.
You can download the Play Books app from the Google Play Store if it not preloaded on your Android phone, tablet or E INK device.

Navkiran Dhaliwal is a seasoned content writer with 10+ years of experience. When she's not writing, she can be found cooking up a storm or spending time with her dog, Rain.