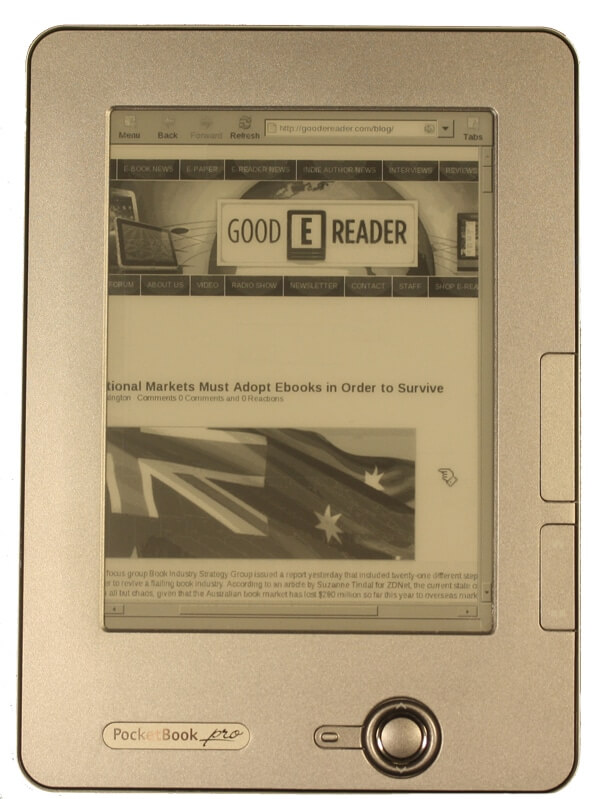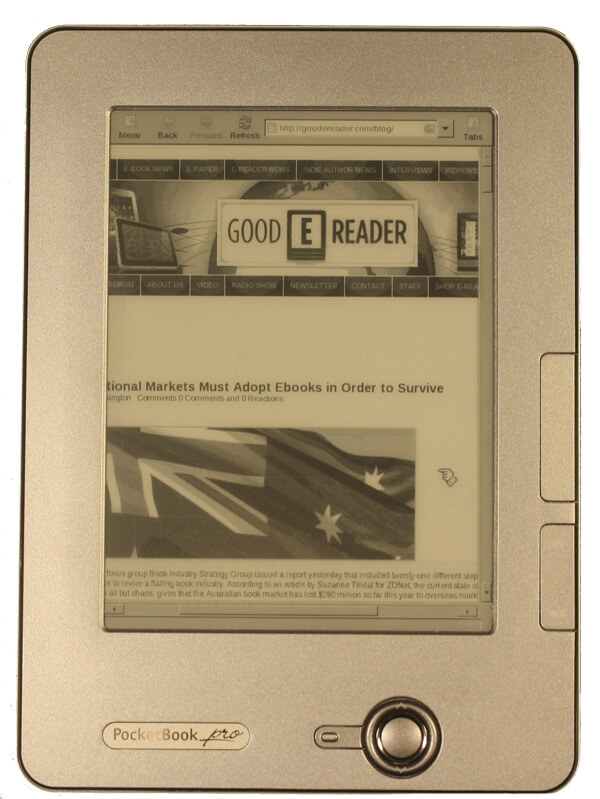 Pocketbook has a new e-reader on the block and it is in essence the second iteration of the 602 released last year. It has a few notable hardware functionality that firmly brings it into late 2011 with a win.
Hardware
The Pocketbook 612 features a six inch Vizplex e-ink display with a resolution of 600×800 pixels. The one feature that really stands out initially is the inclusion of a touchscreen display panel. It comes bundled with a stylus in order to interact with it and you DO need it as it does not recognize your hands touching it.
The Touchscreen is the main allure and selling point of the device! It feels good to have a Pocketbook e-reader that you can interact with, much like the Sony line of e-readers. I found that the touchscreen sometimes could not keep up with 256 MB of Ram and Samsung 533 MHZ processor. If they had increased the amount of internal RAM and increased the processor speed to at least 800 MHZ, it would have done a better job under performance.
The device itself not not suffer greatly from the LAG associate with some of the touchscreen functionality. It still has the physical buttons, such as the D-PAD and Page turns on the front of the unit. If you use the D-PAD to navigate it is quick and robust.
One of the other more notable features is the physical WIFI switch on the top of it. You now have the ability to just turn a switch rather then dive into a few different sub-menus to suspend the internet access. This will allow you to save up on battery life by simply turning it off when you are not using it to download books or browse the internet.
Pocketbook is always reliable for issuing e-readers that have on-board sound in the form of the two stereo speakers. If you want to keep things quiet you can take advantage of the 3.55 mm headphone jack. In a world where most e-readers are shedding critical features to stay competitive, I like the fact Pocketbook keeps on pumping out fully featured devices and not trying to compete price wise with Amazon or Barnes and Noble.
There is 2 GB of internal storage to store your audio, books and pictures. You can further enhance this up to 32 GB via the MicroSD card. This is surely enough space to fit over 10,000 books on your 612 using the SD and I approve.
In the end, the touchscreen adds a fair amount of weight vs. the original 602 model. It is a fully featured e-reader that has quick switching of the orientation from landscape to portrait mode with the built in accelerator and gyroscope. There is actually an option to lock the orientation if you don't want it to automatically be switching. Pocketbook e-readers always cost a bit more because they are an indie company but if you want a device to do it all, this is it.
Software
The Pocketbook 612 runs on the classic Linux based OS that they have customized over the years. Your main home menu comprises of a clock, calender, dictionary, last few books you have read and your main menu.
There are a number of apps and programs that come bundled on the device but none are really riveting. You have apps that really came with your phone 10 years ago like Snakes and Suduko. The one new app that I really thought enhanced the 612 was the web browser.
You actually get an internet experience with this new e-reader that allows you to visit many of your favorite websites. It has features found in the preferences menu of the browser that gives you the ability to turn on HTML5 support! You can also edit the default zoom level and fonts so websites that are not optimized for mobile devices can be readable. It obviously does not support embedded videos but did get some streaming audio to work properly.
This device is an e-reader first and foremost and Pocketbook notoriously known for supporting every major ebook format. You can download books randomly from the internet or load in your own that you have purchased in other ebook stores. It is fully compatible with Adobe Digital Editions for PDF and EPUB books. If you want to just load in your own it supports CHM, DJVU, DOC, DOCX, EPUB, FB2, FB2.ZIP, HTML, PDF, PRC, RTF, TCR, and TXT.
The firmware found on your pre-release version on the 612 did not allow us to edit the fonts, zoom or other options to change the layout of EPUB files but did allow us to edit the PDF experience. I tested newspapers, comics and a standard PDF document to see how the content re-flowed. Newspapers actually look solid and there are literary 12 different zoom levels to really refine and tailor the way PDF books look. It also has 6 different re-flow settings. Scanned PDF documents such as comics and game manuals warranted some trial and error to get the best settings optimized. I thought the 612 did a better job with PDF documents then the new Sony PRS-T1.
Pocketbook e-readers are designed with international distribution in mind. It supports many different languages such as English, French, Spanish, Dutch, German, Russian and many more. There are also around a thousand books the 612 comes bundled with available in all of the different languages it supports. Menus and Settings can also be setup in your native tongue. If you don't fancy reading you can use the male/female text to speech function.
The 612 allows you to download books using the companies BookLand ebook store. The overall selection is sparse, there is a fair number of books available but nothing you could not get a Project Gutenburg. Good thing I can just use Calibre to load in my own collection of books.
In the end, the Pocketbook 612 excels at the audio and ebook experience, which is why you would buy an e-reader. The firmware in our review copy was buggy at times. I found the web experience to be lackluster and loading up simple pages took a long time. There was also a severe ghosting issue with keys pressed on the virtual keyboard if you used the Style. If you are the type of person to shop at other bookstores or troll around the internet finding your own books, this is the geeks reader.
Our Thoughts
Pocketbook e-readers physically cannot compete price wise with the Kobo, Barnes and Noble or Amazon readers of the world. This means on average their six inch readers sell anywhere from $150.00 to $250.00 dollars and its nine inch devices costing $400 to $500.
The thing I dig the most about the 612 is the sheer amount of books that it can support. This is the device keeps the pirate crowd happy because you can really just download 95% of the books found on Torrent sites and just copy/paste them and read right away. If you like to download free books from Project Gutenburg or Smashwords you can easily read the books online or download them. Finally if you have an existing collection you have bought from Kobo, Barnes and Noble or other stores that primarily distribute in EPUB format you are good to good.
I may not use audiobooks all that much or listen to music on my dedicated e-reader but having the ability to do it makes me happy. I tend to take the odd audiobook on the plane with me when I travel to various e-reader events. Sometimes my MP3 playlist gets rather old at times and most of the songs on there I have listened to many times. In this event playing music or books right through the stereo speakers is fine.
The firmware is my biggest issue with this device. It does not feel polished enough which is why it has not been marketed to the North American market yet. Pocketbook sources told us that the cost barrier was the main concern on why it is not available yet. It is getting harder for indie companies with no large distribution chain in stores to compete against low cost hardware put out by the big companies.
I really recommend this device if you want the type of reader that does not lock you into any exclusive ecosystem and remains unbiased in the way it handles your books and content. It gives you enough freedom to load in whatever you want and the addition of the internet browser is a step in the right direction. The touchscreen is a welcome feature that feels modern but feels sluggish at times.
Rating 8/10
[cincopa AwNAHwq4ewqU]

Michael Kozlowski is the Editor in Chief of Good e-Reader. He has been writing about audiobooks and e-readers for the past ten years. His articles have been picked up by major and local news sources and websites such as the CBC, CNET, Engadget, Huffington Post and the New York Times.