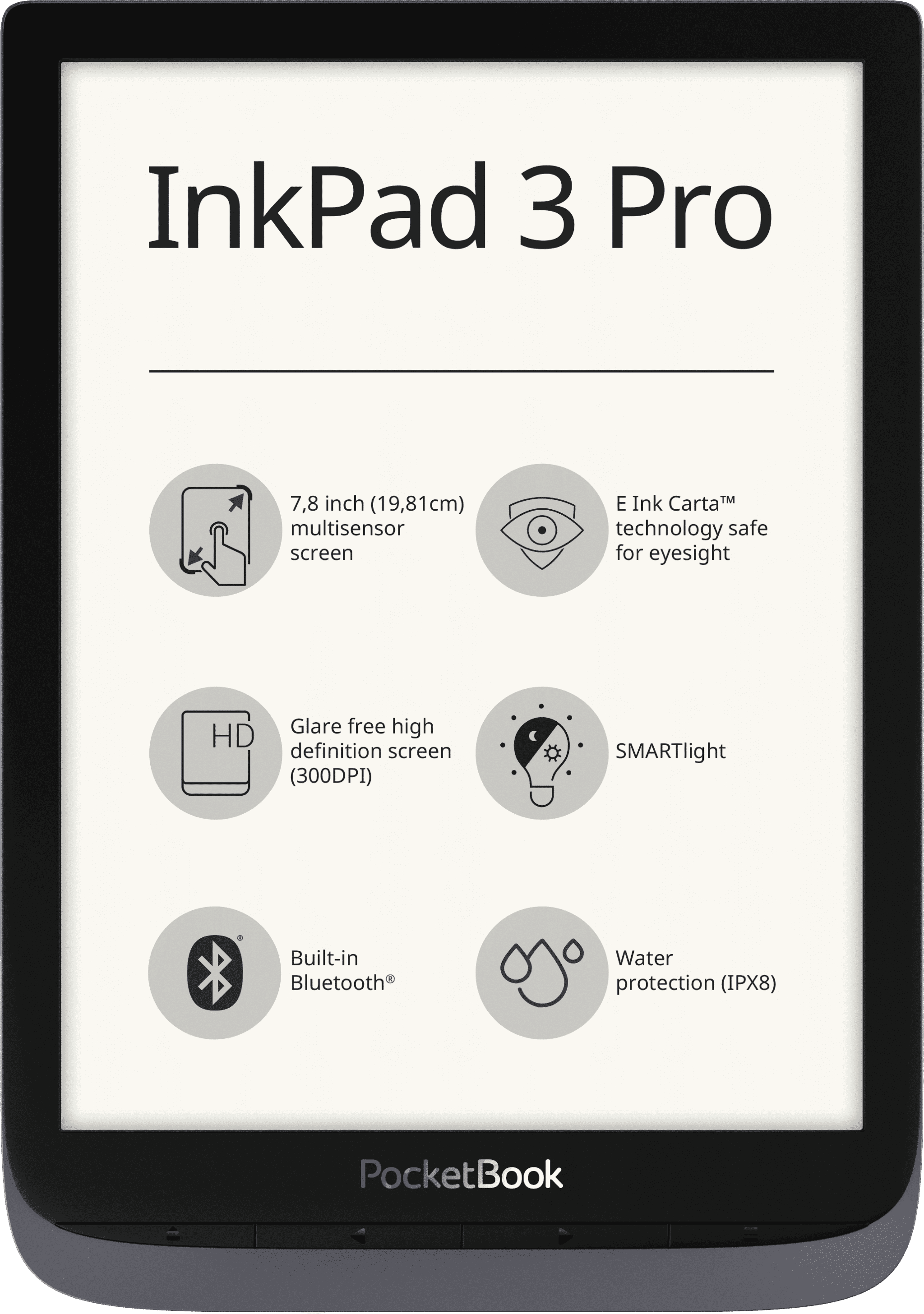 Pocketbook is one of those e-reader brands that do not lock you into a specific ecosystem and allow you to load in your own ebook collection or load in titles purchased at other retailers. The Pocketbook InkPad Pro is a new flagship e-reader that does it all. It is waterproof and has Bluetooth, in addition to having a larger screen than the Kindle Oasis.
Hardware

The Pocketbook InkPad Pro features a 7.8 inch E Ink Carta HD display with a resolution of 1404 x 1872 and 300 PPI. The screen is completely flush with the bezel and this was done for the IPX8 waterproof system that can allow the device to be completely submerged in freshwater for up to sixty minutes. Many e-readers that have a capacitive touchscreen display do not allow you to use swipes and gestures to turn the pages of an ebook, if there are water droplets on the screen. The Pocketbook is no different, but it does have physical page turn buttons on the bottom, so you can read in the bathtub or at the beach and not have to worry.
You can read at night via the front-lit display, which has a series of 10 white LED lights on the bottom of the screen and has 9 amber ones, for their color temperature system. You can manually control the brightness of the screen or use the internal clock to automatically adjust it. There is no ambient light sensor to do this automatically.
Underneath the hood is a dual core 1GHZ processor, 1GB of RAM and 16GB of internal storage. You should get around three to four weeks of usage via the 1900 mAh battery. This model is waterproof and is rated IPX8,  the device can be immersed into fresh water up to a depth of 2 meters for up to 60 minutes with no harmful effects.
The Pocketbook InkPad Pro has a black bezel, with a little bit of gunmetal accents on the bottom. It adds a little bit of contrast and makes the e-reader standout in a world of black slabs. The back of the e-reader is made of a silver gun metal too. The InkPad is made of a hardened plastic. On the bottom of the e-reader is a home button, more button and two manual page turn buttons. Pocketbook has always put the page turn buttons on the bottom of the e-reader, instead of on the side of the bezel. They do this because it appeals to people who are right and left handed.
When you first purchase the InkPad Pro the first thing are you going to be greeted with is the retail packaging. The front of the box has a really nice picture of the e-reader and it lists some of the big selling features. The back of the box lists the specs in 16 different languages. When you open the box there is a foam cutout that prevents the e-reader from jostling around when shipped out, the InkPad itself is housed in a static proof material. Underneath the device is a bunch of documentation, such as warranty and quickstart guide. There is also a free sleep cover is housed in the box. There is a USB cable to charge your e-reader and an audio dongle that attaches to the USB cable, so you can plugin a pair of 3.5mm headphones. This is useful if you do not own a pair of Bluetooth headphones.
The dimensions are 195x136x8mm and weighs 225g. I think this e-reader is designed really well and feels very premium. The glass based display does not interfere with the reading experience and I feel it does a really good job at being platform agnostic.
Software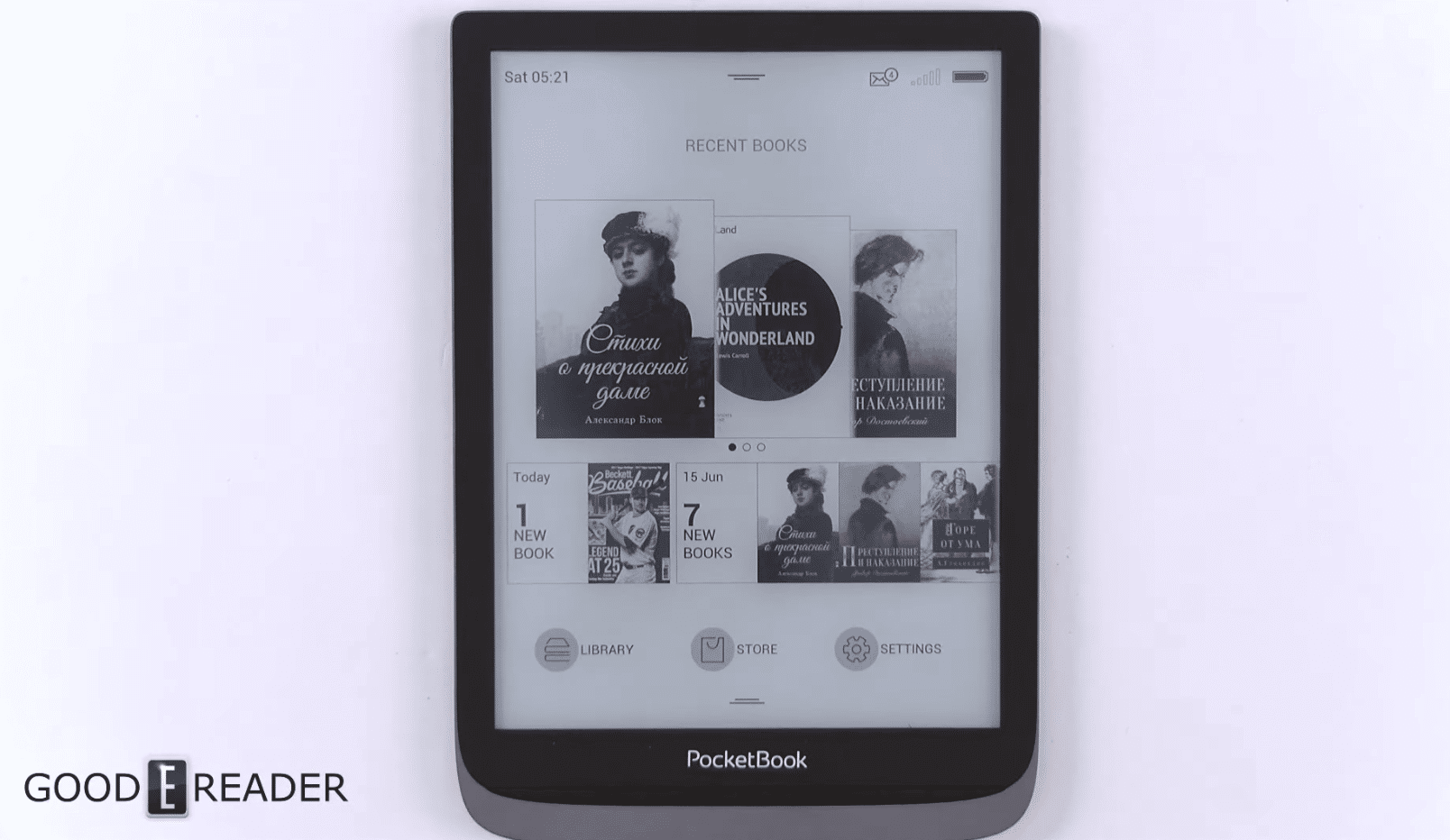 Pocketbook is running Linux as their primary OS and the only other companies to employ this operating system is Amazon, Kobo and SuperNote, almost everyone else is running Android. I feel Linux provides a more stable and robust experience, you are unlikely to ever encounter a situation where it becomes unresponsive and needs a hard reboot.
The main home screen comprises of a carousel that lists all of the books you have recently added or are in the process of reading. You can use the touchscreen to select a book or you can use the manual page turn keys to navigate around. The library menu is fairly basic, you can sort by authors, title or date added and all of the e-books show the cover art. The library menu has inertial scrolling, which means you can drag your finger down, let go and it will continue to scroll down a little bit. The app menu has a number of usable things, such as a few games (Chess and Sudoku) and some proprietary Pocketbook apps such as Send to Pocketbook, Dropbox for Pocketbook, The Pocketbook Bookstore, Pocketbook Cloud and a RSS Reader. What is most impressive is the stock note taking app they have. It is seriously robust as heck, and allows you to choose a bunch of different pen sizes to jot down notes, although it is also compatible with a stylus. There is also a new feature called ReadMore, which is similar to GoodReads, but seems to be only available in Russian.
You can browse the internet with the built in browser. You can use it to visit your favorite website or read your favorite blog. Google is strongly encouraging companies to employ mobile friendly websites and are allowing them to rank higher in the search engine. This is a boon for e-readers that struggled with big websites with lots of images in the past. You can also disable images or disable Javascript.
The settings menu has some default options, such as page refresh speed and firmware updates. If you want to borrow ebooks or audiobooks from the public library or purchase digital content from other booksellers, the InkPad 3 Pro has Adobe DRM support. This will allow you to enter your Adobe login and password on the e-reader and then use Adobe Digital Editions to copy it to your device. Many e-readers do not have this kind of support, because Adobe license fees are really expensive.
The InkPad 3 Pro also has a number of notable features that the Touch Lux or the Basic Lux do not have. This device has all of the ABBYY Lingvo dictionaries, which provides 24 language combinations, English – German, Webster's Dictionary 1913. It also has text to speech, which can support playback of an ebook with a narrator's voice, it sounds kind of robotic, but some people like this sort of thing.  The default text to speech engine is in English, but an additional 15 additional languages are available for free on pocketbook.ch
e-Reading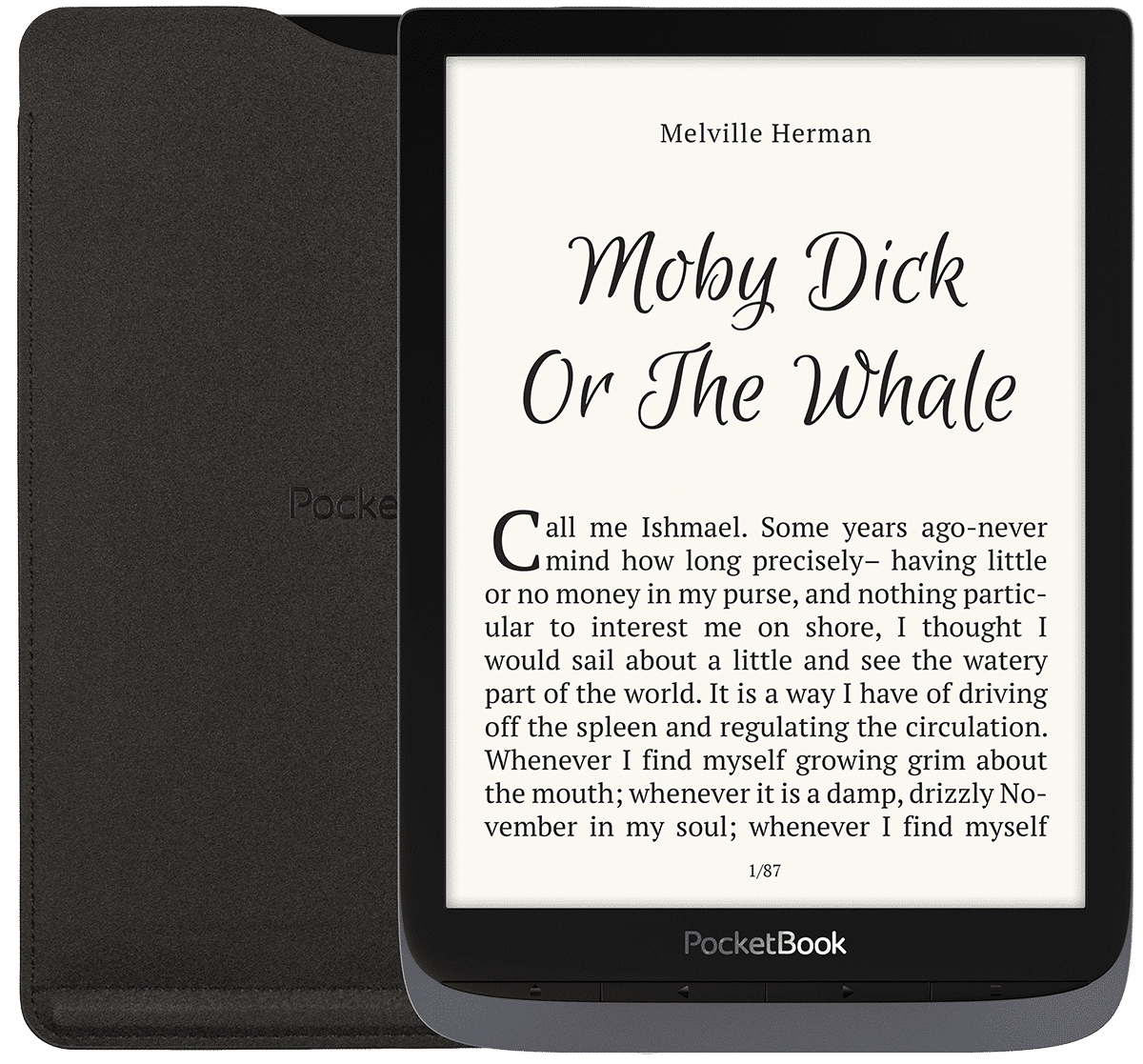 The sole reason you are going to purchase the InkPad 3 Pro is because you want a dedicated e-reader.  This device primarily supports EPUB and PDF files.  It does not have a dedicated digital bookstore, so you will have to sideload in your own content or borrow them from the public library. Luckily this device supports a wide array of ebook formats; PDF, PDF(DRM), EPUB, EPUB(DRM), DJVU, FB2, FB2.ZIP, DOC, DOCX, RTF, PRC, TXT, CHM, HTM, HTML, MOBI, ACSM.
You can change the line spacing, margins and a bunch of fonts. You can increase the size of the text and it even has a hyphenation option, which emulates Amazon Bookerly, which truncates spaces between words. In most e-books there are formatting problems when a book is not optimized for a particular device. Some words have a normal space, but others (appear like this, and are hard to read). The hyphenation option solves most of these spacing errors, but not all of them.
Page turn speed is really quick, this is due to the E-ink Carta screen and the dual core processor. There are advanced settings to limit the page refresh rate from 1-10 pages or completely shut it off. If you are just reading EPUB books, you won't be let down.
Pocketbook has introduced some new features in this model. When you are taking a note, you can of course write one using the traditional keyboard, but you can actually now draw with your finger or a stylus. Pocketbook is slowly integrating drawing support now, maybe they will release a dedicated note taking device sometime in the future.
The overall PDF experience on this model is actually not too bad. Pinching and zooming on a 150MB Beckett Baseball Price Guide was very robust. You can highlight words in a PDF, look the definitions up in the dictionary and draw on PDF files with your hands or a stylus.
We mentioned stylus a few times, you can do it with EPUBS, PDFS and also with the dedicated note taking app. You need a capacitive stylus, one that you can draw on your smartphone or tablet, but it is important to note that the Pocketbook PRO does not have a WACOM layer, just a capacitive one. In our hands on review video, we go over all of this.
Wrap Up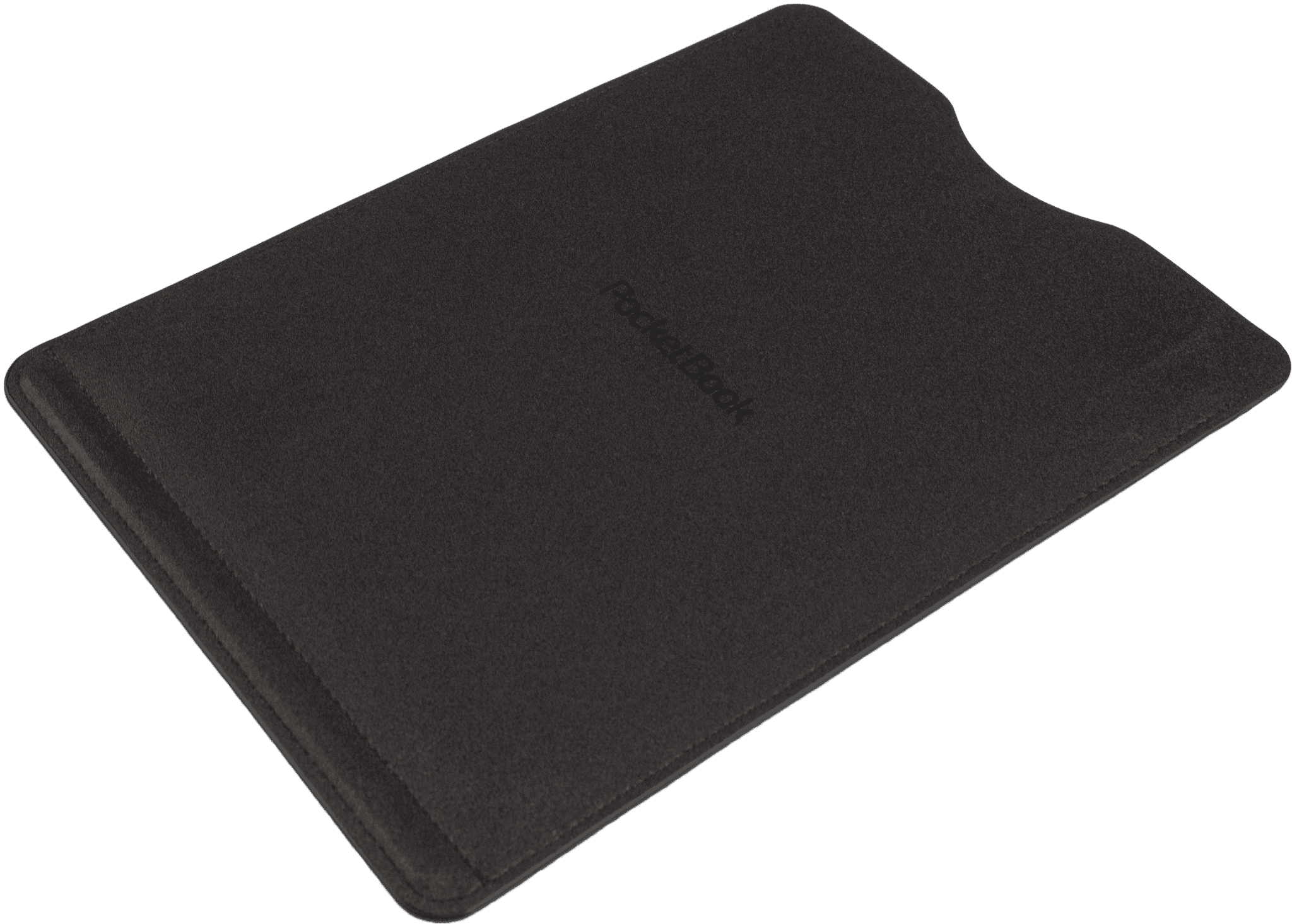 The Pocketbook InkPad 3 Pro is a great e-reader. It has the same size screen as the Kobo Forma and larger than the Oasis 3, but without the asymmetrical design. This might be the best e-reader that Pocketbook has ever made. It will appeal to people who who want a device that can do it all and has the $279 to make it happen. It is waterproof, dustproof, has Bluetooth and a high resolution screen. It has tons of dictionaries and text to speech. If you are looking for a platform agnostic e-reader, this is the one for you.
Michael Kozlowski has been writing about audiobooks and e-readers for the past twelve years. His articles have been picked up by major and local news sources and websites such as the CBC, CNET, Engadget, Huffington Post and the New York Times. He Lives in Vancouver, British Columbia, Canada.