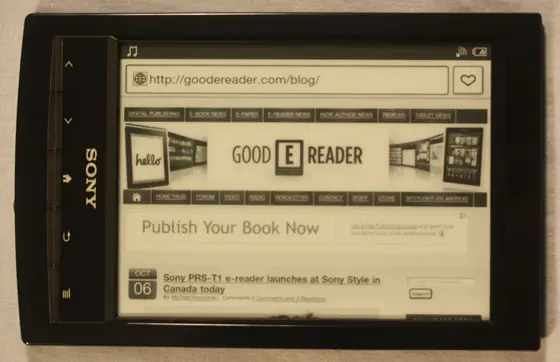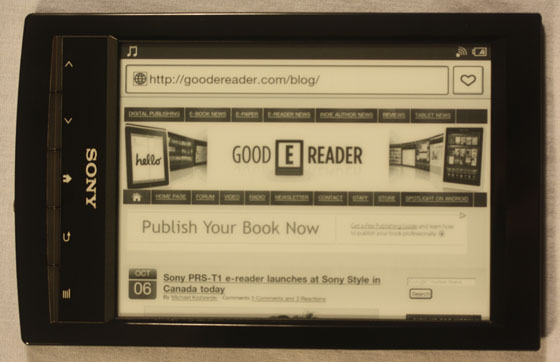 Welcome to another Good e-Reader Review! Today we look at the brand new Sony PRS-T1 e-Reader that just came out in Canada! How does it stack up against the Sony PRS-650 that has been one of their most successful e-readers to date? Simply read on to find out!
Hardware
The Sony PRS-T1 features a e-Ink Pearl Multi-Touch display and has a resolution of 600×800 pixels. This device gives you pin point procession with the infrared touch screen technology it uses. Similar devices such as Kobo Touch also employ this technology. I find with IR touch based e-readers the film and screen are often smaller and more lightweight because it uses infrared beams built into the bezel. Like most e-readers it has 16 levels of grayscale, contributing to superior resolution.
The T1 is the second iteration of the Sony PRS-650 and bears many similarities in terms of form and function. It is a bit slimmer and taller then the previous model and this makes it easy to carry around. I found it fit in my back pocket with ease. It is also 30% lighter then the previous generation which allows you to hold it in one hand for extended periods of time.
The bottom of the unit features a MicroUSB port in which you can charge the unit via your PC. You can also manually transfer pictures, audio and books with this connector cable as well. There is also a hard-reset button in-case your unit freezes or becomes unresponsive. You would want to use a small pin or something of that size to reset it. The power button is different from the 650 because it is a simple button instead of a slider. Finally there is a 3.5mm headphone jack in which you can listen to audiobooks or music.
One of the things I noticed right away was the lack of a physical volume slider on the device. It instead relies on software driven controls within the audio application. The T1 does not have speakers but using the headphone jack you can listen to a wide array of media options in AAC or Mp3 formats. I found the sound to be crystal clear, but does not have any kind of EQ.
On the front of the unit are 5 buttons which you primarily use for navigation. It has two page turn keys on the left hand side in which you can flip books forward or backward. If you are not a fan of physical buttons to turn the pages of your book you can simply use the accompanied Stylus or use swipes/gestures. There is a home button which automatically brings you back to your main screen and finally a BACK button! This is one of the first Sony e-Readers to actually have a backward option! This is exciting because previous models of the companies devices utilize X or close buttons on all menus, making you have to hit a small area. I am a huge fan of this simple upgrade and makes life significantly easier. Rounding off the buttons on the front features a settings button which ironically does not do anything on the main home screen but gives you valid options on most programs.
There is 2 GB of internal memory to store all of your media content and if that is not enough you can expand it via MicroSD. On the back of the unit is where you will find the memory bay and it is protected by a small plastic flap that protects it from the elements.
I really love the form factor of the new Sony PRS-T1! It is extremely portable and the piano black finish looks very solid. We did a side by side comparison of both this model and the 650 and this one blows it away in almost all physical respects.
Software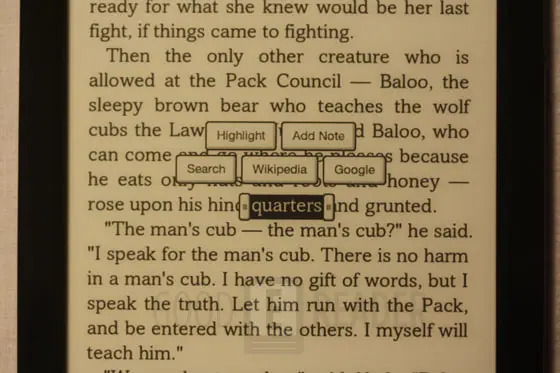 The Sony PRS-T1 is the first e-reader made by the company to feature the Google Android operating system! This is a tremendous boon because if you are used to tablets or smartphones in your daily life, there is not a huge adjustment with this edition. One of my favourite aspects of this new OS on the Sony Reader is that you can pinch and zoom almost every program on the device! Most prior models of the Sony product line had a magnifying glass via a physical button or software driven. Whether you are browsing the internet, reading a book, or looking at a picture the device is tremendously responsive using this common feature.
When you power on the device for the first time you are greeted by an enhanced home screen. It shows you the book you recently have read and the three most recent books you have loaded on the device. Underneath the book covers are 4 categories; Books, Reader Store, Periodicals and Collections.
The Books option leads you to a virtual bookshelf in which all of your ebooks are proudly displayed. You can organize it in a graphical layout with the cover art or make it text based. The text option might be useful if you have a horde of novels loaded on it. Speaking of which, the Collections option is one of the best things on this device. Most e-reader companies seem never to implement this feature right out of the gates, which contributes to a very unorganized device. Sony understands its customer base because it has been selling e-readers longer then Amazon has. The collection option allows you to start collections on your device, which basically just creates a folder. You then want to copy and paste books into your particular collection directory when you plug the T1 into your PC.
Also on the main home screen is a periodicals option which is basically just a devoted collection of manga, graphic novels, newspapers and so on. When you buy content from the Sony Store it is automatically put in that section.
The Sony Store is front and centre on the T1! It is the first Sony Reader that allows you to directly access the ebook store the company has been running for a number of years. Previously, if you had a Sony device you would have to shop for books on your PC and then find one you like and buy it. You would then have to connect your Reader to your PC via the USB cable and load up Adobe Digital Editions. Using this program you would transfer the DRM protected content to the correct directory. This is making a new customer have to jump through too many hoops to simply buy a book. The new store allows you to register on the site and then create a billing profile. After that it is one click buying and then transferring it directly to your reader after purchase.
The Sony Store is optimized to the reader and looks amazing! It presents three of the most recent books on a slide show and you can gesture to switch to the next books. All of the books I saw where by popular authors such as; Harlan Coben, J.D. Rob b and Sherrilyn Kenyon! You can click on the book cover and read the book description, book reviews, description, author profile, wishlist and related books.
I am in love with the Sony Store! It charges a few dollars more then competing bookstores such as Amazon and B&N. The real benefit is that you can load your own books in PDF or ePUB format and you can buy get access to the store internationally. The big problem with Amazon and Barnes and Noble is that they region lock the books. If you have a Nook and live outside the USA you cannot even buy anything unless you fake an address. If you have a Kindle and live in Canada or outside the USA you have an limited book selection. With the Sony Store you can buy the same books no matter where you live.
OK, so you know my thoughts on the Sony Store on the device, but is that it? NO! You have full unbridled access to the Google Books store! You can for FREE download millions of books! The great thing about this feature is that you are not just simply redirected to the Google site. The core-functionality of the Google Books app brings you to the Sony Reader Store but with all of the Google Books contained within. The big reason why this is so excellent is because of international availability of content. Google does not offer its Bookstore of free books to be used outside of the USA and the UK. Since all of their books are contained within the Sony app you can download all the free open source books anywhere in the world!
But that can't be it can it? NO! Saving the best for last you can actually borrow books directly from any Library supporting Overdrive! Sony has cleverly made its own UI made exclusively for this T1 e-Reader. You can browse by libraries in over 6 different countries and refine your search further. Next you want to select your provide/state and then your city and then the specific library you belong to. You can view all of the books your library options in a totally unique user interface. If you have ever used Overdrive on the PC or on a tablet before this looks tremendous on the e-reader! You can see if a book is in your specific branch, put a hold on it or download it directly via WIFI to your Sony e-Reader! This is absolutely my favourite function on the T1! There is no other pure e-reader on the planet that lets you browse and download a book directly on your device, within singular app. It makes the process so simple.
Simple, that is what really makes this e-reader one of the best ones I have reviewed all year! There is really no need if you are a new to e-readers to ever need your PC/MAC for anything with this reader. For advanced users it allows you a number of cool features outside sideloading in your own content.
Lets talk about the book experience now that we covered the home screen and content distribution system. When you read a book you have a number o of options to tailor your experience. While reading you can pinch and zoom to zero in on specific areas or to enhance the text size. There is dedicated features to altering the font and text of your particular book. You can change the font size and it gives you previews of the eight degrees of font sizes. This unit also allows you to change the font completely. This are by default, 7 different font options that will exchange your text experience.
While reading a book you have a number of options beyond simply high-lighting particular words. You can select a singular word and look the meaning up in the dictionary. There are 12 different dictionaries available in many languages such as; English, French, Spanish, Italian, German, Dutch and more! The meaning of the word is automatically displayed on the bottom of the screen, but is fairly unobtrusive. When a word is highlighted you can also attach a note on the word via the Stylus and draw your notes or use the virtual keyboard. When a word as a note assigned to it you will see a small little icon above the word. Long-pressing on the word will display your note, this is perfect for students or people belonging to bookclubs.
When you highlight a word there are a myriad of options available beyond making notes and the dictionary. You can look the word up on Wikipedia or search for it on Google. This automatically does a Google search for the word via the web browser to direct you to the specific Wikipedia entry.
Don't forget you are not limited to a specific word but you can highlight an entire sentence or the entire text displayed on a screen and do the same thing.
The web browser on the T1 is very developed and websites load extremely fast! There is also more options to tailor your web surfing experience then most other readers on the market. My favourite is adjusting the font size on the screen or switching it to landscape mode via the software function. Obviously there is no Flash functionality and you cannot watch Youtube videos, but for catching up on the news or reading tech blogs like Goodereader.com you are good to go. You can also pinch and zoom specific areas on the website like the Android or IOS experience you are used to.
There are a few dedicated programs for specific tasks such as Audio and Pictures! Audio is relegated to AAC or MP3 formats. You can listen to music to buy audiobooks online. Pictures in e-ink always look money with high resolution and contrast.
The keyboard on the T1 is amazing! It is a full QWERTY keyboard that blows the new $79 Kindle out of the water! Keys are faster and more responsive and feels like a traditional Android one. Refresh rate is very fast and I find the keys can keep up to my input functions.
In the end, the Sony Reader has a ton of content options and it is easier then ever before to shop or borrow books from the library. The book experience is very inductive to your level of customization and this device gets extra points for the pinch, zoom and gesture interface. I like all the options to search up words online and attach notes to them. One of the drawbacks include the settings menu being very weak. Other then setting up your WIFI you more then likely will never touch a single option in it. The only other useful selection is to protect your device with a password.
My Thoughts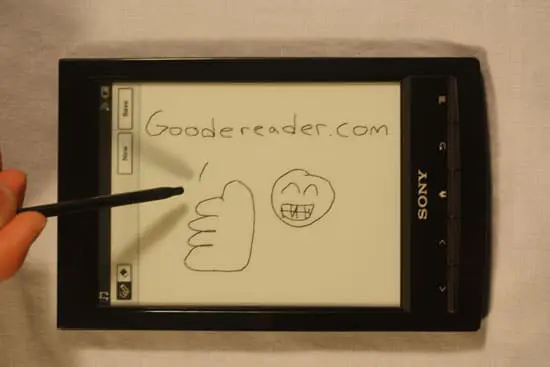 The new Sony PRS-T1 is simply the best Sony e-Reader product offering to date in the six inch class. It is not ideal to PDF documents like the Daily edition might do or larger screen devices such as the Kindle DX or Pocketbook 902. If you are just happy reading newspapers and ebooks, you can't get much better then this.
This is one of the first e-readers I have reviewed all year that feels like it was made for 2011. Touchscreen e-readers are nothing new for Sony but it feels so refined and gives you options that you use daily if you are a book lover. Being able to borrow books from Overdrive and buy Books directly from the Sony Book Store and have them delivered via WIFI directly to your device is the tops.
Overall the device is fairly responsive and keeps up with you very well! Whether you are turning the page of a book, browsing a website or handwriting a note, you are good to go.
There are a few drawbacks with the device that is not a deal breaker, but should be mentioned. First of all it comes with an oversized Stylus! The Sony PRS-650 Stylus was small and practical. It fit directly into the device via a small slot to insure the likelihood of losing it is small. This stylus is easily double the size and has a small hook on it for no good reason. The hook is small enough that it does not fit anywhere on the device and big enough so it does not fit on your shirt or sleeve. You will need the stylus for pin point accuracy but the screen features IR touch, so its not completely necessary for the most common tasks.
There is also a few free books that come on the reader but if you do factory reset they are deleted so make sure you do this with care.
One of the final drawbacks is the refresh rate on the books that you read. Some e-readers have a six page refresh rate to cut down on screen flickering between page turns. The new Amazon Kindle e-reader by default allows you to reduce screen flickering to every six pages. The Sony does it every page and it quickly becomes old.
One of the main things that this e-reader got bang on was the timing out of the internet connection every five minutes to maximize battery life. It does give you the option to turn this off so it never times out, but I thought it was an clever move to enhance the battery life if you are not using the internet but if you did use it lots you can just turn the option off.
Summary
If you live outside of the USA this is one of the best e-readers that provides the biggest bang for your dollar. Out of the box, it supports many markets such as France, Spain, Germany and The Netherlands. All of the menu options, dictionaries can be confirmed to those particular native languages. It does not matter where you live in the world you can deal directly with the Sony Store and by Proxy Google Books and Overdrive.
It is refreshing to have a device that works outside of the USA. One of the drawbacks about living in Canada is that we are excluded from many devices and their content distribution systems. When we do get service such as Amazon or iBooks, often many publishers lock their regions to the USA or do not possess the rights to distribute it. Sony does a great job at providing content to international markets and Canadian based Kobo does an admirable job too.
I would firmly recommend this device as one of the best investments for a solid e-reader to read books, newspapers and graphic novels. It has all of the features you need and allows tremendous ease of use for new people to e-readers. If you live outside of the USA you can buy this right now via our Retail Partner www.shopereaders.com
update: The T1 does not work yet with Adobe Digital Editions and it does come with Reader Software used to easily manage your device.
Update 2: We just added our video review of the unit and will be uploading our comparison review of the Sony PRS-T1 vs. the PRS-650! Also the Sony Reader store claims it only works in the USA and Canada and is working to get international markets happening soon.
Update 3: To get Adobe Digital Editions to work on your Sony T1, you need to first install the new Reader App that is loaded on the device, install it to your PC. To get your Sony Reader working on Calibre you have to download the new BETA BUILD. Download it HERE. Check out our YoutTube channel for new videos on the Sony T1, including; library borrowing, loading ebooks, 650 vs T1 comparison and how PDF Files look on the device.
Rating 9.5/10
[cincopa AIPAxtKV3uZy]

Michael Kozlowski has been writing about audiobooks and e-readers for the past twelve years. His articles have been picked up by major and local news sources and websites such as the CBC, CNET, Engadget, Huffington Post and the New York Times. He Lives in Vancouver, British Columbia, Canada.