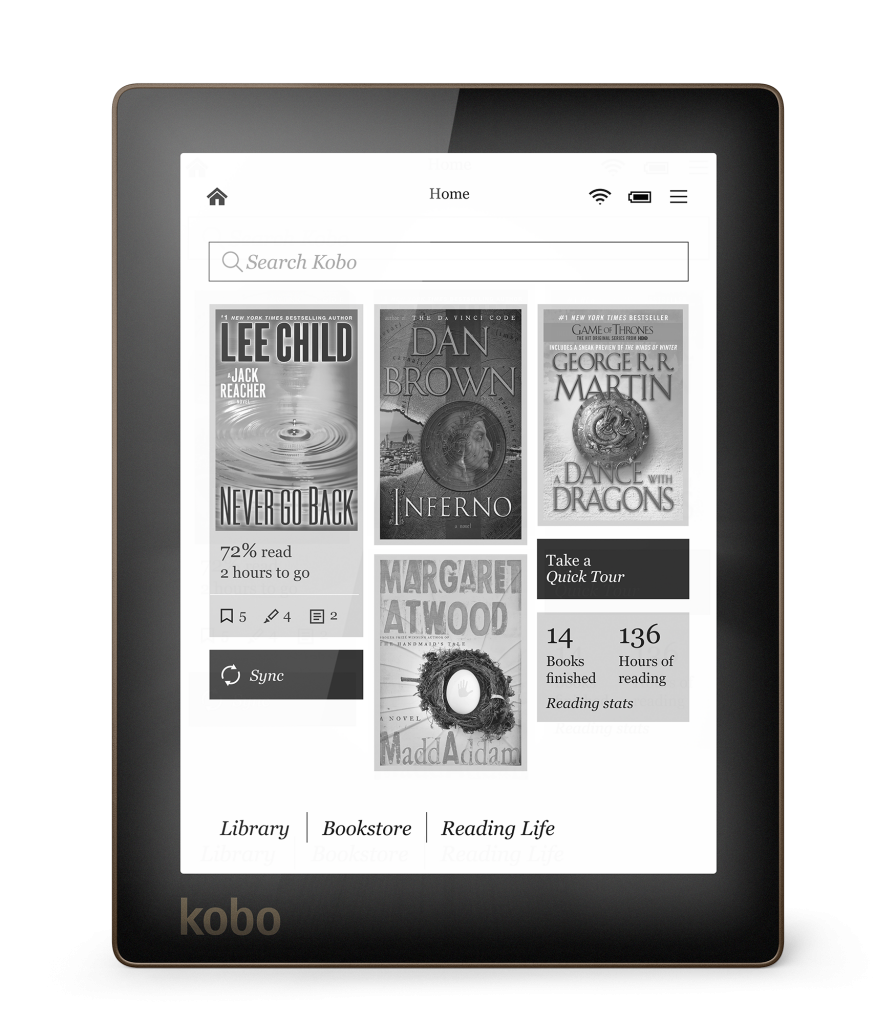 Earlier in the year Kobo had released the Aura HD, which was a 6.7 inch e-Reader that bucked the trend of the standard six inch device. It was said when it was first released that this model was a limited edition and would not see the same sort of mass market push as the Kobo Glow. The Canadian company has gone back to the drawing table and just announced the new Kobo Aura.
Hardware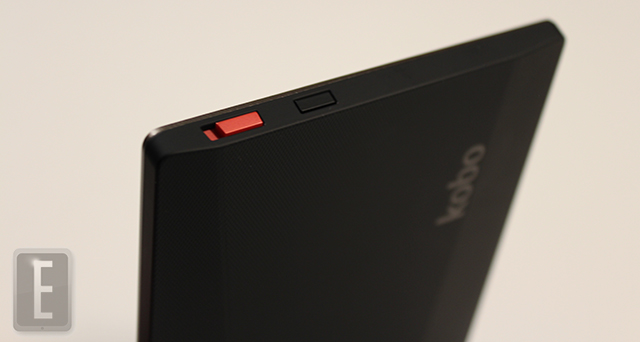 The Kobo Aura maintains the standard six-inch approach that the company made famous with their entire product line. It currently has a super high resolution e-Ink "Clarity Screen" with 212 DPI and sixteen levels of grey. Really, the resolution is the exact same on the Glo, and has not broken any barriers on using a next generation e-Ink display. This e-Reader has the exact same front-lite technology that was found on the original Kobo Aura HD. This will allow readers to adjust the brightness settings to suit their environment. Currently, Kobo has the best front-lit screen in the business and has surpassed Amazon in terms of quality. To turn the screen light on, there is a button at the very top and then a virtual slider bar to control the brightness.
It is powered by the quintessential Freescale i.MX507 1 GHZ processor and has 1 GB of RAM. There are 4 GB of internal memory, which can be enhanced via the Micro SD Card. It seems that Kobo e-Readers still have expandable memory, which makes adding books to your collection fairly easy and painless. It also has over two months of battery life, which is ideal.
Kobo has maintained the same rear panel that they debuted on the Kobo Aura HD. Instead of using the quilted back cover as they have always used for their three previous generations of e-Readers, they have moved to a more wavy design. When we talked to Kobo about this move at BookExpo America, they said they wanted to mirror how the pages of a real book looked, once it got lots of usage. If you maneuver a book and press towards the spine, you will see the pages on a diagonal angle, and this is the essence of the new rear shell. This rear facing panel has undergone a severe redesign and is more subtle in the way the curves look.
The one thing that blew me away with this e-reader is how the screen is flush with the bezel. Most e-readers have a sunken screen and a raised bezel that often utilizes Neonode IR. This model has 5 points of multi-touch and is a pure joy to use. If you want to raise or decrease the luminosity you can swipe your two fingers upwards to raise it or swipe downwards to decrease it.
There are no manual page turn buttons, instead everything is done via the software. The only two buttons on the device are the power and light. There are only two colors available at launch, black and pink.
Software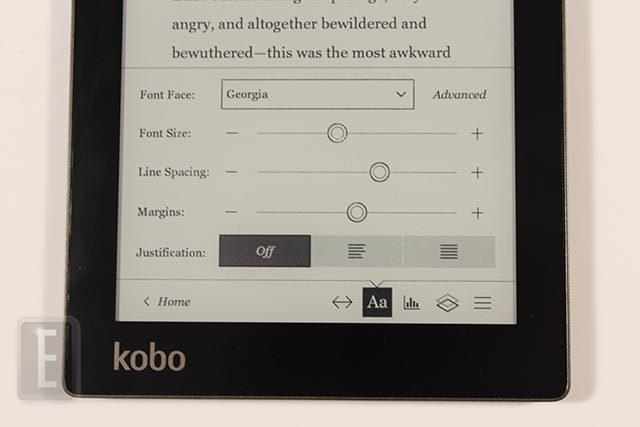 Kobo maintains the same general user interface found on most of their modern day e-Readers and did not re-invent the wheel for the core user experience. The new screen has three main segments that display icons for everything done over the last twelve processes. This provides shortcuts to the user's most commonly accessed features, such as the web-browser, custom shelves, Reading Life, and ebooks. The Sync feature to fetch new content is now on the main screen, too, which is the only element that remains persistent. I actually like the more effective use of screen real estate. Rather than browsing four different sub-menus to access the internet browser, it will appear on the main screen if it has recently been used.
I really like the dynamic nature of the new home screen, especially how common tasks and recently accessed elements from games to comics will appear as virtual shortcuts. One of the drawbacks is you can't long-press to move them around or save them as persistent pseudo-widgets. It would be amazing to organize your home area the way you like so it didn't change automatically, unless you wanted it to.
Not only has the main screen changed, but most of the UI has undergone subtle enhancements over prior models. The Kobo Glow had a black area on the bottom of the screen, and when you initiated the scroll bar to find the illumination levels, the black bar would often show artifacts or ghosting from images. The new UI is completely white and most of the other sub-menus and headings are also pure white, which is a small but noticeable feature.
One thing that Kobo does really well is provide a lot of customization options in the main settings menu. Users can set the page refresh rate for e-ink from one to six pages, providing the ability to set up different swiping motions to turn pages. This is optimal for people living in Japan and Asia, where the character layout is right to left and page turns are left to right. There are new games as well, such as a Words with Friends clone and a few others. Of course, users have a scrapbook to take advantage of the touchscreen and internet browser. There are enough options to get the most out of this e-reader, but not too many to overwhelm the average consumer.
Kobo has made headlines from the beginning with their aggressive international expansion efforts. This allows customers to easily read books in their native languages. The Aura has core support for the UI and dictionaries for English, French, German, Spanish, Dutch, Italian, Brazilian, Portuguese and Japanese. All of the dictionaries are basically links which users can download them as needed, without having them all loaded on the device by default. This helps with memory and storage capacity.
e-Reading Experience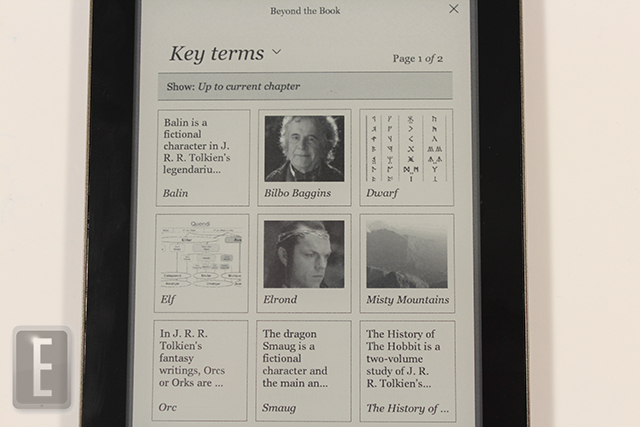 Kobo has debuted some new features that enhance the overall reading experience and aid readers in eBook discovery. The most exciting element is called Beyond the Book, and it allows readers to dive deeper into what their reading by tapping on highlighted words to discover related books, authors, articles, and more. This really goes beyond simple dictionary look-ups of words you won't understand. Speaking of dictionaries, there are over 8 that come loaded on it, with more available to download.
One thing Amazon has always done well is do translations. Kobo implemented a new translation service that allows you to check out words in your native tongue into something new.
Kobo's entire line of e-Readers provides a tremendous flexibility in crafting a unique reading experience. There are eleven fonts bundled on the Aura and twenty-four different sizes. Advanced users can load in their own fonts that can be downloaded or purchased online. Kobo also has TypeGenuis, which offers further advanced options to adjust the weight and saturation. All of this comes with a before and after rendering on how the changes will look, comparing it against the existing settings.
Let's talk about the PDF experience. Sony once held the title of King of PDF, it had great re-flow and tons of customization options. Kobo has refined their own PDF experience into one of pure joy and has now usurped the title away from Sony. Taking advance of the capacitive multi-touch display, you can now pinch and zoom. You can start to pinch with two fingers and then release one finger and continue to scroll in the document. While you do this, the images do not render fully, but the text does. This insures you can read on the Kobo Aura just like you would a tablet. This same gesture and rendering support engine not only makes the overall PDF experience excellent, but carries over to internet websites too.
Kobo currently has a massive online bookstore with over 3.5 million titles where readers can easily purchase magazines, newspapers, bestsellers, comics, and kids' books. Magazines will not be available at launch, but may come later.
Wrap Up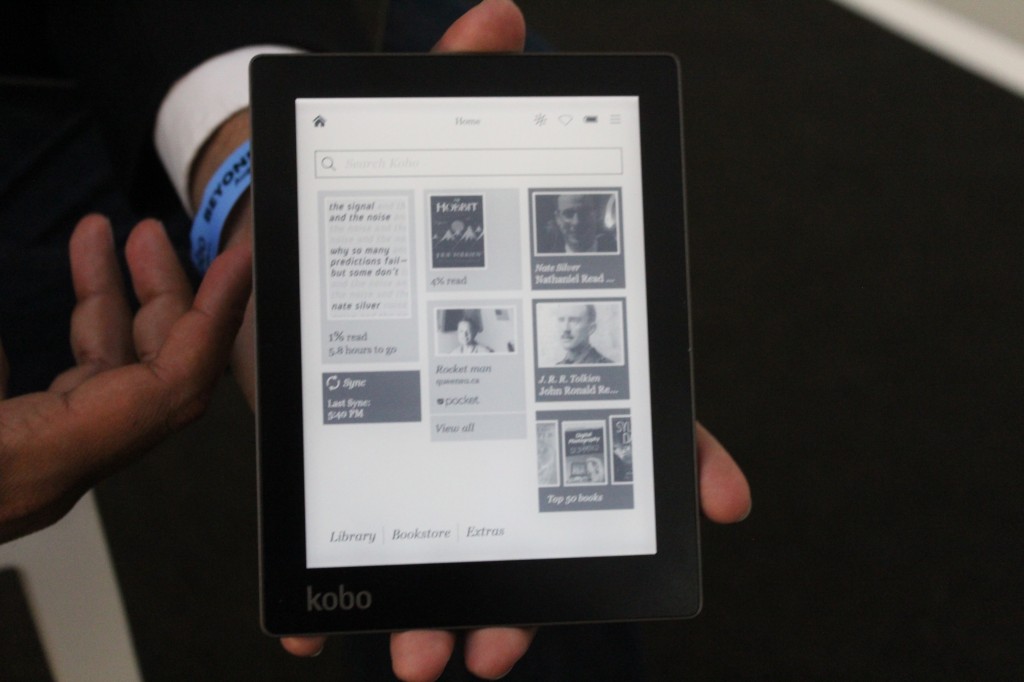 The Aura is amazing, one of the best e-readers ever released. One of the best features is the capacitive multi-touch display and the ability to really make reading shine. The screen is flush with the bezel and not sunken like every other e-reader currently on the market. The internet and PDF experience is the best you will get on a six inch device, trouncing Sony.
PROS
Capacitive multi-touch display
Screen is flush with the bezel
Best PDF experience out of a six inch e-reader
Beyond the Book is really neat
Tons of customization for EPUB

CONS
No speakers or headphone jack
Internet Browser Crashed fairly often
Same Resolution as the Kobo Glo
Rating: 9/10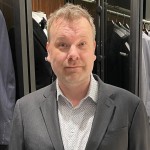 Michael Kozlowski has written about audiobooks and e-readers for the past twelve years. Newspapers and websites such as the CBC, CNET, Engadget, Huffington Post and the New York Times have picked up his articles. He Lives in Vancouver, British Columbia, Canada.