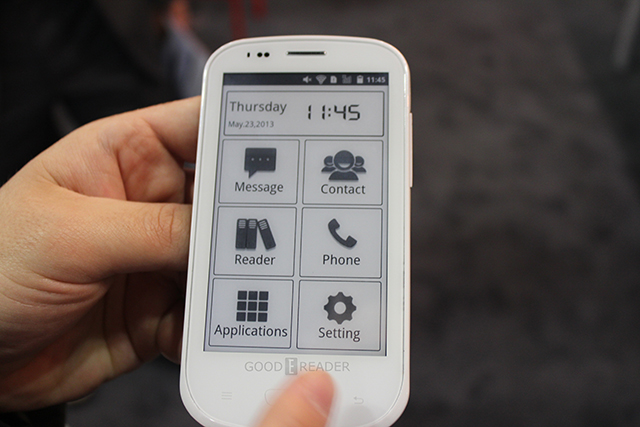 Onyx intends on releasing the first fully featured e ink phone in the 3rd quarter of 2013. We got our hands on the final hardware model of this new phone and the only thing that will change is the firmware. One of the big hyping factors behind this is the front-lit display, much akin to the Amazon Kindle Paperwhite and the one week battery life.
The Onyx e Ink phone takes e-Paper out of the e-Reader world and transplants it in the very competitive smartphone arena. It features a 4.2 inch screen, running on Android 2.3 operating system. The resolution is 480×800 and is powered by a 1 GHZ CPU processor. Battery life should last you around one week, the device we had was being constantly fondled for the last 36 hours and was still at 90%.
The phone itself is rather brilliant! It does not suffer from the page-refresh issues that plague most modern day e-Readers. If you are text messaging, adding a contact or typing in a phone number, its instant. I never saw any ghosting on the screen and there is a button you can press to turn on the front-lit display. This will insure that you can use the phone in low-light conditions, something you could not do with e-Paper a few years ago.
Aside from text messaging, contacts and the phone itself, it comes bundled with an e-Reader app. It does not give you much in the way of editing font sizes or highlights, but since it runs Android, it would be very easy to install your favorite. I verified that in the settings menu, you can click on enabled Unknown Sources, and sideload in your own applications. This means, you can install Kindle, Sony, Nook, Kobo, Overdrive and whatever digital reading app that tickles your fancy.
The one thing that impressed me, was the responsiveness of the phone. Every menu instantly loaded and typing was a breeze. It has a full QWERTY keyboard and pressing down on keys pops up, with little to no LAG. The long battery life should also be an endearing factor, if you are on your phone lots, you should get a full week out of it, which is quite amazing. It also has a microphone that allows you to search the internet by voice, or even type notes and text messages by voice.
It remains to be seen if e Ink phones will truly catch on. You will not be able to watch videos, but you can listen to music via the 3.5mm headphone jack or the rear facing speaker. You can load your own content on it via the Micro USB cable and also use it to charge the device. The battery is swappable, as we took the rear casing off and found out you can.
Honestly, I was super impressed we managed to get our hands on this phone, with no one walking us though it. When Peter and myself were at SID Display Week on Monday, it was locked in a glass case. Obviously, cases do not scare me, and I see it as a personal challenge to flex all of Good e-Readers muscles to make it happen. After a few emails and phone calls, we had our hands all over this new e Ink phone. Lastly, when will it come out and how much will it cost? We heard Q2-Q3 2013 it will be out, the pricing is more of an unknown. Basically, ONYX is shopping this around to various carriers all over the world. If a few buy into it and place some large orders, it will cost less to make, due to the large volume. There are many factors that will influence the price, but right now it is totally unknown. Worldwide availability is also an unknown. All we do know, is that it is only 3G, and should be compatible with most major phone networks, but even e Ink did not know the bands that it is using.
[cincopa A4DAuJLhZrIq]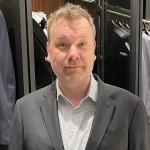 Michael Kozlowski has written about audiobooks and e-readers for the past twelve years. Newspapers and websites such as the CBC, CNET, Engadget, Huffington Post and the New York Times have picked up his articles. He Lives in Vancouver, British Columbia, Canada.