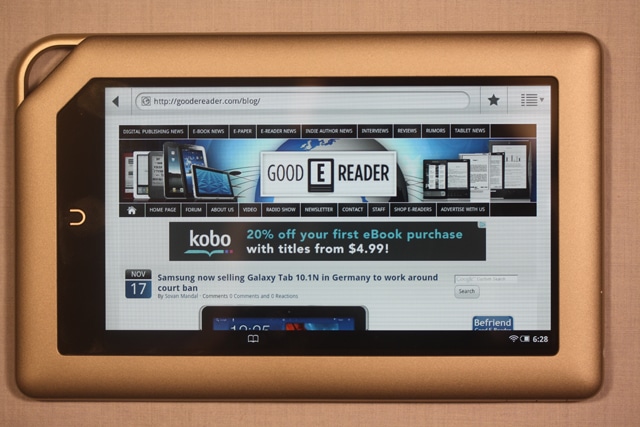 Welcome to another Good e-Reader Exclusive Video Tutorial! Today we are going to show you the entire process of borrowing ebooks from the library and transferring them to your Barnes and Noble Nook Tablet.
In order to borrow books from the library using Overdrive there are a few requirements before you can get started. First of all you need to make sure your local library branch is participating in the Overdrive digital lending program. If they are, you simply need a library card number and a four digit PIN code to borrow ebooks. If you do not have a library card simply visit your local branch and confirm they are lending books out digitally and make sure to bring in ID and a recent BILL with your name and address on it.
The other main requirement is to make sure you have Adobe Digital Editions on your computer. This is a free download and the program is mainly used to transfer books borrowed in EPUB format or purchased from other bookstores. Once you download the program you merely need to authorize your computer and when your Nook is plugged into your PC/MAC/LAPTOP with the Micro USB cable you can register the Tablet on your computer.
The first thing you want to do to borrow books from the library is visit their digital page. The library should provide this for you but ours was http://library2go.lib.overdrive.com/. The next step is selecting the state that you live in and then your specific branch location. Then you will be prompted to enter your full library card number and your four digit PIN code.
Once you are all logged in, it is time to start browsing for ebooks. I suggest starting with the 'Advanced Search' button next to the search bar. This gives you the ability to refine your search and browse for ISBN, Author, Title and many more. The best method to employ is to select 'Format' and select 'Adobe EPUB' and then check mark the box that says 'Search by Books Available.' This will insure that all of the results you find will be books you can borrow fairly easy. If you want to search by author or title you can do this too. If a book is available at the library but has been loaned out, you can place a digital hold on it. When this book is returned by the person you can reserve your place in line by doing this.
Once you have searched and found a book that appeals to you, it is time to add it to your '2GO Cart.' You can think of this as your digital shopping cart. You can checkout one book at a time or many, it depends on the library limits that is imposed on you. Simply select the book in Adobe EPUB and then select 'Checkout.' This will give you a direct download link and the period in which your loan is valid. Download this book to your PC and your ready for the next step.
You might notice when you download the book to your computer that it is not in EPUB format but ACSM. This is an Overdrive format that is digitally encrypted but don't worry about it. What you want to do is find the book on your PC that you downloaded and right click on it. Select the open 'Open With' and then choose Adobe Digital Editions. This will open the program up with the book and you will see the cover art and loan period displayed. The final step is to left click on the book and drop it into the folder that says "My Nook."
Once the ebook you just borrowed from the library is on your Nook Tablet it is time to start reading! By default the book does not appear on your main library shelf. In order to find it you have to click on 'Library' and then 'My Documents' and then 'Adobe Digital Editions.' In this folder are all of the books you have either borrowed from the library or purchased from other stores. This might be a weird place to keep going for your books, but keep in mind you can add the book to your main shelf from here or make a collection. I prefer to have a collection devoted to library books for quick access.
The video below documents the entire procedure in borrowing books from the library in visual form. If you have any questions or concerns about this process please let us know.
Markus lives in San Francisco, California and is the video game and audio expert on Good e-Reader! He has a huge interest in new e-readers and tablets, and gaming.