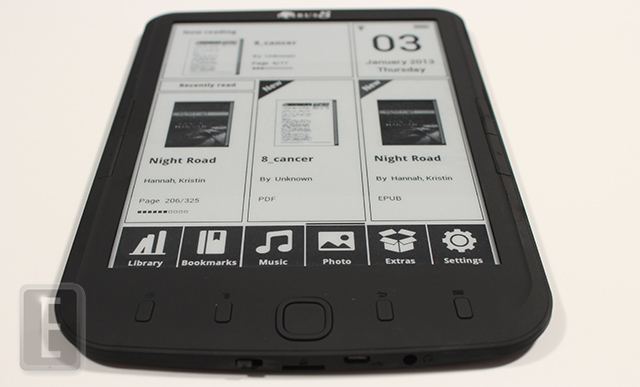 The Icarus 8 bucks the trend of six inch e-Readers and gives a solid eight inch display for less then $150. It may not have a touchscreen, but should appeal to people who get disgruntled with fingerprints all over their devices. One thing it has going for it is the built in audio. You can listen to audiobooks or music via the 3.5mm headphone jack. Honestly, most companies don't incorporate audio anymore in e-readers, so this is one of the few that actually supports it.
Hardware

The Icarus 8 features a eight inch e-ink display with a resolution of 1024×758 pixels. It has a 1 GHZ internal processor with only 128 MB of RAM. You have around 4 GB of internal storage and the device has a micro SD card to boost it up to 32 GB.
Most modern day e-readers all have fancy touchscreens and some people are not completely enamored with that. If you look at the history of e-readers, touchscreen panels only became popular in late 2011 and early 2012. People who have older models are used to hitting the physical page turn keys and clicking on buttons to call up various setting options. This e-reader is perfect for people who don't want all the bells and whistles and just want something cheap and cheerful to read their digital books.
Overall, the device is a bit on the heavy side, as it has an eight inch screen. This is actually the perfect size for PDF reading and checking out the latest best seller.
Battery life will get you around two solid months of reading before you have to recharge it via the Micro USB cable. e-Readers are primarily designed to not run out of juice like your smartphone or tablet.
The one big hyping factor surrounding the Icarus 8 is the built in audio capabilities. This is somewhat of a lost art with mainstream companies like Kobo, Amazon, Sony, and Barnes and Noble. They sacrifice anything that would increase production cost so they can offer the hardware as cheap as possible to compete in the cutthroat US market. Icarus does an amazing job of allowing people to listen to audiobooks. There is no dedicated store to buy them though, so you'll have to load them on yourself. Also, there are no speakers, so you will have to make sure you have your headphones handy.
Software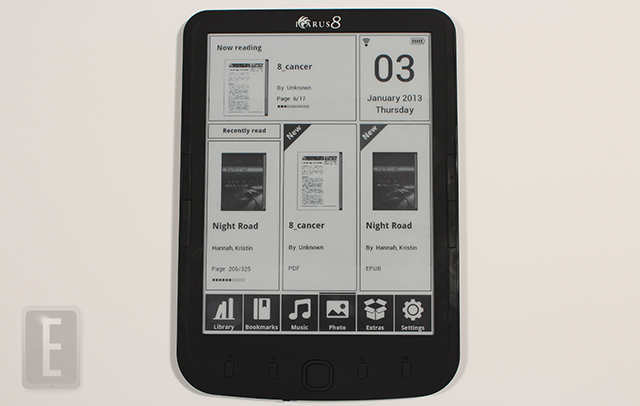 Icarus e-Readers often have no consistency with their operating system and it is dramatically different from device to device. You have a dedicated home screen with the last five books you have opened or have loaded on it. Below that is Library, Bookmarks, Music, Photos, Extras and Settings.
One of the shortcomings about the entire Icarus brand is the inability to effectively organize and make collections. You basically have to just create folders on your reader using Windows Explorer. There is no way to really do anything on the device itself. If you read a bunch of books every month, this could be a problem, if you are a casual reader, not so much.
When you are in your library you can sort by author, title or series name. You can also display the books by cover art or just by text. One cool thing is the software telling you what eBook format is in your library. There are little icons such as PDF or EPUB beside each book, to give you visual cues.
Icarus e-Readers are really not complicated and are designed to be user friendly. You won't find a bunch of settings or superfluous options that will be time wasters. The only extras is a short cut to the Project Gutenberg website so you can download free books.

e-Reading Experience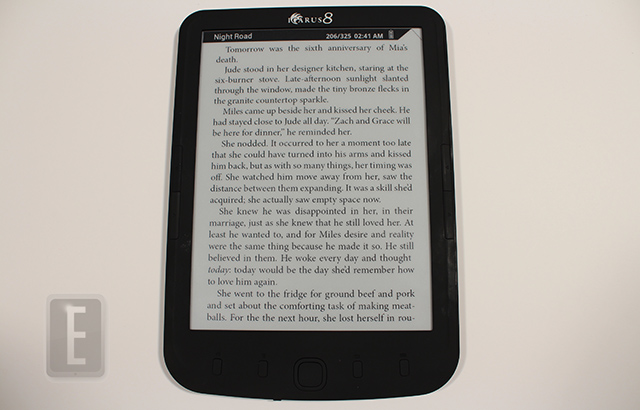 The Icarus 8 primarily reads EPUB and PDF. This device is Adobe certified so you can purchase eBooks from other bookstores and load them onto it with little to no hassle.
This device really excels with its PDF rendering engine. It almost gives you the old school Sony type of reflow, where you can strip away all of the images and CSS layouts and just get the text. Once you do this, you can change the sizes of the fonts, which basically is your zoom option.
If you have fairly complex PDF documents like gaming material or newspapers, you can just zoom, crop or adjust the display to find your optimal viewing experience. Anything you do will be maintained each page you turn.
The EPUB experience is fairly basic. You can change your fonts and margins by about 16 different levels and can select from 4 of the font types. There is no ability to load in your own, so you are relatively stuck with the default options.
Most e-readers these days all have built in dictionaries and the ability to make highlights and annotations. The average reader likely never uses these features and Icarus as decided not even to include them. You are buying this e-reader to read books, pure and simple.
Wrap Up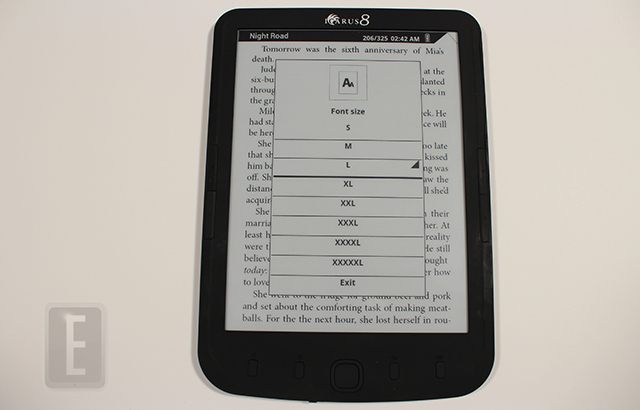 This e-Reader only costs around $150 and gives you an eight inch display and audio. It may not have the most cutting edge hardware, but it gets the job of reading done. This device will appeal to people who don't like touchscreens and want something to read PDF files on, without breaking the bank. You can purchase this device from Shop e-Readers, the Icarus North American Dealer.

PROS

Audio
Solid PDF Controls
Eight Inch Display
Physical Page turn keys on left and right hand side
Affordable
Cons
Lackluster collection management
No bookstore
Web Browser prone to crash
Rating: 7.5/10
Michael Kozlowski has been writing about audiobooks and e-readers for the past twelve years. His articles have been picked up by major and local news sources and websites such as the CBC, CNET, Engadget, Huffington Post and the New York Times. He Lives in Vancouver, British Columbia, Canada.