After surprising the world with a car that costs just $2,500, India is now preparing to make a run at the E-Reader Market. Touted as the Apple Challenger, the innovative technology that has gone into the making of the Adam has gadget guys hearts fluttering.
Notion Ink, the makers of this new device have aptly named it the Adam. Based in Hyderabad, Notion Ink was founded by three twenty something grads from India's premier universities and relied on friends and family for seed funding.
Their creation has caused quite a stir within the corporate circles and has made even their most hardcore critics to sit upright and take note of the specifications of the Adam. Take for instance its unique touch screen display that can switch from color mode to black and white e-ink enabled display, which you can read even in bright sunlight with perfect ease. Its super energy saving components is another excellent positive aspect of the Adam. Notion Ink claim that the battery life of Adam can be measured in days and not hours, as is the case is with the Apple iPad. The Adam is designed to play music for 25 days, give 16 hours of internet browsing time and will play high definition video for 8 hours.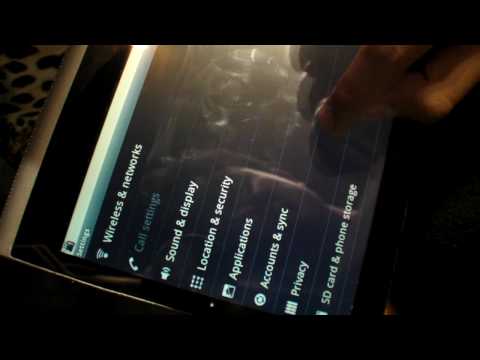 Apple may have aroused widespread interest with the iPad but Notion Ink's Adam has geek juices flowing. Its one device that can sway even the most ardent supporters of Apple, although it's not the easiest of tasks to complete. Apple has a formidable marketing machine behind every major release that they do. Notion Ink though is optimistic, and they believe Adam will script a success story of its own.
Notion Ink sums up their fabulous contribution humbly by stating that they are not competitors to Apple, since they are being based on completely differing platforms.
The company also states that the product would mark India as a major player in the global consumer electronic market. Their Adam would be the flagship for this venture when it is launched by end June in both India and the US market. The slated price for the Adam being $325 against the iPad, which is priced at $499 means Adam can make a dent in Apple's capital gains. The selection of Google's Android as the operating system, is another smart move by Notion Ink. They also had major foresight incorporating support for Flash.
Notion ink has said there is a cool one million dollar up for grabs for developers who create applications that run on the Adam. Details on this competition aren't known yet, but the fact that they are serious on stimulating a developer community is solid ground to build on. There is a large Google Android Development community, and customizing applications for the Notion Ink Adam, should not be that large of a task.
Watch out for the latest from the world of e-readers at the good e-reader blog. Or if you have a query, get them cleared at the good e-reader forum.
Sovan Mandal is the senior tablet and tech corespondent for goodereader.com. He brings a international approach to news that is not just applicable to the North American market, but also Asia, India, Europe and others. Sovy brings his own writing flavor to the website and is interested in Science Fiction, Technology and Writing. Any questions, send an email