E-Readers have come a long way in 2011 and and the technology keeps on maturing at an accelerated rate. Customers now are finding it more affordable to purchase a touchscreen e-ink based device for reading books.
The growth of e-readers is directly attributed to the greater visibility they enjoy in the retail sphere. Target, Best Buy, Future Shop, WalMart, and many bookstores all stock a wide array of devices. Not only are they more accessable, but you actually see television commercials advertising them.
E-Readers, for the people late to the game, are light-weight devices that carry thousands of books on a single device. If you love to read, ebook readers are a viable way to save money on books. Normally a first edition hardcover is over $30 or more, while the digital counterpart is $9.99.
Lots of devices have come out this year and the landscape has changed from D-Pads and analog controls to touchscreens. This is allowing many people to more intuitively use it because it is similar to your tablet or smartphone. Technology to read the books is more refined with major companies offering Android, iOS, and other platforms to read purchased books. We have compiled a list of the most inspiring e-readers on the market that have come out in 2011 or that we have had our hands on before the official release date.
Sony PRS-T1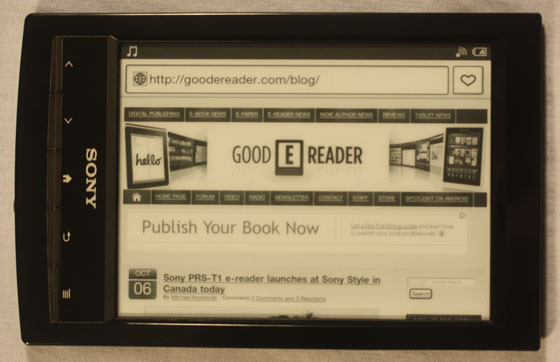 The Sony PRS-T1 came out a few months ago and has a e-Ink Pearl Multi-Touch display and a resolution of 600×800 pixels. This device gives you pin point procession with the infrared touch screen technology it uses. Similar devices, such as the Kobo Touch, also employ this technology. I find with IR touch based e-readers, the film and screen are often smaller and more lightweight because it uses infrared beams built into the bezel. Like most e-readers, it has 16 levels of grayscale contributing to superior resolution.
The big selling point on this e-reader is that it gives you three different ways to purchase and download books. It is the first Sony Reader to give you direct access to their online store. You can choose from thousands of books that are normally best sellers and current releases. It also allows you to tap into the Google Books ecosystem. Sony hosts its own version of the Google store and makes it easy to download millions of free and open source books. Finally, it has built in Overdrive Library access. You can borrow books from your local library if it supports online digital books. The system allows you to browse and download books directly to your device.
The Sony PRS-T1 is available at Best Buy and the Sony Online store for $129 to Americans. If you live in Canada or various international markets, you can purchase it from our retail sponsor Shop e-Readers.
Kobo Touch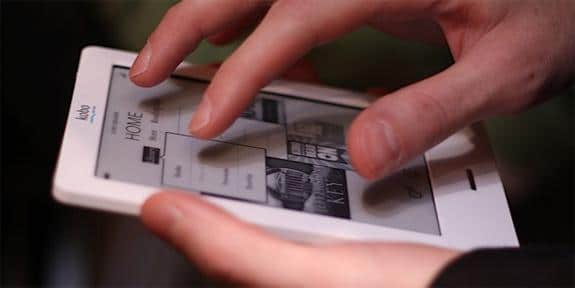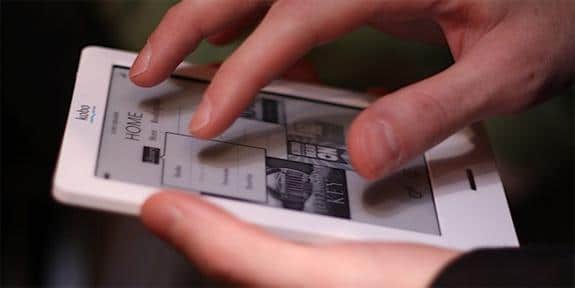 The Kobo Touch is the first touchscreen device the company has ever made. It features a full six inches of screen real estate. You can get pin-point accuracy on the screen because of the IR touch that drastically enhances the touchscreen sensitivity. Part of the reason why the unit is so responsive is due to the Freescale 508 Processor.
The main draw on the Touch by Kobo is the fact it is a very international e-reader. Most devices only give you a wide selection of books and content if you live in the USA. Kobo gives you the ability to tap into 2.3 million ebooks to purchase. The company has recently opened up new bookstores in the UK, Australia, France, Germany, and others. They feature local authors and a fair number of books available in that country's particular language.
Kobo Touch is a social reader and has compatibility with their "Reading Life" system. It monitors statisics based on your reading habits and is accurate in monitoring your reading speed. There are also rewards and achievements to earn and share with your friends. Soon Kobo Pulse will be available on the Touch, and this gives you the unique ability to chat with other people reading the same book as you.
You can get the Kobo Touch for around $129 or more at most stores in Canada and online. Our retail partner Shop e-Readers also has these available to ship internationally.
Amazon Kindle Touch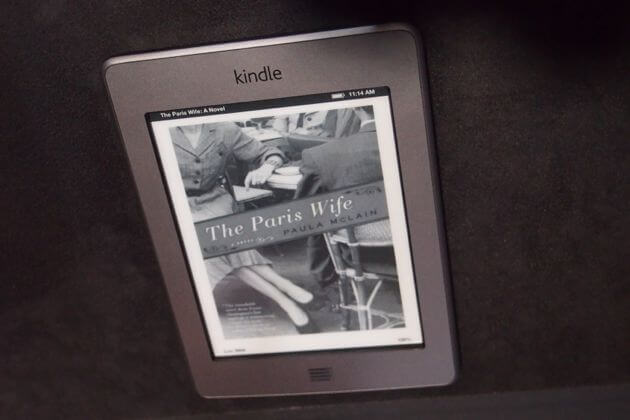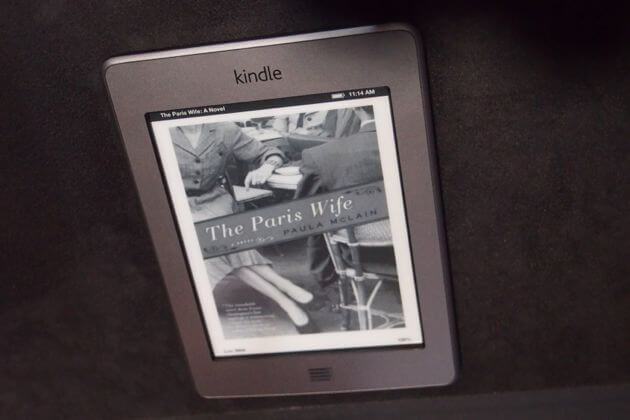 This is the first e-reader from Amazon that uses touchscreen e-ink, which puts it into the same competitive arena as Sony, Barnes and Noble, and Kobo. It is set to come out later this month and uses a virtual keyboard for typing. It is lighter and easier to use than the previous editions of the Kindle that featured a full QWERTY keyboard.
The Amazon Kindle Touch is a 6 inch e-reader with a resolution of 600×800 and has 167 ppi with 16-level greyscale. It has 4 GB of internal memory and can hold around 3,000 books. Battery life should last you around six weeks and it charges up to full within 4 hours.
There are many models of this one coming out to suit most budgets and it will have WIFI or 3G variants. There will also be Special Offers editions that subsidize the cost of the device to serve you advertising on your homescreen or screensaver.
The big draw on the Kindle Touch is the sub $200 price point on all versions of the device. It taps into the Amazon ecosystem which gives you hundreds of thousands of mainstream books and indie books via their Self-Publishing platform. The company offers the cheapest books in the business and most books can be found for under a few dollars. The downside is that you are locked into their ecosystem and purchased books are not compatible with future devices you may elect to buy, unless they are a Kindle.
Finally, Amazon pioneers many new enhancements and features to offer you a rich experience. They were one of the first ones to offer a web-based HTML5 reading application to read books on many popular browsers.
You can purchase the Kindle Touch online starting at the end of November and it will be shipping in the next few weeks. If you live outside North America, as always Shop e-Readers will ensure you have it for the holidays.

Barnes and Noble Nook Tablet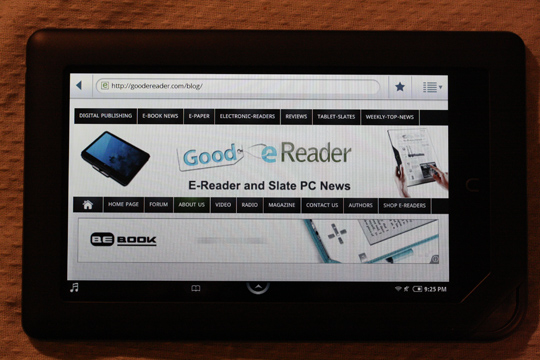 The Nook Color was the quintessential saving grace of the USA's largest Bookseller when people thought it would go the same way as Borders. The company is poised to make 1.8 billion dollars this year with 20% coming from their ebook and e-reader lineup. This is money that is saving the company and they are expanding their presence in their own stores. In 50 stores they are increasing the Nook Sales department by more then double and will transition all stores with expanded display stands.
The Barnes and Noble Nook Tablet is the company's latest iteration of their lineup and features the same visual aesthetics as the original Nook Color. The Nook Tablet is a 7 inch device with the same capacitive multi-touch screen. There will be a strong boost to the performance via the Texas Instruments OMAP4 1.2 GHZ dual core processor. The original Nook Color only had 8 GB of internal memory but the new Nook Tablet has 16 GB! It will also maintain the MicroSD card functionality and can be boosted further by 32 GB. This will allow more media to be stored on the expandable memory and even give you the option to root it. One aspect people will love is the fact the RAM is doubled! Most e-readers or tablets these day are shipped with 512 MB, the Nook Tablet got upgraded to a solid 1 GB of RAM. This will be THE gift for the holidays and many people are excited about it coming out in a few days.
Plastic Logic Que 100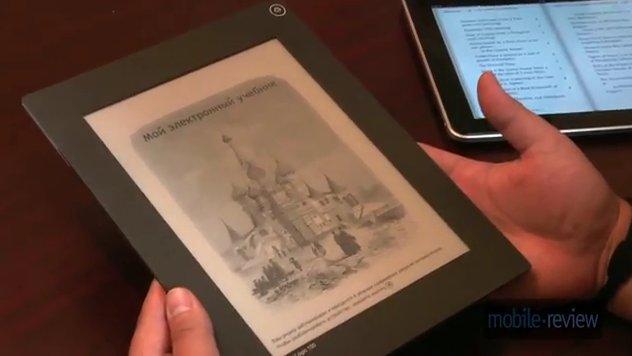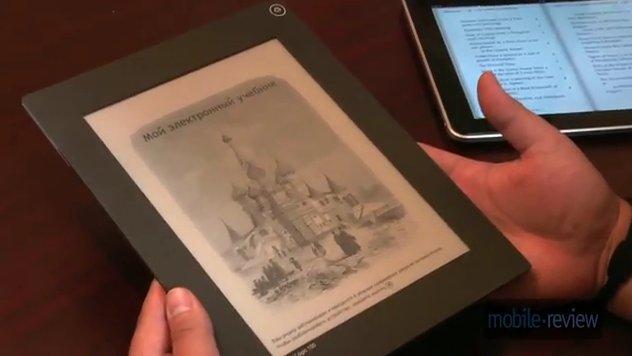 Plastic Logic has had a long history of developing devices and never releasing them. The company finally launched the Plastic Logic 100 e-reader in Russia this year and seeks to land lucrative educational contracts. From the very top levels of government, Russia has mandated that by 2015 all Russian schools will be digital and many companies like Hanvon, Ectaco, and Plastic Logic are vying for position.
The company finally released its Que 100 e-reader and the new device sports a 10.7 inch shatter proof screen that reads like paper. The new Plastic Logic 100 uses a new technology that is neither LCD or eInk, but instead is patented PlasticPaper. Because the base is not glass, the Plastic Logic 100 display is large, thin, lightweight and is uniquely shatterproof and rugged, which is especially important given constant use by students. The resolution is 1280×960 and has 150 PPI! It has a capacitive IR touchscreen interface that makes interacting with it easier than most touchscreen e-ink devices. This is the same tech found in the new Kobo Touch Reader. It has a 800 MHZ processor and 4 GB of internal storage. Battery life will last about a week of constant use, which is fairly solid.
This e-reader is not available really anywhere outside Russia and it is fairly hard to get a hold of. The company is committed to using innovative technology.
Of course we omitted a fair number of devices such as the Kindle Fire, which is more of a tablet and Amazon is seeing a record number of pre-orders on it. But the drawback is that it is USA only and its entire content lineup can not be used internationally. Stay tuned for our full hands on review of this and many more e-readers at Goodereader.com
Michael Kozlowski has been writing about audiobooks and e-readers for the past twelve years. His articles have been picked up by major and local news sources and websites such as the CBC, CNET, Engadget, Huffington Post and the New York Times. He Lives in Vancouver, British Columbia, Canada.