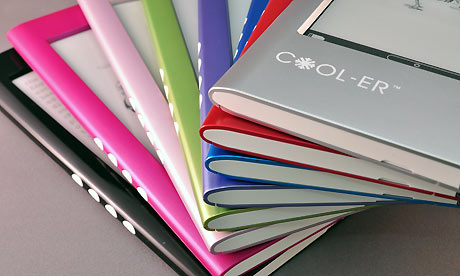 United Kingdom based company Interead who branded and distributed the Cool-ER brand of E-Readers has folded and gone bankrupt, according to the UK Guardian.
Interead came into the e-reader arena last summer, with their Cool-ER E-Readers, and branded them in 12 distinctive colors, to suit the personalities of potential customers. In the first few months of marketing their devices they claimed to have sold tens of thousands of e-readers, and were second to only Sony in the European Union. Interead had claimed over 20% of the electronic reader market in the UK last year, and has claimed a total of 37,000 E-Readers sold in over 20 countries.
Interead has been in court the last few weeks with a "Winding up" order. When a company dissolves itself there is a process by which a company (or part of a company) is brought to an end, and the assets and property of the company are distributed.
Despite the Interead Cool-ER E-Reader is still being sold on the Cool-ER website, and in some retail locations within the UK, such as Argos and Tesco. When approached for comment, Argos had said they had told Interead they would no longer carry the range of electronic readers, but they were unaware of the companies folding.
The catalyst of the Cool-ER line of devices failing was a massive order of 17,000 units being ordered by an American Retail group. The deal ended up falling through, which ironically would have saved the company. Because they had ordered the units from their Taiwanese Manufacturer and could not pay for it, this was another reason the company failed.
Interead was a very small tech start-up company, with the majority of founding capital coming by its founder Neil Jones. He had put over 1 million dollars into the company in an attempt to market an home grown e-reader to the UK, and even started an Online Book Store, that claimed to be partnered with Google Books. Although, the Book Store had lackluster sales and Interead had creditor problems with the costs of doing business.
Although Interead is a small fish in a big pond, they were working on a new device that could have revitalized their business in the form of the new Cool-ER Compact and Cool-ER Connect. They were supposed to have debuted this September.
The COOL-ER Connect would have featured a touchscreen enabled 6-inch E-Ink screen and will sport a price tag of less than $250. Interestingly, the e-readers will be put together by Netronix who are also known to be the makers of Kobo e-reader. Interead has also confirmed that the COOL-ER Compact too will have a 6 inch screen though it will have a smaller body around it and will be devoid of touchscreen or Wi-Fi. However, no pricing details have been announced of the COOL-ER Compact.
In this day and age, it is very hard for a tech start up with no management or track record of sales to do well; most of the e-readers that are popular now, have huge companies backing them. It is sad to see another independent go, and it is a shame that Cool-ER did not employ more viral marketing techniques nor had strong retail presence outside of the UK.
For the latest news on the Cool-ER story, visit our E-Reader Forum.
Michael Kozlowski is the Editor in Chief of Good e-Reader. He has been writing about audiobooks and e-readers for the past ten years. His articles have been picked up by major and local news sources and websites such as the CBC, CNET, Engadget, Huffington Post and the New York Times.