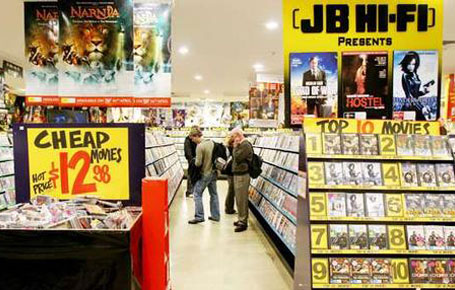 JB Hi-Fi is a retail store with over 150 locations in Australia. The company carries a number of e-readers from Kobo, Sony, and a few others. Not content with making slim margins on hardware sales, the company has launched a new online ebook store to help differentiate themselves in a crowded Australian digital scene.
JB HiFi NOW Books is the name of the new bookstore and all of the electronic offerings have DRM encryption. This means you will have to use Adobe Digital Editions to transfer the books over to the e-reader of your choice. If you want to forgo an e-reader altogether, you can download the new reading apps for iOS and Android.
A number of major publishers have attached themselves to this new store, so you should be able to find most of the perennial bestsellers. HarperCollins, Penguin, Random House, Allen & Unwin, Hachette, Lonely Planet, Pan Macmillan, and Text Publishing are the major ones.
"Books are a natural extension of the home entertainment content offering in which our regular customers are already heavily engaged," said the spokesperson. "The JB HiFi online and digital ecosystems are a perfect environment for us to engage our customers with the rapidly growing ebook category, linking in with our extensive IT hardware offer and popular gift card program."