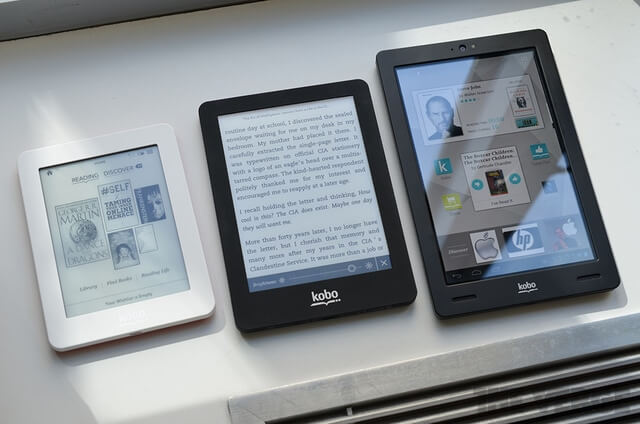 The Kobo Mini and Glo e-readers hit the market on Monday and already there are massive shipment delays with major retailers Best Buy and Chapters/Indigo. This is preventing many people from physically purchasing them in the retail environment.
Eight different Chapters stores across Canada have verified with us today that they don't have the Glo or Mini currently in stock. Store Managers have let us know that the people who pre-ordered them got them first and this effected the shipments to the stores. We were told that by Friday, or Monday at the latest, the majority of Chapters stores in Canada will have these on the shelves.
Best Buy is the best option to pick up the Kobo Glo, with many of the stores currently stocking this item. We were told by over twelve different stores that there is a shortage with the Kobo Mini and that they should have them by Friday, or Monday at the latest. The main reason most stores currently don't have them is because the majority of Mini orders in Canada were slated for pre-order customers from the main Kobo Website and allocated towards their major Canadian partner Chapters, thus creating in a nationwide shortage.
The recent release of the Kobo Glo, Mini and the upcoming Arc Tablet is the first time the company has ever released more than one product at a time. This is causing massive delays in getting the product into the stores for customers to buy them. Kobo is definitely going through some growing pains in its ambitions as a global e-reader company. It really wanted a true international release in over twelve different countries with the new models, but is experiencing problems with supply and online orders.
Many international customers in the UK have told us that WH Smith has the Glo in stock but not the Mini e-Reader. In many cases, staff are totally unaware that a new model is out and few have been trained on the new device. We have received many emails from users claiming that the Glo models are hidden in the store underneath the older Kobo Touch.
If you are thinking about buying either of these devices, check out our full hands-on review of the Kobo Glo. We're still waiting on our Mini, but you can see our Kobo Launch event video.
Update: Kobo reached out to us and let us know that the Kobo Glo and Mini have adopted a East Coast to West Coast shipment schedule. This means that most of the devices were mostly available in Ontario and provinces east of there. By this Friday, almost 95% of all stores in Canada will have these in stock for the weekend.