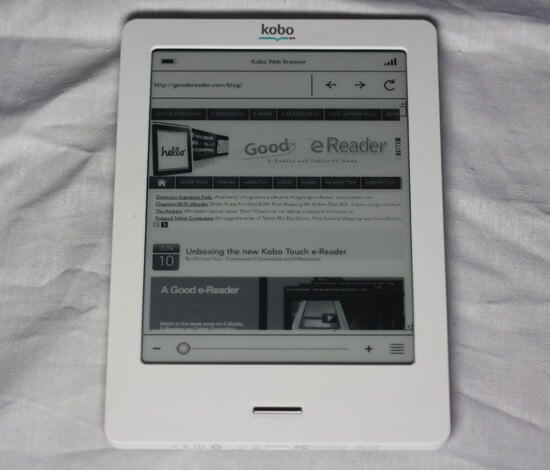 Kobo has just launched its new touchscreen e-reader at various Best Buy locations. This is the latest generation IR Touch model that has seen massive sales and a strong development team issuing enhancement firmware updates on a regular basis. Not only will Best Buy staff assist you if you want to purchase one, but a trained Kobo staff will be on-hand who know the product inside and out.
The Kobo Wireless e-reader has been available at Best Buy retail locations and online for roughly 4 months. Best Buy is expanding their e-reader inventory by carrying the latest generation issued by Kobo.
Kobo is currently expanding the Touch Edition availability through multiple retail channels on a number of continents, and Best Buy is one of several planned launches in the United States for Q3 and Q4.
The new Kobo e-reader is one of the most solid touchscreen devices on the market. It has a fast processor and plenty of storage space to hold your library of books. Recently, via a firmware update, you can now upload your own fonts and tailor your reading experience via margins, line-spacing, and more. Compared to previous models of Kobo, the new one really shines and is one of our top picks of e-readers of the year. One of the great features is called "Reading Life" that allows you to collect rewards and special achievements for reading books. You can then share your rewards on various social networks.
If you think this e-reader might be for you, check out our full review on the Kobo Touch!
[showhide type='pressrelease']Kobo Specialists on Hand to Help Educate Best Buy Customers on the Company's Innovative eReader Touch Edition, Kobo eReading Experience

TORONTO – August 24, 2011 – Kobo, a leading global eReading service with over 4.5 million users in more than 100 countries worldwide, has announced that the Kobo eReader Touch Edition is now available at Best Buy as part of its strategy to deliver eReading to everyone, everywhere. To support the launch of the new Kobo eReader Touch Edition at Best Buy, Kobo specialists will be alongside Best Buy's Blue Shirts to demo the eReader to consumers, providing them with a hands-on experience to see, touch and try the slim, light and innovative touch screen eReader.
The Kobo Wireless eReader has been available in-store and online at Best Buy for the last four months. Best Buy is now expanding its Kobo offering by carrying the Kobo eReader Touch Edition, which is available online through www.bestbuy.com and at select Best Buy stores nationwide. This in-store roll out allows consumers to gain an in-depth, hands-on comparison of the Touch Edition against competing eReaders. Kobo is currently expanding the Touch Edition availability through multiple retail channels on a number of continents, and Best Buy is one of several planned launches in the United States for Q3 and Q4.
AMAZING NEW TOUCH EXPERIENCE
The new Kobo eReader Touch Edition was designed in partnership with leading design firm IDEO, with months spent listening to reader feedback to build a truly advanced reader that delivers a 'true to life' experience. With the Kobo-signature soft quilted back and travel friendly size, the new Kobo eReader Touch offers the ultimate reading experience. The beautifully designed Touch Edition uses infrared touch technology to make the experience of reading on the Kobo Touch just like that of reading a real book. Using a simple swipe, tap or slide on the Pearl E Ink™ display, readers can easily turn pages, highlight phrases for lookup in the Touch Edition's onboard dictionary, zoom, rotate, jump through chapters of the book and more.
DISCOVER SOCIAL READING – WITH READING LIFE
Kobo extends Reading Life to the new Kobo eReader Touch Edition – Reading Life is the most comprehensive social eReading experience and an industry-first social platform. Consumers can discover their reading style, and gain insight into their unique eReading fingerprint with Reading Life Stats – track the minutes per reading session of a current read, the number of pages turned, plus see an overview of books completed in their library. Readers can also earn fun and exciting awards, and connect and share their Reading Life with friends on Facebook and Twitter.
ACCESS MILLIONS OF TITLES
Kobo offers one of the largest stores worldwide, consumers can easily connect via Wi Fi or USB and access over 2.5 million eBooks, with titles ranging from the New York Times' Bestseller List, the hottest new releases, thrillers, romance, Oprah's Picks, newspapers, magazines and more – there is something to read for everyone. The new Kobo Touch comes pre-loaded with 15 hand-picked FREE previews of the hottest new books, so consumers can read right out of the box. Plus, Kobo offers over 1 million engaging classics from Anna Karenina, to Pride and Prejudice, to Dracula – for consumers to download and read for free.
SUPPORTS THE MOST CONTENT
The Kobo eReading service is built on an open platform, allowing consumers to read eBooks from other stores that use the ePub format – plus read PDF documents, and books. The versatile Kobo eReader Touch Edition lets users read EPUB, PDF and MOBI format eBooks; view JPEG, GIF, PNG, BMP and TIFF images; review TXT, HTML and RTF materials; and enjoy CBZ and CBR comic book formats. Consumers can also easily borrow and read eBooks from the local public library
SHOP AND READ ON ANY DEVICE WITH KOBO
Kobo offers free eReading apps so users can read on most popular devices such as desktops, laptops, tablets, AndroidÔ phones, iPhonesÒ, iPadsÒ, Blackberry® Smartphones and Blackberry® PlayBooks – in addition they can browse and shop the Kobo store. Plus, with Kobo Sync you can read from one device to another and pick up from the page that you last read – your library will always be kept up to date.
About Kobo, Inc.
Kobo is a global eReading service with more than 2.5 million eBooks, magazines and newspapers – one of the largest eReading catalogues in the world. Kobo believes consumers should have the freedom to read any book on any device and has attracted millions of readers from over 100 countries across the globe. Kobo has top ranked eReading applications for iPad, iPhone, BlackBerry, Android, Windows and MacOS, and is the eReading application of choice for leading tablet OEMs. Kobo eReaders are also available at leading retailers including Indigo, Walmart, Best Buy, WHSmith, Collins Booksellers and Whitcoull's. Kobo's innovative Reading Life is an industry-first comprehensive social eReading experience – Kobo users can earn awards simply for time spent reading and encouraging others to read. Kobo is backed by majority shareholder Indigo Books & Music Inc, Cheung Kong Holdings, and institutional investors.[/showhide]

Michael Kozlowski is the Editor in Chief of Good e-Reader. He has been writing about audiobooks and e-readers for the past ten years. His articles have been picked up by major and local news sources and websites such as the CBC, CNET, Engadget, Huffington Post and the New York Times.