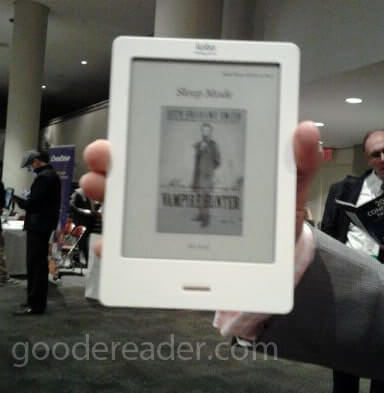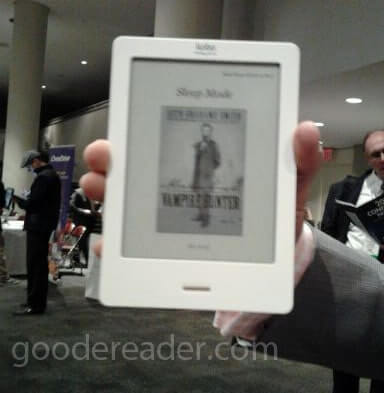 Live on the scene at the New York Book Fair Michael Tamblyn of Kobo has given us the news that the company plans to launch a touchscreen e-reader later on today! This new e-reader will be launched around Fathers Day and have a price-tag of $140 and include a $10.00 gift-card for the Kobo ebook store.
The new Kobo e-reader comes one year after the company initially launched its first e-reader and then a few months later issued out the wildly popular Kobo WIFI. Speaking of which, the Kobo Wireless is going nowhere and the price is being dropped to $99.99
Kobo will be the first company in Canada to launch a touchscreen e-ink device and everyone here is visibly excited.
The Kobo Touch is six inches and has a virtual keyboard for typing. It will be able to display around 16 levels of greyscale and it has 1 GB of internal memory. You will be able to further enhance the memory up to 32 GB via an SD card. The unit is basically as small as a paperback novel and noticeably smaller then the latest generation Kindle. It is based on the Pearl e-Ink technology and is somewhat comparable to the Sony PRS-650 Touch. You will be able to read books by tapping or swiping like you would on the Apple iPad and many other Tablet devices. The device is powered by a Freescale i.MX507 processor. You will be able to connect up to the internet via the built in WI FI adapter. Kobo has re-designed the e-reader from previous iterations, instead of a D-Pad with 4 buttons it simply now just has a home button. One of the cool aspects of the Kobo Touch Edition is that it uses Neonode's new zForce infrared touch technology to make reading on Kobo just like that of reading a real book. The Kobo Touch also features a built in dictionary to look up words and will feature an international dictionary for localized versions of the e-reader.
The Kobo reps have told us that the e-reader will have some multimedia functions but the company is only concerned with books and reading and not with music and videos. Speaking of ebooks the store currently has over 2.3 million ebooks and has exclusive content distribution agreements signed with Samsung and Blackberry. Kobo also just mentioned to us that e-Reader owners tend to read more than tablet or other mobile users which is why they released a touchscreen e-reader, instead of a touchscreen tablet.
The main reason behind this new e-reader is take advantage of Kobo Reading Life, the seminal hit for the iPad and other iOS devices. The main premise behind this application is that it tracks your reading, is social and gives you achievements for reading. Kobo plans to enhance this application for the touchscreen e-reader and offer the ability to third parties to implement their own reward system. So basically you can reward the user with a free coffee or other tangible real world incentives. You will also be able to share passages with ebooks via Facebook and Twitter.
Kobo plans to open up the pre-orders later on today in the USA and Canada and will offer the device in six different languages. At the London Book Fair, Kobo announced it would open up dedicated ebook stores in the summer in France, Germany, Italy and Spain. This move to offer their e-reader in different languages will further help the company offer their e-reader in those local markets as well.
At Book EXPO we had an exclusive sit-down interview video with one of the Kobo Executives at the event. They gave us a total run down of the new Kobo Touch codenamed Trilogy.
The Kobo Touch is available around Fathers day this year and you can pre-order it today from Shop e-Readers.
Update: The Kobo Touch is out now and we just did the first hands on review of it! Check out the Review of the Kobo Touch with pictures and video!
Michael Kozlowski is the Editor in Chief of Good e-Reader. He has been writing about audiobooks and e-readers for the past ten years. His articles have been picked up by major and local news sources and websites such as the CBC, CNET, Engadget, Huffington Post and the New York Times.