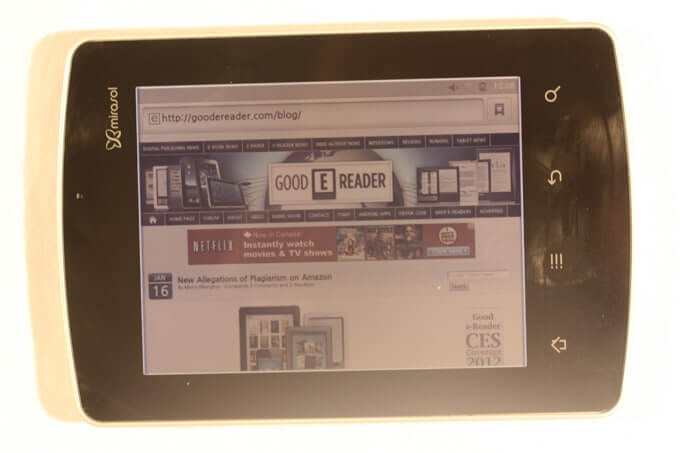 The Kyobo Mirasol e-reader is the first device in the world to use Mirasol color e-paper technology that has been in development for over two years. This device has a fair amount of similarities with Pixel Qi displays in the respect the colors are often muted by excel under direct light. How does this e-reader compare against others in the market and has the wait on Mirasol been worth it?
Hardware
The Kyobo Mirasol Color e-reader features a 5.7 inch capacitive display with  a resolution of 1024×768. It really does pack a punch in terms of how good things look on this small screen and noticed comics, books and images often looked better then competitive devices such as the Kobo Vox.
Underneath the hood lurks a 1 GHZ Qualcomm Snapdragon S2 processor and 512 MB of RAM. This Mirasol e-reader might not have the dual core punch that the Kindle Fire or Nook Tablet has, but it is enough to do common tasks without long delays in programs opening or web browsing.
There is not much internal memory when you take it out of the box because of the installed Android OS and the default applications. In the end you have 1 GB to work with but you do have the option to upgrade it via the Micro SD. If you intend on installing your own applications or content on this reader there is a few things you need to know. First of all, drivers on Windows 7 or Vista 64 are virtually non-exisitant and we spent hours patrolling the internet trying to find the right USB drivers. We resorted to using a Micro SD card in order to copy content to our device. Now bear in mind, the Kyobo has a hard time reading directory structures so you want to make sure anything you copy over is in the ROOT directory of your SD.
The overall hardware is very slick and I thought it was tremendously distinctive in terms of color and design. Most other hybred tablets that are billed as e-readers are often pure black and in the end they all look the same. The Kyobo has a gun metal back and trim around the side of the unit. There are a pair of stereo speakers on the very back and positioned near the bottom of the unit. On the top you have your hard-reset button and power. On the right hand side there is volume buttons that protrude and make it easy to adjust the audio experience. On the bottom is your Micro USB connector, this is used to charge the unit and facilitate a connection to your computer. Underneath it is a small LED indicator that turns orange when you are powering it on and beside that is your 3.5 mm headphone jack.
Many Android tablets suffer from the limited battery life because of the bright LCD display screens. The Kyobo from my experience lasts about 10 hours if you are actually using it. This includes watching videos, downloading apps, browsing the internet and reading books. If you turn your Wireless Internet OFF and resort to only reading books, you can get around two weeks of solid use.
So whats the deal with Mirasol and how does it stack up against the Nook Tablet and Kindle Fire? We filmed a few comparison videos between the two e-readers that should be on our YOUTUBE channel in the next few days that visually walks you through the entire experience. Suffice to say the Mirasol display is often muted and the screen is not as vibrant as the other two. If you are reading a book the background is not glaring white and in effect is easier on the eyes for long reading sessions. We also put glaring studio lights on all of the devices and the Mirasol e-reader shrugged off direct lighting like a superstar. I can honestly say the Kyobo Reader did a better job at displaying full color content and reading in direct light then the Notion Ink Adam did with its Pixel QI technology.
In the end, the hardware is designed really well and stands out in a crowded room of of Android Tablets. I thought it did an amazing job with its stereo speakers and the entire audio experience is fairly solid. It is small and lightweight and you should have no problem in the portability department.
Software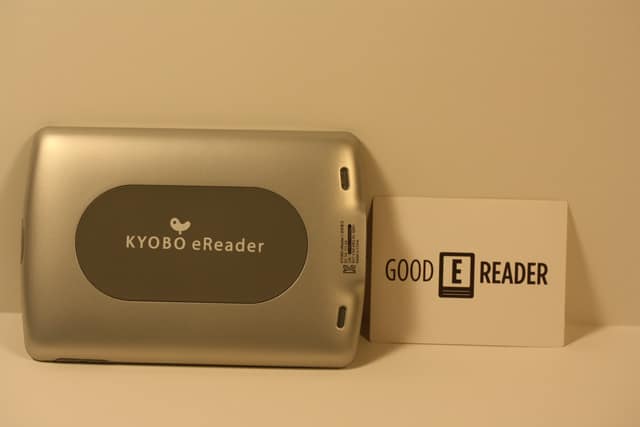 The Kyobo Mirasol e-reader is running Google Android 2.3 which allows you a great amount of flexibility in crafting your own experience. The one thing about this Google OS is that it does not limit you if you want to install your own 3rd party applications from web based or indie markets. This particular Mirasol reader I found has a hard time installing apps from web based markets and if you want to install your own there is a bit of a process. What you need to do is download the APK files directly to your computer and then copy them to the root directory of  your Micro SD card. Once you do that you should be able to launch and install them. This allowed us to install Kindle, Sony, Nook and Kobo for Android and tap into their rich ecosystems of content.
The main home screen is not your typical Android experience that you might see on tablets like the Pandigital Novel or Micro CRUZ Reader. Instead it uses a proprietary home menu much akin to the way Barnes and Noble and Amazon used their own GUI. In order to access apps and games you have installed you want to hit the settings menu to pull up your content. Instead of your installed content being presented in a typical Android way it uses a small slider bar on the button of the screen that you can use to swipe left and right to scroll through your lists. If you see something you want to load its as easy as tapping on it and the app will launch.
First, lets talk about the overall reading experience because that is the essence of this e-reader. The stock reader is not much to write home amount and there is no bundled books or dictionaries in the English language. You may want to install an alternative reader app such as Aldiko, Moon+ or other readers like Kindle, Sony, or Kobo in order to read your books.
The default application lets you do simple things like line-spacing, margins and changing a few fonts. There is an animated page turn when you are reading books but there is an option to shut it off. After about an hour I was loving reading on this device and here is why. It is so easy on the eyes that you will not get that LCD glare that you get on your PC or other Android Tablets. The muted colors and background are actually a blessing in disguise because you can read as long as you want in any environment and get the best non-eink experience possible. This may be the perfect device for someone always outdoors when they read.
Comic books and Magazines looked great on the Mirasol e-reader too! Now, because the colors are muted you will not get the full vibrant colors that you would with other Android readers like the Nook Tablet or Kindle Fire. Side by Side the colors on the competition were richer and more vibrant. The smaller screen also suffers from the magazine and comic book experience. Reading on a 5.7 inch screen is very different then reading this type of content on your iPad or a 7 inch screen. If you are super keen on comics and other type of digital media you might want to look at a reader with 7 inches or more.  While reading various comics on this device I found files loaded very quickly and page turn speed was solid.
This device also handled complex PDF Files such as newspapers without much problem. It was very simple to pinch and zoom to get everything looking the way that you want. The default PDF viewer did not have any extensive functions such as Re-flow or augmenting the PDF in any way, but with Android you can easily load in whatever app you want.
Make no mistake, the Kyobo is designed for reading but does not tap into any ecosystem to download and purchase books. This is the type of gadget that you have to either side-load your own books in or use other mainstream apps to buy books. Of course if  you live in South Korea you can buy books via the web browser from Kyobo, but if you live anywhere else you will have to bear this all in mind.
The default audio player is hurting and only has a simple timeline with a pause button. You may want to download alternative apps if you intend on listening to audiobooks or music with any sort of ability like Playlists or EQ.
The video player is also lacking in features and does not have any widescreen viewing with movies or videos. We loaded in a open source free video that we load in all of our devices and the aspect ratio was always off. Instead of playing it in full screen mode, which wasn't even an option to switch it too, it played it in a small box in the center of the screen.
The Mirasol e-reader by Kyobo certainly does not bundle great applications right out of the box and if you only relied on them for your entire reading and multimedia experience you might be in  bad way. The redeeming factors is that it is Android and has the ability for you to install any app or game you want. The one downside is that you cannot change the wallpaper or use widgets.
Finally lets talk about the internet experience and what you can expect out of it. First of all, it does not ship with a YOUTUBE application or Adobe Flash. These are two programs you want to install right away to get the most out of web browsing. Web pages loaded fairly quickly but are totally dependent on your local WIFI internet connection. I was surprised on how quickly web sites loaded in our test labs and was quite happy with the overall experience. Pinching and Zooming was easy to do and you did not get a ton of clipping and artifacting like you would on a tablet with lower-end specs.
Our Thoughts
It has been at least two years since Mirasol has been working on their color e-paper technology and this is the first product ever to employ it. There has been many products using it that never really got out of the gates and were cancelled before they ever saw the light of day. Has it been worth the wait? I think it has.
The closest comparison with the Mirasol technology is Pixel QI and when you actually use a device employing it there are a fair amount of distinctions. We have been to many tradeshows such as CES, Computex, Mobile World Congress and others. Most of the time these two companies are in attendence showing off ONLY their screens and not actual products employing them. There is a huge difference between the screen technology being displayed in technical demos and the final released product. The only product to hit North America with Pixel QI was the Notion Ink Adam and in Asia with ZTE. Having played with both of these devices extensively and now the Mirasol Reader, I honestly like the Kyobo model better.
I found the colors on Mirasol to be more vibrant and it did better in our lighting tests then Pixel QI ever did. The technology has been in development a longtime and does not disappoint.
If you are the type of person that has been playing with tablets a long time the first thing you will notice is the washed out colors and muted display screen. This is really the essence of the technology as it was designed for reading in the sun and to draw less power then your standard LCD screen. This technology is certainly not for everyone and I would not recommend it for someone who consumes a ton of media. If you are a reader this will be for you.
In the end, I found it did a great job with comic books, PDF Files and EBOOKS which is the primary use of this device. If you can get past the display you will end up loving this little gadget.
Rating 8/10
[cincopa A4CAlxqqjHAt]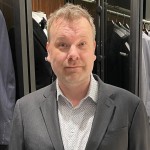 Michael Kozlowski has written about audiobooks and e-readers for the past twelve years. Newspapers and websites such as the CBC, CNET, Engadget, Huffington Post and the New York Times have picked up his articles. He Lives in Vancouver, British Columbia, Canada.