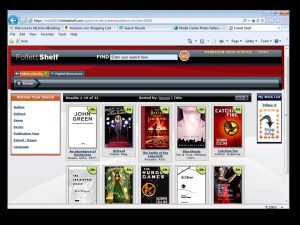 Library Journal, sponsored in part by Follet Library Resources—the nation's leading supplier of library materials to public schools—released the summary of its third annual survey which asked respondents to answer questions pertaining to ebook use in K through 12 schools. The results were both encouraging and disappointing, depending on the question.
First, budget concerns kept a number of schools from fully integrating a digital collection for their students, with an alarming decrease in the amount of schools reporting they offer ebooks from the previous year. The report does indicate that this could reflect schools who had sample materials the previous year, but who could not afford to integrate a digital library for the survey year. Additionally, many of those surveyed demonstrated that ebooks were just as expensive as their print counterparts, and therefore had not embraced a digital collection.
On a positive note, the size of the collection has grown exponentially since the first survey in 2010, with the mean number of ebooks offered being around fifty, increasing to well over 700 titles in 2012. Interestingly, the size of the digital collection of school libraries typically increases with the grade level, with high school libraries offering the most ebook content. This may be due to the often lower price of grade-level appropriate books for high schoolers versus more expensive, full-color books for young readers, but also may be due to the higher rates of digital device ownership among young adult readers. In the case of high schools, the patrons already owned the device, whereas fewer elementary school students already own compatible technology.
The report went on the include an end section in which the sponsors published the comments from many of the survey respondents, and those comments reflect the sluggish adoption of ebooks across the board, pointing primarily at the discrepancies in pricing as the key culprit that prevents greater adoption.
Mercy Pilkington is a Senior Editor for Good e-Reader. She is also the CEO and founder of a hybrid publishing and consulting company.