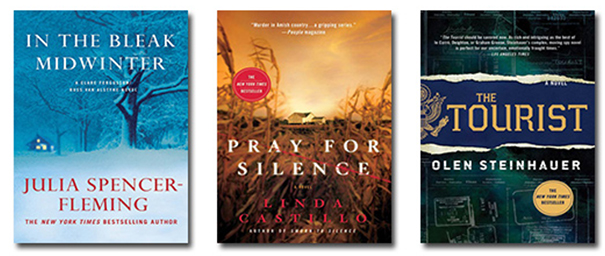 Macmillan and Overdrive announced a new ebook pilot program last month that will see a number of titles from their Minotaur imprint become available to libraries. We now have a definitive date of March 1st, 2013 that will bring over 1,200 ebooks that will be added to the Content Reserve system for libraries to to purchase.
The new Macmillan pilot program will abide by the  one-copy/one-user lending model, and libraries will be able to circulate each copy for 24 months or 52 checkouts, whichever comes first. Libraries will then have to purchase the digital title again in order to keep loaning it out to patrons. The average ebook edition will cost $25.00, which is fairly affordable when you compare it to Random House's digital books that cost almost $85 per title.
When we were at the ALA Mid-Winter Conference, we talked to president Maureen Sullivan who told us "I am so pleased Macmillan Publishers is beginning to sell ebooks to America's libraries so that we may connect their authors and our readers in the digital age. This is a welcome acknowledgment of our advocacy and the importance of the library market. We have always known that library lending encourages patrons to experiment by sampling new authors, topics and genres. This experimentation stimulates the market for books, with the library serving as a critical de facto discovery, promotion, and awareness service for authors and publishers."
Also it is important to note that Overdrive is not the only company participating in this pilot program. Baker & Taylor's Axis 360 and the 3M Cloud Library will also be offering these books under the exact same conditions as Overdrive.
Macmillan Library eBook Collection Highlights
"Pray for Silence" by Linda Castillo
"In the Bleak Midwinter" by Julia Spencer-Fleming
"The Tourist" by Olen Steinhauer
"Quiche of Death" by M.C. Beaton
"The Lock Artist" by Steve Hamilton
"Heartsick" by Chelsea Cain
"A Taint in the Blood" by Dana Stabenow
"Blue Heaven" by C.J. Box
"Burn" by Nevada Barr
"The Real Macaw" by Donna Andrews
"A Crimson Warning" by Tasha Alexander
"A Burial at Sea" by Charles Finch