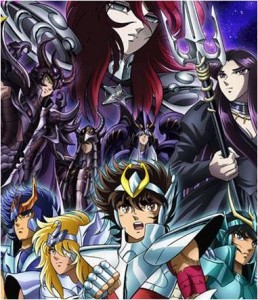 Saint Seiya fans can rejoice to know that Netflix is now streaming a classic favourite! The streaming library has included Saint Seiya: The Hades Chapter- Sanctuary, Saint Seiya: The Hades Chapter- Inferno and Saint Seiya- The Hades Chapter- Elysium.
The animes will be streamed in Japanese and English subtitles, Spanish subtitles along with a Spanish dub. This will be the first time the Hades chapter OVA (Original Video Anime) will be available with an English subtitle for the North America Audience.
The Netflix description says, "In the wake of the Saint's battle with Poseidon, Hades, God of the underworld rises again and plans to kill Athena and rule the world."
Need more Saint Seiya? Last year, a new sanctuary arc called Saint Seiya: The Lost Canvas is currently streaming on Crunchyroll! And the new Saint Seiya: Heart of Gold will be released this April
The OVA's were produced by Toei Animation with directors Shigeyasu Yamauchi and Tomoharu Katsumata from 2002 to 2008.
Thi Lathi Chao is a graduate from Vancouver Fine Arts College and reports for Good e-Reader on all of the latest anime and manga news. In her off hours, she is enamored with playing games, drawing and writing short stories.