The e-book readers are little devices which are set to make a big impact on the way you read books. It is small enough to fit your pocket, yet large enough to carry the entire bookcase. You have made up your mind to get a digital portable reading device, and you don't know which one to choose. After reading this you will look for your car keys, to drive yourself to the store and get a Nook from Barnes and Noble.
Released on the 30th November 2009, it is the first of its kind of E-Readers to be based on Google's Android platform. With over a million titles to choose from, the Nook promises a better reading experience.
Priced at $259, the color multi-touch screen allows you to navigate through content and browse for books in a cover-flow style. This screen also doubles up as a virtual keyboard.
The E-Ink display makes the screen look more like the page of a book and is less like staring at a computer screen. The text stands out for its clarity, with no interfering back light or glare.
Do I have to buy the e-books only from Barnes and Noble? Let's put your fears to rest. A brave move on the booksellers' part, they teamed up with ePub and you can buy books from many vendors.
Nook has direct access to the online bookstore of Barnes and Noble. Also, you can read entire books for free if you happen to be at the bookstore over endless cups of your favorite brew. It can hold up to 1500 books and this capacity can be increased with the Micro SD expansion slot.
The feature that is one-off with Nook and makes it clinch the deal is the Lend Me capability. It actually has the city library feature where you can lend a purchased book to a friend for 14 days. The friend need not own a Nook but should be using Barnes and Noble application software. This feature is subject to the publisher's approval and you will not be able to access the book while it is beamed in your friend's device.
Weighing like a paperback and actually being thinner than one, this gizmo has revolutionized the book-reader's world. This new kid on the block is a winner from the word go. Designed with the consumer in mind, it downloads books wirelessly in a matter of minutes or less. The king of connectivity and content, it sure is a gadget worth being excited about. Don't go for any other device which is fighting for shelf-space, Nook is the one for you.
Visit Good E-Reader Forum for more information on this.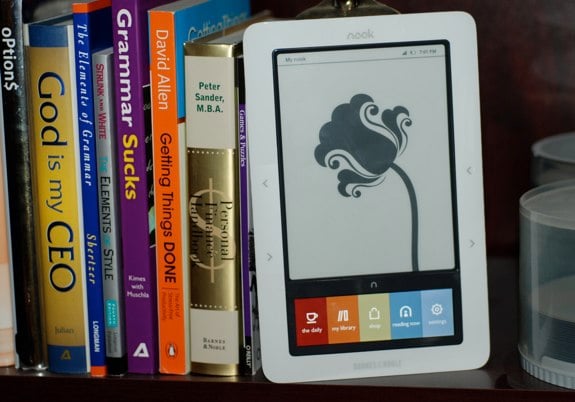 Sovan Mandal is the senior tablet and tech corespondent for goodereader.com. He brings a international approach to news that is not just applicable to the North American market, but also Asia, India, Europe and others. Sovy brings his own writing flavor to the website and is interested in Science Fiction, Technology and Writing. Any questions, send an email