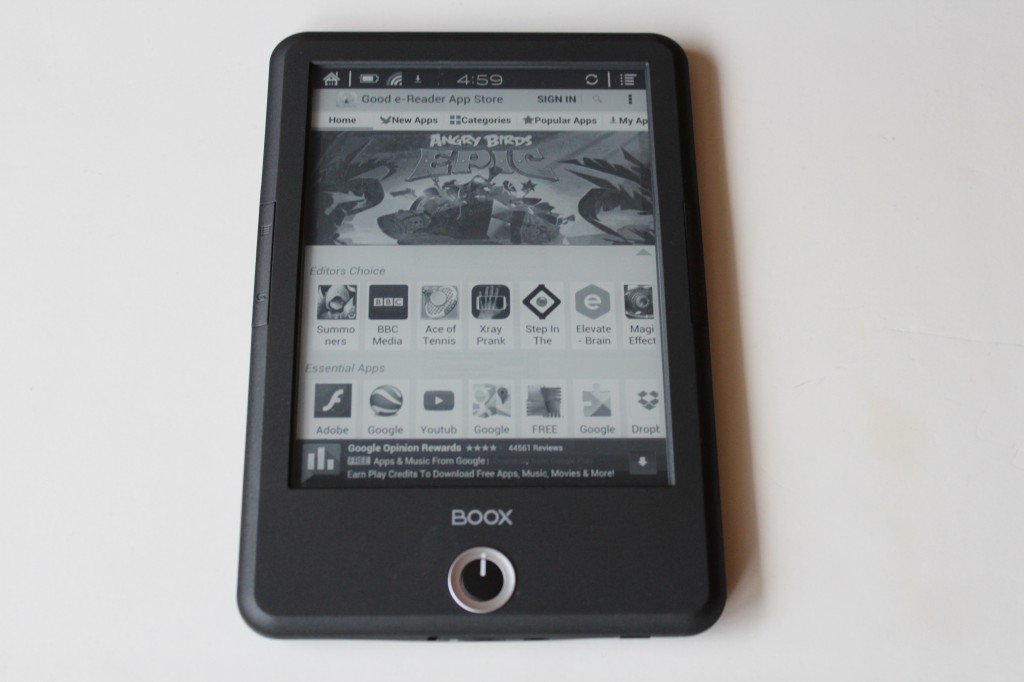 The Onyx Boox Lynx is part of a new breed of open Android e-readers that allow you to install your own apps and not lock you into any one specific ecosystem. Google Play is showcased on this device, and taps into an extensive wellspring of eBook reading and comic book apps. How does this e-reader compare against the Kobo Aura or the Kindle Paperwhite 2? Today, we take an extensive look.
Hardware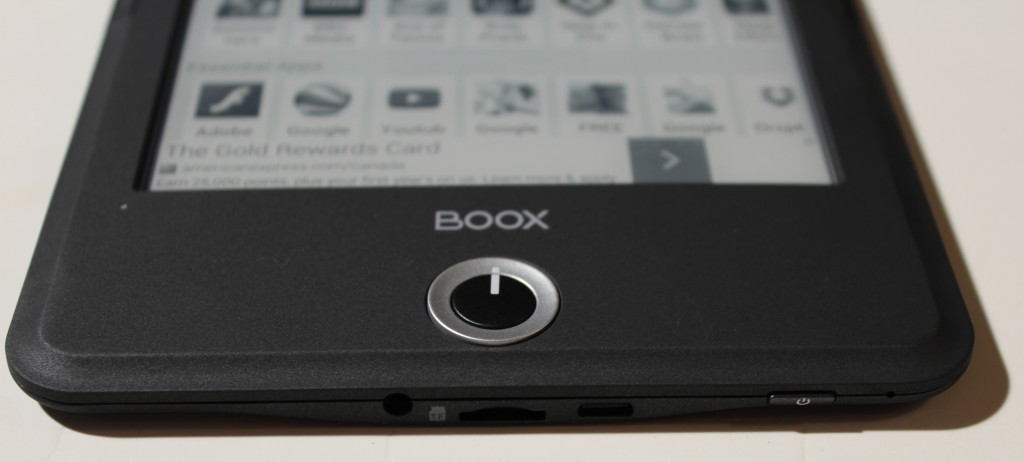 The Lynx e-reader is very much akin to the Kobo Aura HD, in terms of specs. It features a 6.8 e-Ink capacitive Ultra HD EPD display screen and a resolution of 1440×1080 pixels. Underneath the hood is a Freescale i.MX Cortex A9 1.0GHz processor and 512MB of RAM. Books are stored on the device and has 4GB of internal storage with the option to increase it via the Micro SD Card up to 64GB.
This e-reader has a front-lit display that gives the Kobo Aura and Kindle Paperwhite 2 a run for their money. Most e-readers that allow you to read in the dark end up having a blue hue that detracts away from reading. Instead, this is a brilliant white, even at full brightness.
I was honestly hoping for a capacitive touchscreen display, similar to the Tolino Vision or the Kobo Aura. Instead, it is akin to the Paperwhite line of e-readers with a sunken screen and raised edges.
There are manual page turn keys on the left and right side, appealing towards users who are lefties or righties. There is a simple button on the center of the screen that many people will confuse with HOME. Every single device I have ever used that had a button on the bottom functioned as the home key, instead Onyx has made it the glowlight setting. You can hold it down for 2 seconds and it will turn the front-light on or off.
One of the more compelling features of the Lynx is the inclusion of a 3.55 mm headphone jack. E-Readers in the last four years have all done away with audio, in a bid to offer the hardware has cheap as they can and see audio capabilities as a way to cut costs. Onyx has a text to speech engine that allows the books to be read aloud. It also sets the stage of being able to download the Overdrive Media Console app and listen to audiobooks from your local library. Additionally, there are thousands of music apps such as Beats, Spotify or Pandora that are fully compatible.
Software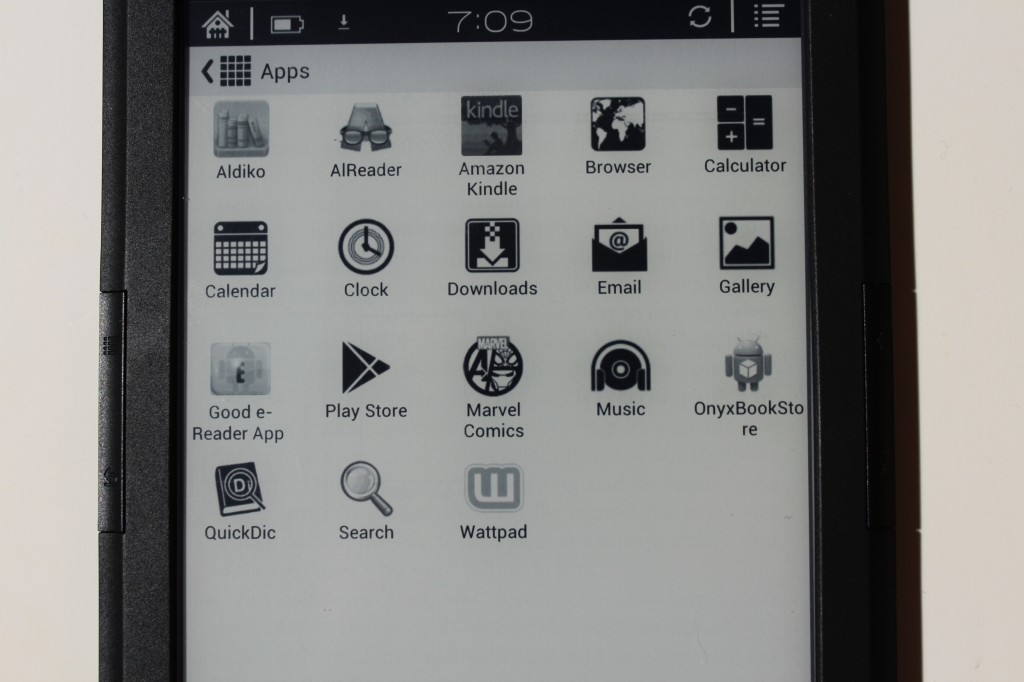 The Onyx Lynx is running Google Android 4.04 and has the Google Play store loaded on it. The open Android concept is a really new thing in the world of e-readers and really hasn't been done before.
In the past, all e-readers either ran on Linux or took the Sony/Nook route and just used Android as a framework and skinned their own UI on-top of it. Onyx does have a customized Android UI as well, but they don't let that get in the way of the traditional settings menu or the ability to sideload in your own apps or get them directly from Google Play.
The Settings menu is really simplified, although the more traditional Android menu is accessible when you try and install an app from an Unknown Source and need to enable that feature. So by default, you can customize your WIFI network, access a Bluetooth device or change the refresh rate. There is even a setting to ping the Onyx servers to see if a firmware update is available.
You can think of this has a fairly basic e-reader that is 100% reliant on the software you can load on it. Keep in mind, this is an e-Ink reader. You certainly won't be able to play Angry Birds or any type of complex game. The e-paper refresh rate is is simply not indicative to do something dynamic. You should stick with reading, comic, RSS, news apps or things that are more static in nature.
E-Reading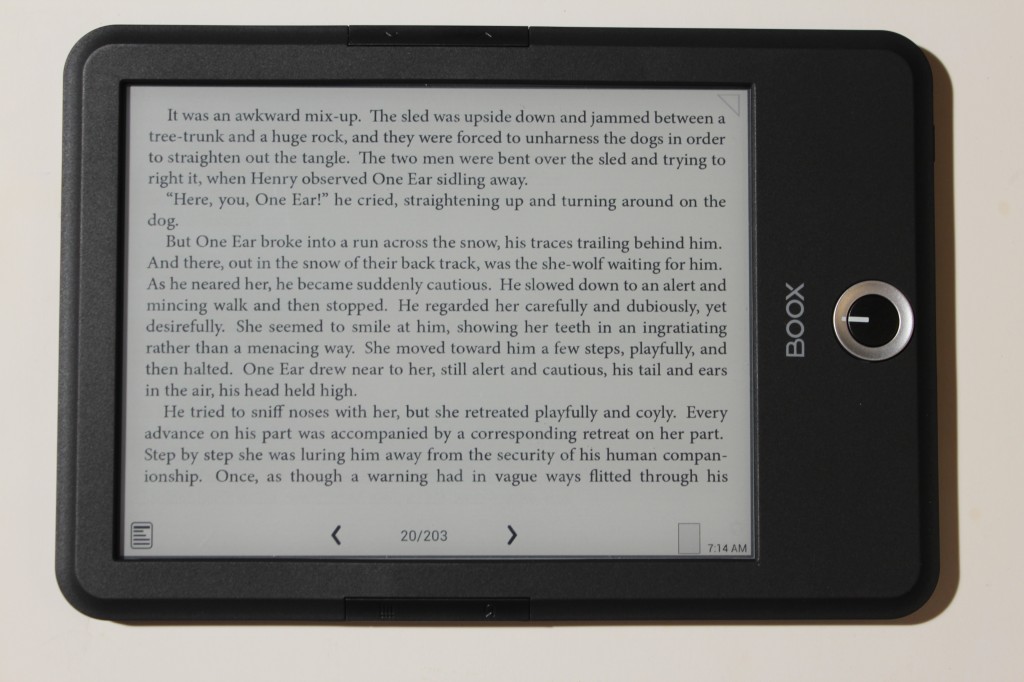 The Onyx Boox Lynx has a default reading app that will scan your Micro SD card or any books you download from 3rd party apps. I really like the default reading app, it is responsive and snappy.
The Lynx may have good hardware, but it suffers a bit when it comes to installing your favorite comic, communication, or e-reading app. Most are optimized for tablets and have lots of animations and slick enhancements that make it stand out. Sadly, on the Lynx most apps are simply unusable due to long loading times and the e-Ink refresh rate.
Kindle, Kobo, Marvel Comics, Nook, and WattPad are examples of mainstream apps that become too unwieldy to use effectively. WattPad and Marvel take at least four seconds to turn a page and fall victim to frame by frame refreshing. Most of the other reading apps all have their own idiosyncrasies. Take the Kindle app for example, turning pages has animations that make the next page slide in and no way to disable it. Some of these issues are solved by changing the refresh rate on the Lynx.
Not all reading apps are incompatible with the Onyx Lynx. Aldiko, Moon+, FBReader and many others all work fine. In order to get the ideal experience you have to shut off most animations, and this warrants visiting the settings menu in each app.
I have found that 3rd party apps are incompatible with the left and right manual page turn keys. In some cases clicking on it will bring up the in-app settings menu and sometimes does nothing. This is mainly due to the nature of the Android apps. They were all designed with a touchscreen in mind, so you will have to use it to turn pages.
The stock reading app on the Onyx Lynx is amazing and provides a rich experience. There are over 60 different fonts available to change the entire book to something more suitable. If you can't find something from the default list that catches your fancy, you can simply load in your own. Increasing the size of the fonts happen in real time and is very responsive, no waiting involved. You can also adjust the margins or employ the Text to Speech engine with a set of headphones.
Whenever you load books on an SD card or import them in with a 3rd party reading app they will be added to your library. This is where the majority of your books are stored and has some cool sorting options. There is the ability to display cover art, grid format, delete books altogether and scan for meta data. The scanning feature is particularly useful because you can access the SD card or the devices memory for books you have downloaded from the internet or loaded in yourself.
In the end, this is a great e-reader if you are using the stock app. You can fire up, import all of your books and get reading right away. The challenge is to find compatible apps that have settings to allow you to turn off animations and enhancements that were designed for smartphones and tablets. The good thing is, Google Play is a wellspring of apps and you can engage in some trial and error.
Wrap Up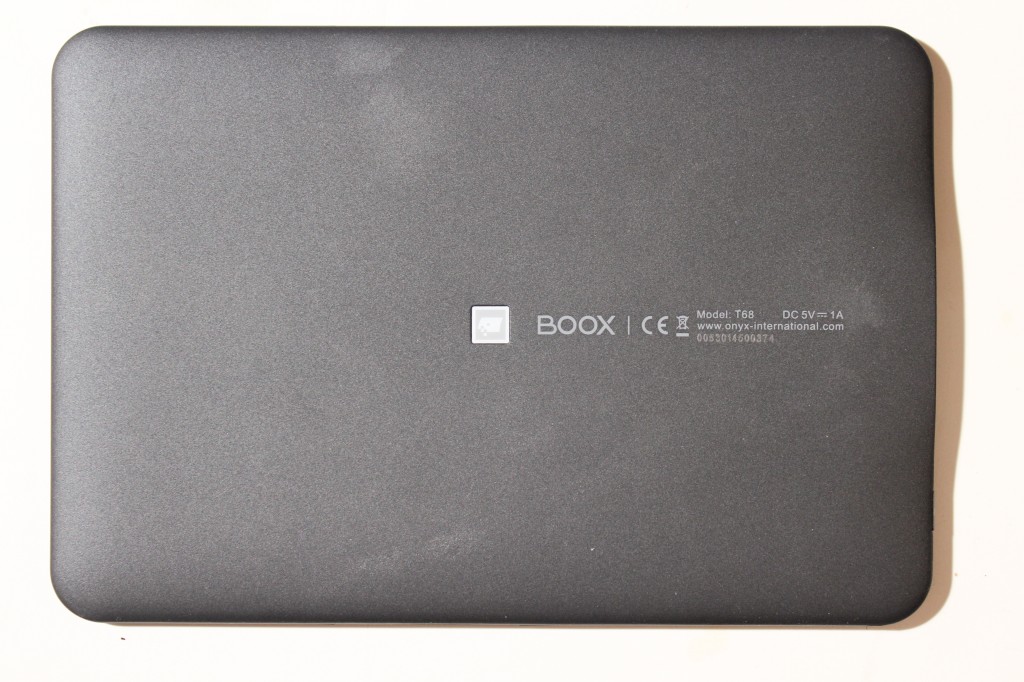 I am really feeling what Onyx is doing with its new lineup of e-readers in 2014. The market in North America and the UK is dominated by only a handful of players, Amazon, B&N and Kobo. The European, Russian and emerging markets are all wide open. Onyx does most of its business in Eastern Europe and Russia. They do have an established base of customers all over the world though, that often like their high build quality and like the fact they aren't locked into any one particular ecosystem.
This device has a really solid front-light, 1 GHZ processor and high resolution. The glowlight is one of the best in the business and really puts Amazon and Kobo on notice to try and refine their technology when their new products hit the market later on in the year.
I would really recommend this e-reader to anyone that doesn't want to be locked into any of the mainstream retailers. The open nature of Android on the Lynx basically allows you to install any app you want from Google Play, or alternative markets such as Good e-Reader. The freedom to pick and choose, the freedom to install anything you want or to delete it, is really compelling.
PROS
Excellent Front-Light
Great Resolution
Open Android – Google Play is your friend
A unique device in a crowded market
CONS
Pageturn keys don't work in 3rd party apps
e-Paper refresh rate makes most apps unviable
Home button is an illusion, it turns on the light
Most apps are full screen, it makes exiting the app tedious
Incapable of switching to landscape mode outside the stock reading app
Rating: 7.5/10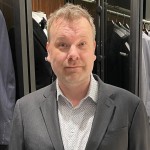 Michael Kozlowski has written about audiobooks and e-readers for the past twelve years. Newspapers and websites such as the CBC, CNET, Engadget, Huffington Post and the New York Times have picked up his articles. He Lives in Vancouver, British Columbia, Canada.