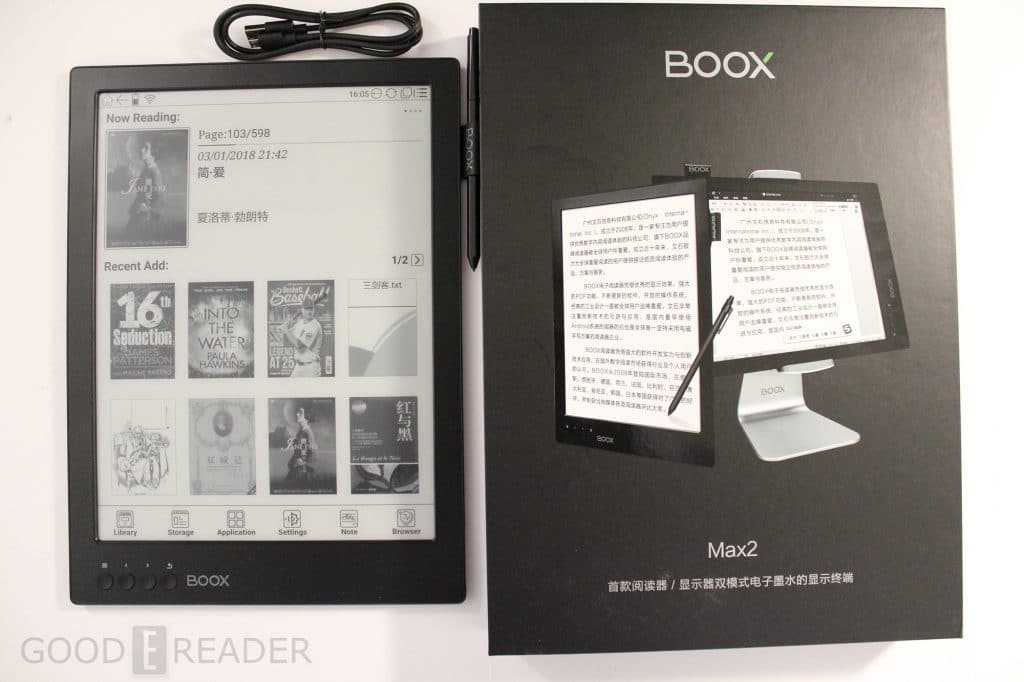 Onyx Boox has just released the MAX2 PRO, which is a 13.3 inch e-reader has both a touchscreen layer for gesture based interactions and a WACOM layer for the accompanied stylus. This device not only reads ebooks, edits PDF files and can take notes, but it can also be a secondary monitor via HDMI. This might be the best large screen e-reader ever made.
Hardware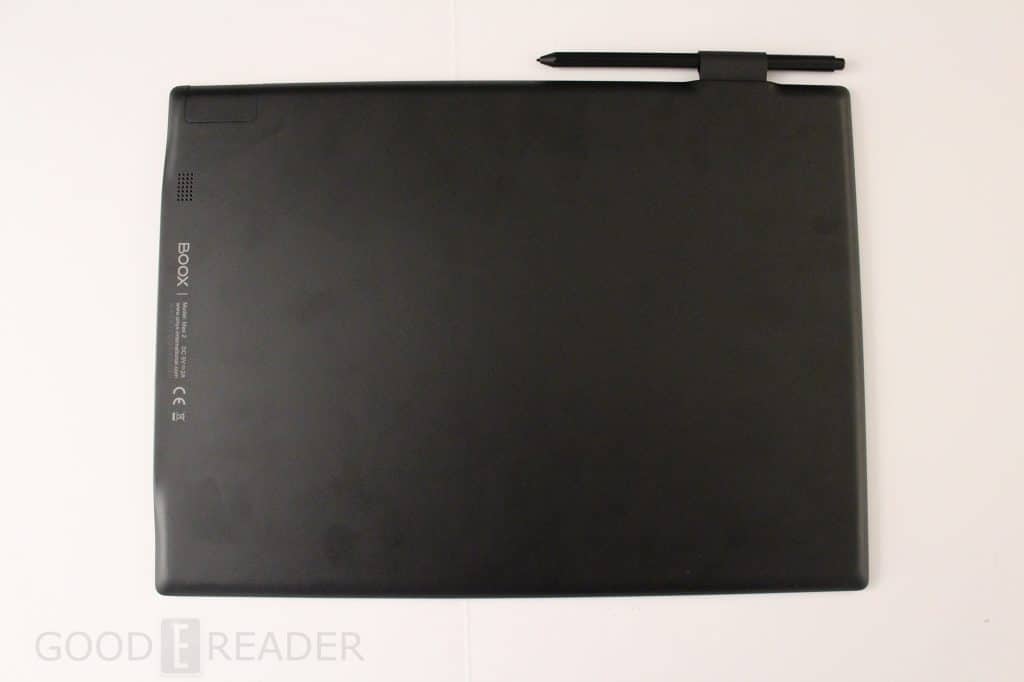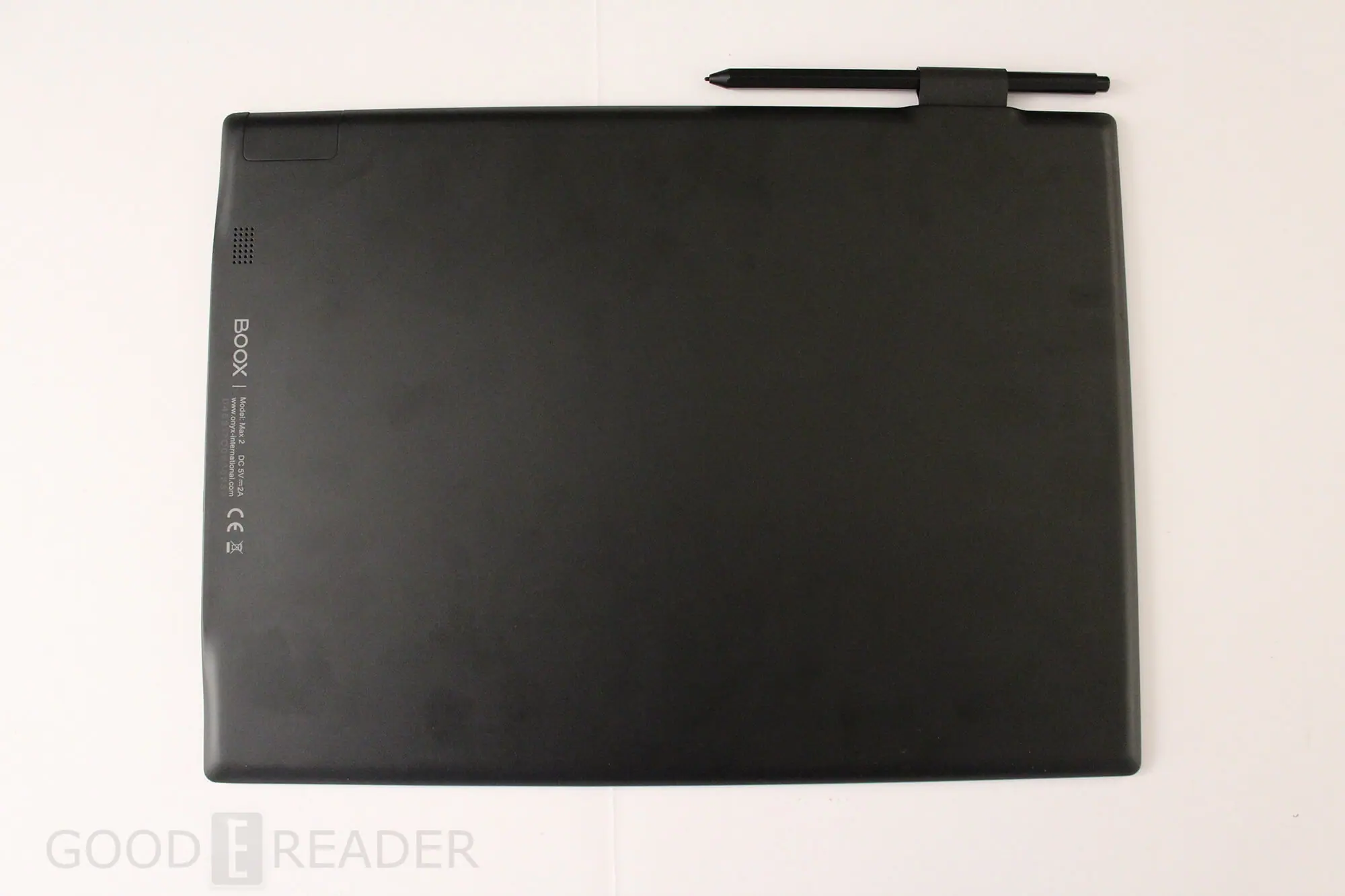 The MAX employs an E-Ink Carta E-Paper display with a resolution of 2200 x 1650 pixels and 207 PPI.  The screen is sunken and does not have a frontlit display, but no large screen digital readers currently have one. This is first large screen 13.3 inch e-reader that Onyx has ever issued that has both a capacitive touchscreen and a WACOM layer. This makes it really easy to navigate around the UI or simply flip the pages of an e-book. You no longer need to exclusively use the stylus in order to interact with the device, which is very compelling.
Speaking of the stylus, Onyx has completely overhauled it. Instead of being round in circumference, it now features hexagonal design.  There is a simple eraser at the top, which is tremendously snappy. It no longer has any buttons above the nibs. There is no longer a clip on the stylus to lock it down in the stylus holder on the side of the MAX2. I have already heard reports of it falling off and becoming lost. I do not believe that Onyx sells their styli independently
Underneath the hood is a 1.6 GHZ quad core processor, 2GB of RAM, 32GB of internal storage and does not have an SD Card. It has a giant 4100 mAh battery, microphone, mono speaker and a 3.5mm headphone jack to listen to audiobooks, music or podcasts. This device is running Android 6.0, so it will support almost every app from Google Play, which is preloaded.  It has dual band WIFI for quick internet access and can connect to every public or private network.  The dimensions are 325/237/7.5mm and it weighs just under 550G.
One of the things I really like about the MAX2 is that it has Bluetooth 4.1. This opens a wide world of possibilities and usage scenarios. You can connect wireless accessories such as pair of headphones or a speaker or even a foot pedal for musicians. I am very sure people will connect up a keyboard to be able to quickly type on notes.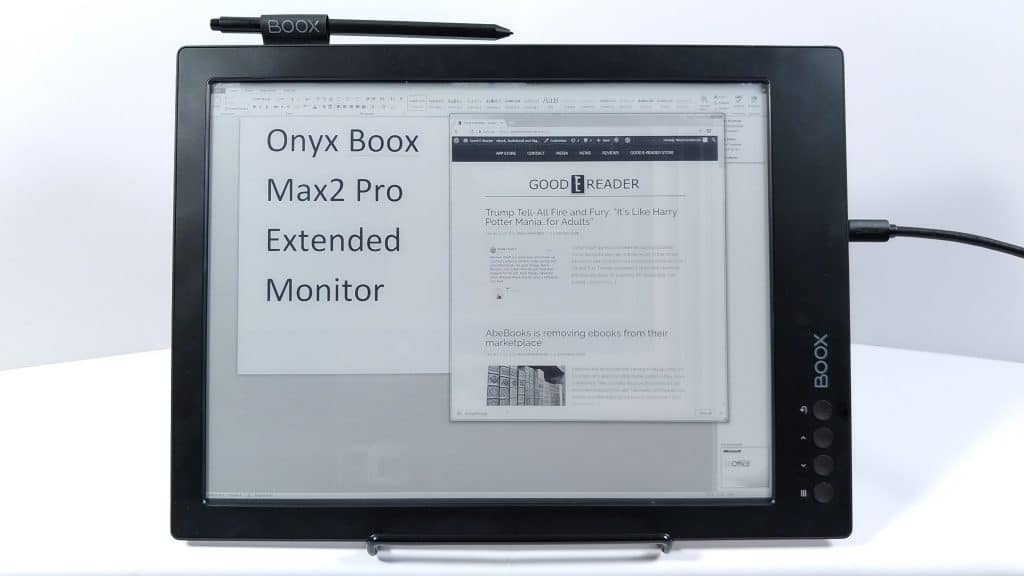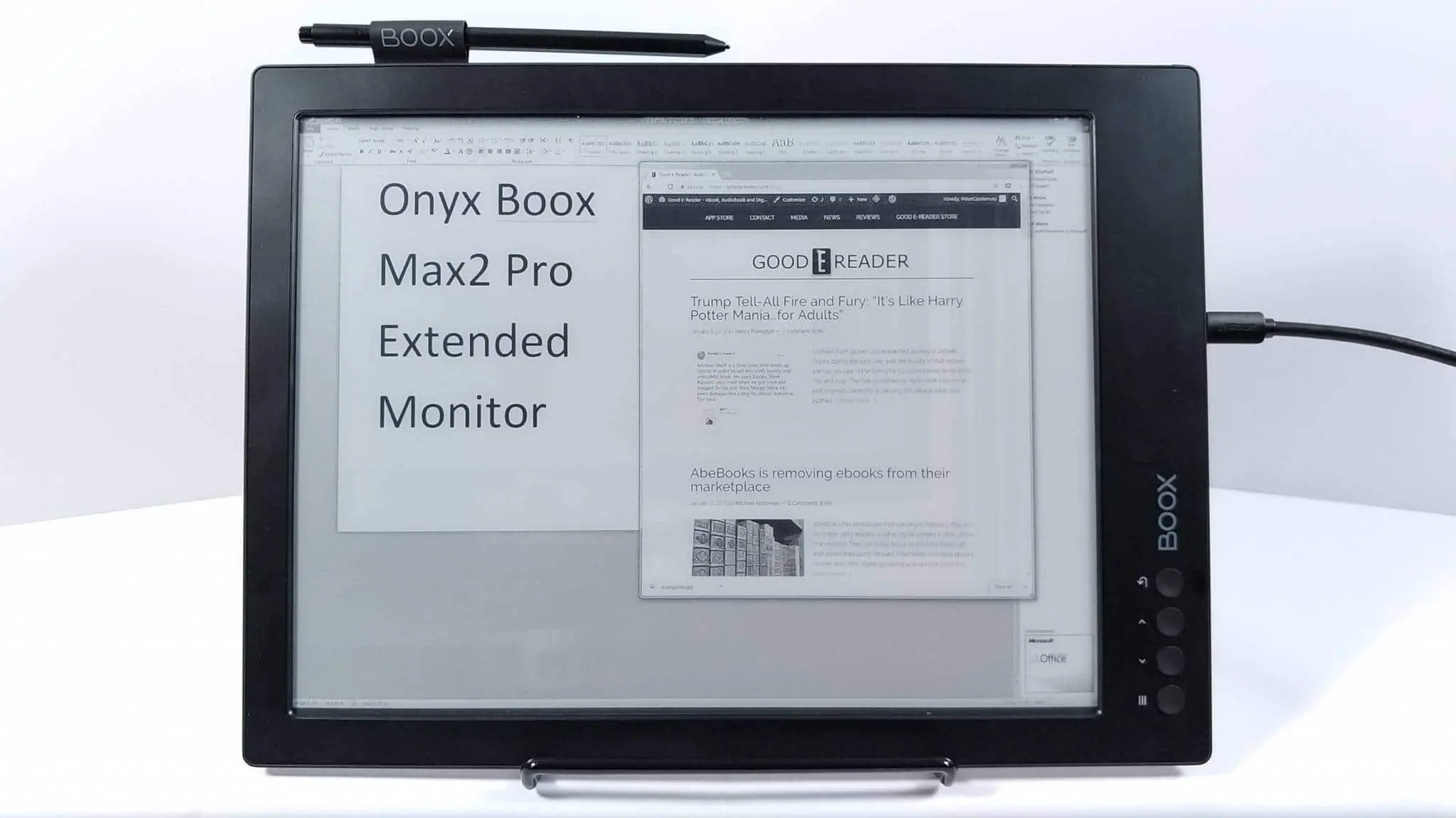 The other amazing aspect of the MAX2 PRO is the Micro HDMI to HDMI port, which is a major selling factor. You can connect it up to a laptop, PC or MAC. There is no drivers to install and you can configure it to mirror whatever is on your primary display or extend it. There is a dedicated app on the MAX that starts the monitor feature.  When the device is set to act as a monitor it can display content in landscape or portrait mode. The exact configuration is setup on your laptop/pc/mac and you have to make sure the resolution on the e-reader is preserved or it will not work properly.
If you are browsing websites or doing light online reading the MAX does a tremendous job. If you are doing image heavy work you might want to initiate A2 mode at the top of main UI. This will makes navigation and scrolling more robust, but lower the image quality. Most e-readers really degrade image quality to a noticeable degree, but Onyx has refined it so it is not as much as other devices on the market.
There is an optional stand that props the MAX up in landscape or portrait mode and looks like the stand that Apple monitors employ. It does not ship with the reader and I could not find any information on where to buy it or how much it costs.
This is likely the best large digital note taking and e-reader device on the market. The hardware specs are tremendous and doing anything on it is snappy and robust. It is not cheap though, it is the most expensive of its kind currently available. The SONY DPT-S1 is $759, the Remarkable is $529 and the MAX2 PRO is $758 euros, which comes out to over $1,000 USD.
Software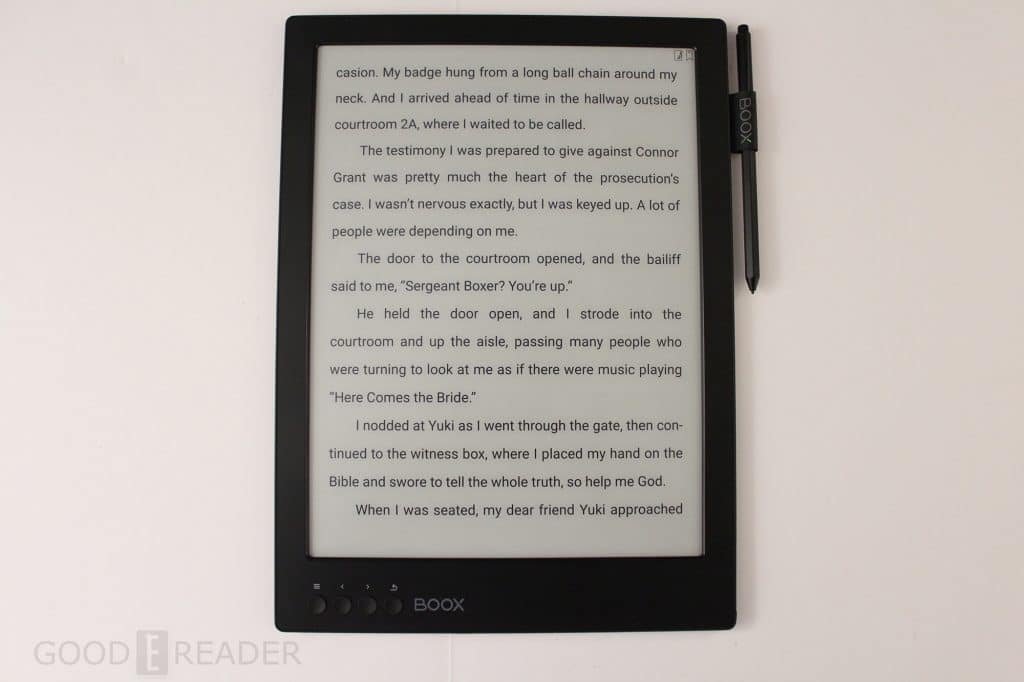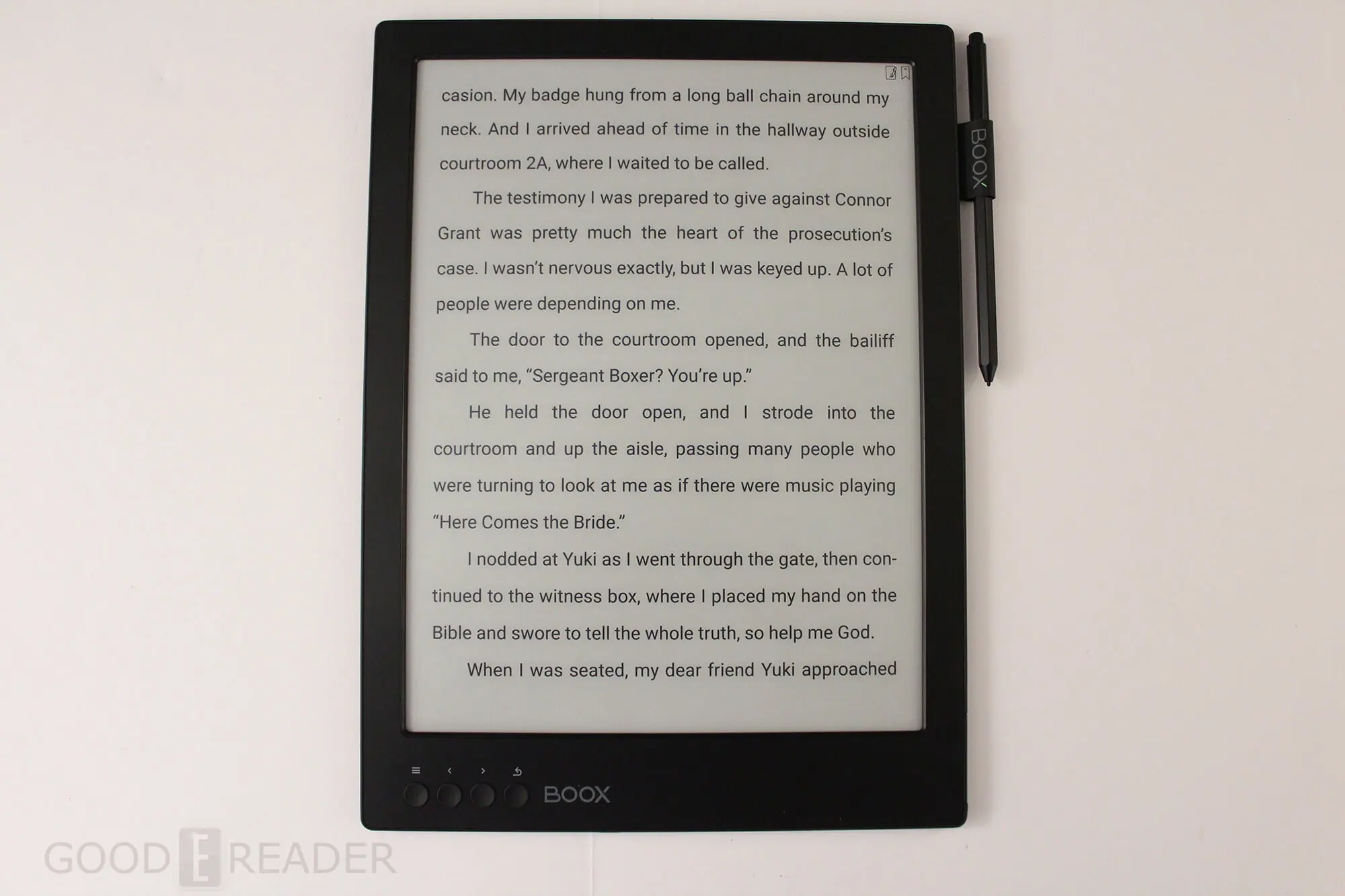 The MAX2 PRO is running Android 6.0 and this model is the only one on the market that is running such a modern version. The vast majority of e-readers on the market are using 4.04, which is fairly stable.
Android 6.0 presents a wider array of apps from running on the MAX, this includes Google Keep, Evernote, Microsoft Onenote and a myriad of alternative digital note taking apps. Not to mention with A2 mode you will get a more fluid experience with e-reading apps that have animated page turns, such as Kindle, Kobo and Nook.
The main UI of the Onyx MAX2 is a mirror image of the MAX Carta and their six inch line of e-readers. The main difference is that the color on the top bar where your WIFI symbol is, drop down settings and clock is now white, instead of black. When you are reading an ebook or editing a PDF file the top bar completely disappears, which provides a more immersive experience.
Onyx does something very interesting with the library, which contains all of your PDF files and e-books. You can scan for metadata, which adds covers to titles that do not have them. This often occurs with royalty free content, but also ones that are issued by major publishers. This is useful because you no longer have to use a program like Calibre, you can do it directly on the e-reader. You can also do other things like switch between grid or list view or delete the book entirely off your device.

There is also a default file explorer that shows you everything on your device and the app drawer houses all of your sideloaded apps or ones you download from Google Play. The App experience on Android e-readers is hit or miss. Most e-reading apps, whether they are mainstream ones like Kindle or indie all have animated page turns because they were designed for smartphones and tablets. Developers simply can't rationalize devoting time and money into optimizing it for an e-ink screen. A2 mode helps a bit, but degrades the quality of the text. I found using digital newspaper and magazine apps to provide the best experience with A2 mode on.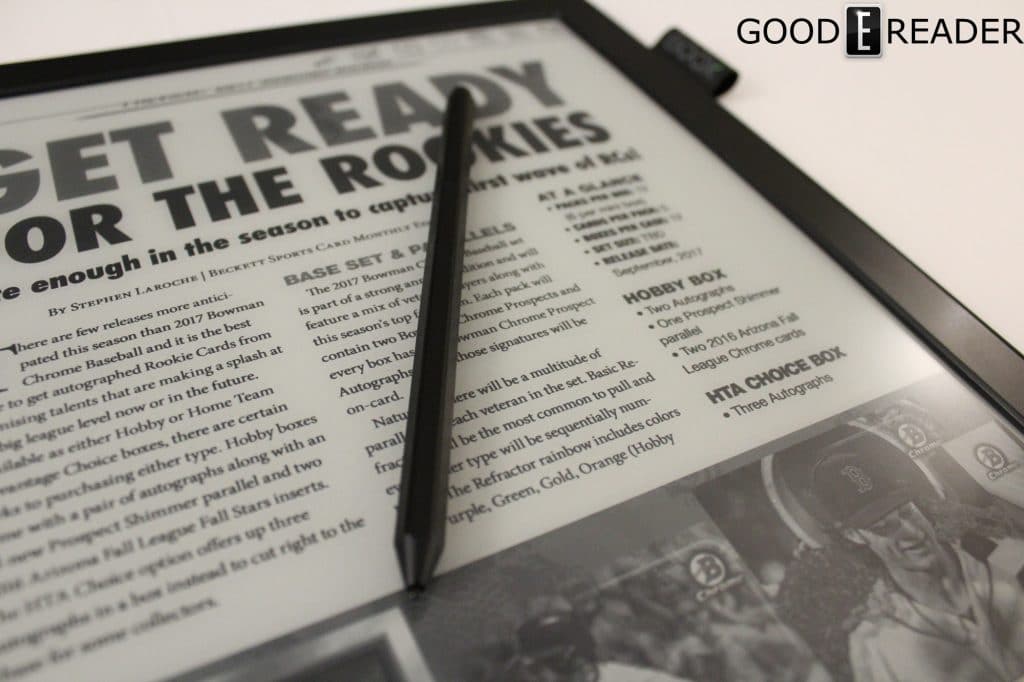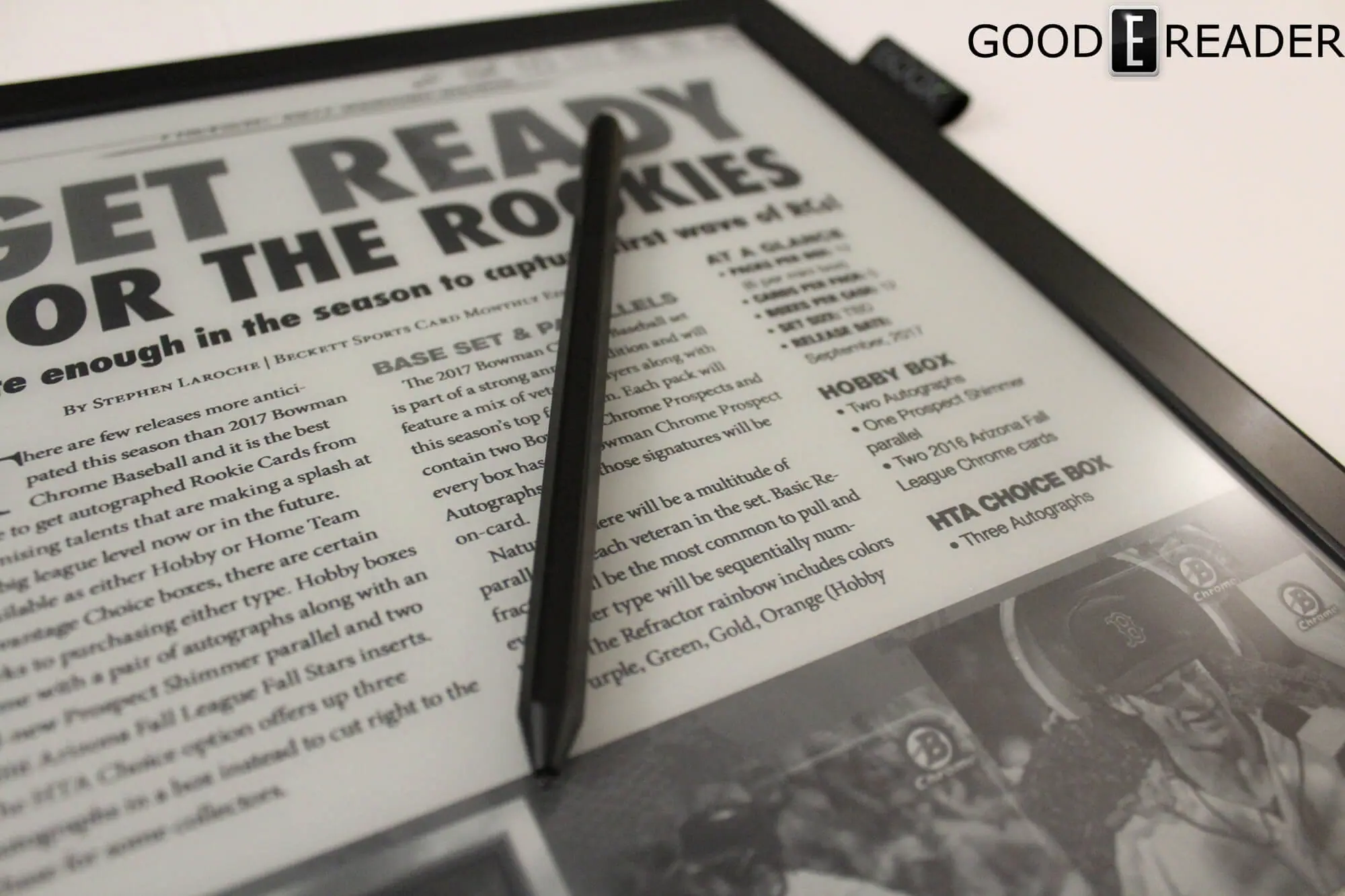 One of the flagship aspects of the MAX 2 is the digital note taking experience and it is on par with the Sony DPT-RP1 in this regard. The stylus is not pressure sensitive, so you have to choose from six different thickness settings. There are options to use shapes and establish different backgrounds, such as sheet music or college rules. The screen has palm rejection technology, so you won't have to worry.
Using the stylus is very robust and erasing content is a breeze. When we compared the MAX2 PRO against the MAX Carta, it was no contest. Freehand drawing, using shapes or erasing was lightning quick on the MAX2 and the Carta was tedious and unresponsive.
The e-reading experience is standard fair. Onyx redesigned the font selection menu to increase the size, switch to bold mode or adjust line spacing or margains. It feels more like a Kindle now in this regard. One of the drawbacks was selecting a font, there is seriously 27 pages with 10 fonts per page. This is totally overkill and there is no quick method to search for a specific font, you are just scrolling endlessly to find one you like.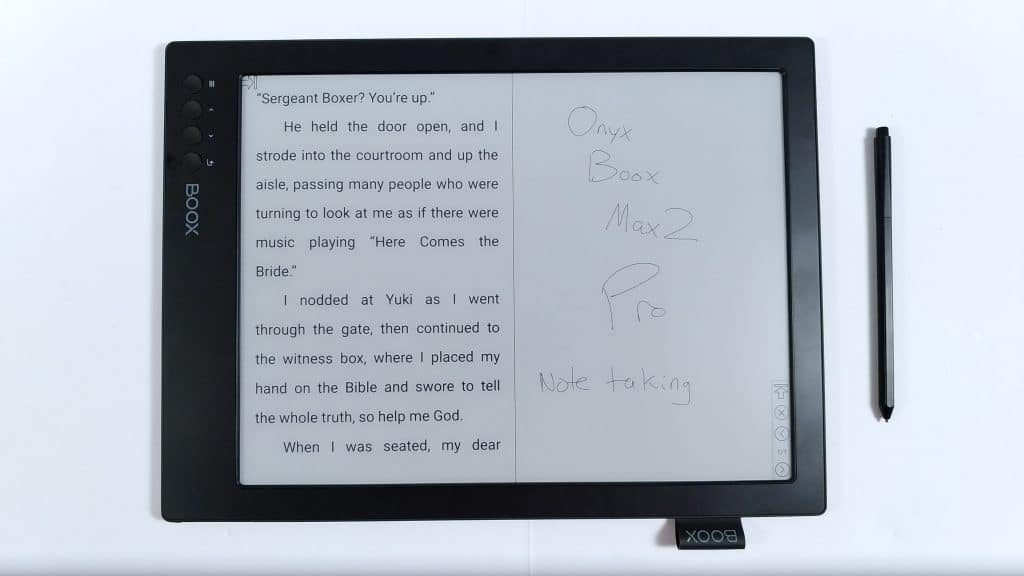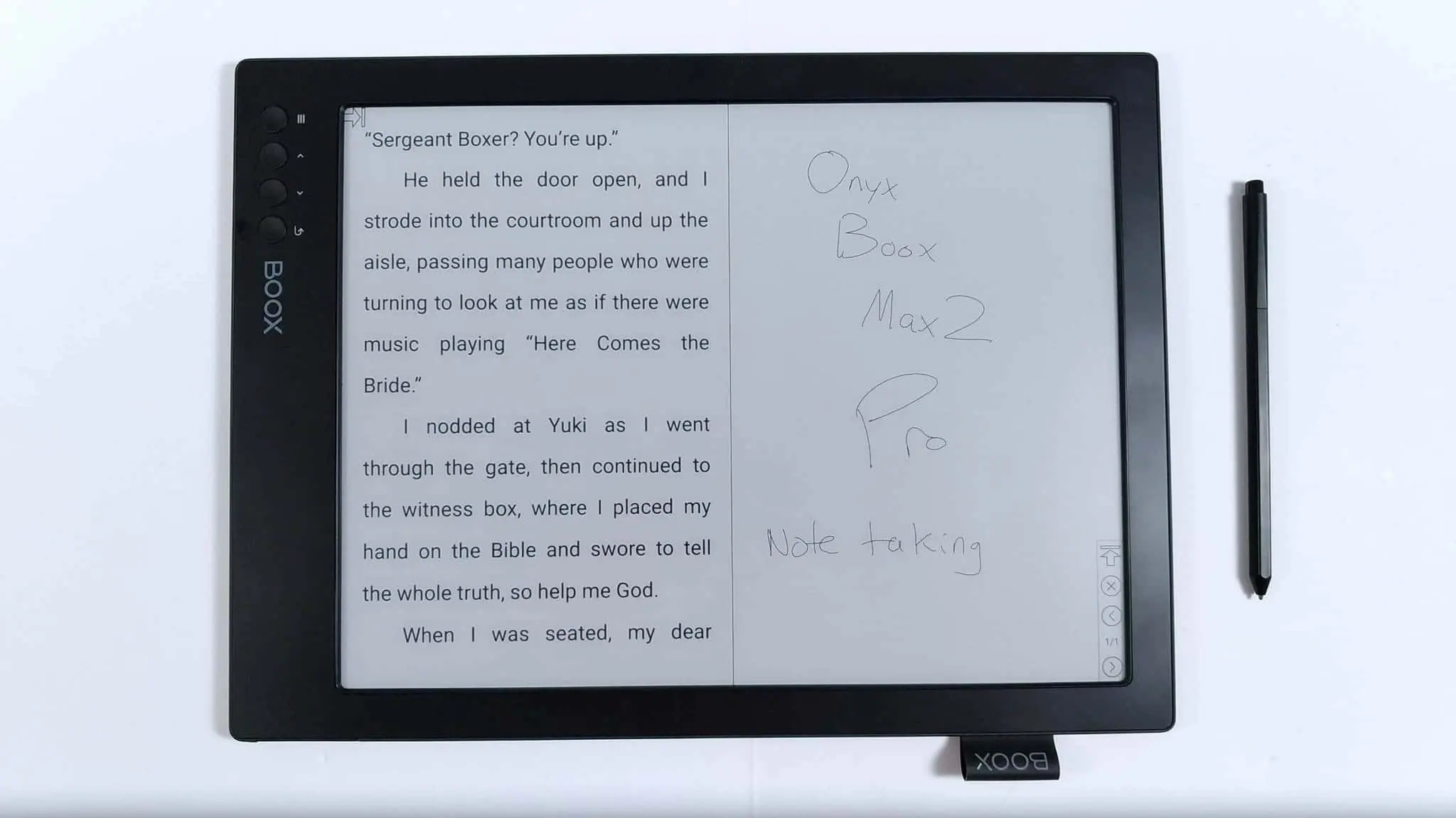 One of the most unique aspects about the e-reading experience is split screen view. You can have an EPUB or MOBI open on one side of the screen and the note app on the other. This will allow you to jot down notes on each page and save them. This might be useful for digital textbooks, people who are in book clubs or learning a new language. You cannot write on the ebook, just in the note section. You can write on PDF files though and you can even save your edited doc.
Wrap Up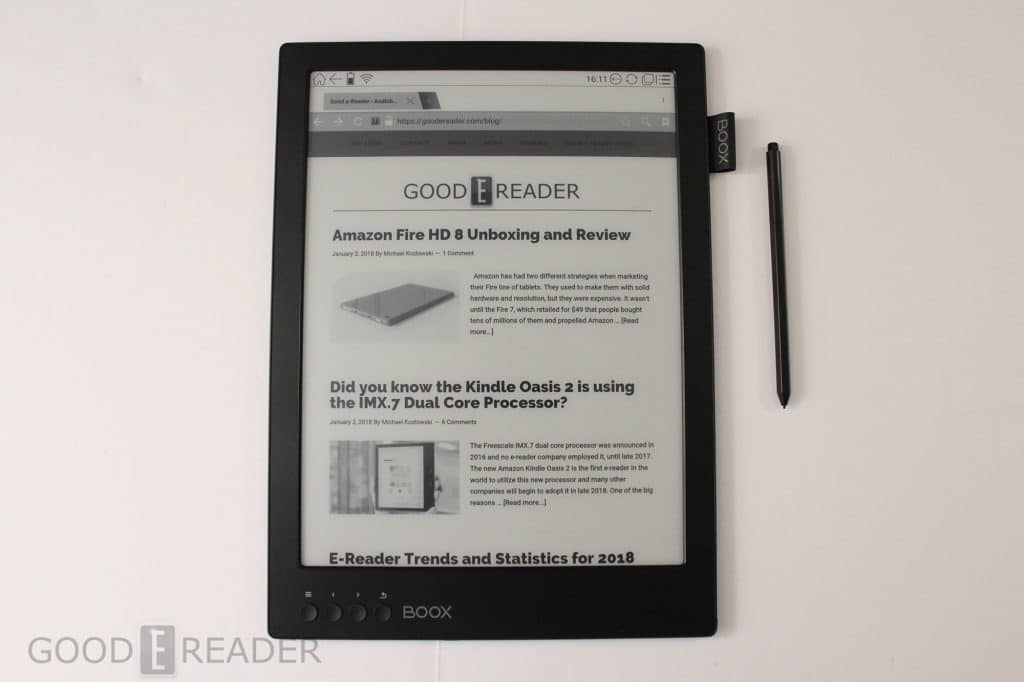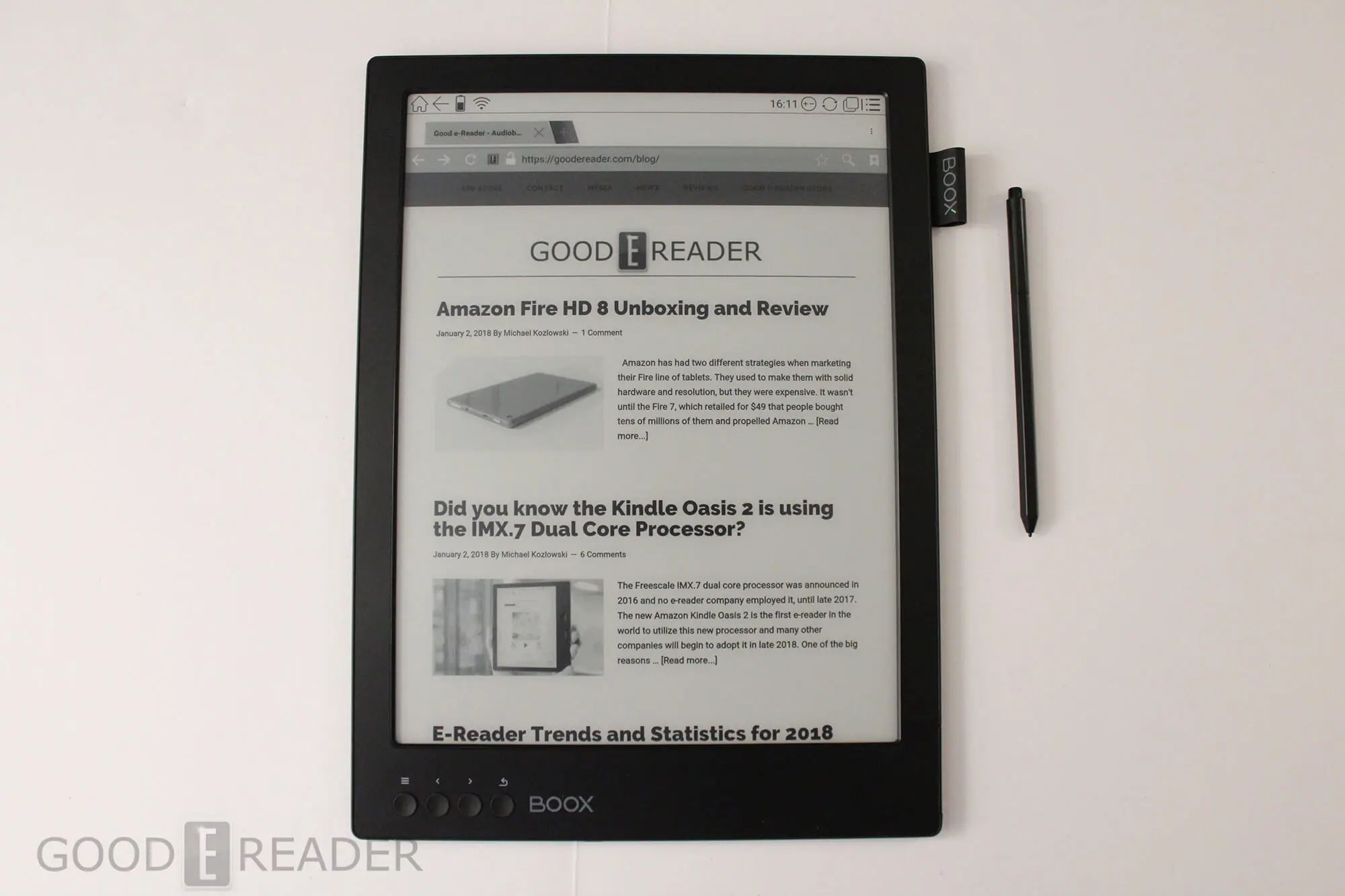 The Onyx MAX2 is the best digital note taking device and e-reader in the world. The company markets their products through retailers, so finding one can be a challenge. Spending $1,000 on an e-reader can also be daunting, but this is primarily marketed towards the prosumer crowd. I can see schools, design and law firms embracing it, people on a budget, not so much.

Update
: Onyx has informed me that they are adding a clip to the stylus, so it won't fall off. It will be in their next production batch. Onyx is going to issue a public update that gives the stylus pressure sensitivity. The optional stand for when you are using it as a secondary display is going to retail for $49.99.
PROS
Quad Core 1.6GHZ processor
2GB of RAM
WACOM/Touchscreen
A2 Mode has been refined
Solid PDF editing and viewing
Can be used as a secondary monitor via HDMI
Note taking has been improved
Bluetooth 4.1
Android 6.0
Google Play
CONS
Stylus has no clip, easy to lose
I wish the PPI was higher, 207 is fairly low
Expensive
Split screen view is landscape only
Documentation on secondary monitor usage is virtually non-existent
Too many pre-loaded fonts
Rating: 9.5/10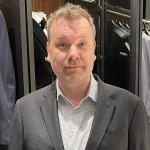 Michael Kozlowski has written about audiobooks and e-readers for the past twelve years. Newspapers and websites such as the CBC, CNET, Engadget, Huffington Post and the New York Times have picked up his articles. He Lives in Vancouver, British Columbia, Canada.