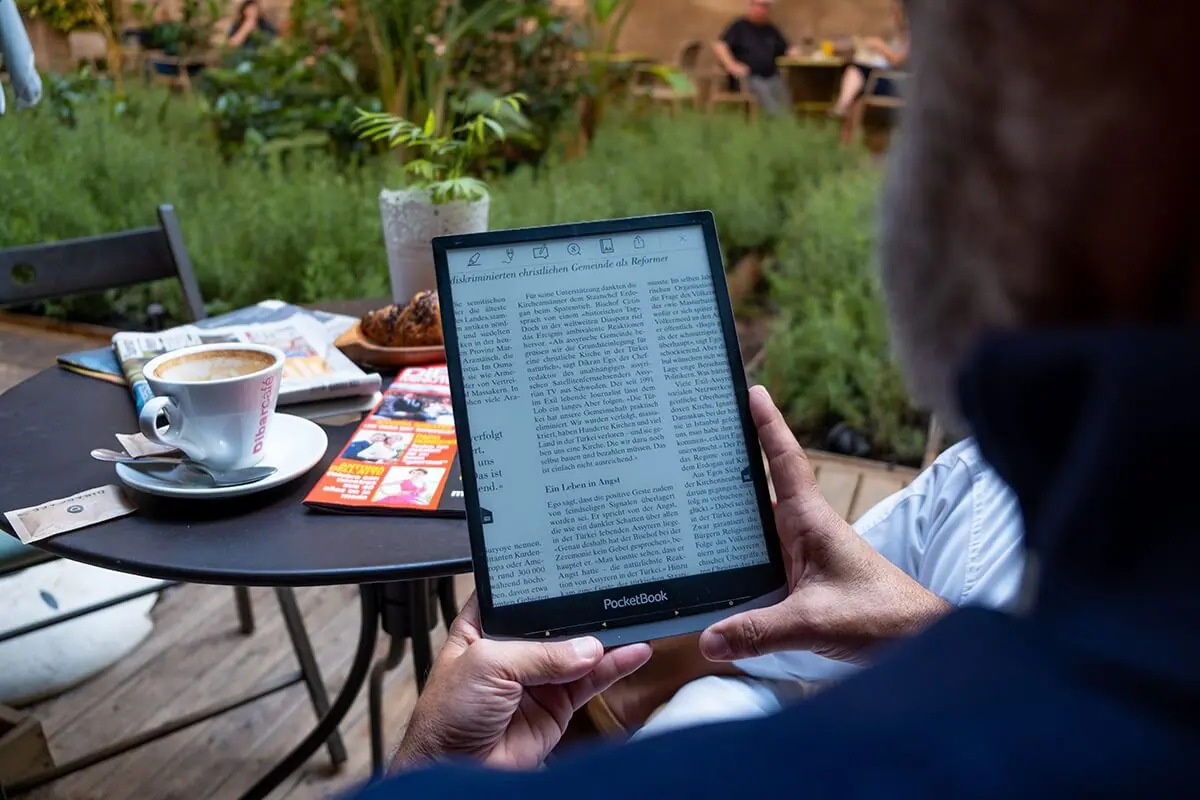 Pocketbook has released a number of e-readers in 2019, but the most interesting one is the InkPad X. This ebook reader has a giant 10.3 inch screen and excels at reading comics, ebooks, manga, magazines, newspapers and PDF files. It has limited note taking functionality and does not compete against Boyue, Onyx, Remarkable or Sony, instead Pocketbook is blazing their own trail.
Hardware

PocketBook InkPad X features a 10.3-inch E Ink Mobius epaper display with a resolution of 1404 × 1872 with 227 PPI. This will make it the ideal device for reading any kind of digital content: comics, ebooks, newspapers and magazines, manga, scientific publications, and even sheet music.
This e-reader has a front-lit display and color temperature system. SMARTlight technology provides maximum reading comfort in all lighting conditions, automatically adjusting the brightness and colour temperature of the screen. You can even change the brightness and colour tone without breaking away from the page: just slide your finger along the side of the display. Users can also save their screen settings in the form of templates that can be saved and loaded.
Underneath the hood is a dual core 1 GHZ processor, 1GB RAM and 32GB of internal storage. It has a USB-C connector, something that even Amazon doesn't even have on the Kindle. It has WIFI, Bluetooth, a G Sensor, cover sensor for sleep covers. It is powered by a 2,000 mAh battery and is running the standard Pocketbook OS, which is based on Linux. The overall dimensions are 249.2 х 173.4 х 7.7-4.5 mm and it weighs 300g.
The front of the device is black and so are the manual page turn buttons. There is silver gunmetal accents along the sides and the back is black. The Pocketbook Logo on the front is an embossed white color. Some e-readers have very large bezels on the side and top, but the InkPad X are relatively small. The bottom of the device, where all of the buttons are, the battery is behind all of that, so it is comfortable to hold.
You will be able to connect up a pair of wireless headphones via Bluetooth or use the USB to 3.5mm headphone adapter that comes standard in the box. If you don't feel like reading ebooks, you can take advantage of the text to speech engine that has support for English and 15 additional languages. There is also support for ABBYY Lingvo, which has 26 dictionaries.
I think this e-reader is well designed and very light, which is beguiling because of the giant screen.
Software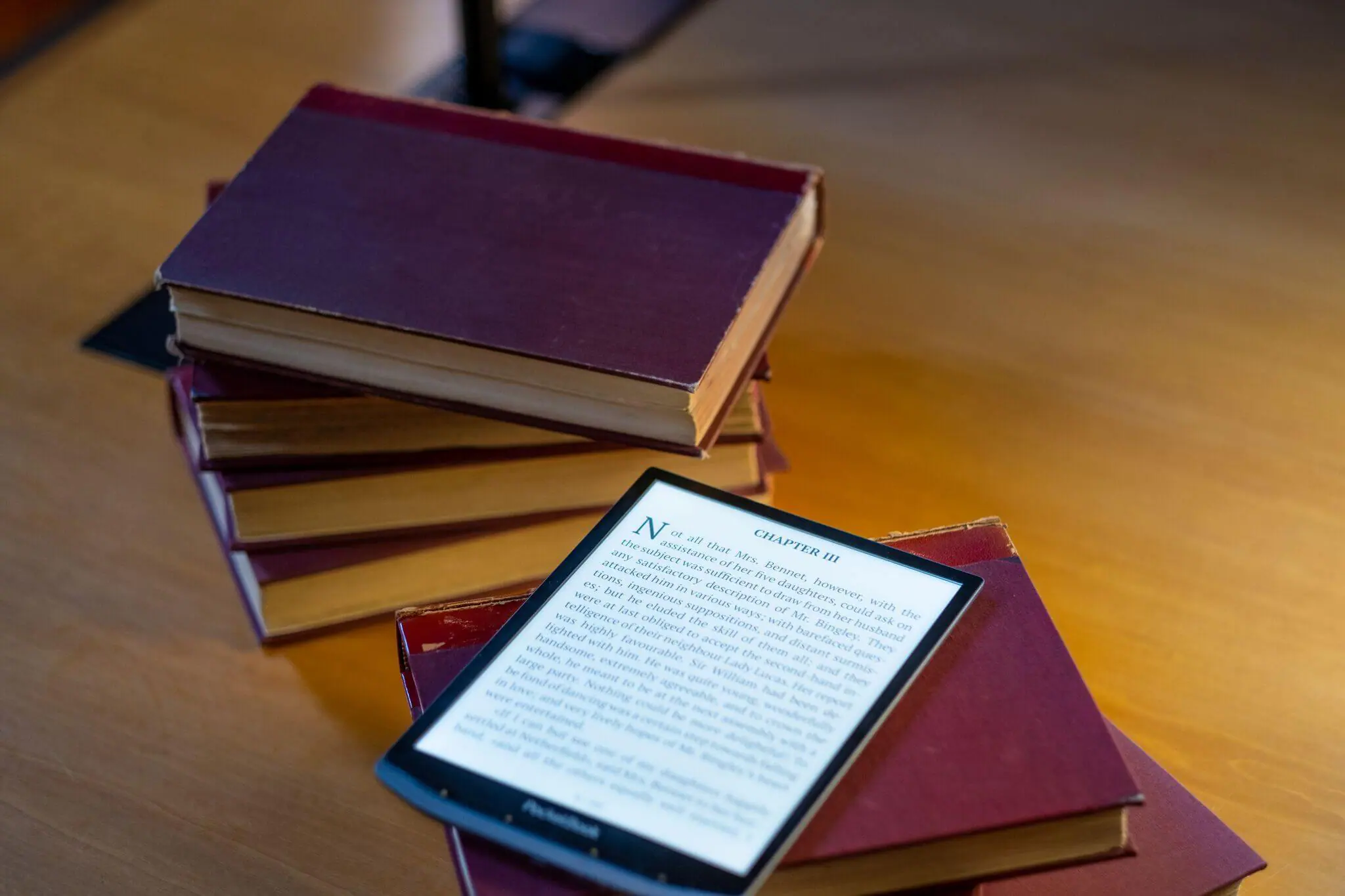 Pocketbook is running Linux as their primary OS and the only other companies to employ this operating system is Amazon, Kobo and SuperNote, almost everyone else is running Android. I feel Linux provides a more stable and robust experience, you are unlikely to ever encounter a situation where it becomes unresponsive and needs a hard reboot.
The main home screen comprises of a carousel that lists all of the books you have recently added or are in the process of reading. You can use the touchscreen to select a book or you can use the manual page turn keys to navigate around. The library menu is fairly basic, you can sort by authors, title or date added and all of the e-books show the cover art. The library menu has inertial scrolling, which means you can drag your finger down, let go and it will continue to scroll down a little bit. The app menu has a number of usable things, such as a few games (Chess and Sudoku) and some proprietary Pocketbook apps such as Send to Pocketbook, Dropbox for Pocketbook, The Pocketbook Bookstore, Pocketbook Cloud and a RSS Reader. What is most impressive is the stock note taking app they have. It is seriously robust as heck, and allows you to choose a bunch of different pen sizes to jot down notes, although it is also compatible with a stylus. There is also a new feature called ReadMore, which is similar to GoodReads, but seems to be only available in Russian.
You can browse the internet with the built in browser. You can use it to visit your favorite website or read your favorite blog. Google is strongly encouraging companies to employ mobile friendly websites and are allowing them to rank higher in the search engine. This is a boon for e-readers that struggled with big websites with lots of images in the past. You can also disable images or disable Javascript.
The settings menu has some default options, such as page refresh speed and firmware updates. If you want to borrow ebooks or audiobooks from the public library or purchase digital content from other booksellers, the InkPad X has Adobe DRM support. This will allow you to enter your Adobe login and password on the e-reader and then use Adobe Digital Editions to copy it to your device. Many e-readers do not have this kind of support, because Adobe license fees are really expensive.
The Pocketbook InkPad X and InkPad Pro have a number of notable features that the Touch Lux or the Basic Lux do not have. They have access to ABBYY Lingvo dictionaries, which provides 24 language combinations, English – German, Webster's Dictionary 1913. It also has text to speech, which can support playback of an ebook with a narrator's voice, it sounds kind of robotic, but some people like this sort of thing.  The default text to speech engine is in English, but an additional 15 additional languages are available for free on pocketbook.ch.
e-Reading Experience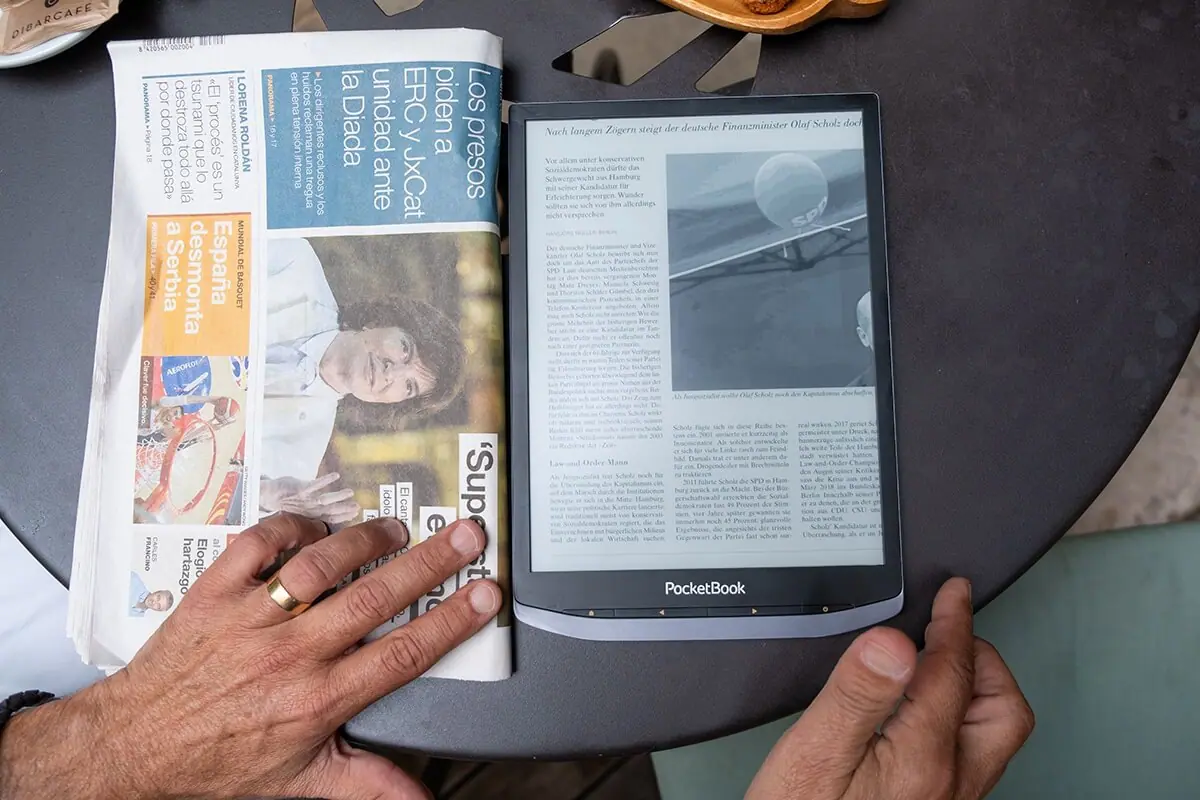 The InkPad X supports a myriad of ebook formats, such as ACSM, CBR, CBZ, CHM, DJVU, DOC, DOCX, EPUB, EPUB(DRM), FB2, FB2.ZIP, HTM, HTML, MOBI, PDF, PDF (DRM), PRC, RTF, TXT. Audio formats are MP3, OGG, M4B.
Pocketbook pays Adobe a monthly fee for the Content Server. This allows users access to Adobe Digital Editions to sideload in ebooks in EPUB or PDF that are purchased from other bookstores. You can also use Digital Editions to load in library books that you have borrowed from a company such as Overdrive. Pocketbook is very versatile in this regard.
One of the downfalls of the Pocketbook brand as a whole, is that you have to sideload everything. There is no big bookstore where you can purchase bestsellers or authors that you have read before. This limits the number of people that would buy this device, but some people love Pocketbook because of this and know what they are getting into when they pick one up.
The giant screen that the InkPad X has, is the best reading experience that Pocketbook provides, period.  Not only can more text fit on the screen at any given time, but you can also adjust the font size, line spacing, margins and a bunch of other font optimization settings. This is ideal for people who want to read and have great vision, or older people whose vision is failing and find a six inch e-reader to be unwieldy.
The PDF experience is great, the screen really makes this format excel, without needing to pinch and zoom. Pocketbook is using the same firmware on this model, as prior ones, so if you need to pinch and zoom, it can take a few seconds for everything to come into focus properly, one of the limitations of E Ink in general. You can highlight words, write notes, look words up in the dictionary in PDF files, just like you can in a standard ebook.
I found reading comics, manga and other content is really excellent. There aren't that many Pocketbook models that even support CBR and CBZ, but this model does. It can also read sheet music, if you are a musician.
Wrap up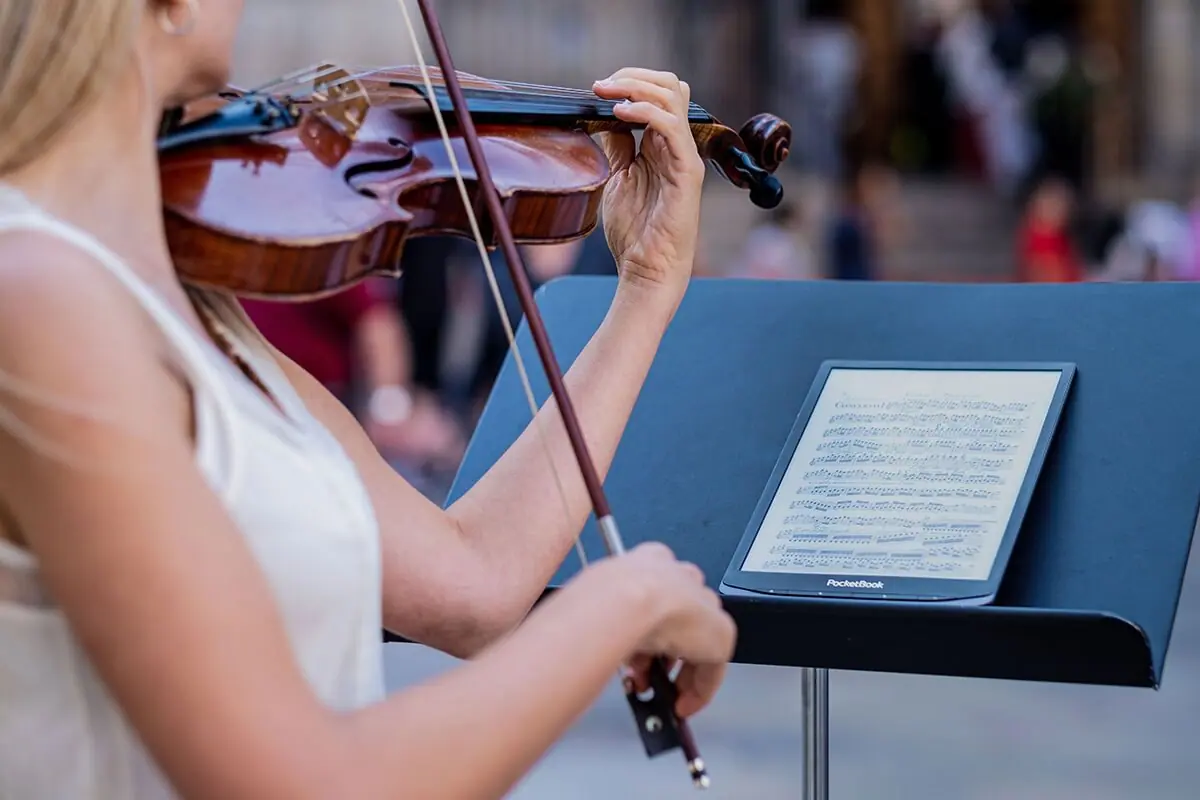 Pocketbook provides the only 10.3 inch e-reader on the market that just reads ebooks and other digital content. All of the other 10.3's are basically e-notes or digital note taking devices, that come with a stylus and allow you to take notes. The vast majority of these are running Android, which can hamper your battery life. Pocketbook runs Linux, which is super stable and optimized for E INK.
I would recommend this device to people who don't have any need for an e-note, but want a much larger screen than the Kindle Oasis 3 or the Kobo Forma provide.
Michael Kozlowski has been writing about audiobooks and e-readers for the past twelve years. His articles have been picked up by major and local news sources and websites such as the CBC, CNET, Engadget, Huffington Post and the New York Times. He Lives in Vancouver, British Columbia, Canada.