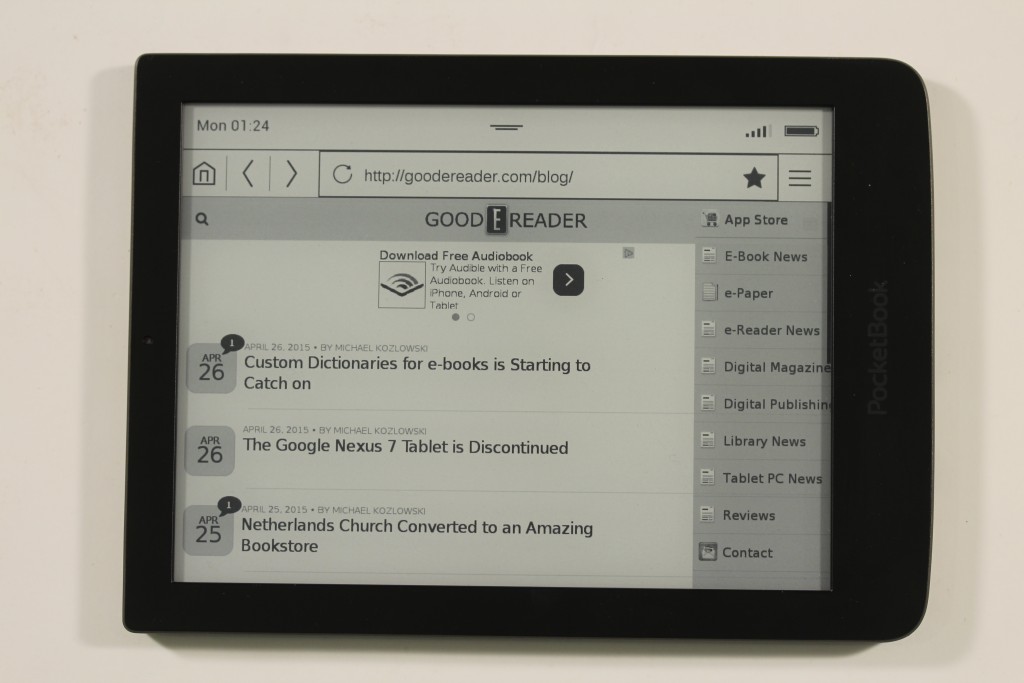 The Pocketbook Sense is a brand new e-reader and has just hit the open market in Europe and North America.  One thing that is clearly evident at first glance is how well designed it is.  Pocketbook is not known for having sexy looking digital readers, but the Sense is their best offering to date.
Hardware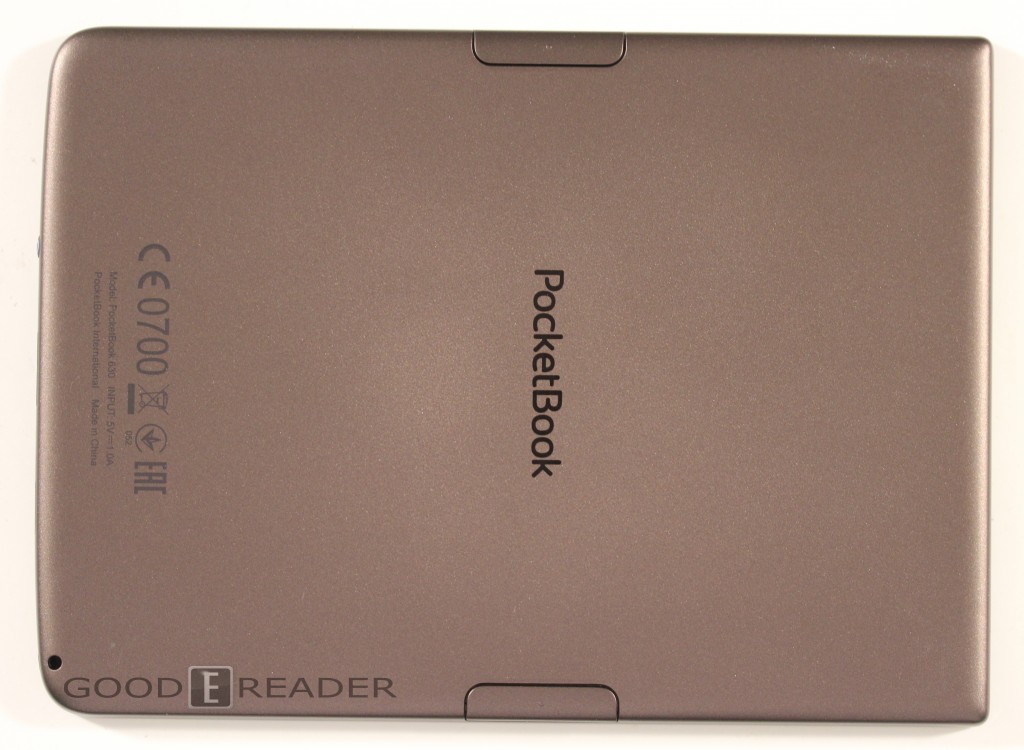 The Pocketbook Sense features an e-ink Pearl HD screen with a resolution of 1024×758.  I was afraid that the outdated screen might make this reader dead in the water, but I was pleasantly surprised.  Instead of going with infrared touch, Pocketbook made the decision to go with a capacitive touchscreen display. This makes pinching and zooming, as well as drawing very robust.
The screen on the sense is not flush with the bezel, like the Kindle Voyage or Kobo Aura. Instead, it has a sunken display, but it is not as deep as the Kobo Glo HD or Kobo H2O.
Underneath the hood is a 1 GHZ processor, 128 MB of RAM and 4 GB of internal storage. You can enhance the memory  up to 32 GB via the Micro SD card and it also has a Mini USB to charge and send data to your e-reader.
One thing I really liked about the design is the manual page turn keys. Rather than have them on the front of the device, Pocketbook has them on the back. They are positioned exactly how you would hold it, so its very intuitive to hold it with one hand. Alternatively you can simply use the touchscreen display.
The Pocketbook Sense has a front-lit display, which means you can read in the dark without the need of an external light source. Sadly, you have a pale blue hue, very much akin to the Barnes and Noble Simple Touch with Glowlight. Strangely, the longer you leave the light on, the more white it becomes, so I recommend to let it breath for awhile before reading, similar to how you would use a decanter for wine.
This e-reader features wireless internet access, so you can use your home network or a hotspot. There is a built in internet browser to access the net, but image heavy sites tend to take awhile to load. I think  you might want to use the dedicated Pocketbook RSS app to read the latest news.
I think Pocketbook hit a homerun with the Sense, from a design prospective. It is very light due to the plastic design, instead of using aluminium. It feels like it should cost more than it actually does.
Software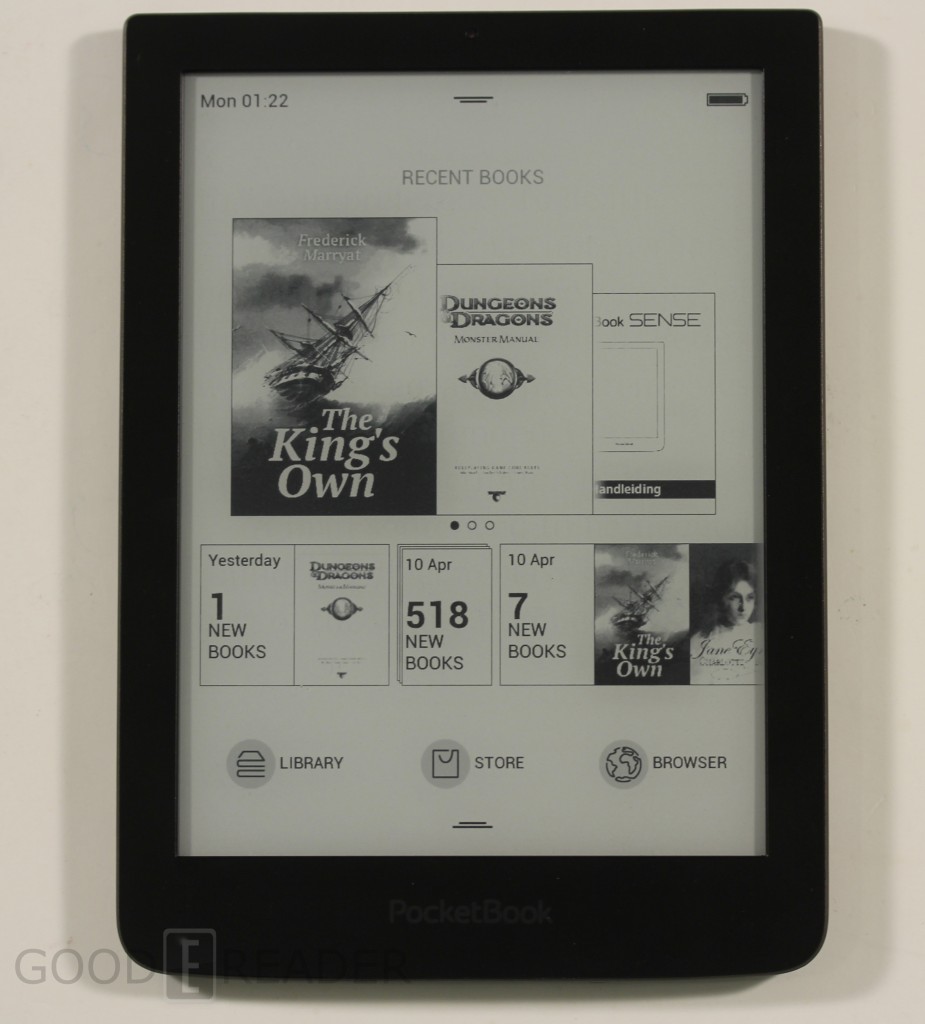 The Pocketbook Sense is running a custom kernel of Linux, but it sort of feels like Android. Most of the main Android gestures are in this model, which makes interacting with it rather glorious.
The main home screen comprises of the last few books you have purchased from the Pocketbook bookstore or have manually loaded on your device. The e-books are presented in a carousel format, so you can swipe and gesture to look at your collection.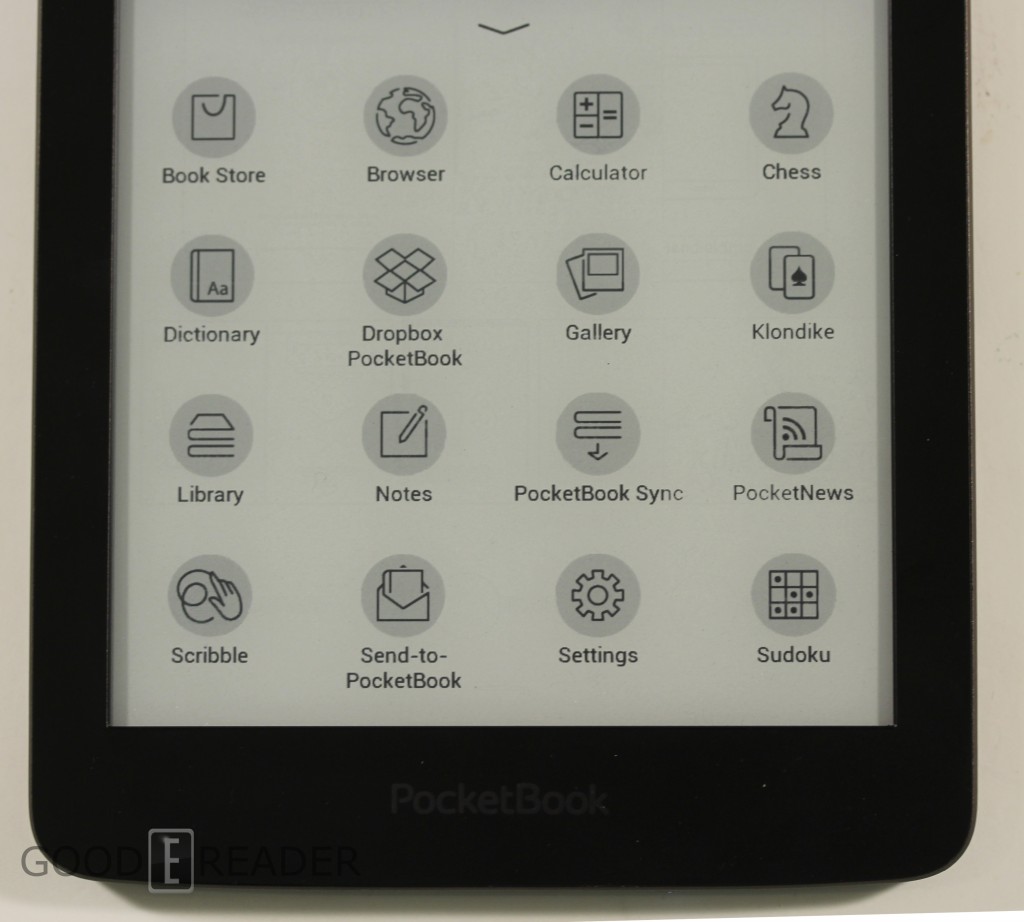 Pocketbook has bundled a bunch of apps they have developed onto this e-reader, such as Send to Pocketbook, Pocketbook News, Dropbox for Pocketbook and some drawing apps. Basically you can easily access your e-book collection stored in your cloud storage accounts and add them.
The entire modern line of Pocketbook e-readers has a built in store called Bookland. I have never been a fan because of the modern bestsellers called anywhere from $22 to $33 US dollars. You can buy the same book from Amazon, Barnes and Noble or Kobo for $9.99, so if you are looking for a one stop e-reader to buy and read books, this one may not be for you.
Reading Experience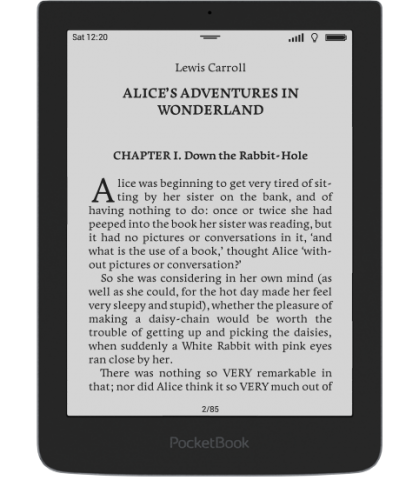 Pocketbook has always maintained excellent support for a wide array of popular e-book formats. The Sense can easily read PDF, PDF (DRM), EPUB, EPUB(DRM), DJVU, FB2, FB2.ZIP, DOC, DOCX, RTF, PRC, TCR, TXT, CHM, HTM, HTML, MOBI, ACSM.
The one aspect of the Sense that is immediately apparent when you open an e-book for the first time is the sheer number of reading options. There are over 60 different fonts and a slider bar to adjust the size. It normally takes a few seconds for each change to resister because it it immediately applies it to the entire book.
I won't talk about every option the Sense has, but the ones that truly standout. First of all, you can draw or take notes with your finger. There are few e-readers on the market with the capability to do this, most notably Sony, who abandoned the e-reader market last year. You can't save your drawings or edits as pictures or files, but they are stored in the note app to access at your leisure.  You can draw on any book format, including EPUB and PDF.
There are over 30 built in dictionaries available to automatically translate a specific word or a phrase. You can even translate a word from one language to another, which I know many people will like.  If this is not enough there is an option to look up a word via Google.
The overall e-reading experience with your standard e-book is brilliant. This might be the best Pocketbook device ever crafted, turning pages is lightning quick and the text really pops out.  Reading PDF files is solid too, pinching a zooming is actually more fluid than the Kindle Voyage and Kobo Glo HD when you are just looking at pure text documents. Larger PDF files or those with a complex layout  tend to have a small lag, but I am sure you all can deal with it.
If you have a large e-book collection, inevitably you will be using the library feature. This is to access all of the books you have loaded and the Sense does not disappoint. You can create custom folders to store your books, but also sort them by file format, author, genre, or series. There is also customization to sort the titles by cover art or just the name of it.
Wrap Up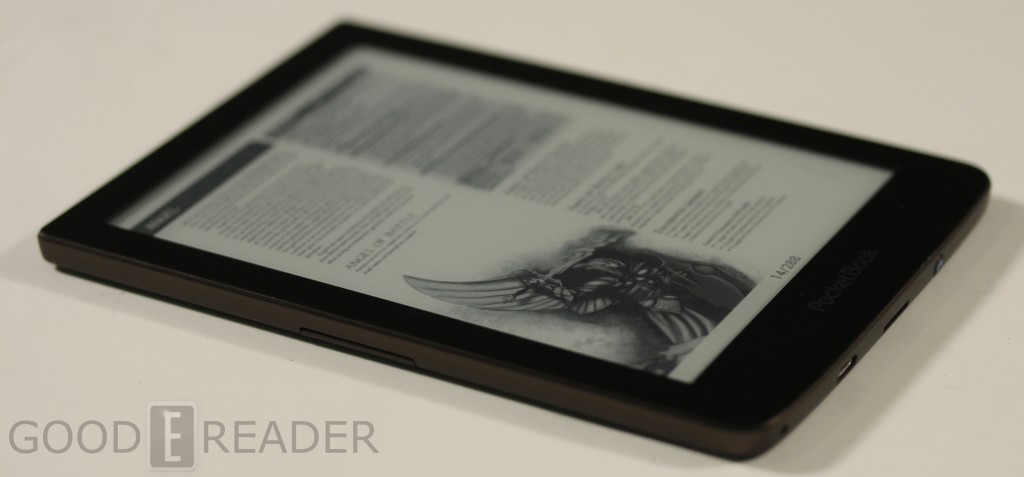 Over the years I have reviewed almost every single Pocketbook e-reader ever made. Most of them have been disappointing and provided a lackluster e-book experience. I have been quite vocal about my disdain for most of their lineup, but the Ultra and the Sense have changed my mind.
The Pocketbook  Ultra was the first e-ink reader with a built in camera and for the first time was a stark departure from the standard design principles Pocketbook was known for. The Sense builds on the success of the Ultra, but also drops the camera gimmick and focuses on providing a great reading experience.
I would recommend this e-reader for mid level or advanced users that already have an established e-book collection and won't be relying on the Pocketbook bookstore to find and purchase titles. These are the types of users that have their book collections on SD cards, use a cloud storage solution or are Calibre veterans.
PROS
Great screen
Tons of Fonts and Dictionaries
Solid Design
Readings many e-book formats
Cons
The Lightning system was a bit of a let down
Large and complex PDF files buckle under the pressure
Online bookstore is very expensive
Rating: 8.5/10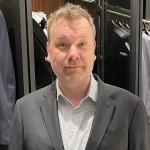 Michael Kozlowski has written about audiobooks and e-readers for the past twelve years. Newspapers and websites such as the CBC, CNET, Engadget, Huffington Post and the New York Times have picked up his articles. He Lives in Vancouver, British Columbia, Canada.