The Pocketbook Touch HD is e-Reader was designed to compete against the Kindle Paperwhite and the Kobo Touch 2.0. This device has a competitive advantage because it has a 3.5mm headphone jack and manual page turn buttons.
Hardware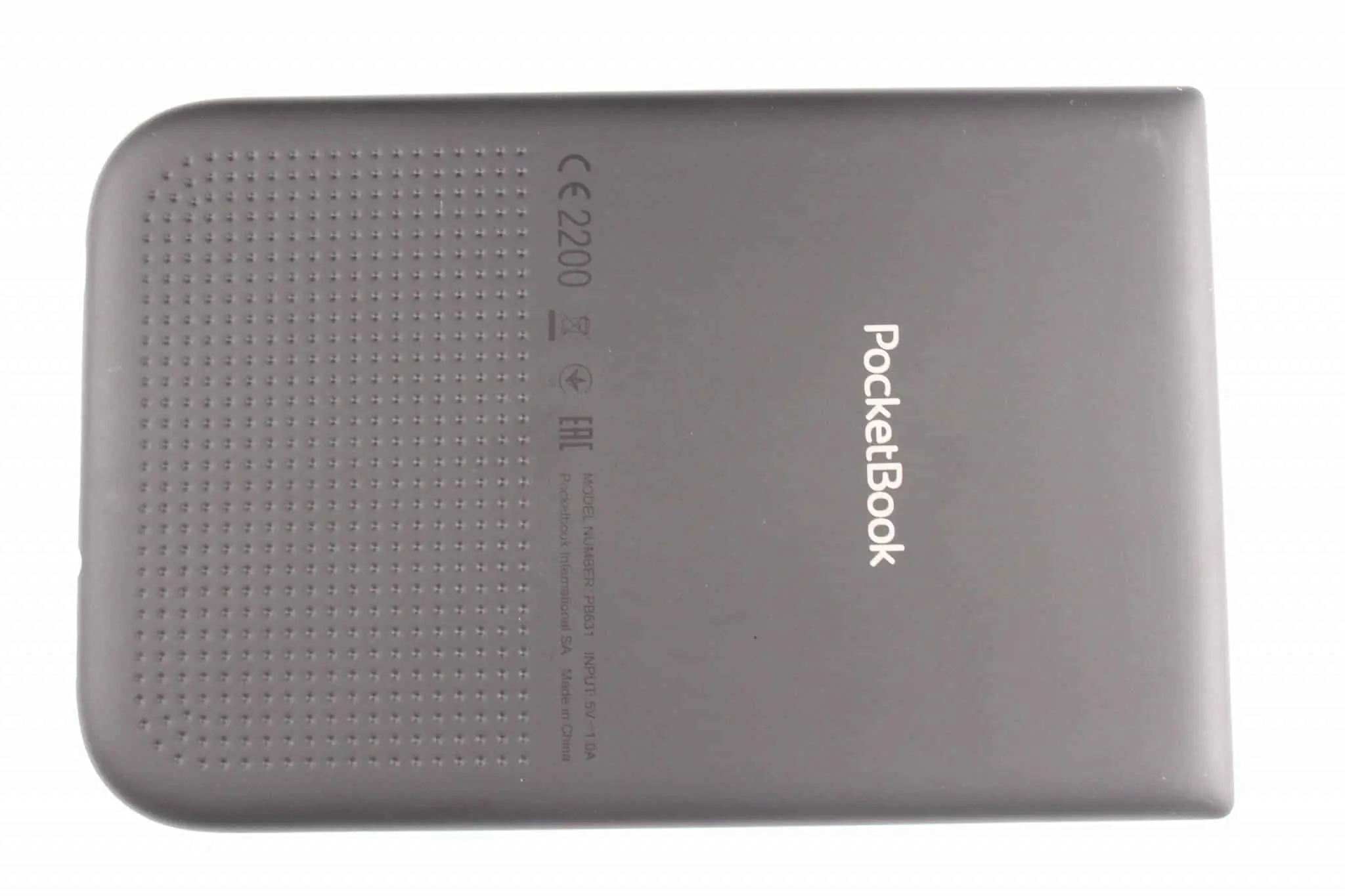 The Pocketbook Touch HD employs a six inch E-Ink Carta display with a resolution of of 1448 × 1080 display and 300 PPI. Reading eBooks is a glorious experience and the screen is on par with every other mainstream brand at the same price point. The screen is sunken and not flush with the bezel.
There is a front-lit display and it has 8 LED lights on the bottom of the bezel that project light evenly across the screen. This will allow you to read e-books at night and will prevent eye strain.
Underneath the hood is a 1GHZ Freescale IMX6 single core processor, 512 MB of RAM and the internal storage of 8GB. If you need more space to house your e-book collection there is an SD card that can handle up to 32 GB.
On the front of the Pocketbook is a home button, manual page turn buttons and a settings button. On the bottom is a USB port used to charge the device or transfer your own digital collection from the PC to the e-reader. There is also an SD card, illuminated status indicator light and a 3.5mm headphone jack.
There are few audio enabled e-readers on the market and Pocketbook is hoping to capitalize. There is a text-to-speech engine that will read aloud e-books. There is also an audio player that you can use to copy over MP3 music files or audiobooks.
I dig the overall design. The e-reader is made of plastic, but feels heavy and durable. Audio is a tremendous boon and the e-reader feels quick and robust. Pocketbook is consistently releasing high quality devices, which is pleasantly shocking. I remember the early days when they first started making e-ink devices and it was a stretch to say anything positive.
Software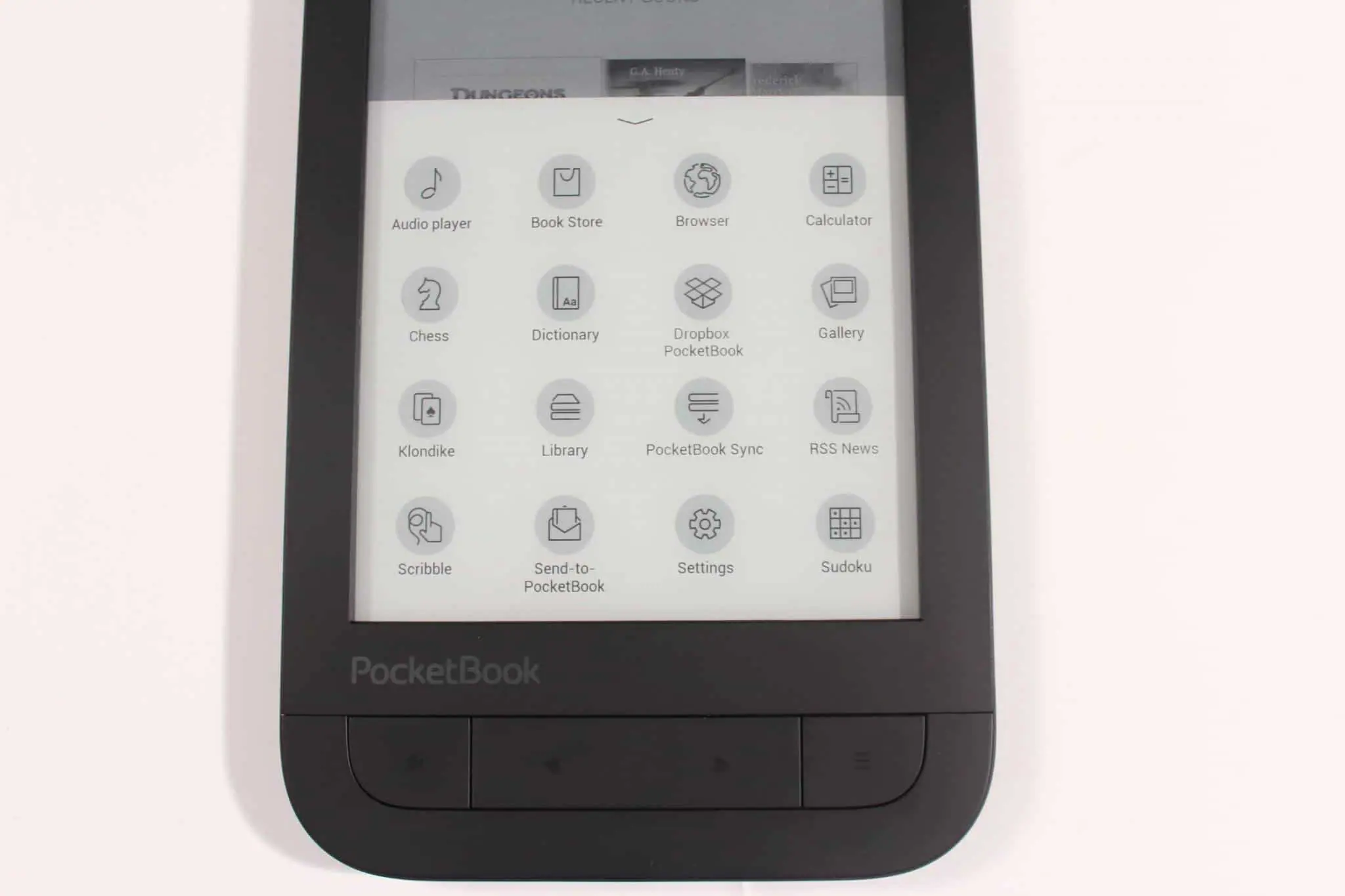 The main home screen comprises of a carousel that lists all of the books you have recently added or are in the process of reading. You can use the touchscreen to select a book or you can use the manual page turn keys to navigate around. The library menu is fairly basic, you can sort by authors, title or date added and all of the e-books show the cover art. The library menu has inertial scrolling, which means you can drag your finger down, let go and it will continue to scroll down a little bit. The app menu has a number of usable things, such as a few games (Chess and Sudoku) and some proprietary Pocketbook apps such as Send to Pocketbook, Dropbox for Pocketbook, The Pocketbook Bookstore, Pocketbook Cloud and a RSS Reader. What is most impressive is the stock note taking app they have. It is seriously robust as heck, and allows you to choose a bunch of different pen sizes to jot down notes, although it is not compatible with any stylus.
You can browse the internet with the built in browser. You can use it to visit your favorite website or read your favorite blog. Google is strongly encouraging companies to employ mobile friendly websites and are allowing them to rank higher in the search engine. This is a boon for e-readers that struggled with big websites with lots of images in the past, mobile really makes the Pocketbook Touch HD shine.
The settings menu has some default options, such as page refresh speed and firmware updates. If you want to borrow e-books or audiobooks from the public library or purchase digital content from other booksellers, the Aqua 2 has Adobe DRM support. This will allow you to enter your Adobe login and password on the e-reader and then use Adobe Digital Editions to copy it to your device. Many e-readers do not have this kind of support, because Adobe license fees are really expensive.
e-Reading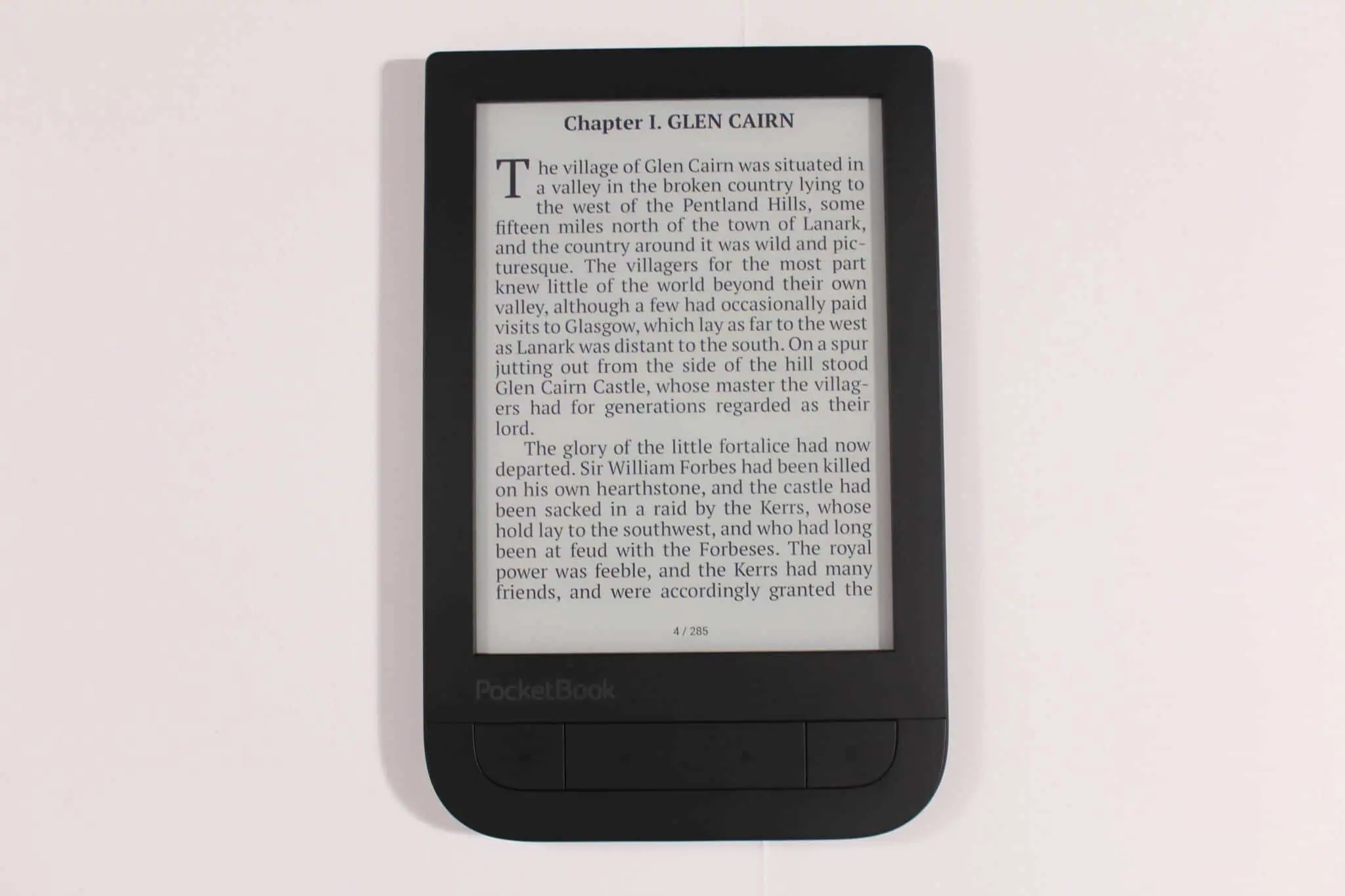 The Pocketbook Touch HD primarily supports EPUB and PDF files. You can change the line spacing, margins and a bunch of fonts. You can increase the size of the text and it even has a hyphenation option, which emulates Amazon Bookerly, which truncates spaces between words. In most e-books there are formatting problems when a book is not optimized for a particular device. Some words have a normal space, but others (appear like this, and are hard to read). The hyphenation option solves most of these spacing errors, but not all of them.
Overall the reading experience is really enjoyable. They have like 12 different font families that will appeal to people of all ages. Page turn speed is robust and there is little to no ghosting. Being able to hold the Touch with one hand and use the manual page turn buttons will appeal to people who commute to work every day.
What impressed me the most about the Touch HD is the PDF rendering engine. Pinching and Zooming is instant and you can even take notes and highlight/annotate words. When you are zooming, there is a small mini map that appears in the top right hand corner. It provides you with an indication on where you are in a document. When you initially start pinching and zooming you can literally just drag one finger on the screen to position where you want to go. I have a feeling the reason why the PDF rendering speed is so smooth, is because Pocketbook is employing a hybrid A2 mode, similar to the one Onyx employs on all of their e-readers to increase performance.
Wrap Up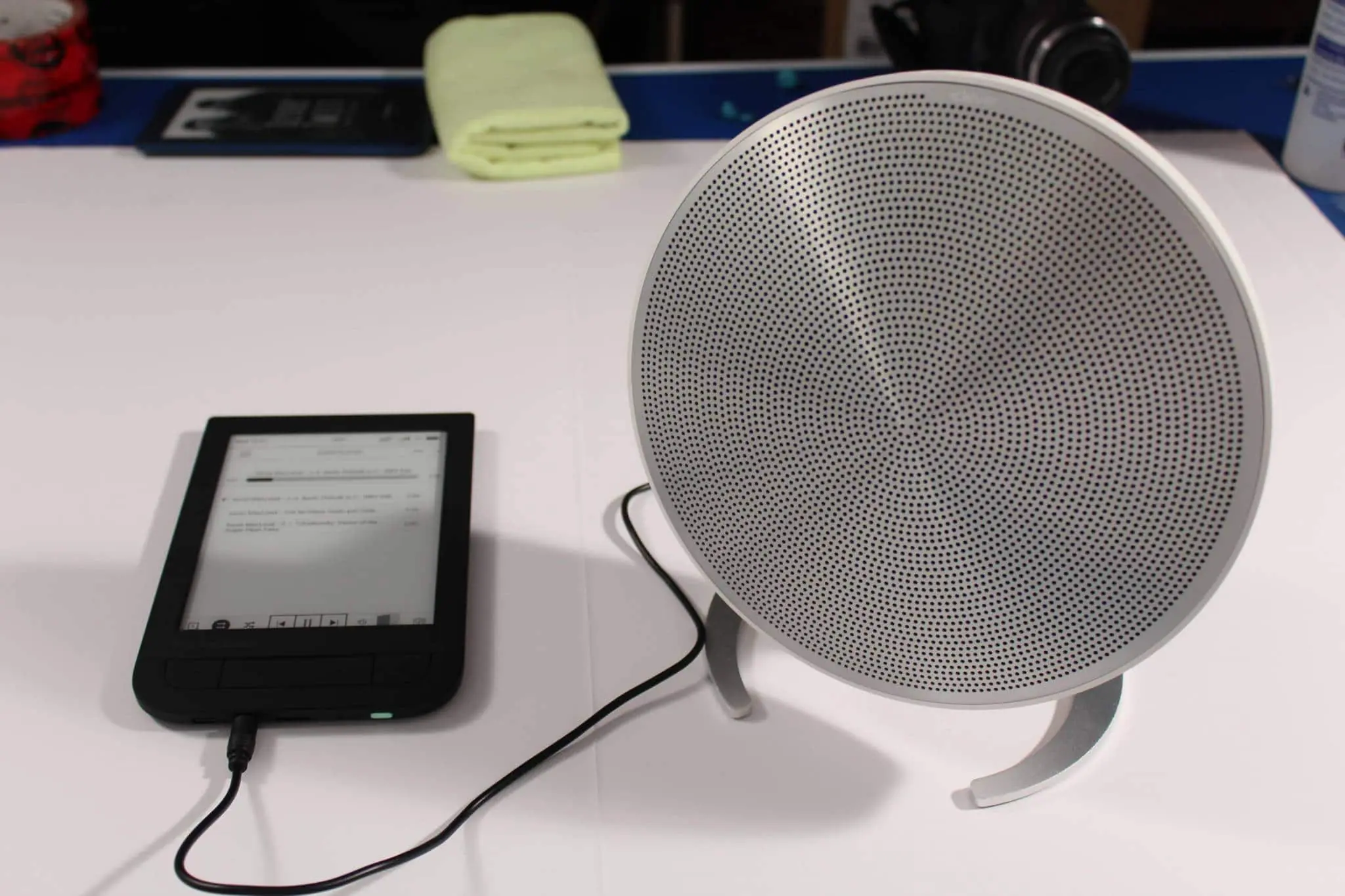 The Pocketbook Touch HD is better than the Aqua 2 in regards to a high resolution display and a tremendous amount of 300 PPI. This device will appeal to people who want a Kindle, Kobo or Nook alternative.
Pocketbook primarily focuses on Europe, but they are slowly breaking into Asia. The bookstore on the device is normally associated it with whatever retailer you buy it from. Pocketbook told me that 60% of all sales come from bookstore chains in Europe. If you buy it with the purpose of using it in North America there is a Bookland store, which primarily has royalty free books, there are little to no bestsellers.
Luckily the Pocketbook has compatibility with Adobe Digital Editions so you can load in PDF or EPUB books you purchase from other bookstores.
PROS
High resolution screen
manual page turn buttons + a touchscreen
E-Ink Carta
Audio
Durable build quality
Internet Browser
Good dictionary support
CONS
Sunken screen
Users can't load in their own fonts
Library Menu is simplistic with little to no organizational features
Rating: 8/10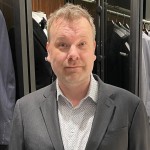 Michael Kozlowski has written about audiobooks and e-readers for the past twelve years. Newspapers and websites such as the CBC, CNET, Engadget, Huffington Post and the New York Times have picked up his articles. He Lives in Vancouver, British Columbia, Canada.