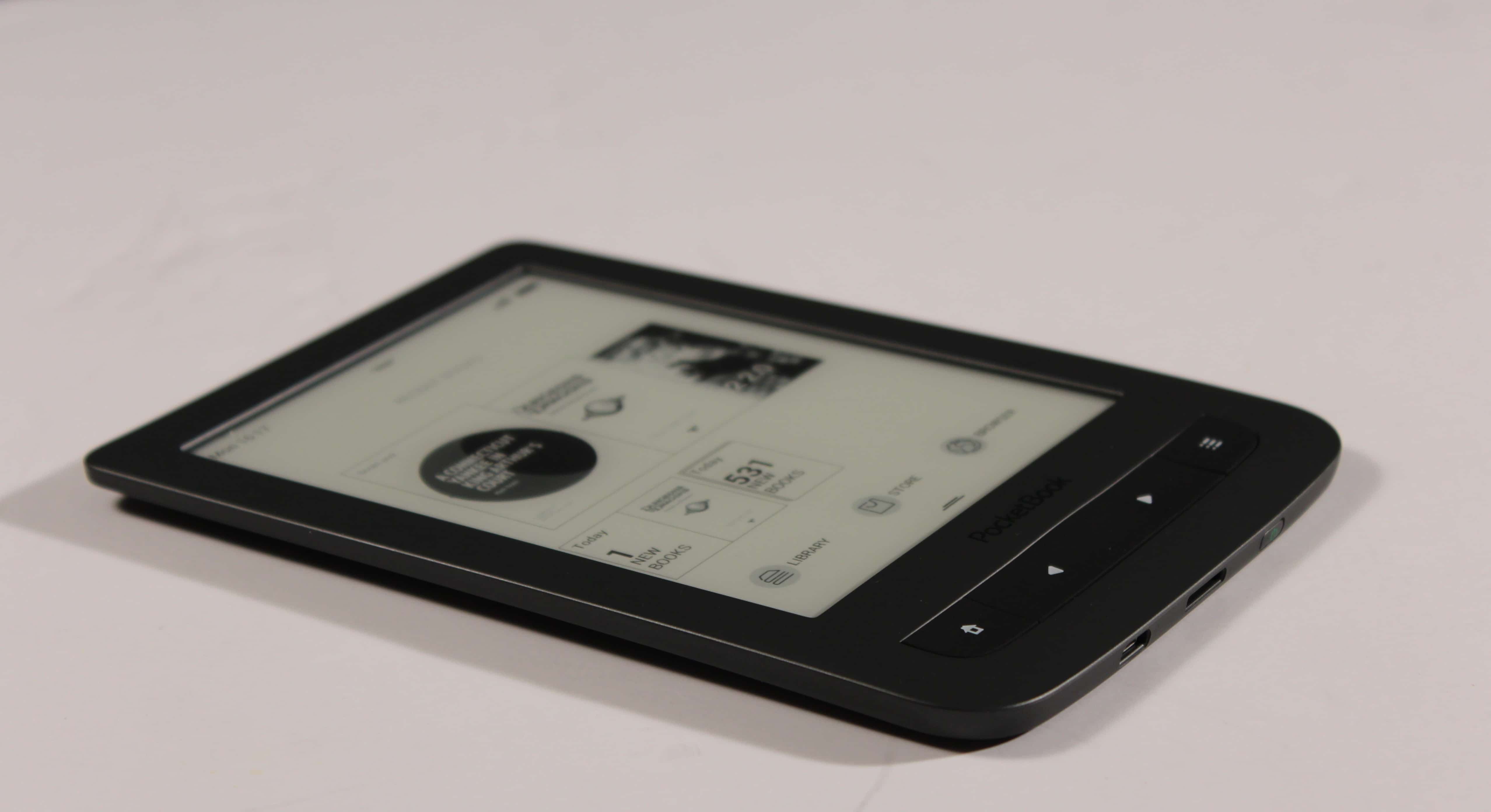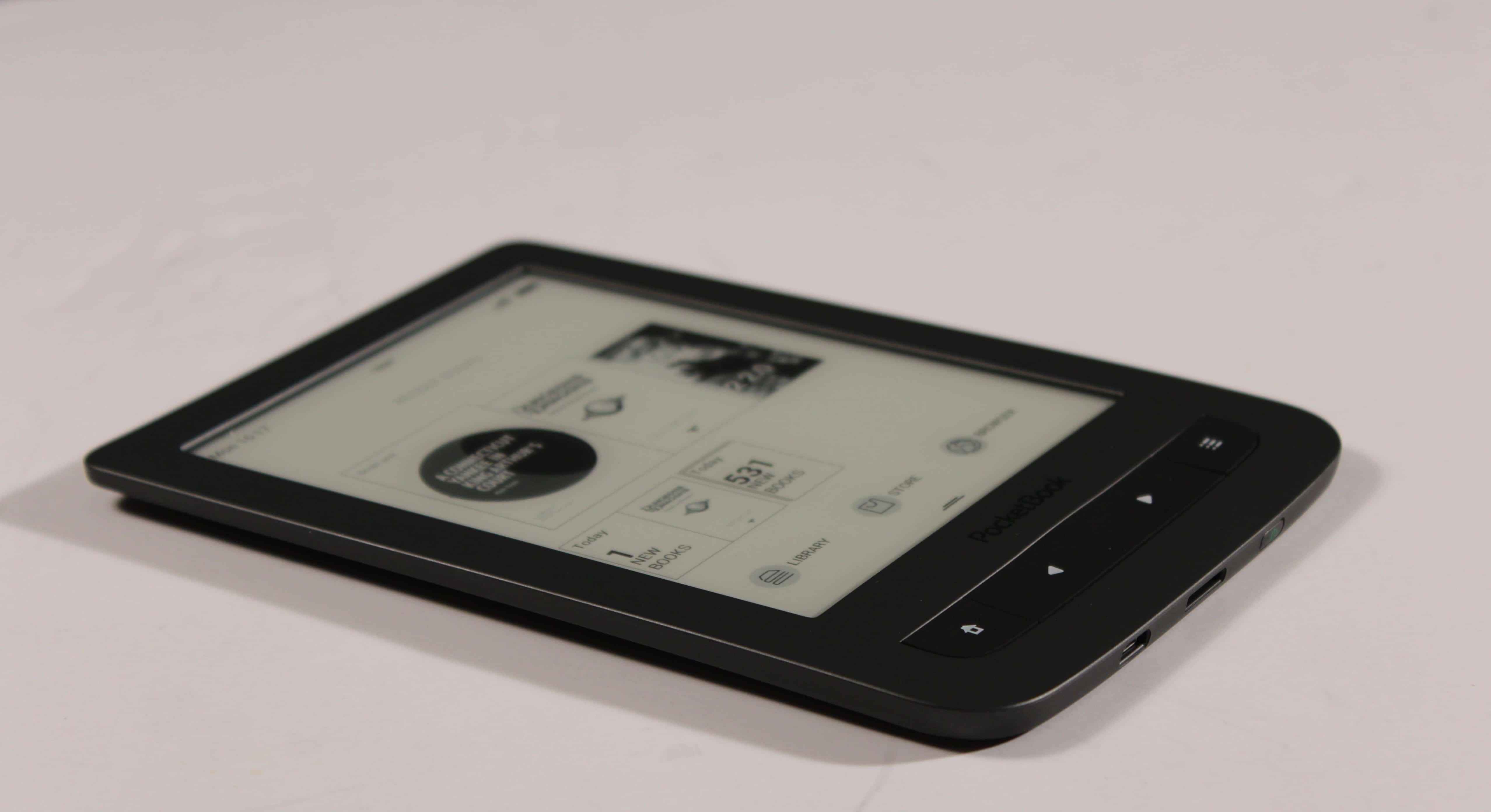 Pocketbook released an e-reader last year that has physical page turn buttons, but also a touchscreen. You can sync your e-book collection directly with Dropbox and it has Adobe DRM capabilities, that will insure you can import in e-books you borrow from the library or purchase from other bookstores.
Hardware
The Pocketbook Touch Lux 3 really stands out from the vast majority of e-readers on the market because it is available in gunmetal. This device features a six inch capacitive touchscreen display with a resolution of 1024x 758.
Underneath the hood is a 1 GHZ processor, 256 MB of RAM and 4 GB of internal storage. If you need more space to house your e-book collection there is an SD card that can handle up to 32 GB.
If you like to read at night the Touch Lux 3 has a built in front-light. The LED lights at on the bottom of the screen and if you have the brightness level between 100 to 75% the reading experience is really solid. If you lower it anymore than this, you start to notice some bleeding around the bottom, which will break immersion.
Many e-reader companies get front-lit displays wrong. They tend to have a pale blue hue, but Pocketbook gives you a brilliantly white screen. Being an entry level e-reader, it does not give you the type of illumination that the Kindle Paperwhite, Voyage or Oasis bring to the table, but its close.
I dig the gunmetal color, which should appeal to readers who want their device to standout in a crowd. Almost every e-reader on the market is black and there are very few color variations.
This e-reader will appeal to people who really like physical page turn buttons. I consider buttons to be a lost art, many companies have abandoned them.
Software and e-Books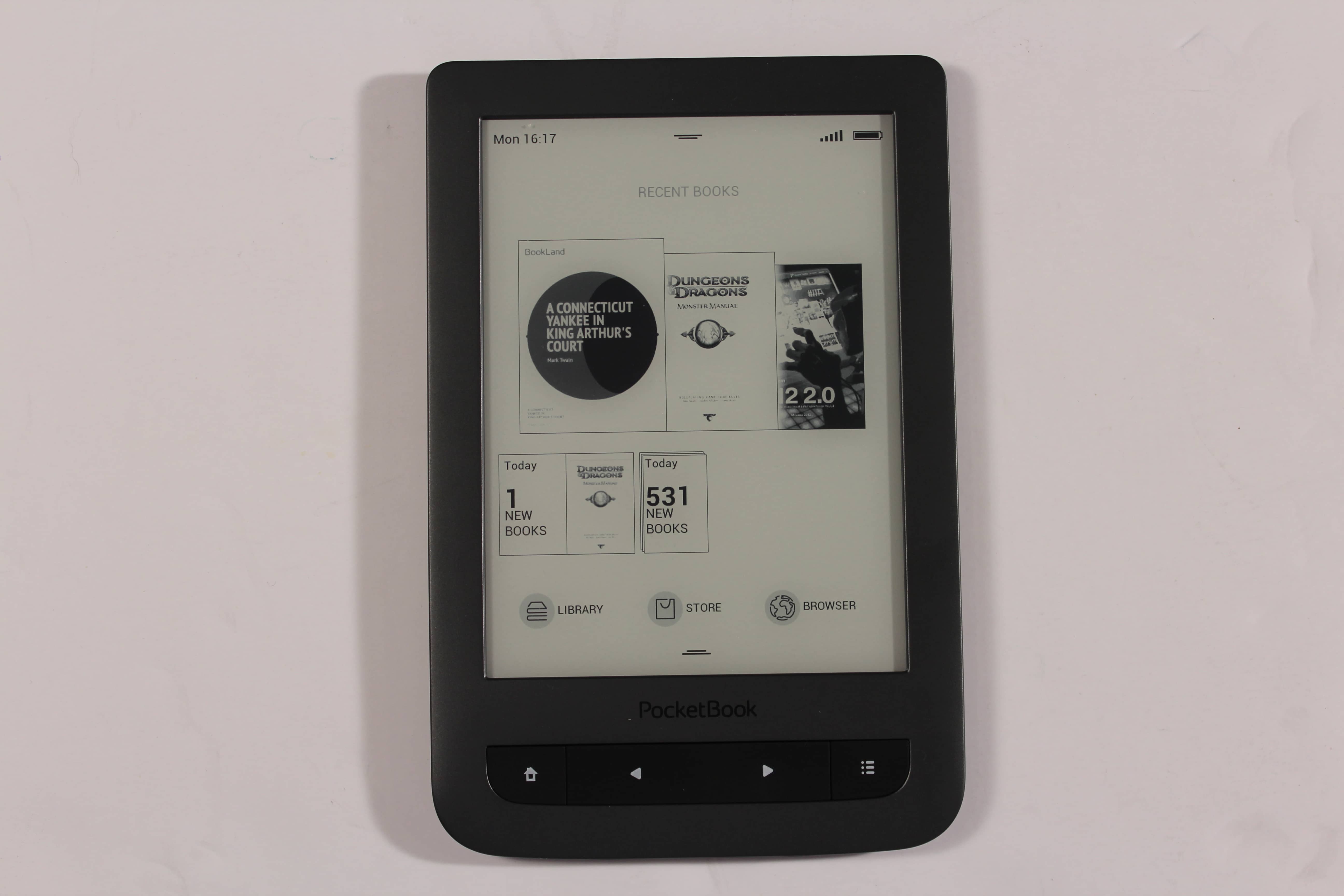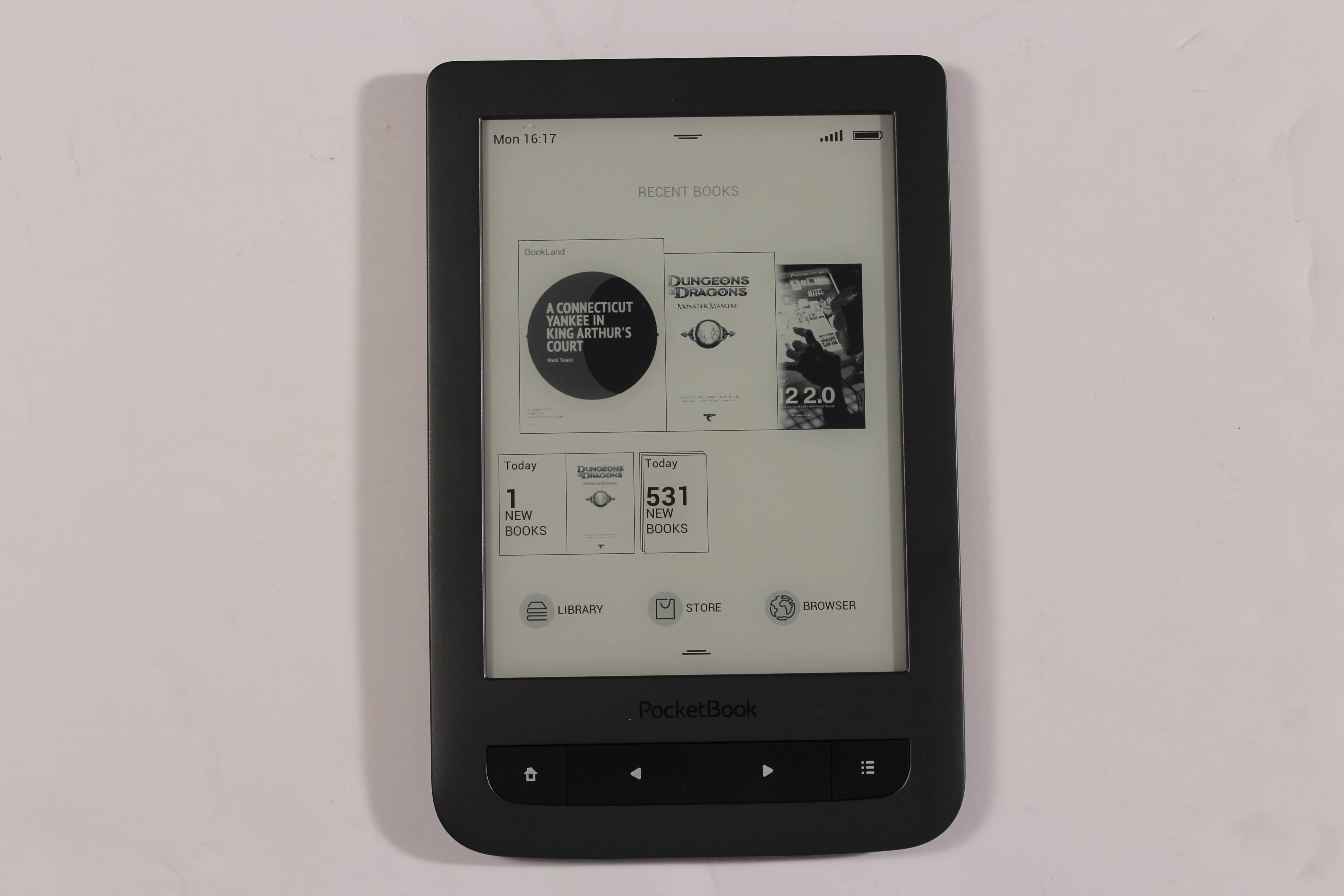 If you have used Pocketbook e-readers in the past, the UI is fairly consistent with prior models. It is running the Linux operating system and there is lots of little apps that are bundled on the Touch Lux 3 that will make your life a bit easier. You can read RSS News Feeds, sync your e-book collection from a Dropbox account, play basic little games and access the internet via the web browser.
There is a Pocketbook Store that you can access, but the vast majority of titles are royalty free and open source. These are the same type of e-books that you would find in the free section on Amazon, Kobo or Project Gutenberg.
The main homescreen displays the three most recent e-books you have accessed and shows their cover art. If you drag your finger down from the top you can access settings or checkout the various accounts you can signup for, such as Pocketbook Sync. If you click on a little icon at the bottom of the screen, this is where all of the apps are housed. Due to the OS being Linux, you cannot install your own apps.
Pocketbook is based in Lugano Switzerland and the company is well known for supporting a myriad of European languages. There are close to 17 different ones to select from. You can do things like change the UI, keyboard or associate different dictionaries with your account.
e-Reading on this device is fairly standard. There are over 30 different fonts to chose from and you have the ability to adjust the size of the font with a zoom button. You can also manually make the text larger but adjusting the numerical value. Like most e-readers, you can also adjust the linespcing, and margins.
Page turn speed is very fast. You can tap the side of the screen, swipe or press one of the manual page turn buttons, this e-reader is nothing short of versatile in this regard. By default, you will see a full page refresh every six pages, but you can adjust this to ten.
The one drawback with the Touch Lux 3 is PDF support. If you have a complex PDF with lots of images and CSS elements, it takes a really long time for it to render and load. I almost think there is a bug with the PDF rendering engine because when you are waiting for the page to fully load the screen will appear blank, then suddenly the entire page will render. Turning pages in complex PDF documents is fairly woeful. It does a respectable job with the type of documents that do not require pinching and zooming, such as manga or webtoons.
Wrap Up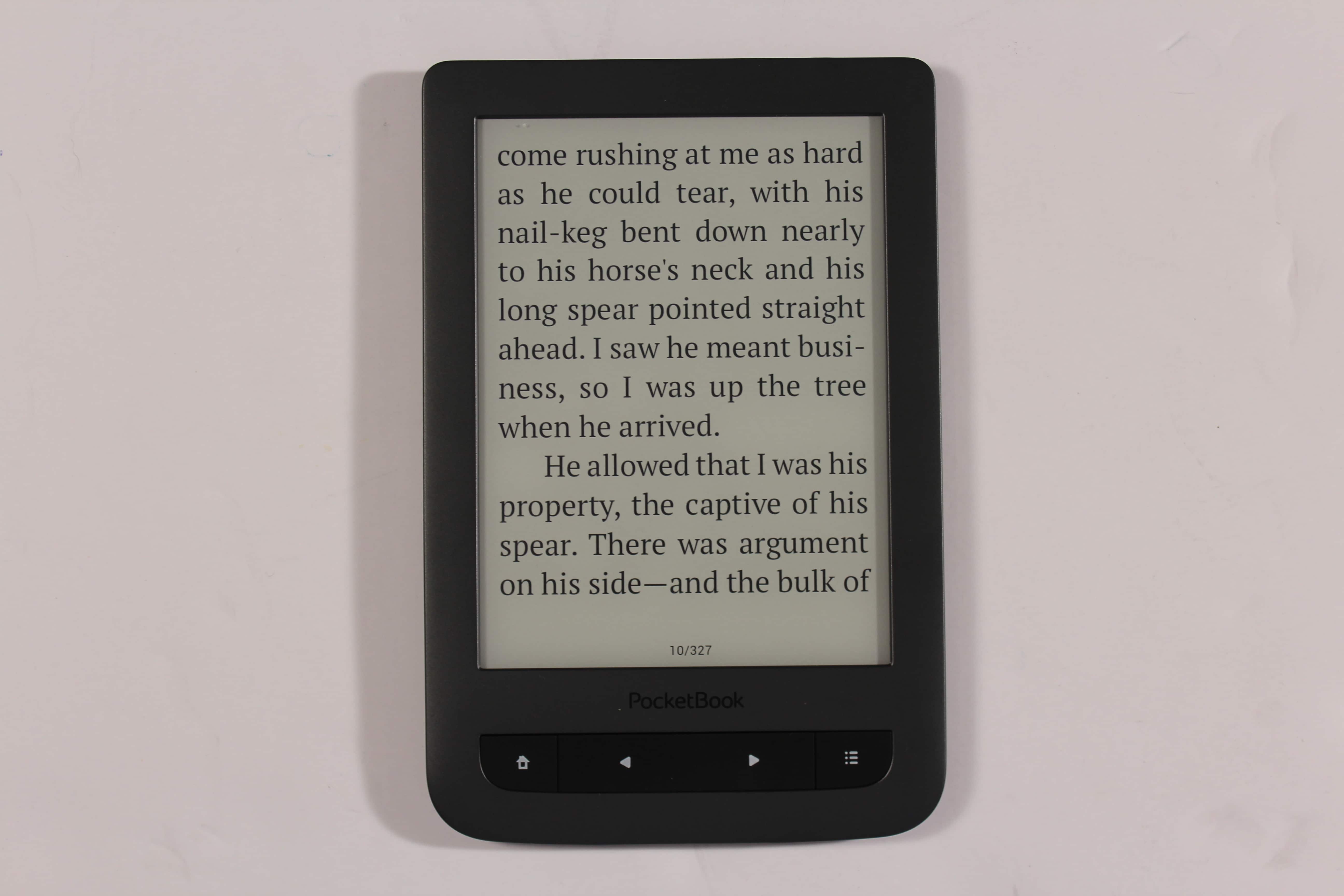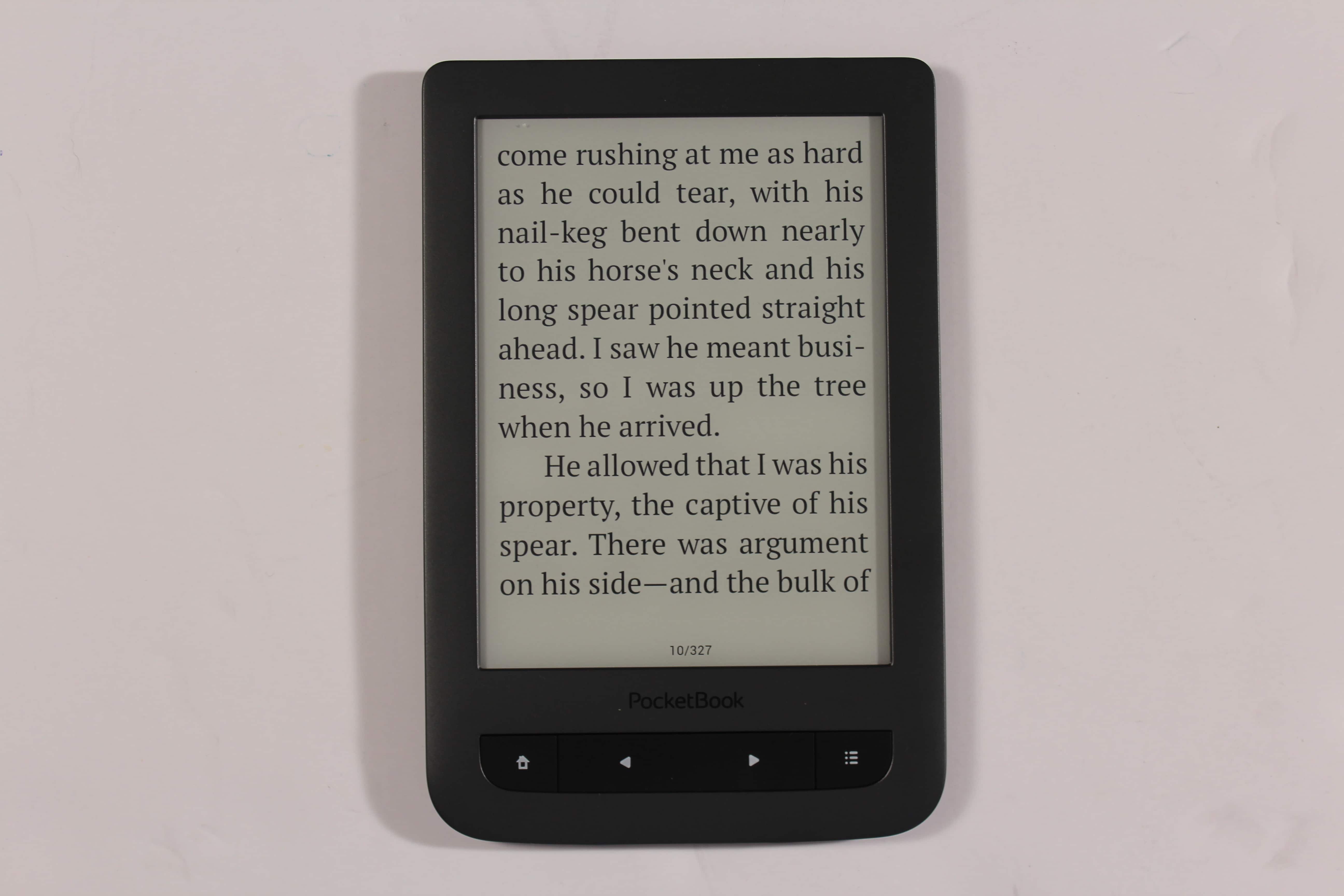 The Touch Lux 3 is a mid level e-reader and its closest competitors are the Energy Sistem Screenlight HD, Kindle Paperwhite or the Kobo Glo.
I would recommend this e-reader to people who do not want to buy into the whole closed e-book ecosystem such as Amazon or Kobo. Pocketbook has been in the e-reader game for close to a decade and they continue to do well in the market.
PROS

Front-lit screen is solid
Physical page turn keys
SD Card
Agnostic ecosystem
Dropbox support
CONS
PDF rendering engine is terrible
Pocketbook Store needs more bestsellers
Too many logins to setup during first time startup
Rating: 7/10
Michael Kozlowski is the Editor in Chief of Good e-Reader. He has been writing about audiobooks and e-readers for the past ten years. His articles have been picked up by major and local news sources and websites such as the CBC, CNET, Engadget, Huffington Post and the New York Times.