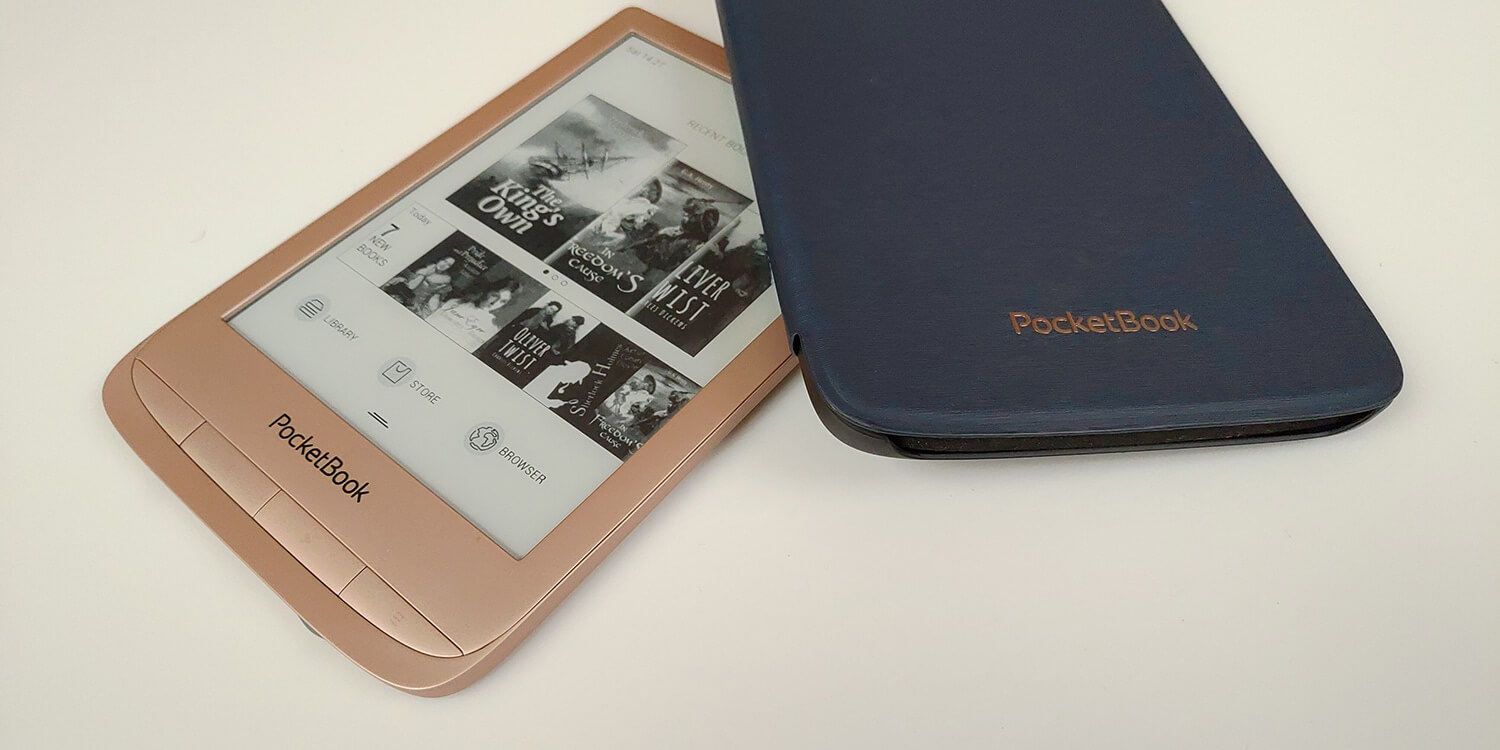 The Pocketbook Touch Lux 4 came out at the end of 2018 and was one of their most successful e-readers. This was because of their front-lit display and the overall design was completely refreshed from prior Lux models and borrows the hardware sensibilities from the InkPad. The new Touch Lux 4 Limited Edition software experience is the exact same as the Lux 4, but the hardware is completely different.
Hardware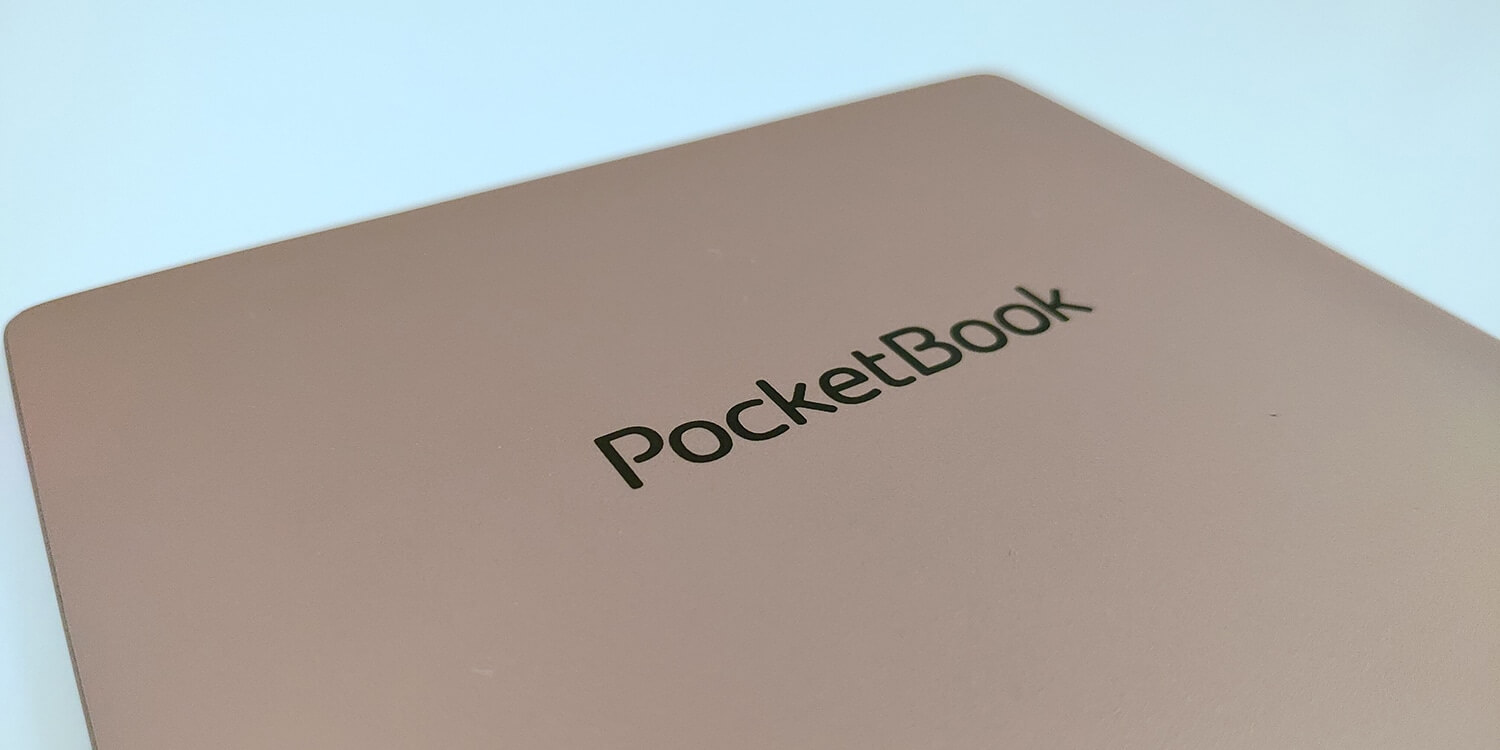 The Pocketbook Touch Lux 4 Limited Edition features a six inch E Ink Carta display with a resolution of 1024×758 and uses a capacitive touchscreen display. It has a new front-lit system with 12 LED lights that project light upwards, evenly illuminating the screen. The quality of the lights are way better than older models. This does not have amber LED's, so you do not have a color temperature system.
Underneath the hood is a Allwinner A13 single core 1GHz processor, 512MB of RAM and 8GB of internal storage. There is a MICROSD support for an additional 32GB of storage. If you max out the SD, you should have room for over 3,000 ebooks.
The Lux 4 LE has a unibody rose gold color that is all over the device, including the back. The regular Touch Lux 4 comes in 3 different colors, but the Pocketbook Logo is a different color and the back is always black. No matter what color you selected, the trip alongside the bezel was a gunmetal silver color. The Limited Edition is rose gold, everywhere. I believe this improves the design aesthetics and this is one sexy looking e-reader.
The other new thing with this model is that it comes with a blue case that was exclusively developed for the Limited Edition model. It also comes with a free gift box, which is useful if you want to give this away to a friend or loved one, or just want a great looking box. It also comes with a 2 year warranty, all other Pocketbook devices only come with a 1 year.
There are physical page turn buttons on the very bottom of the e-reader. This allows you to skip using the touchscreen and turn pages with a satisfying click. There is also a home button and a more button on either side of the page turn keys. On the bottom side of the e-reader is the SD card, power button and status indicator light.
The new PocketBook Touch Lux 4 LE is available in rose gold. It weighs 155 g and dimensions are 161.3 × 108 × 8 mm. It has a 1500 mAh battery, so it should last two to three weeks of constant use. It is available now on the Good e-Reader Store and retails for $139 USD.
Software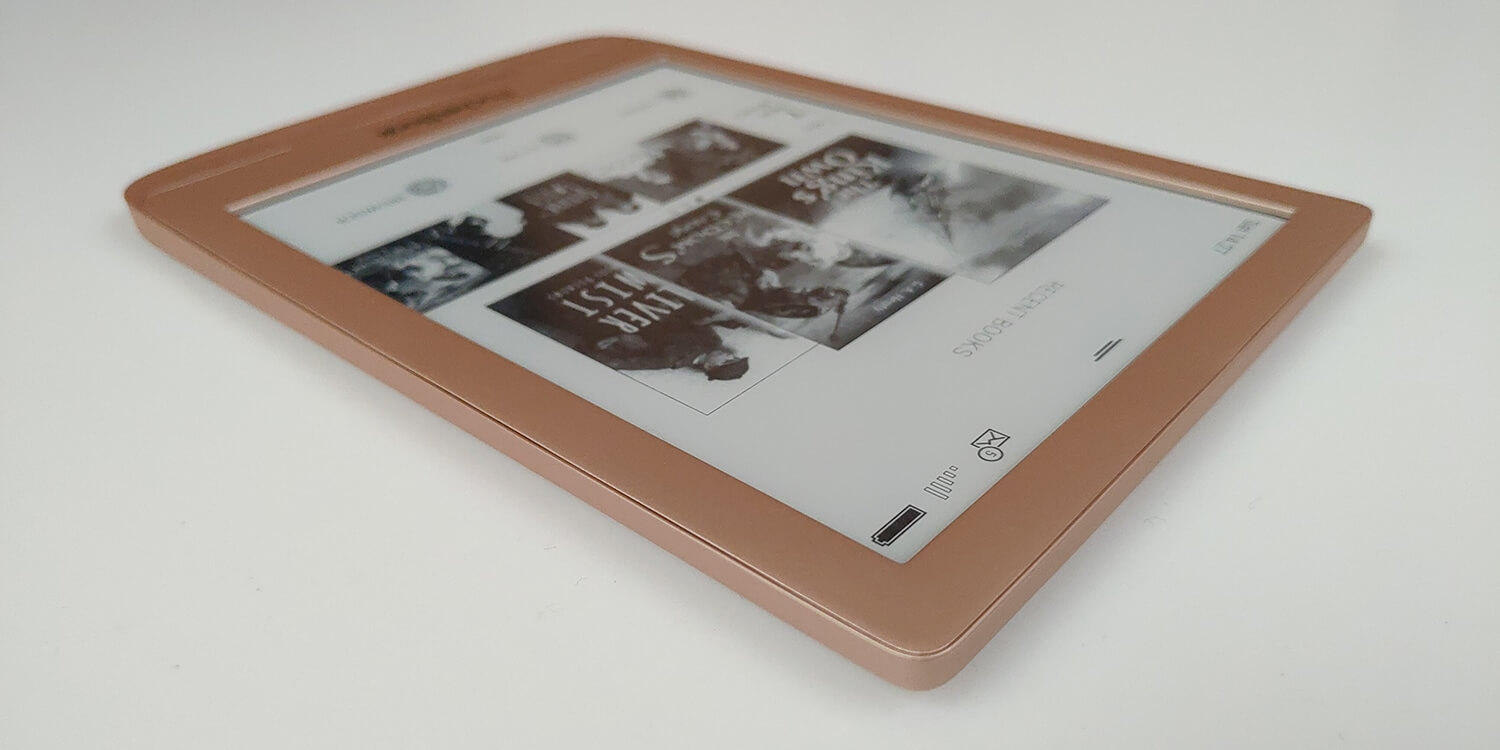 The current generation of Pocketbook e-readers use Linux as the operating system and this is done for stability. This device is not prone to crashes or glitches that need the e-reader to be restarted. The UI and menu system on the Limited Edition is fairly consistent with prior models.
Pocketbook has developed a series of apps that you can use,. You can read RSS News Feeds and enter your own favorite ones, sync your e-book collection to and from a Dropbox account, play basic little games like chess and access the internet via the web browser. The internet browser has an option to remove all images from a website, so everything loads a bit quicker.
There is a small note taking app that allows you to freehand draw and write notes with the built in keyboard. You can select a few different types of pen and pencil types, but not many options to control line thickness. This device is compatible with styluses that work on capacitive touchscreen displays, so it can work as a mini note taking device.
There is a Pocketbook Store that you can access, but the vast majority of titles are royalty free and open source. These are the same type of e-books that you would find in the free section on Amazon, Kobo or Project Gutenberg.
The main home screen displays the three most recent e-books you have accessed and shows their cover art. There is an option to hold your finger down on any title on a delete button appears, which is a nice way to delete some of the pre-loaded content. If you drag your finger downwards from the top of the screen you can access quick shortcuts such as WIFI, settings menu and a list of things you have done lately.
Pocketbook is based in Lugano Switzerland and the company is well known for supporting a myriad of European languages. There are close to 17 different ones to select from. You can do things like change the UI, keyboard or associate different dictionaries with your account.
e-Reading experience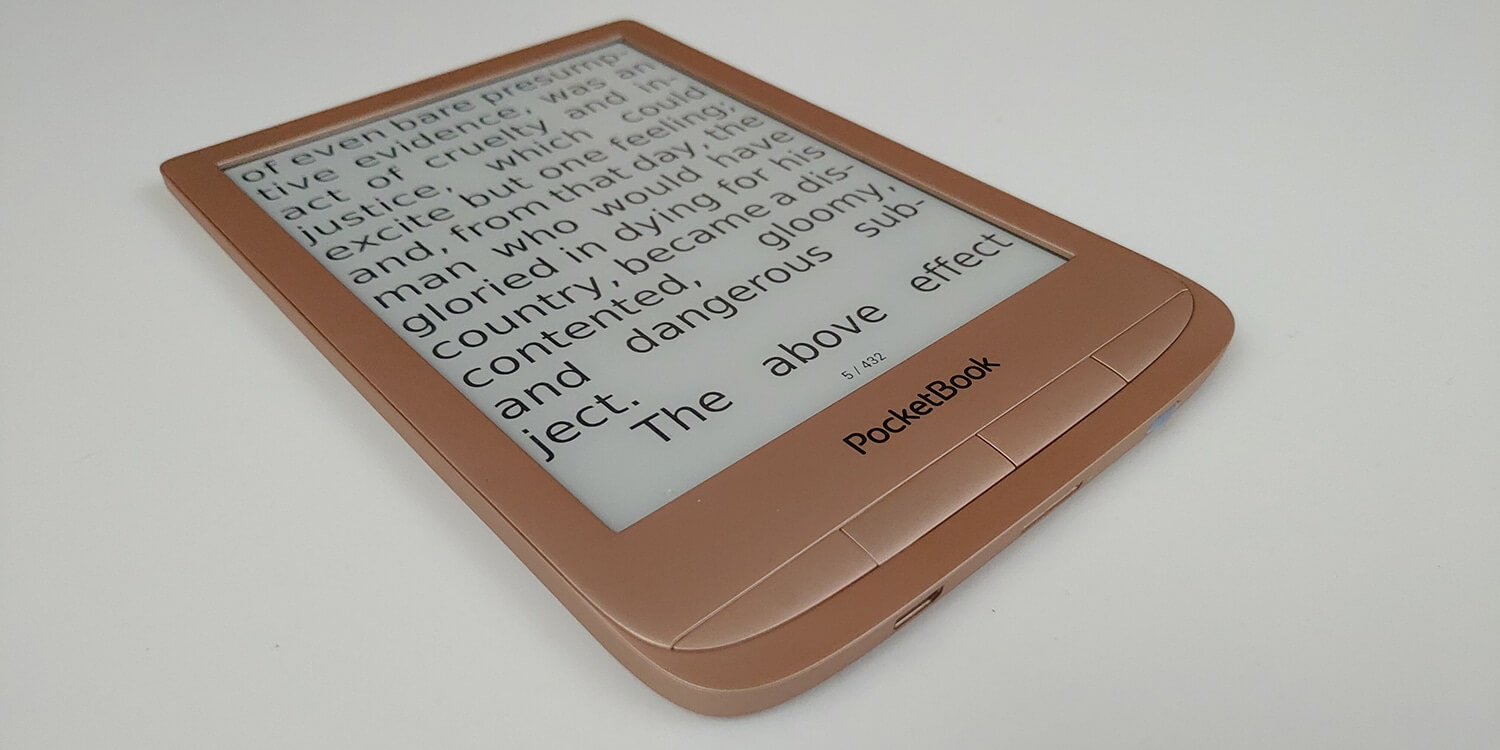 PocketBook Touch Lux 4 LE supports 17 book formats and 4 graphic formats, such as JPEG, BMP, PNG, TIFF. The built-in Wifi together with the PocketBook Cloud, Dropbox PocketBook and Send-to-PocketBook services allow easy delivery of e-content onto the e-reader without connecting it to a PC. The preinstalled Abbyy Lingvo dictionaries offer 24 language combinations for reading books in foreign languages.
The Pocketbook reading app is rock solid and appeals to novice and advanced users. There are over 30 different fonts to choose from and you have the ability to adjust the size of the font with a zoom button. You can also manually make the text larger but adjusting the numerical value. Like most e-readers, you can also adjust the line spacing, and margins.
Page turn speed is very fast. You can tap the side of the screen, swipe or press one of the manual page turn buttons, this e-reader is nothing short of versatile in this regard. By default, you will see a full page refresh every six pages, but you can adjust this to ten in the settings menu or remove refreshes all together. E Ink Carta HD is the most advanced form of e-paper and does not really suffer from ghosting, so if you not a fan of the screen flickering while you are reading, you have the option to turn it off.
The one drawback with the Touch Lux 4 LE is PDF support. If you have a complex PDF with lots of images and CSS elements, it takes a really long time for it to render and load. You really don't want load in DND gamer stuff or magazines, but webtoons, comic and manga are totally fine.
One of the great things about e-reading on Pocketbook devices is that they pay Adobe, for their Content Server. This means you can load in PDF and EPUB ebooks you have purchased from other bookstores and load them on it via Adobe Digital Editions. You can also sideload in ebooks you borrow from the public library the same way.
Wrap Up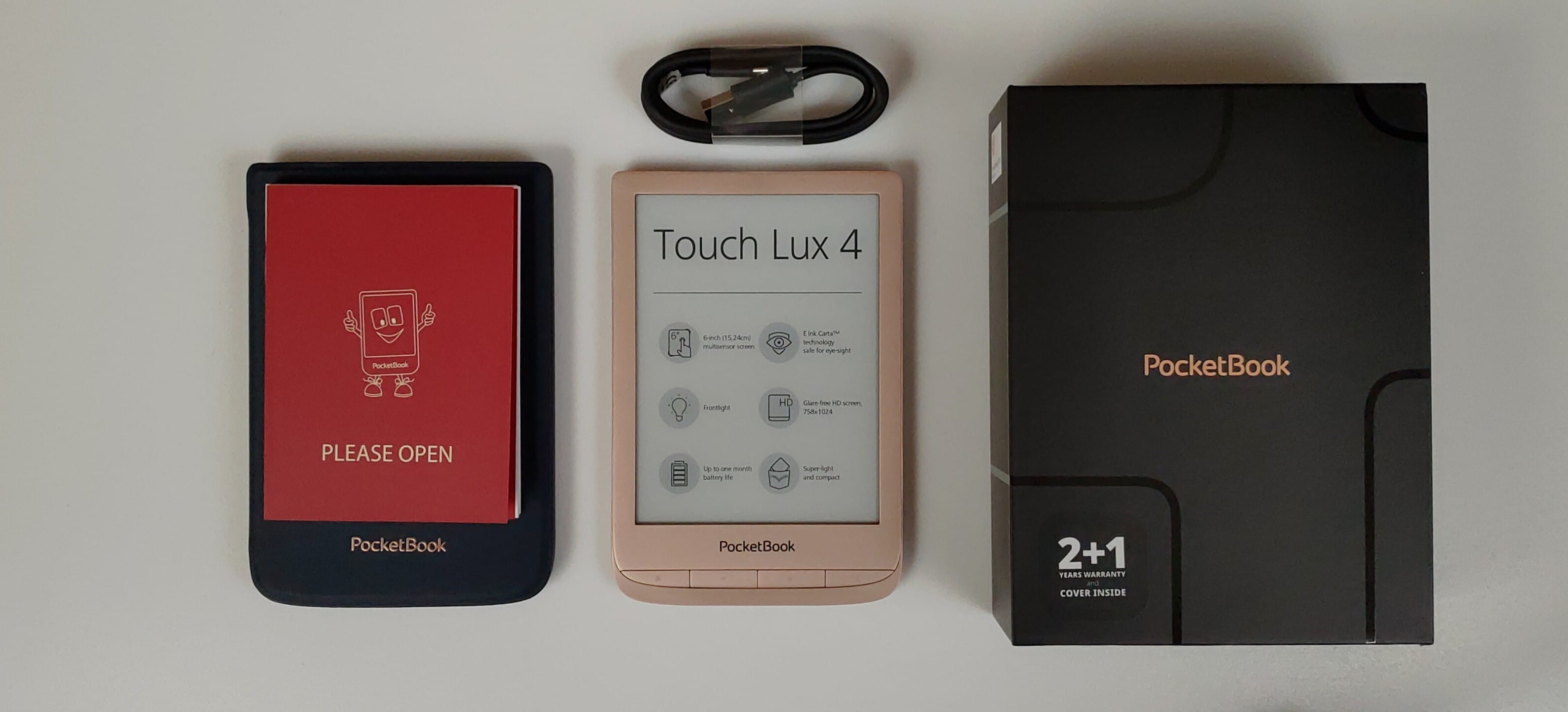 I think if you are looking to buy the Touch Lux 4 or the Touch Lux 4 Limited Edition, I would spend the extra money and get LE. The color scheme is really compelling and the free case, makes it a good deal. I dig the 2 year warranty, we all know e-readers can break down or if they are dropped, they can break. The dipped screen and lack of glass should prevent most common ways an e-reader can break, so you can buy this and rest confident that it is a sound investment.
Pocketbook is a platform agnostic company, they do not lock you into a walled garden like the Amazon Kindle. You can sideload in library ebooks, paid ebooks from other bookstores or your own collection. Dropbox support is very useful for people who have multiple e-readers and want a convenient way to store their collection in the cloud.
Michael Kozlowski is the Editor in Chief of Good e-Reader. He has been writing about audiobooks and e-readers for the past ten years. His articles have been picked up by major and local news sources and websites such as the CBC, CNET, Engadget, Huffington Post and the New York Times.