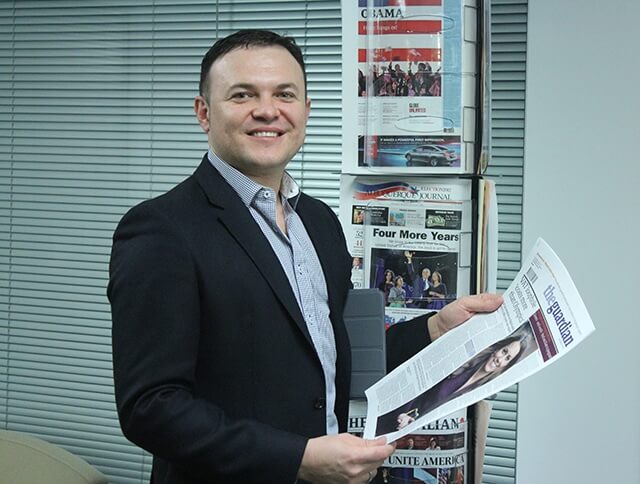 In the last few years, digital newspapers have started to become a booming business with major players in the industry entering the fray. Amazon, Kobo, Barnes and Noble, Apple, and a myriad of others are trying to appeal to people who want their local or national publications delivered to their e-reader or tablet. NewspaperDirect might not be a household name, but the Richmond, British Columbia company is quietly becoming the market leader. How did they attain a dominate market position and what makes them distinctive in the marketplace?
NewspaperDirect was first established in 1999 by CEO Alex Kroogman, as a Print-On-Demand company that offered global travelers their local newspaper in hotels. If you have ever stayed at a hotel, you normally receive a local newspaper outside your door in the early hours. Did you know that international papers, however, are not delivered to the hotel by the papers' own publishing companies? One of the more interesting ways traditional publishing works is that hotels will outsource the papers' printing to a NewspaperDirect authorized dealer in town. The company will print off the papers and deliver them right to the hotels and then they are left at your door.
In 2003, three employees Alex Gruntsev, Igor Smirnoff, and Nikolay Malyarov have branched out a digital arm of the business and launched PressDisplay, the company's digital kiosk. The small team faced many challenges in the early years by trying to convince newspapers and publishers that the future was digital. The company formed many relationships in various regional and international airports by using kiosk stations that would print out newspapers on-demand. At that time, only 140 papers were available because many of the newspaper companies were very resistant to the entire digital space. This was a huge success for Newspaper Direct, but hardware errors and printing issues prevented it from catching on.
In the years that followed, NewspaperDirect began to get traction in the industry and now offers 3,000 newspapers and magazines from in 100 different countries. PressDisplay, the "all-you-can-read for one price" kiosk, has a litany of apps on Windows 8, Blackberry, Android, iOS, and its online reader—all branded as PressReader. The company has really grown up during the last few years and currently resides in a futuristic headquarters with a very open air concept.
The newspaper industry is very different from traditional publishing with ebooks and print. The entire newspaper segment for both print and digital is based on the Audit Bureau of Circulations. This is the determining factor that tells advertisers and invested parties how many people are reading the paper and its overall reach. This helps determine the amount of advertising dollars a paper could charge companies looking to place advertisements. It was important to monitor this when Digital Newspapers were first hitting the scene, but the tools available were very immature compared to those of their printed counterparts.
The lack of advertising in digital newspapers is one of the barriers that is preventing the entire industry from growing as fast as ebooks are. Amazon, Barnes and Noble, and Apple offer their own ways of presenting newspapers. In essence, they deliver all of their newspapers via dedicated apps as a way to consume the media. This builds no consistency in the user experience, in that papers like the New York Times are quite different than USA Today. PressReader is the only application that offers you the true newspaper experience that mirrors print.
One of the big issues right now in ebooks is what the major companies do with your data. Whenever you read a book or flip a few pages, your habits are sent off to Amazon, Google, or whoever else you did business with. This helps with advanced metrics and PressReader offers something similar to its advertising and publisher partners. It has developed cool new Heatmap technology that visually shows you how people are clicking on articles, and what the most popular sections are. This helps the publications tailor their content better to the digital space. When Rupert Murdoch was looking at this technology of his own newspaper, he exclaimed "Damn, this writer is so overpaid! No one is reading his articles!"
PressReaders success can be attributed to preserving the traditional printed newspaper experience in digital format. You have your Sunday funnies, crosswords, obituaries, localized adverts, and trading corner. Many people find its easier to gravitate towards the digital medium that mirrors print. This is PressReader's core strength: not to simply give you a PDF, but to add its own twists to each issue. Users have the ability to augment text sizes, comment on articles, Tweet, or just strip away all of the CSS elements to give you raw text, which is easier on the eyes on smaller screen devices.
So how exactly does PressReader preserve the printed experience in digital format? Every newspaper company that does business with the company sends a PDF the same hour the issue is physically printed. It is churned out in raw XML format by an automated process with operators standing by to make sure there are no errors with the final product. Once a PDF is converted to XML format, PressReader can use its own proprietary technologies to add all of its social media elements and core-functionality. If you are reading on a tablet, you can pinch and zoom, or make the fonts bigger. If you are reading it online, it is converted to a format optimized for the online experience. In many cases, PressReader offers the digital newspapers online before the printed equivalent is available in physical kiosks in local markets.
PressReader sees a massive amount of success due to the diversification of its core business model. The company not only markets newspapers to end users, but also engages in B2B and offers its digital solutions to schools, libraries, companies, and government institutions—market verticals which individual publishers cannot reach themselves. For instance, the company has over 10,000 libraries which offer digital newspapers and magazines for their patrons.
It also white-labels its technology for regional publishers and launched country specific digital kiosks for national publishing groups so that customers can have easy access to every single paper published in their country at a terminal, online, or on any device of their choice. The entire experience is localized in their language and UI tailored by the companies that do business with PressReader.
Igor Smirnoff, who heads up digital operations and relationships with hardware vendors at NewspaperDirect, said, "PressReader is currently bundled on over 15,000,000 tablets such as the Blackberry Playbook and the entire fleet of Samsung devices." I remember a few years ago at IFA when Samsung announced its first 7 inch tablet and unveiled Readers Hub, PressReader was front and center. Manufacturers like Samsung, ASUS, Acer, HTC and others have their devices with PressReader built into it. This helps the company gain more traction and turns casual viewers into paid subscribers, while delivering valuable daily content in every possible language to readers worldwide.
One of the ways PressReader is different than any other company is due to its pricing structure. When PressReader first started, it offered an unlimited plan of $9.99 to download and read as many newspapers as you wanted every single month. This has increased to $29.99 in the last few years, with the increased costs the company incurs, but also the growing piece of the pie that publishers demand. Still, being able to read any newspaper in the world every day is very compelling and massively cheaper than the alternatives.
Digital newspapers are entering a massive transitional period, similar to the types of growing pains music and movies had before iTunes. No one can quite agree on the right strategy for the industry and few events are able to bring all the major players in the game to the same table. One of the most notable paradigm shifts in the last year has been the advent of the paywall. Online newspapers used to give all of their content away for free on their websites and make the money back with advertising. The New York Times began to offer a few articles a month for free and if you wanted to read more, you had to pay a monthly fee. Over 300 newspapers in the US and dozens of newspapers in Canada already introduced paywalls to their sites, and this trend continues with more national and international papers following the suit. A subscription with PressReader still delivers a better, all-in value than than paying any Paywall fee.
PressReader is definitely dominating the digital newspaper sphere and helping other publishers through its own strategies, and it is unleashing some very new developments. Recently, the company got involved with digital magazines and is solidifying relationships with many domestic partners to unveil a new growth opportunity. Right now, most of its magazines are relegated towards issues released from India and other foreign markets, but active negotiations are taking place with every major magazine publishing house, including Canadian and American.
PressReader really floats under the radar of most mainstream media that covers digital publishing issues, but many publishing companies use these guys as their research and development center and use the information to deploy innovation for their readers. There are some massive new changes and initiatives PressReader will be unveiling in 2013, so make sure to keep checking out Good e-Reader for all the latest developments.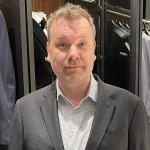 Michael Kozlowski has written about audiobooks and e-readers for the past twelve years. Newspapers and websites such as the CBC, CNET, Engadget, Huffington Post and the New York Times have picked up his articles. He Lives in Vancouver, British Columbia, Canada.