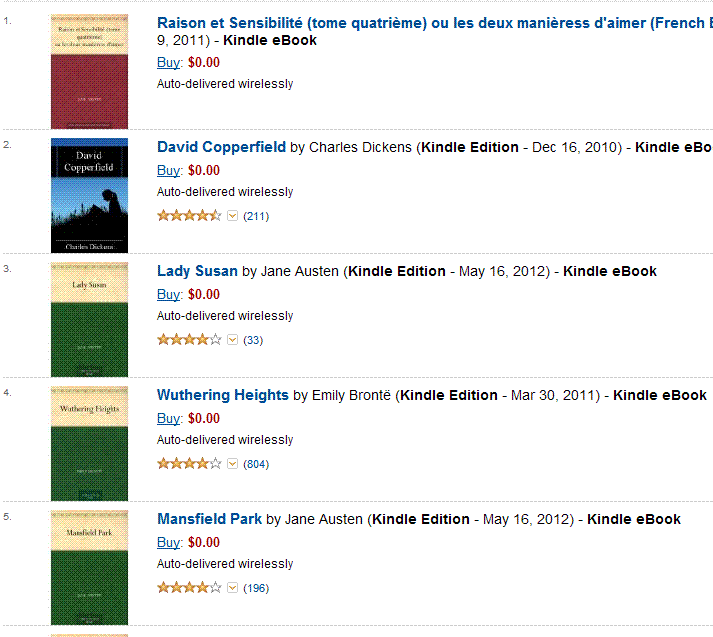 Amazon has just implemented a new feature that assigns new ASIN numbers to thousands of public domain ebooks. This makes the books harder to find and invalidates their old listing data on major search engines.  That means that no matter how popular the free book was, it got pushed down in Amazon searches and the internet at large.
Last weekend Amazon removed the vast majority of free classics that they published (adopted from Project Gutenberg) prior to 2011, after replacing them with the same books using new ASIN's, meaning new product pages. In doing so, Amazon orphaned millions of links from the web, which now arrive at a "Can't find what you're looking for" page, not to mentions tens of thousands of customer created Listmania lists, So You'd Like To guides, and Customer Discussions. They are orphaned because Amazon does not redirect, or forward the ASIN's of ebooks removed from the catalog.
There is no official word from Amazon yet on what prompted this decision. I think really this entire change will help independent and self-published authors. With thousands of public domain books getting knocked out of the Top 100 Free Lists, it now opens up the field for new free or very cheap ebooks.  Many authors could tremendously benefit from Kindle Select or the Digital Text Publishing program offering a few of their popular books for free. This should help authors rise easier than ever before on the charts where the public domain books were listed.
It is only a matter of time before the new versions of the public domain books are again at the top of free charts. In the meantime, authors can take advantage of this downtime to gain wider exposure from Amazon. Opportunities like this don't come around very often.