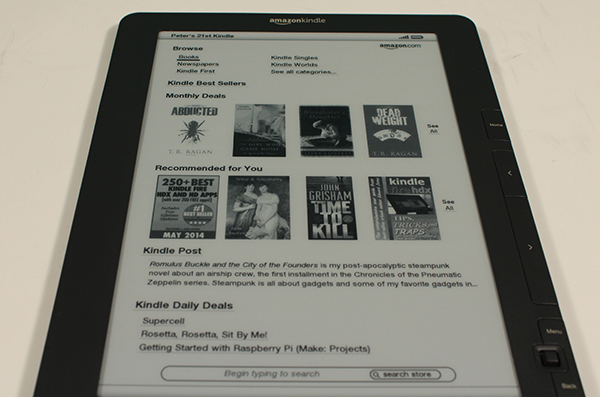 The Kindle DX Graphite edition was the last 9.7 inch e-reader that Amazon
ever produced. The device was geared towards reading PDF Files with the large screen, but was no slouch either when it came to purchasing and reading eBooks. The big draws on the DX was the free 3G internet access that works in over 300 countries and the speakers to listen to audiobooks or take advantage of text to speech. Today, we look at the Kindle DX with a fresh perspective and let you know if this $199 reader is worth it.
Hardware
The Amazon Kindle DX has a 9.7 inch display screen with 1200 x 824 pixel resolution at 150 ppi, 16-level gray scale, 10:1 contrast ratio. There is a built in gyroscope and accelerometer and switches between landscape and portrait mode automatically.
Unlike most modern e-readers this does not have a touchscreen and instead is reliant on physical keys. There are left and right page turn buttons, home and settings menu. The D-Pad functions as your scrolling and navigation utility and clicking it is basically the OK button. One thing that Blackberry and old school users will like is the full QWERTY keyboard. It is much easier to write notes using this, then a software driven solution. The keyboard also has a number of quick launch keys. For example, if you click alt and the spacebar you will automatically play whatever audiobook or music file you were listening to last.
One of the great things about the DX is the inclusion of text to speech and the two speakers. Amazon, Barnes and Noble, Kobo and Sony have all abandoned audio in their last few generations of e-readers in order to cut down on manufacturing expenses and compete against each other on price alone. The DX was last e-reader from Amazon that had built in audio, and many people who have vision problems flock to this model.
There is only 4 GB of internal memory and no ability to increase it via the SD card. You want to make sure you always have room enough to buy the next great read from the Kindle bookstore.
Overall, the DX is one of the few e-readers available to Western Europeans and North American customers that is easy to buy and accessible. Currently this model just got discontinued for the second time ever a few weeks ago, but you can buy them used or scoop up deals on Ebay. Over the course of the last year the prices on the DX dramatically decreased to a paltry $199.99.
Software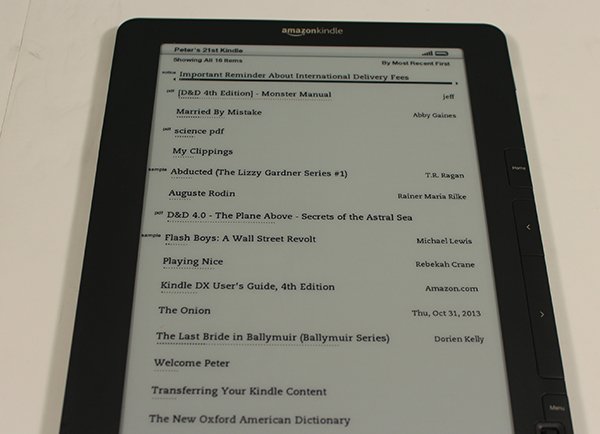 One of the big reasons why the DX fell out of favour with the majority of customers was the lack of firmware updates. It never received GoodReads integration to discuss the books you are reading with the largest community in the world. It also never got X-Ray or Whispersync for Voice or translation dictionaries as found on the current generation of Paperwhite e-readers. It has been said that the DX has an older processor, less RAM and all of this combined would be a sub-par experience, which is why Amazon likely never patched this unit.
The DX is fairly barebones when it comes to the home screen. It basically just lists the books on your device, in text format. There is no cover art or progressions to let you know how far you are in a book. This was the standard way Amazon presented the menu system until they gave it a dramatic overhaul with the original Paperwhite e-reader.
New users to e-readers might feel a bit discombobulated with the DX. There is no menu system, UI or navigation bar for you to easily access the store, settings or the experimental internet browser. Instead, the Menu key is your catch all solution to access the Kindle Store, Bookmarks or options. The settings button changes its internal options depending if you are on the home screen, reading an eBook or surfing the internet.
The entire UI of the DX feels woefully out of date. It takes at least a few weeks to orientate yourself on what keys do what, depending on where you are. The internet browser engine is fairly old, it automatically tries to load the mobile version of a site, even if the site you're visiting doesn't have one. It struggles loading websites like Good e-Reader that has lots of CSS and Javascripts.
Reading Experience
When it comes to reading and buying eBooks the Kindle Store is fairly well the same on the DX, as it is on any modern reader. You have access to all of the core categories, such as Kindle Singles, Kindle Worlds, Kindle Books and even a small Audible category for audiobooks. When I say a small category, there is only a single title available to download.
When you read a purchased eBook from Amazon or one you loaded in yourself there are few options available to augment your reading experience. There is no way to change the font-type, only the font size. There are seven different options to change the text from smaller to larger. When you resize the font, it all happens dynamically, so you get a sense on that your own personal sweet spot.
The DX makes a very good eBook reader in the respect that older people or folks with vision problems can get a lot out of it. Large font print books often cost double or triple the cost, compared to your average book. Bookstores only have a dedicated shelf when it comes to these texts, so finding something you want to read can be painful. The DX has basically 10 inches of screen real estate that you can easily read, by pumping up the font size. If you have really crappy eyesight you can take advantage of the text to speech function and have it read aloud to you via the speakers or the 3.55 mm headphone jack.
The Kindle DX does a fair job when it comes to reading PDF files, but pales in comparison to modern rendering engines made by Kobo or Sony. About the extent of your options is five different levels of zoom. You get a small preview box that shows you how much text will appear on your full screen. I found you can never really truly find that sweet spot, in which a split column PDF book looks good. This makes newspapers and magazines unfeasible to read, but technical documents, Maps or DND materials look fairly solid.
Wrap Up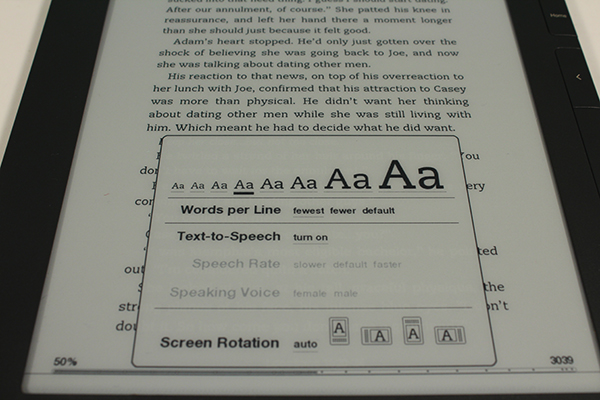 When an e-reader has been on the market for over three years and people are continuing to buy it, sometimes it pays to take a second look at an old reader. The DX in the modern era will appeal to someone who wants a 9.7 inch display, but doesn't want to spend the $300 to $500 that Pocketbook, Ectaco, Icarus or Onyx charge for their premium models. It tends to stress out when reading PDF files and with large files often load fairly slow. If you are buying it for a dedicated eBook reader, it does a tremendous job.
PROS
Free 3G internet Access
Buy Kindle Books in over 300 countrie
Listen to Audiobooks and Music
Low Price
High Build Quality
CONS
Short keys are not clearly defined
Audiobook Selection in the Amazon Store is non-existent
Large PDF files take 10-20 seconds to load and hard to Zoom properly
Discontinued
Rating: 7/10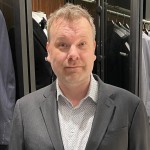 Michael Kozlowski has written about audiobooks and e-readers for the past twelve years. Newspapers and websites such as the CBC, CNET, Engadget, Huffington Post and the New York Times have picked up his articles. He Lives in Vancouver, British Columbia, Canada.