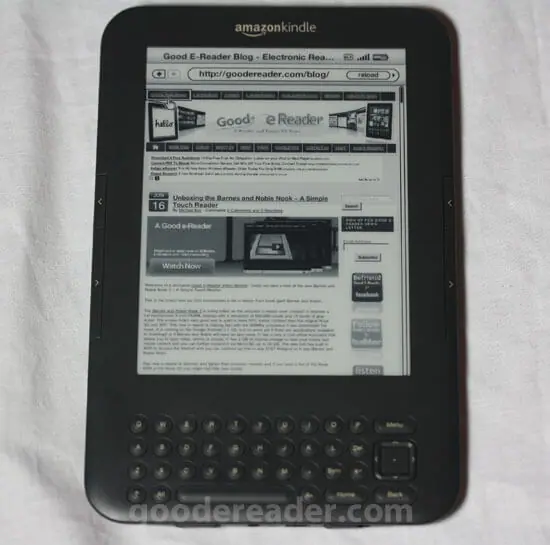 Amazon has released a new version of the popular Kindle 3rd generation that serves advertisements to offset the cost of the unit. Many people are apprehensive on this new method that company has taken and we give you our full review of this new device.
Hardware
The Amazon Kindle WIFI with Special Offers and Sponsored Screensavers is the new darling of the Amazon e-reader portfolio. It gives you a six inch e-ink pearl display with 600 x 800 pixels at 167 ppi. It is powered by a Freescale i.MX353 processor which quickly speeds up most tasks. One of the best aspects of the device is that it has a full QWERTY keyboard to navigate the e-reader. Your storage is limited to 4 GB of data and there is no expansion to increase it further.
The new Kindle with Special Offers slimmer and weighs less than previous iterations of the Kindle e-reader. It also has a increased battery life, giving you about a solid month if WIFI is turned off.
The Amazon Kindle with Special Offers has a Micro USB port in order to facilitate a data connection with your computer. You can easily copy over music and ebooks using Windows Explorer or Calibre to manage your collections. It also has two speakers on the device and a 3.5 mm headphone jack. This allows you to listen to music or audio books right on the device.
The Amazon Kindle with Special Offers has two different models right now a WIFI only and a 3G variant. Both models cost significantly less than their non-advertising brethren.
Software

The Amazon Kindle with Special Offers includes advertisements to make the device cheaper to purchase. The only way you see the ads is if you are on the home screen or the screensaver, that's it. There are no adverts when you are reading books, surfing the internet, or browsing various settings and menus in the device. Many people, when they initially heard of this more cost effective e-reader, had some trepidation about intrusive advertisements. I was very happy that the ads never permeated to the overall book experience.
The Advertisements are displayed when you initially configure your device and setup your internet connection. The adds change over time thanks to various facets of the advertising backbone. The term "Special Offers" is where customers can get access to weekly deals. Current and future offers include; $10 for $20 Amazon.com Gift Card, $6 for 6 Audible Books (normally $68), $1 for an album in the Amazon MP3 Store, and more.
Amazon in the coming weeks will also be showing off their new program called "AdMash" – the free Kindle app and website where customers choose the most attractive and engaging display advertisements that will become Kindle sponsored screensavers. Kindle's sponsored screensavers are specially-designed display advertisements that take advantage of Kindle's high-contrast, no-glare electronic-ink display. Before these advertisements can be presented to Kindle customers, they are first previewed by customers using AdMash. Users are presented with pairs of sponsored screensaver candidates and asked to select which one they prefer. Screensavers with the most preferred votes qualify to become sponsored screensavers.
This advertising project centered around the approving of screensavers from a community point of view is the fruit of the recent Amazon purchase of coupon site Living Social. They spent 178 million on this Groupon competitor and the company hopes that the quality of the deals it offers will end up being a welcome intrusion rather than a nuisance.
The Kindle is a closed ecosystem which means if you buy the Amazon Kindle with Special Offers you are locked into buying books only from Amazon. They use a proprietary format called AZW and a new encryption system called TOPAZ. These book formats are only compatible with books purchased directly via Amazon. Although the Kindle will not let you shop at other book stores and copy your books to your gadget you can download books that do not have DRM (Digital Rights Management) and easily convert them to PRC or MOBI which is a format the Kindle does read. We have made tutorial videos that show you how to do this if you need assistance.
The Amazon bookstore currently has over 600,000 books, many of them bestsellers and quality books. Their store is intuitively laid out and you can easily to buy books with one click. Many of the books range in price from .99 to 12.99. Amazon also has an independent publishing program that allows authors to write and submit books to the store, giving you a chance to discover new indie authors.
Reading books on the Kindle is a great experience the Pearl e-Ink display makes the text very vibrant. There are options to increase the font size 8 different levels and 3 different Fonts to choose from. You can also change the line spacing, words per line and even text to speech. The last option you can employ when reading a book is the screen rotation. You can switch it from landscape to portrait mode. Regrettably there is no way to change the margins on this unit.
Finally, Amazon instituted a new program that allows you to share select books you have purchased from their store with your friends and family with a lending program. Books can only be lent out once and many websites have sprung up to connect users with each other. Amazon also is planning a new library lending service soon that will allow you to borrow books from a public library.
Our Thoughts on the Amazon Kindle Special Offers Edition
The Amazon Kindle line of e-reader continues to be overall the most popular e-reader in the world due to its high availability in most countries. It is easy enough to order a Kindle online in most major countries and to buy content. The Kindle has come under fire recently with higher quality touchscreen e-readers issued by Kobo and Barnes and Noble. The Kobo Touch enjoys a wide availability as well, but Barnes and Noble only works in the USA.
The advertisements that the Kindle serves are not as intrusive as I originally thought when I first heard about this new e-reader. Since they are only limited to the homescreen and the screensaver they are easy to manage. Most of the adverts are relevant as well if you are locked into the Amazon ecosystem. You get a chance to buy some audiobooks and save some money and ebooks too.
I highly recommend the Amazon Kindle Special Offers edition to anyone looking to buy a new e-reader. Page turns are very fast, the internet browser is well refined, and buying books is very easy. It retails in the USA for around $114.00 and is not available online outside the USA. So if you want to get your hands on this new gadget you will have to buy it from our retail partner www.shopereaders.com.
[cincopa AkPAsoKk2QpR]

Michael Kozlowski has been writing about audiobooks and e-readers for the past twelve years. His articles have been picked up by major and local news sources and websites such as the CBC, CNET, Engadget, Huffington Post and the New York Times. He Lives in Vancouver, British Columbia, Canada.