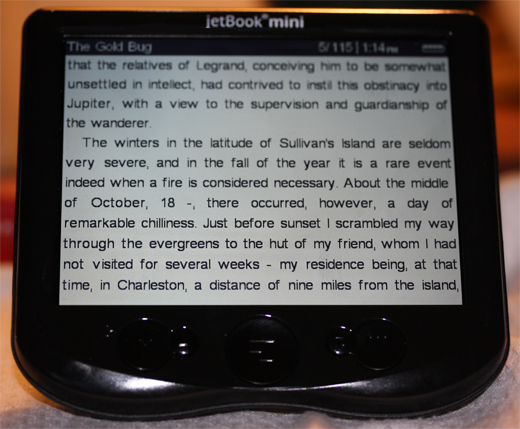 We just got our hands on the new Jetbook Mini e-Reader today and we have tons of pictures and a comprehensive review of the new 5 inch offering for less then $100.00, will it be a must or bust?
The Hardware
The Ectaco Jetbook Mini has a 5 inch screen TFT LCD screen, with a resolution of 640×540 and displays 16 levels of greyscale. It can be switched both to landscape and portrait mode with a menu setting, and has an option for left or right handed people. It has built in memory of a paltry 1.4 MB and has a SD card slot to upgrade it to a maximum of 2GB. It runs on 4 AAA batteries, which it comes bundled with when you purchase the e-reader. It will allow you up to 90 hours of reading time before they die, but can last for months in standby mode.
The Mini has a mini USB port on top of the unit that allows you to plug it into your computer and update the firmware, as well as loading content on it. You can create directories and manage your content on it. The navigation on is done with 3 major buttons and 2 extensions of those buttons that allow you to scroll up and down in menu and settings.
Settings and Features
There are many different settings and features available both on the main menu and when you are reading a book. The main menu is accessed by pushing the pause button and gives you various options such as Settings, Games, Delete Books and so on. So if you do not want to have the default books that come on the device, you can actually just delete them with the Mini yourself, without having to connect it to your computer and managing it with Windows Explorer.
There are TONS of menu options under settings, most allow a better e-reading experience. You can edit such facets as line space settings, line break, alignment font size and so on. Although one drawback of this is that you can not actually change the font. You are stuck with the default one it gives you.
The other settings include a clock, a screen orientation option, factory defaults, an upgrade option and a few other settings that are not too important. The Screen orientation is pretty slick, as it allows you a veritable 360 degree switching via Portrait and Landscape.
It also comes bundled with two games, a Tetris clone and Suduku. Both games have various difficulty settings to give you a break from reading. No word yet from Ectaco if they will release other games for download and installation in a future firmware update. Speaking of firmware updates the only way you can update your Mini with future upgrades is via SD Card only, so you will have to purchase one. Jetbook as already released a full patch that fixes some SD card issues and allowed Added Calibre UM.
eBook and Content Delivery System
The Ectaco Jetbook mini comes bundled with English, French, Italian, Portuguese, German, Spanish, Polish and Russian language options for the interface.
As far as ebook formats this device will read, its very sparse, it only reads FB2 or TXT, but you can use Calibre in order to convert virtually any ebook format, such as EPUB, LIT, LRF, MOBI to this supported format. The device also comes bundled with 11 open source ebooks and the instruction manual.
Ectaco does not run or operate an ebook store, and does not really give you any instructions on how to copy ebooks to your device. When you plug your Jetbook Mini into your computer, all of your ebooks, files and content are all lumped into 1 directory, making it very cluttered, with default settings. If you want to copy ebooks to your device you have one option, manually copy and pasting them. The Mini does not accept DRM books, so it hampers your buying decisions from other companies.
Our Take on the Jetbook Mini
This is a very small e-reader, it sometimes feels slow and sluggish at times. Its more noticeable when you are accessing the settings menu or doing tasks that require menu navigation. It can often take a few seconds for the device to refresh itself in order for your options to be displayed. Page turns though are quick and prompt, and does not have the lag on turning pages like the first edition of the Kobo had, or many other e-readers right out of the box.
One of the interesting facets on this device is that it does come in more then two different colors. The Main Ectaco website only has the black and yellow variants available, which the black is passable the yellow tacky. After doing a bit of research on their new website Jetbookmini.com it appears it comes in a multitude of extra colors. Although you cannot order the Jetbook Mini in different colors yet, it might soon be available. The chassis of the Mini is made of low grade plastic, and does not feel too durable and I lament the possibility of dropping it and the poor device will meet any untimely demise. Although the durability is a trade off to the low price, which makes this device ideal for kids, and students.
My thoughts is that for the price point it might be a solid buy, but the unit does have its share of drawbacks that makes it a hard sell to be competitive in the current e-reader climate. If the price was more like $50.00 this might be a viable consumer item, and could possibly catch on. Currently many retailers are slashing prices, such as the recent Boarders Price Cut, you can buy the original Kobo e-Reader now for the exact same price, and have access to a huge ebook store, great support and larger screen. The Jetbook Mini might seem like a good bargain, but you will have to buy batteries over the long-term. If batteries are not your thing, I would recommend you try an e-reader with a built in battery that charges over USB or a wall plug-in. There are also new e-readers coming out soon that will be powered by solar energy, such as LG and Toshiba.
Now to be fair, this is Ectaco's third e-reader, with previous iterations including the Jetbook and Jetbook Lite. They do have plenty of experience to bring to the e-reader arena, and have been in the game long enough to retain a brand awareness.
The Jetbook Mini e-reader might not fare too well in the North American market, due to the increased competition in higher quality e-readers at more competitive prices. Suffice to say their European and regional target marketing might very well be their greatest strength. Ectaco is starting to build a mild Eastern-European presence. It is beginning to foster and develop strong relationships in countries that traditionally do not have much of an e-reader market. For example, on Oct 14 2010, Ectaco formed a partnership with entire schools in the Ukraine to sub out old textbooks and go with their e-readers instead. If they begin to do more of this type of thing in the smaller markets, Ectaco might succeed long term as a company more then say, a company named Cool-ER did. Also, their language support options are really good. Its refreshing to see a company release a product that can basically support the localized language in MANY different countries.
Personally I have played around with over 10 different e-readers and this is certainly not the worst, or the best, but i implore you to make your own judgments. For the more budget conscious end user, the price might seem right, since it is only around $99. There are plenty of drawbacks in my opinion, mainly the fact that it lacks structural durability and the fact it has no internet connectivity and no real way to get content on the device. The only content you can copy to the device is VERY limiting. No ebook stores I know of sell anything in FB2 or TXT, its all EPUB or exclusive formats. The Jetbook Mini is verified to have NO DRM support at all. So forget shopping on many different stores such as Barnes and Noble, Amazon, Borders, Kobo, Sony and others. You will likely have to be content with shopping on Smashwords, iPulpfiction and other independent eBook stores.
There are plenty of other e-readers at this price point, such as the Aluratek Libre, Kobo e-Reader, Barnes and Noble Nook WIFI or the Kindle 3 WIFI.
If you would like to the Jetbook Mini, order it today and have it shipped to you internationally. Simply visit our retail partner Shop e-Readers.
[cincopa AcFAMUKTE06A]

Michael Kozlowski has been writing about audiobooks and e-readers for the past twelve years. His articles have been picked up by major and local news sources and websites such as the CBC, CNET, Engadget, Huffington Post and the New York Times. He Lives in Vancouver, British Columbia, Canada.