Icarus has been refining their portfolio of e-readers the past few years and have developed a device that may be their best one yet. It boasts physical buttons, audio compatibilities and a front-lit display for reading in the dark. This model certainly has the hardware going for it, but how about the software and eBook experience? Today, we give you a sense on what this new model brings to the table.
Hardware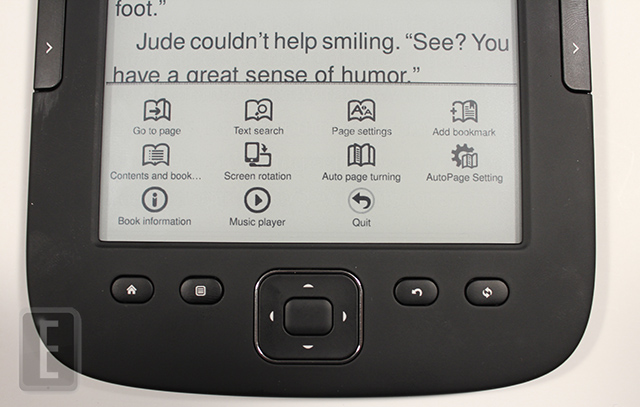 The Illumina HD features a six inch touchscreen display with a resolution of 1024×758 pixels. It has a front-light built into the top of the bezel and will basically allow you to read in the dark. It has 4 LED lights and distributes light fairly evenly. I was actually quite surprised of the screen display quality while reading in the dark. The one drawback is the way the light controls are handled. You have to hold down on the refresh button and use the left and right D-Pad to turn the levels up or down. Certainly not the most intuitive, where most other devices have a single software feature to do this, an app if you will.
Underneath the hood is a 1 GHZ processor and 512 MB of RAM. You will have 4 GB of internal storage and you can boost it up to 32 GB via the Micro SD. One of the most interesting aspects of this e-reader is the ability to play sound. You can load in your favorite audiobooks and listen to them with your headphones. This is no built in speaker and the music app won't even open unless you have your cans plugged in. It supports a myriad of formats, including: Flac, AAC, mp3, Wav, WMA, and OGG.
Audio in e-readers has been somewhat of a lost art the last few years, in the past most companies all had speakers or at least a 3.5mm headphone jack. All of them have abandoned this in favor of making lower cost devices in order to compete in the lucrative North American market.
This e-reader really appeals to everyone. If the bulk of your e-reader experience has been spent on older style devices with physical page turn keys and various setting menus, you will feel right at home. There are five different buttons, such as home, settings, refresh and a directional d-Pad. It has page turn buttons on both the left and right hand side, to appease everyone. It also has a touchscreen to appeal to the more modern folk out there, you can basically do everything via the software.
Finally, battery life should last around two full months of constant use and has a fairly small footprint. It stands out in the crowd due to its overall design, but it is a bit larger then the Sony PRS-T3 and Kobo Aura.

Software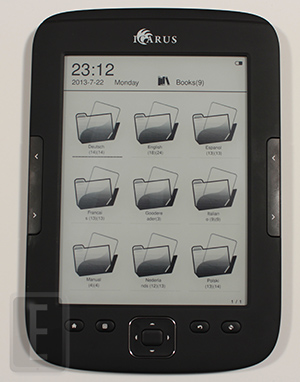 Overall, the Icarus is not very complicated. It does not have games or a bunch of superfluous settings. It does support around 14 different languages though, including Arabic and Japanese.
The home screen is mainly comprised of the last book you have added or are in the process of reading. There are mainly lots of menu options here, that are shortcuts to all of the other features on the reader. Recently added, Library, Image, Music, File Manager, Browser, Settings and Manual round off whats there. All of the icons and menu options are all fairly big and bubbly. This is probably to encourage people to interact with the touchscreen and give a wide open area to not accidentally click the wrong thing.
All of the apps are fairly basic, with no expanded features. The audio player simply plays, pauses or stops an audiobook. The web browser does not have any ability to disable Javascript, turn off images or anything like that. The weakest part of this device is the internet browser, Peter and myself gave up after waiting ten minutes for the Google site to open.
On a software level, this is fairly bare bones. All of the apps are extremely basic and offer no options to really configure things the way you want. About the only interesting thing you can do is put a bunch of images on it and use them as the screensaver when it goes into standby mode. It does the job as an e-reader, that's it.
E-Reading Experience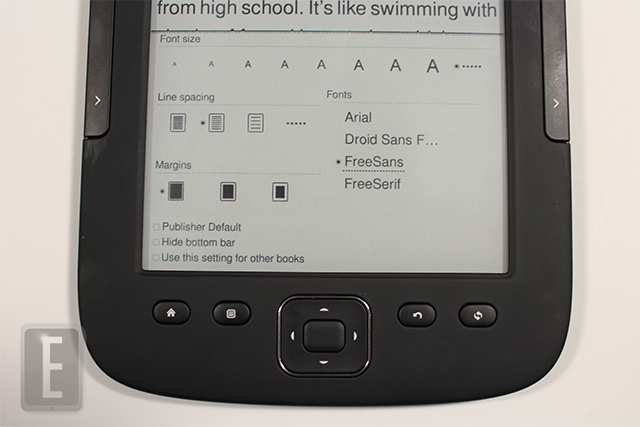 The Icarus does a very good job in reading PDF files and your standard EPUB. It has plenty of ways to reflow text and change the font sizes to match your needs. It has Adobe Digital Editions support, so you can buy books in other stores and then load them on it.
An e-Reader is basically a collection of books you have, and the ability to soundly manage them is a big deal. In order to really set things up the way that you want, you will have to use Windows Explorer and make directories. There is currently no way to add a book to collection or anything like that. Sure you can sort by title or author, but can get unwieldy if you have over 100 books.
This e-Reader reads a multitude of popular eBook formats such as PDF, FB2, EPUB, RTF, MOBI, TXT, HTM. Your average bookstore online, all sell their content in either PDF or EPUB, so you will have no problem shopping. This is good, because this e-reader does not have a bundled bookstore loaded on it, other then a bookmark to the Project Gutenberg website.
When you are reading an EPUB book, you do have a 16 options to change the size of the font and adjust the margins. When you have found your personal sweet spot you can apply whatever settings you made to all future books you read. There are only five pre-loaded fonts and does not support loading in your own.
PDF support is fairly solid and allows you to strip away all of the images in a document and just reflow the text. It requires some fine-tuning to find the right font size to make sure all of the text displays correctly. You can think of font changing in PDF documents to be the equivalent of zooming and positioning. Sadly, you can't use the touchscreen to pinch and zoom.
In the end, this e-reader is all about reading books. There are no built in dictionaries to look up words you don't know. You can't make highlights, take notes or annotations. There is no Facebook or Social media tied into anything, it is simple, but effective.
Wrap Up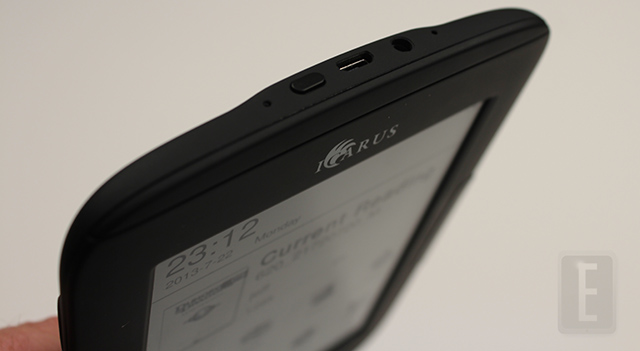 This e-Reader is not aimed at advanced users. Most of the popular ones out there from Kobo, Bookeen, Amazon or Nook have a number of enhancements to really change the look and feel of your reading experience. The Icarus appeals towards new users or people upgrading from really old devices.
Something is strangling compelling about a device that has the old school and new school mentality in mind. Audio, physical buttons, a front-lit and touchscreen is something few modern companies have been able to pull off. Icarus has done a tremendous job in giving you a huge bang for your buck and still have a solid e-reading experience.
You can purchase this e-reader today from Icarus authorized North American Dealer, Shop e-Readers.
PROS
Audio
Physical Buttons
Touchscreen
Solid Front-lit
Support for 16 Languages
Good for reading comics and Manga

CONS
No advanced e-Reading options
Lack of bookshelf creation and management
Need Adobe Digital Editions to load in books you purchased
Web Browser is a bit broken
Rating: 8/10
Michael Kozlowski has been writing about audiobooks and e-readers for the past twelve years. His articles have been picked up by major and local news sources and websites such as the CBC, CNET, Engadget, Huffington Post and the New York Times. He Lives in Vancouver, British Columbia, Canada.