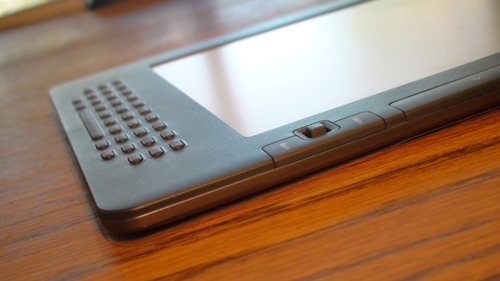 Welcome to another Good e-Reader Review! Today we take a look at the new Amazon Kindle 3 Graphite DX E-Reader! This little guy has a 9.7 inch screen, full keyboard and tons of features for all of your e-reading adventures.
The Amazon Kindle DX Graphite edition continues the trend of being Amazons largest e-reader to date. Featuring a 9.7 inch screen and 50% better contrast and resolution from previous models, it is certainly worth the $379 pricetag. Its screen displays a 1200 x 824 pixel resolution at 150 ppi, features 16-level gray scale, and a new 10:1 contrast ratio.
The Page turns on this device are lightning fast and only increase with some of the latest firmware updates. There is no lag turning the pages, and even accessing some of the menu functions is quick and easy.
This e-reader towers over the competition. Most electronic readers are only 6 inches or so, having a 9.7 inch e-reader is like reading a magazine, it is also as slim as one. It currently reads e-ink with greyscale which means you get a complete e-reading experience, with no eye strain. Maintaining the tradition of e-ink, means there is no glare in the direct sunlight. For a great comparison of the Amazon Kindle DX VS. the Apple iPad in direct sunlight, click here.
Menu Features
Now lets talk menu features, the Amazon Kindle DX has tons of menu features that allow you to access a dictionary, highlight and bookmark pages. There are also many options to adjust the size of the font, and even change it altogether. There are many stand alone options such as a web browser, to visit websites such as Facebook, Twitter and others. You have the entire internet available to you. Other menu features include being able to register your device with Amazon, so you can start purchasing books right away. The menu system is intuitive and robust, it is one of the most stable, in terms of refresh rates out of most e-readers.
Connectivity
Menu Features are all quite well enough, but what about the Connectivity? You can access 3G from any AT&T hotspot and offers global WI-FI coverage. HSDPA modem (3G) with a fallback to EDGE/GPRS; utilizes Amazon Whispernet to provide wireless coverage via AT&T's 3G high-speed data network in the U.S. and partner networks outside of the U.S. See Wireless Terms and Conditions
Battery Life
The Battery life on the DX is great, dispite the fact that it uses 3G and WIFI you can litterary leave this unit on for 2 to 3 weeks, with WIFI turned off, if you leave the WI-FI turned on, you get about 1 week of constant use.
eBooks and Reading
The Amazon DX has a built in PDF reader, traditionally PDFS are meant to be read on large screen displays, such as netbooks and computers. Most e-readers only have a six inch screen and do not have the ability to show PDF's out properly. With the 9.7 inch screen, you get the full PDF experience being able to read ebooks. It will also read Kindle (AZW), PDF, TXT, Audible (formats 4, Audible Enhanced (AAX)), MP3, unprotected MOBI, PRC natively; HTML, DOC, RTF, JPEG, GIF, PNG, BMP through conversion. If you are looking for audio books or to listen to MP3's you can certainly copy your own to the device, or purchase it from other stores. The device itself has 4 GB of internal memory, so its enough to store thousands of books. If you choose to buy your eBooks or Audio Books from other stores, other then Amazon, you have to use Adobe Digital Editions to copy it to your device. If the content you bought does not have DRM (Digital Rights Management) You can simply just copy and paste it directly to your E-Reader, using Windows Explorer. If you are having trouble with copying eBooks to your device, check out our Amazon DX eBook Video Tutorial.
It also has the Read to Me function, this is basically a text to speech function. It will read blogs, newspapers, ebooks, and more out loud to you. You can switch back and forth between reading and listening, and your spot is automatically saved. Pages automatically turn while the content is being read, so you can listen hands-free. You can speed up or slow down the reading speeds or choose a male or female voice. In the middle of a great book or article but have to jump in the car? Simply turn on Text-to-Speech and listen on the go.
Other Features
Some of the other hardware features the Amazon Kindle DX has is, a mini USB port, Stereo Speakers, and a headphone jack. The Kindle DX also features a Accelerometer, which means you can switch it between horizontal and landscape mode.
Our Experience
We have played with MANY different e-readers, and this one is a giant Mount Smurfs. It takes a few days getting used to such a large screen display. We have played with the Barnes and Noble Nook, Amazon Kindle 2, Kobo E-Reader and many more. This one is big, but after awhile it does not feel that big, and really feels natural. With such a large display, more words fit on any given page, and you can get through books a lot faster. Because this unit is the lightest Kindle DX, it weighs hardly anything and you can easily hold it in one hand for marathon reading sessions.
Many people compare the Kindle DX to the Apple iPad. I would say, the Amazon Kindle 3 DX Graphite is currently the large screen e-reader to beat. Amazon has been making e-readers for 4 or 5 years now. They really have the  science down pat. Buying books is a breeze, and so is shopping for ebooks on other stores. If you know how to convert ebooks from one format to another, you can literally shop anywhere for ebooks and then load them on your Kindle. If you have trouble converting ebooks, check out our Video tutorial.
Its our estimation that although the price is a little bit more expensive at $395, it is worth the price if you want the best of the best. Although this will not fit in your pocket or purse as easily as a 6 inch e-reader will, if you are reading in the home, cafe, beach, or on vacation,  pick this up. Reserve your Kindle 3 DX Graphite 3G today at our retail partner Shop E-Readers. With every e-reader they sell, you get 100 free ebooks, will ship anywhere in the world for a low cost, and you even get a free DVD Video Tutorial disk, that walks you through the entire process of setting up your e-reader. This is perfect if you are buying it from someone who is new to technology or e-readers and needs a helping hand! You also get 24/7 technical support via our own Good e-Reader Forum.
[cincopa 10778024]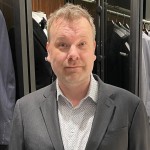 Michael Kozlowski has written about audiobooks and e-readers for the past twelve years. Newspapers and websites such as the CBC, CNET, Engadget, Huffington Post and the New York Times have picked up his articles. He Lives in Vancouver, British Columbia, Canada.