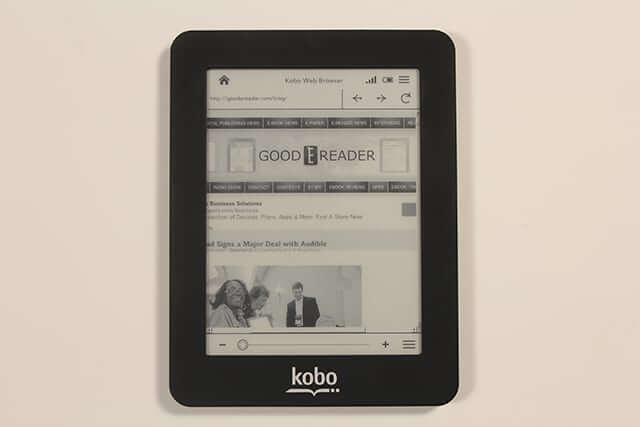 The Kobo Mini may be small in stature, but shows that good things come in small packages. This new device is hitting most retail channels right now and is the company's first five inch reader. How does it stack up against the Touch and Glo models in the company's current product portfolio? We dive deep into the issues and deliver a comprehensive review on this new device.
Hardware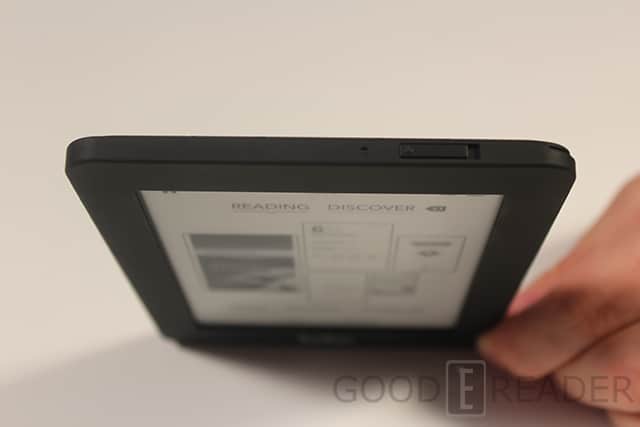 The Kobo Mini has a pint size five inch touchscreen display running an older version of e-ink Vizplex. It has a resolution of 800×600 pixels and gives you the traditional 16 levels of grayscale. This is very small device that fits in any of your pockets and was designed to be extremely lightweight and portable. The screen may seem small to someone who has used a 6 or 9.7 extensively in the past, but would be suitable for someone who has never owned an e-reader before.
Underneath the hood dwells a 800 MHZ processor, which is the same one the original Kobo Touch had employed. There are 2 GB of internal storage for your ebooks, newspapers, and PDF files. In an effort to keep costs low, this model has foregone the inclusion of a Micro SD, so expanding your memory will not be possible. If you find yourself in the situation where you are running out of memory, all ebooks you purchase are stored in the cloud. This means you can delete them off of your reader and load them in again on a future date or sync them to your tablet or PC.
One of the great elements behind this reader is that you can swap out the back case. Many readers like the Nook or Kindle have hard plastic bodies. The new Kobo Mini allows you to take the quilted back cover off and add different ones that various retailers offer. Officially, Kobo has five different cases available in a range of different colors. This can give you the power to rock different colors and make yourself stand out. I am very interested to see what companies like Decal Girl do with taking the art to a new level.
Another factor that made me very happy was the absence of FCC, European, and other agencies' ID numbers to show the device has been certified. Instead of having it plastered on the back or on the sides, they hid it under the removable back cover. This is cool because the overall look remains very clean.
The battery on the Kobo Mini will generally last you around a month or so, and if you turn off WIFI it's possible to stretch it out for two months. Speaking of WIFI, it is available and can be used to surf the internet with the web-browser and allows you to purchase ebooks directly on the Mini. This is one of the lightest e-readers we have ever reviewed and gives the Ectaco Jetbook Mini and Wexler Flex One a run for their money. It weighs in at 134 g (4.73 oz)  and the dimensions are 102 x 133 x 10 mm (4 x 5.2 x 0.4 in).
Firmware updates are an important aspect of e-readers and ensuring that you have a device with all current bugs worked out. Kobo also gives you new features and enhancements. When you boot up your reader and setup the wireless internet, you will be prompted to install an update if one is available. When we turned our unit on for the first time it installed two large updates and rebooted the reader twice, which added a ton of new features. Updating occurs automatically and makes peoples lives a bit easier in that you don't have to download anything manually from websites.
The main selling point behind this reader is the fact it is available for around $79.99 and would make a great gift for someone. The hardware is suitable enough to read books, which is what it was designed for. It is not as fast or responsive as the Kobo Glo or Kobo Touch, in terms of core hardware. Some menus tended to take a few seconds to work and it locked up more than once during our video review.
In the end it has wireless internet access and a solid touchscreen. Most products in this price range often forgo these types of features in an effort to keep the devices as cheap as possible. Casual readers will love loading thousands of books in their reader and can easily purchase them.
Software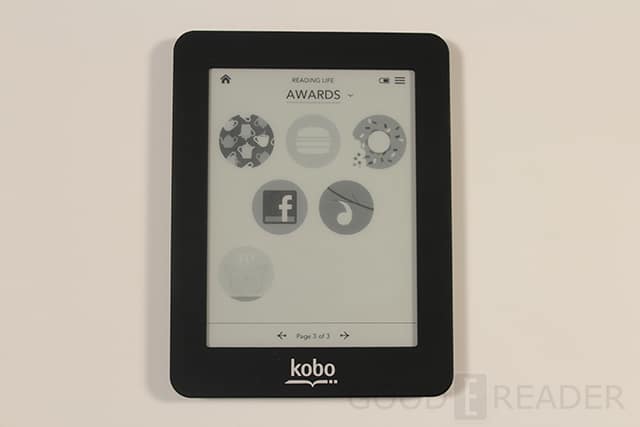 All of the Kobo core e-Ink based readers run on the Linux operating system. This is the same type of operating system that the Amazon Kindle line runs. Other companies such as Sony or Barnes and Noble offer readers in Android.
The main interface on the Kobo Mini is much akin to the Kobo Glo and Kobo Touch. The company is actively pumping out firmware updates to enhance both newer and older models to give them a homogenized experience. No matter what device  you now use, you interact with it the same way and menus are all structured identically.
Whenever you power on the Mini or wake it from sleep mode, you are greeted by the Home Screen. This is where the last five books you have loaded, or are in the process of reading, will be displayed. It showcases all of the cover art of the books you bought or loaded in yourself. If you decide to load your own in, you want to make sure they have cover art. If they don't, use a free program like Calibre to add the cover art, it's easy!
Library, Find Books, and Reading Life are the main destinations that you find yourself clicking on more than anything else. You can create your own collections of books and neatly organize your reader to make finding things more efficient.
The Settings menu is where most of  your common functions are configured. You can set how long the screen times out when not in use. Your standard options are all here, but the Extras option is where it's at! Your internet browser, Sketch Pad, and Games are stored here, and you may use them often.
The Sketch Pad really takes advantage of the full touchscreen and can be used to draw pictures. You get to choose brushes and save your art to a JPEG file that you can copy over to your PC and relish your own artistic glory. Saved pictures are then available to view within the photo app.
I really like the inclusion of an internet browser in the Mini. It allows you to surf the internet and visit popular websites. Image heavy sites may take a bit to load, but Wikipedia and Google were very fast. There are no advanced options in this reader or any of Kobo's others to disable images or an RSS Readers to give you a more text heavy experience. Since there are inherent restrictions on the ability to constantly refresh images, you would figure an RSS Reader would make sense.
If you are a social reader, no company does it better than Kobo. Reading Life is your destination to integrate your reading experience into your Facebook Timeline to share passages, quotes, and other things as you read. When you earn Merit Badges for different reading criteria, you can see how you rank among your peers. If you are heavy into statistics, you can monitor your reading habits and see how many pages you turn in a minute and other semantics surrounding your reading behavior. This is a very kid friendly feature and if I had a child I would bribe them to see their statistics improve!
Reading Experience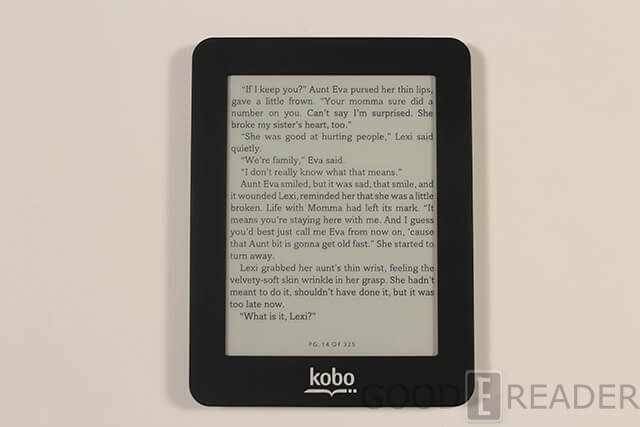 When you purchase a dedicated e-reader, the primary facet you should be concerned with is how viable it is as a tool to save money on books and get the most value for your purchases. The Mini does a great job in giving you the full e-reading experience that the previous and current models offer.
The primary format that this reader offers is EPUB, which is the type of ebook technology that Kobo sells. This is as close as the industry has to a common format in which all major online retailers sell their content. Barnes and Noble, Sony, Google Books, and others all offer it. If you decide to buy your books from other retailers you can simply use Adobe Digital Editions to transfer over any purchased content. If you want to simply download free stuff from the internet, that works, too! As long as its in PDF, HTML, RFT, CBZ, or CBR.
When you purchase a book from Kobo you have a wide array of options to augment your reading experience. You have slider bars when you edit your fonts that determine the line-spacing, margins, and font size. There are literally millions of different combinations that you can try to find the perfect reading experience. You will also find the ability to control the weight and contrast of the fonts with some advanced settings. If you like your text light, dark, or anywhere in between, you can check out a before and after. When you load in your own book, for some reason changing the margins and line spacing doesn't work.
There are seven different fonts that come loaded on the Mini and there is functionality to support other fonts you download from the internet.  There are also 14 different dictionaries in all of the languages that have localized versions of the bookstore. By default most of them are installed, but you do have the option to just uninstall them and save around 60 MB of memory.
Speaking of dictionaries, when you long press on a specific line of text you will be greeted by an automatic popup that gives you the definition of the word. There is also a drag-able selection tool that you can use to highlight a passage of text, send it to Facebook, or make a note. I dig the fact all of this works for EPUB books you download from the internet, since many companies restrict you to books you bought from them.
When you turn the pages, it occurs very quickly. You are not made to wait a few seconds for the next page and the reduction of flickering is a pleasant change. Many e-readers will do a full page refresh anytime you turn a page. There is a setting that allows you to change the refresh rate from every page to every sixth page. This cuts down on some of the most irksome factors in reading on a dedicated device.
PDF Viewing is possible but not really suitable on a five inch device. Most touchscreen readers have done away with REFLOW and other popular ways to change the way a PDF file functions. You can't pinch and zoom to isolate a specific area of text, but they do offer a way to quickly browse a specific page and have it render in real time. This allows a very smooth scroll without constant refresh issues. In the top left-hand corner is a virtual area that helps you get an orientation on where you are in a document, if you are zoomed in to a high degree.
One of the things I like about the PDF viewing is the fact this is the only part of the e-reader that allows you to flip the orientation from portrait mode to landscape. You can't do this with normal books, only with pictures, PDF Files, or popular comic book formats. I find that the landscape mode gave you a better overall experience with these types of image heavy documents.
I really enjoyed the sliders that Kobo offers to really find that sweet spot when you are trying to make small text on a five inch reader seem bigger. There is a ton of versatility in being able to find what works for you. If you are looking for a very cost effective device, this is the king of the lower-end of the spectrum.

Our Thoughts
It will be interesting to see how the market responds to a strongly marketed five inch reader. For the last four years all of the major players have released six inch or larger e-readers. Other companies have released smaller models, but never saw any traction because of poor retail distribution channels and brand awareness.
The Kobo Mini is one of the best bangs for your buck if you are on a budget and still want a fully featured e-reader. The company does a great job in appealing to international customers, something the other major players don't do very well. Most lock you into specific regional variants of their stores and exclude anyone living outside a specific geographical region.
I would recommend this device to someone new to e-readers and wants something that is very portable. It would make a really good stocking stuffer for a relative and is very user friendly. The overall build quality makes it seem like it should be more expensive and gives the most power out of any e-reader under $99.99. If you want to purchase this outside of Canada and the UK buy it today at Shop e-Readers.

Pros
Portable
Easily Download Millions of Books
Touchscreen
Wide Array of eBook Augmentation Options
Swappable Back Cases
Cons
No Micro SD
Small Display
Black Model Seems to Show Fingerprints More and Is Hard to Clean
PDF's Look Small
Sometimes Gets Sluggish When Editing Fonts
Rating: 7.5/10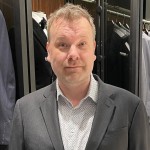 Michael Kozlowski has written about audiobooks and e-readers for the past twelve years. Newspapers and websites such as the CBC, CNET, Engadget, Huffington Post and the New York Times have picked up his articles. He Lives in Vancouver, British Columbia, Canada.