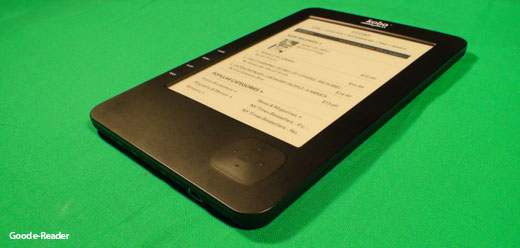 The Kobo Wireless WIFI ebook reader just came out today and Good e-Reader has the full hands-on review of the new flagship electronic reader by Kobo.
The Kobo Wireless e-reader is a giant leap forward by Kobo in comparison to their original Kobo E-Reader that came out earlier this year. The new model has wireless internet access that allows you to shop at the Kobo eBook store, and comes with new features such as a built in Websters Dictionary.
The Hardware
The Kobo Wireless has 16 levels of grayscale and a screen resolution of 600×800 pixels and also packs a 6 inch e-ink screen. The original Kobo has only 8 levels of greyscale. So you will find more contrast and higher resolution to display cover art, and eBooks will be more vibrant. You will also notice page turn speeds have been increased over the original Kobo, pages turn about 2x faster with a upgraded internal processor.
It comes integrated with about 1 Gigabyte of internal storage and you can increase it via SD Card to about 4 GB.
One of the best new hardware features is the new Wireless connectivity with WiFi 802.11 b/g. It will allow you to shop or update their library on the go, and receive wireless deliveries of newspapers. Kobo includes wireless support for home networks, free networks and commercial hotspots, like those in public places or coffee shops. If your wireless network is encrypted with WEP you can enter numbers and letters via the on-screen keyboard.
Finally, let's take a look at battery life. If you have Wireless turned off, it will last around 2 weeks, or over 10,000 page turns.
eBooks and media delivery
The Kobo wireless is a giant leap forward in intergrating Kobo's existing eBook store with their e-reader. In order to start purchasing eBooks from Kobo, you first need to register an account. You cannot register an account on the device itself, so you will need access to a computer, laptop etc. Once you register your account and enter it into your Kobo, you can begin to access ebooks and magazines.
The Best Kobo ebook format currently is ePub, so you do not HAVE to purchase your ebooks from Kobo, you can use Adobe Digital Editions for DRM content or use Windows Explorer to copy non-DRM books to your device. eBooks have 5 different font settings so you can increase, or decrease the size of the words displayed on the screen.
The Kobo version of their store on the Kobo Wireless is very simple to use, they have various genre categories to let you browse for content. They have their top 50 list, as well as browse by categories and bestsellers.
One of the great leaps forwards is being about to subscribe to have your local newspaper be delivered by your Kobo. You can take out a free subscription at first to get a feel for how the media is presented. We had access to the Canadian version of the Kobo, so we could get newspapers such as the Vancouver Sun, Montreal Gazette and over 8 other newspapers. The Trial is free, then it costs around $14.99 a month to keep on subscribing.
What makes newspapers great on the Kobo is they have a dedicated menu category devoted to it on your device. So not only can you organize your pure ebook library, you can then have a separate menu category devoted to your one, or many, newspaper subscriptions.
The Kobo Wireless also comes with an integrated Websters Dictionary. The Dictionary is accessible only when you have an ebook open, and then click on the MENU function. You can then click on any word displayed on the current page via your D-PAD and get a full description of it.
Our Views
There is subtle differences with the new Kobo, firstly it comes with 4 different colors, Onyx, Silver, White and Lilac. The Logo on the Kobo changed to one solid color, and also the DPAD and power button colors have also changed to be the color of the e-reader your purchase. It still mantains the diamond grip on the back of the device, to make it fit more firmly in your hands.
We really liked the page turn speed right out of the book! Having used extensively the original Kobo, we found Pages do indeed turn allot faster. This is super important when you are immersed in a book, and the slow page turns will almost take you out of your head space, making you frustrated.
Being able to Shop on the device, is also one of the best reasons to upgrade to the Kobo Wireless. Kobo boasts a library of over 2.2 million ebooks, and it is important for your users to buy directly from you on their e-reader, where there is no other options to purchase ebooks directly on your reader. If you look at say the Sony PRS-350 or new PRS-650 you cannot buy ebooks on the ebook readers themselves. You have to purchase ebooks from Sony online, where their are more Stores offering discounted books and give you more options.
Kobo is a strong emerging brand in a very short period of time. They really just came out of nowhere, offering 2 new e-readers, and a huge ebook store, that they are affillited with the Borders database of ebooks. Dispite this, they have tons of Apps available for the iPad, iPhone, Blackberry, Android, the PC and more!
The one drawback of this device, is that it feels sluggish and unresponsive when you are navigating all menus and store. You might click down, and it won't refresh for over 8 seconds. This makes it so you end up double clicking, then your e-reader will jump menu to menu or screen to screen. This is one of the most frustrating aspects of both iterations of the Kobo reader. For us, its a deal breaker.
The Kobo certainly has competition with the new Amazon Kindle Graphite WIFI and the Barnes and Noble Nook WIFI in terms of overall price. Certainly if you look at features and device responsiveness both the Kindle and Nook win.
Kobo is available in more retail locations then their competition. If you live outside of the USA, e-Reader accessibility plummets. Very few retail outlets carry much of any selection of electronic reader. The Kobo is available in all Chapters/Indigo locations, as well as Whitcoulls. It has a strong retail presence in Canada, New Zealand and Australia.
If you were an original Kobo e-Reader convert, or if you got frustrated with the device, the new one certainly elevates most of the more frustrating elements of the first version. Its a decent e-reader at a solid price point $159 to $199 and with their large store, their will be no lack of ebooks to read.
If you live outside of the USA and want to purchase the new Kobo Wireless, check out our retail partner Shop e-Readers! They have the black and white ones in stock, and offer low international shipping with lots of options! You are not forced to pay for a courier with them.
If you want to see our Hands on Video review of the new Kobo Wireless, click HERE.
[cincopa AoBA3SKjP_-N]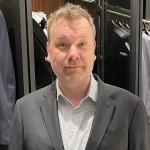 Michael Kozlowski has written about audiobooks and e-readers for the past twelve years. Newspapers and websites such as the CBC, CNET, Engadget, Huffington Post and the New York Times have picked up his articles. He Lives in Vancouver, British Columbia, Canada.