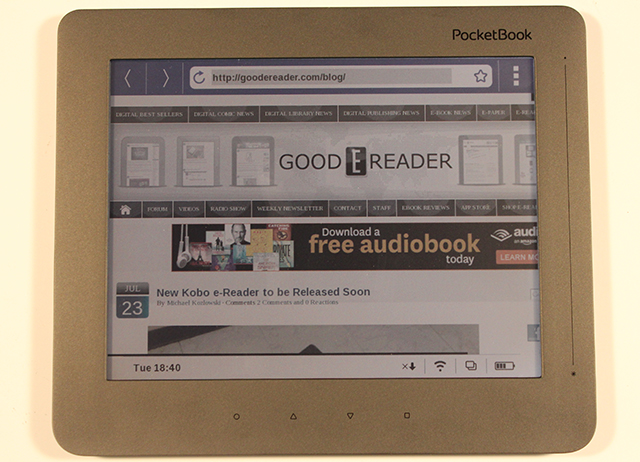 The Pocketbook Color Lux is one of the first e-readers in the world to use the new E Ink Triton 2 color technology and a front-light. Today, we dive right into this new device and give you a sense of what it brings to the table and how it performs under real world circumstances. Is it a must buy or should you avoid it at all costs?
Hardware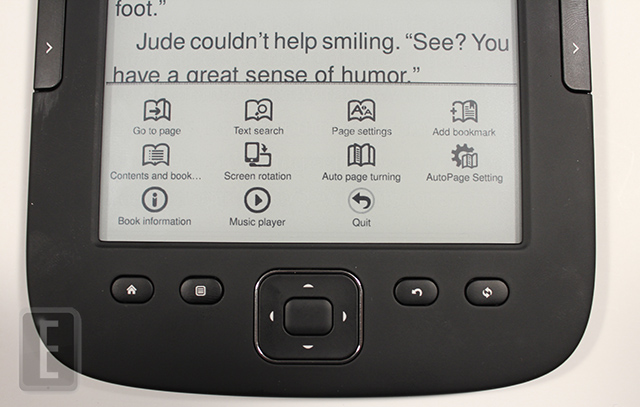 The Pocketbook Color Lux features a 8 inch color touchscreen featuring a resolution of 800 x 600. The main selling point is that it has a front-lit display and utilizes E Ink's new Triton 2 technology. Triton 2 is the next generation color display screen for your traditional e-reader. There is an added layer of film that will give customers a higher degree of contrast and better color display from the previous generation. Triton 1 had a grid of 2×2 pixels, red, green, blue, and white and used a square color filter array. Meanwhile, Triton 2 has the same color display, but instead of using square pixels it is using rectangular. It should give you 4096 degrees of color with 16 levels of each.
Underneath the hood is a Freescale 800 MHZ processor and 256 MB of RAM. This is probably the weakest aspect of this device overall. Menu navigation, turning pages, loading PDF files and frequent lagging is something you will frequently encounter. For example, it normally takes two full minutes for a PDF file to load and most of the online functionality takes six to eight minutes for all graphic assets to load. Simply exiting a book and going to the main menu is not instantaneous and will irk a number of users expecting quick results.
There are 4 GB of internal memory and you can expand it up to 32 GB via the Micro SD card. The Color Lux is powered by a Lithium-Polymer, 3000 mAh, that should be good for turning 5400 pages without frontlight before needing a recharge. Powering is done by plugging the device into your computer via the Micro USB cable.
One of the great things about this device is that it is able to play music and audiobooks. There are no built in speakers, but it does have a 3.5mm headphone jack. The entire audio engine is actually fairly solid and has basic features to shuffle a playlist and handle a large audio library.
In the end, this is a large screen e-reader, and bucks the trend of your traditional six inch device. It has full color E Ink and has a unique slider to adjust the intensity of the front-lit display. Sadly, Pocketbook is using the same amount of RAM and the same processor as it used three years ago with the 902, 912, and most of the other models. Trying to use new technology with crummy internals does not give the users the best experience. It is no surprise the company has given up on the US market and only markets its e-readers in Eastern Europe and Russia.
Software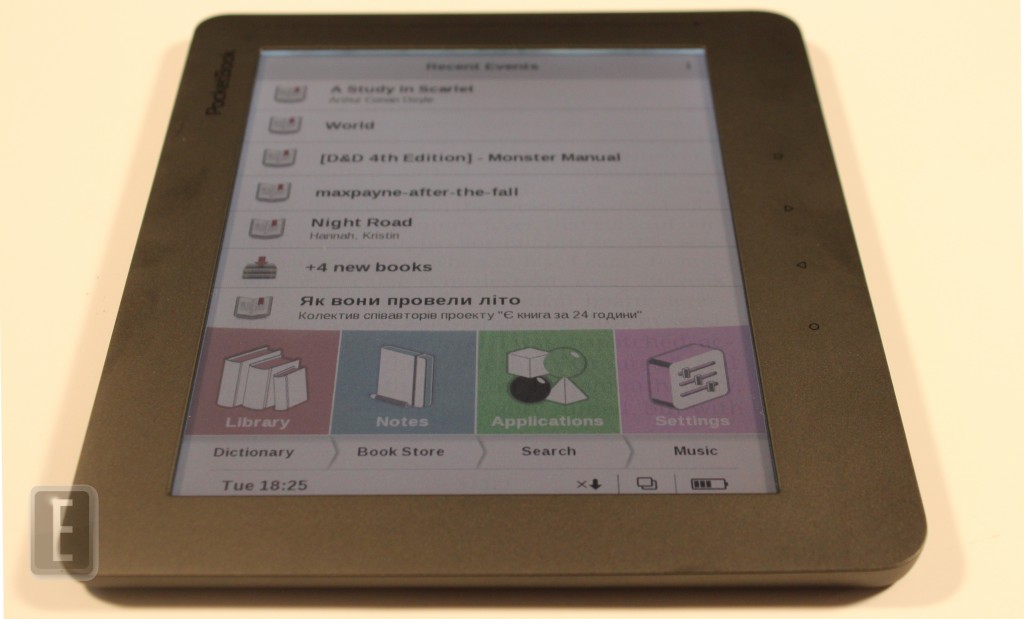 One of the strengths of the Pocketbook Color Lux is the extensive app library and slew of new programs. It has a number of new apps, such as a kids coloring book and drawing app. This simply makes the Triton 2 display really shine and is a joy to use. There is also a number of games, such as Solitaire, Sudoku, Chess, and a few others. Its large app library makes it a good family device.
The main menu gives you the last five books you have loaded on your device or editions you have opened. There is a Settings, Apps, and Bookstore link that directs you to Bookland. There are a number of settings to augment, with one cool feature that can disable the WIFI timeout, something you could not do on previous Pocketbook devices, and the ability to install firmware updates automatically.
The large screen display really makes the keyboard shine and is quite easy to enter internet addresses to browse the web. The web-browser does not have a ton of options to disable Javascript or disable images, so you might not want to visit sites that have lots of graphical assets. Luckily, there is an RSS feed app that allows you to enter a number of websites and pull their information in raw text format, which is the best option to stay abreast of all the latest news.
There are four software driven buttons on the side of the device that are likely to see regular use; home, back, forward, and settings button. If your device ever becomes unresponsive, you can hold down on page forward and page back, and after about 30 seconds, should make it responsive again. This is easier than always doing a hard reset or powering it off.
One of the strongest elements of the Pocketbook Color Lux is the extensive software library. There is something for everyone, although anything to do with the internet is fairly slow. Most other apps tend to respond and load fairly quickly.

Reading Experience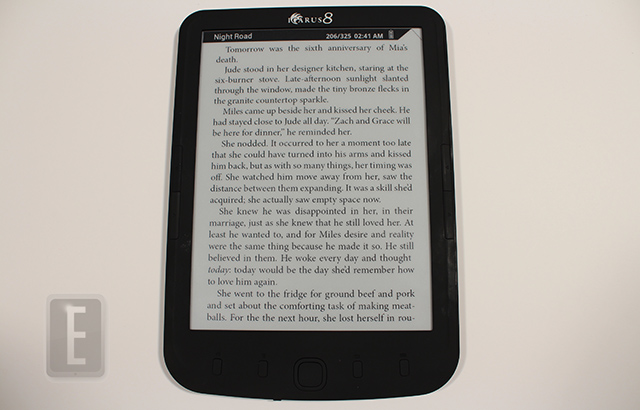 The Pocketbook Color Lux reads a myriad of ebook formats that should resonate well with people who download a ton of content from the internet or have an extensive library of digital tomes. It will easily handle PDF, PDF (DRM), EPUB, EPUB(DRM), DJVU, FB2, FB2.ZIP, DOC, DOCX, RTF, PRC, TCR, TXT, CHM, HTM, and HTML.
Over the course of our review, we loaded almost every type of book into it, to see what it handled best. EPUB is the best format in terms of being able to provide you with the most robust experience. Page-turns occur very quickly and there are a number of options to employ to make notes and highlights, and look words up in the dictionary. The full color screen really makes the cover art shine.
One of the things that completely surprised me and blew me away was the number of fonts available to change the text. There were over 16 different open sourced fonts, mainly Droid Sans and fonts with Droid in them. One of the main drawbacks is changing the font, line-spacing, margins, and font size require you to visit a separate full page menu. This does not provide the users with any kind of visual representation of how the text will look when you make changes. Most e-readers either refresh the text on the screen live, or have sample text that changes automatically whenever you make a change. This Pocketbook model warrants you to enter the font menu, make changes, save it, and then go back to your book. Often you have to do this a few times to find the optimal output format. It is needless extra steps that may incur the ire of hardcore readers.
You would figure a full color touchscreen e-reader would excel reading technical documents or other manuals. Surprisingly this fails in almost all regards. The larger the document, the longer it takes to actually open it and make any changes. When we loaded in a PDF comic book, it wouldn't even turn a page and crashed. The DND Monsters Manual, which we load on every e-reader we test, really struggled.
The largest shortcoming is not the delay or crashing when you load PDF documents or try and turn pages, but pinching and zooming. When you pinch and zoom content, all text and images start to get bigger. This pushes text and images off the page, onto the next page. For example, if your image is at the bottom of the screen, and you try and pinch and zoom to enlarge it, the picture will be split between the page you are on and the next page. The rendering engine they use to handle PDF pinching and zooming is abysmal. Pocketbook GUI and programming engineers really need to look at the libraries used by Kobo, Sony, and Amazon to try and work out all the bugs.
Wrap Up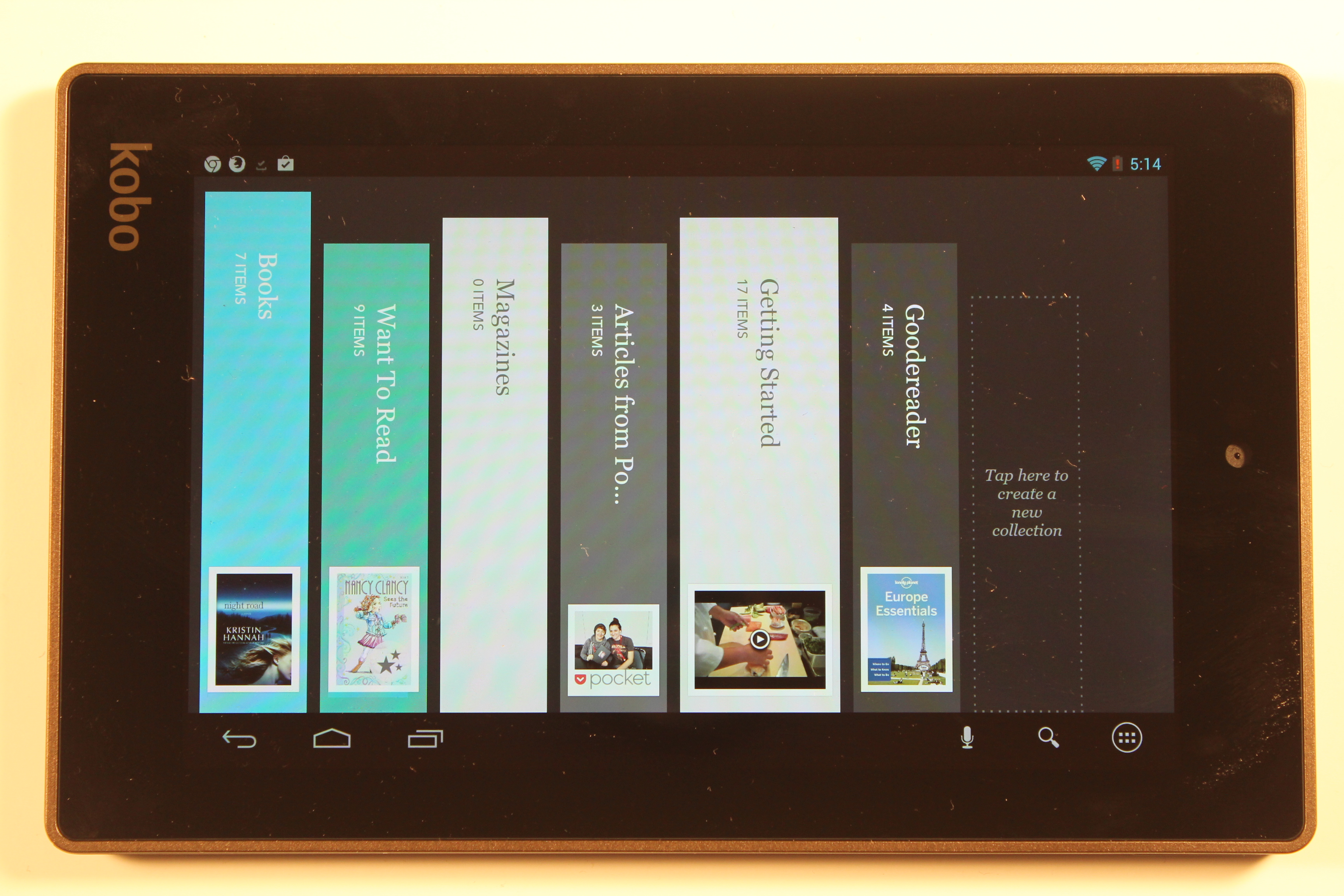 It is not too often that we are really disappointed by a modern day e-reader. The devices have been on the market long enough for a universal standard for quality and control to be developed. People may have differing opinions about specific companies like B&N, Amazon, Kobo, Bookeen, Onyx, Icarus, Bebook, Sony, or Ectaco. Really, in the current e-reader space, these are the companies with an extensive portfolio of devices and have all been in the game for three years or more. Pocketbook has been in business for as long as we have been doing e-reader reviews. The company has always used the exact same internals on every single model. The philosophy of skimping out on processor and RAM will never adequately deliver a seamless experience to the end user. The Color Lux is simply unusable in its current form and should be avoided at all costs.
The only thing this device does right is read EPUB books and run apps. It is easy to switch the orientation from landscape to portrait mode, 360 degrees, but it is done via the software and not a built in gyroscope or accelerometer. Everything else, just makes you wait for a number of minutes for your commands to go through. At over $300, this is too costly to take a punt on and prove us wrong.
PROS

Extensive app library
Automatic firmware updates
Solid EPUB experience

CONS
Colors are washed out due to the Triton 2 extra layer of film
Unresponsive
Entire PDF rendering engine is terrible
Front-Lit display is worse than the Nook Simple Touch with Glowlight
Lackluster hardware and internals
Rating: 3/10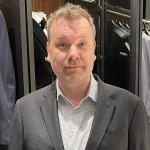 Michael Kozlowski has written about audiobooks and e-readers for the past twelve years. Newspapers and websites such as the CBC, CNET, Engadget, Huffington Post and the New York Times have picked up his articles. He Lives in Vancouver, British Columbia, Canada.